Feast your taste buds at the Boston Signature Dinner Cruise, offering an all-you-can-eat buffet and live DJ entertainment, being held at the World Trade Center West, located at 155 Seaport Boulevard on various dates from 7 pm.
An unforgettable experience for a romantic escapade at the ocean lasting for 3 hours and delighting your senses with delectable food and drinks.
Set yourself on an adventure, stroll under the stars, and entice yourself with the luminous skyline views of Boston.
The Experience
Have an evening full of fun and laughter on a cruise while you watch out for breathtaking scenic views surrounding the ocean.
A delightful experience to watch the city's iconic attractions such as the Bunker Hill landmark and USS Constitution awaits at the cruise while you enjoy the lively dinner.
A journey in the ocean with picturesque skyline views and a romantic escapade while you energize to the music and other interactive activities.
Satiate your cravings with an unlimited delicious smorgasbord that leaves you craving for more along with fresh salads, roasted veggies, oven-roasted salmon, baked pasta, braised pork, chicken birria, steak, and mouth-watering desserts.
Create unforgettable memories on a cruise while you sail along the sea feasting on the delicious all-you-can-eat buffet. Tune into the excitement of a sea journey filled with incredible joy in Boston.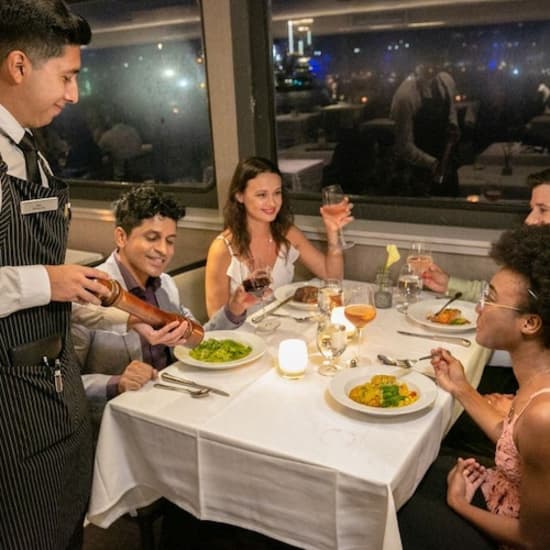 An electrifying live DJ beat will keep you hooked while you enjoy a fine dinner with your friends and families.
A special evening at sea, tuning into the exciting adventurous journeys and indulging in lip-smacking dishes at the all-you-can-eat buffet.
Additional Info
Wheelchair accessibility is available on cruise and parking facilities are available near the Seaport World Trade Center.
The dinner cruise operates in any weather conditions due to climate-controlled decks.
Do inform your cruise server and organizers beforehand if you have any dietary restrictions or special food allergies.
The cash bar serves you creative cocktails, wine, and beer and has them while you relax after an electrifying evening.
Customize your dine-in experience with additional upgrades tantalizing your tastebuds.
No window reservations for the best views.
No shared seating is allowed if the guest bookings are separate. Adults must accompany children during the journey.
Flaunt yourself in comfort and style on a cruise journey like never before.
Show your smartphone tickets to the crew to onboard the cruise.
Tickets
The tickets for the Boston Signature Dinner Cruise are available on Fever and the ticket type includes 3 adults. The regular tickets for 3 adults are priced at $162.53.
The ticket includes onboard entertainment with DJ music, access to shared spaces and interactive games, dinner, and beverages such as coffee and tea.
No booking fees are required. To submit a request visit here.
Tickets cannot be canceled or refunded once bought from Fever.
An Evening that is Worth Celebrating with Family and Friends with a Unique Dine-in Experience and Entertainment in Boston
What: Boston Signature Dinner Cruise
When: On various dates
Where: At World Trade Center West located at Boston's 155 Seaport Boulevard.
Time: 7 p.m.
Tickets: On Fever.
I am a passionate writer with a vivid interest in various spheres of life. My interest in movies and reading books has helped me widen my horizons and imagination. I am also an art enthusiast and love various art forms. As a creative person, I live my life to the fullest.