Get ready for an exhilarating food adventure in the city of Washington DC with the Mystery Picnic with Friends: Self-Guided Foodie Adventure that is hosted by Amzingco, every day between 10 am – 12 pm at Georgetown or Foggy Bottom, offering a unique, self-guided exploration of the city's best neighborhoods while you indulge in a gourmet picnic.
In this article, we will give you a clear picture of what to expect if you are planning to attend this event. Eager to book your tickets already? Then head to Fever and book your slots now!
The Mystery Picnic Experience
If you are someone who has been looking for a chance to spend some quality time with your friends and family, look no further because The Mystery Picnic is your ticket to that. This is your gate to an unforgettable day out in DC.
It's an all-inclusive adventure for 2 to 8 people, complete with mouth-watering gourmet delicacies, interactive clues, games and conversation starters, and a stunning picnic spread from local artisan producers including meats, crackers, cheese, fruits, and much more.
Your journey begins by solving clues and riddles that are provided to you through your smartphone, leading you to collect your picnic basket piece by piece and you can enjoy this adventurous foodie trip at your own pace, making it perfect for all.
This is your ultimate chance to experience what Washington DC has for you in a whole new way.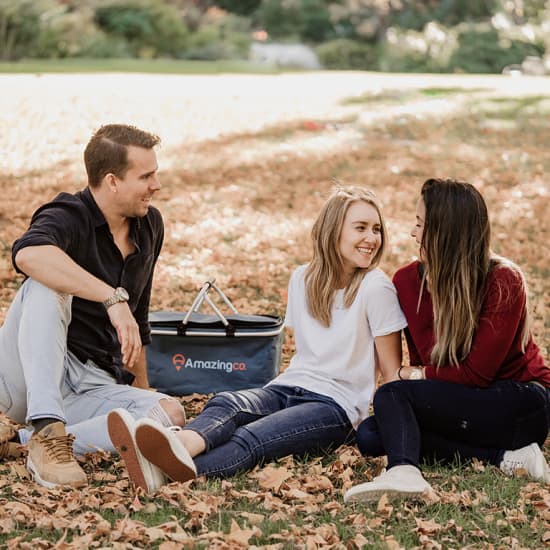 Additional Information
The Mystery Picnic is available every day, hence simply choose your preferred date during the booking process.
Start your picnic anytime between 10 am and 12 pm, with the experience typically lasting 3 to 4 hours, depending on your pace.
You can select the location, either Georgetown or Foggy Bottom, after the purchase of your tickets. Also, remember that the event is for those aged 21 and above.
It is also mandatory for visitors to carry a valid ID Proof when they attend the event to consume alcohol. Since it's BYOB (Bring Your Own Booze), you will be asked to submit your valid ID proof and other dietary requirements like gluten-free, vegan, and vegetarian can be accommodated for the visitors at no extra cost.
For booking confirmation and further instructions, refer to your ticket or confirmation email.
Tickets
Ready to embark on this mysterious culinary journey? Tickets for the Mystery Picnic Experience can be conveniently purchased through Fever.
Visit the website of Fever, Feverup.com or you can also book the tickets for this event easily through the Fever app.
Each ticket grants admission for 2 to 8 people, making it ideal for a group hangout. Your ticket covers everything you need for this adventure, from tastings to clues and engaging games making sure that you will never get bored
. Join this self-guided tour and explore Washington DC like never before and book your tickets now for a day of food, fun, and exploration.
What: Mystery Picnic With Friends and Self-Guided Foodie Adventure in Washington DC.
When: Every day.
Where: Georgetown or Foggy Bottom, which you can choose after purchasing the tickets.
Time: Between 10 am to 12:00 pm.
Ticket: Book your slot on Fever!
Santhra Krishna is a talented and passionate content-writing freelancer specializing in news and current affairs. With a keen eye for detail and a love for research, Santhra delivers well-crafted articles that provide insightful perspectives on the latest happenings around the world. With a commitment to staying informed and up-to-date, Santhra ensures that every piece of writing is accurate, engaging, and thought-provoking. Through a skillful blend of creativity and professionalism, Santhra captures the essence of complex topics and presents them in a clear and concise manner.