Discover an extraordinary escape from Las Vegas with the Bryce Canyon & Zion National Parks Day Tour with Lunch, with the tour available to the public on various dates, starting at 5.30 am.
This 13-hour remarkable journey offers a chance to witness the awe-inspiring beauty of Bryce Canon's natural amphitheater and the striking sandstone cliffs and valleys of Zion National Park; head on Fever to book your tickets now!
What to Expect at Zion National Parks and Bryce Canyon Day Tour?
This Bryce Canyon & Zion National Park with lunch is all set to offer a one-of-a-kind opportunity to experience an unforgettable journey from Las Vegas.
Bryce Canyon's natural amphitheater is a work of art that Mother Nature has sculpted for millennia. As you stand on the rim and gaze into the vast expanse of hoodoos – tall, thin rock spires – you'll be left speechless.
But the adventure continues beyond Bryce Canyon. Your day tour will also take you to Zion National Park, known for its striking sandstone cliffs and meandering valleys.
Throughout the tour, your knowledgeable driver will guide you, providing valuable insights. Capture the jaw-dropping panoramic views and immerse yourself in the enchanting wonders of nature, gaining a profound appreciation for the American West's natural splendor.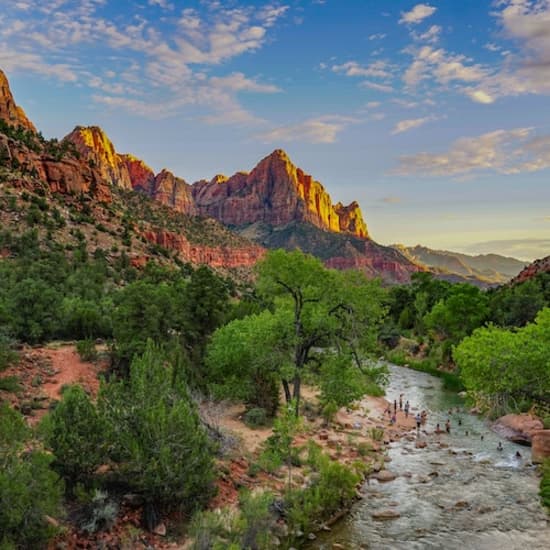 Additional Information
No Wheelchair Access
Please note that the tour does not provide wheelchair access, so plan accordingly.
Punctuality Matters
Las Vegas traffic can be unpredictable, so make sure to arrive at the meeting point on time.
Stay Hydrated
It is essential to bring snacks and nonalcoholic drinks, especially water to keep hydrated throughout the day.
Weather Preparedness
Check the weather forecast before the trip and dress appropriately. Weather conditions in national parks can change suddenly, so be prepared for the unpredictable weather change.
Wear comfortable walking shoes, don't forget your sunscreen and a hat to shield yourself from the sun.
Gratuities and Personal Expenses
Gratuities, extra food, drink, and personal expenses are not included in the tour, so plan your budget accordingly.
Date and Time
Your day trip from Las Vegas to Bryce Canyon & Zion National Park begins in the morning and the tour itself will last for 13 hours, counting the time for transportation.
It's advisable to arrive at the meeting point at least 10 minutes before the departure time to ensure a smooth start to your adventure.
Location
The tour kicks off right in the heart of Las Vegas to an exhilarating adventure journey through Bryce Canyon and Zion National Park.
Tickets
Ready to go on board with this escapade journey? Tickets for this Bryce Canyon & Zion National Parks day tour with lunch can be purchased through Fever and each ticket grants admission for adults who are 2 years and above and the regular ticket price is $139.87.
Visit the website of Fever, Fever.com or you can also book your tickets for this tour through the Fever app.
Get Set for an Adventurous Journey from Las Vegas to Bryce Canyon and Zion National Park Day
What: Las Vegas to Bryce and Zion Day Tour with lunch from Las Vegas.
When: Available on various dates.
Where: The tour embarks from Las Vegas.
Time: The tour starts at 5.30 am.
Tickets: On Fever.
Myself Farheen Naaz sheikh, I hail from Nagpur Maharshtra. I have completed my education from Nagpur University. After my education I worked in IT sector around 1,2 years, after working in It sector I decided to move forward my career in Digital Marketing , for reason of I went through some digital marketing internships.
Talking about my skills, I have good communication skills, excellent in content writing and willingness to learn new things, one more skill is there, management and team work.