The slogan, silence is violence, emerged in Black Lives Matter to encourage people to talk against social issues such as racism and prejudice prevalent in many parts of the world, like the United States of America and the United Kingdom. 
The meaning of silence in Black Lives Matter Protests is a disinterest in a social issue and a way of overlooking the matter which, raises the intensity of suffering and creates a difference between "them" and "us." For example, the silence of the white community over the sufferings of the black community. 
In Black Lives Matter protests, the slogan 'silence in violence' conveys a powerful message for people who choose to stay silent. And the message is that people should actively participate in protests concerning injustice with others by raising a voice against social issues using different mediums like drama, art, prayer meets, and anti-violence practices.
The Black Lives Matter (BLM) movement was founded by three Black women – Patrisse Cullors, Alicia Garza, and Opal Tometi for the people of the black community. They want others to hear and understand them, change their thinking, alter the country's administration system, and eliminate discrimination to maintain unity and peace in the world.
The name "Black Lives Matter" protests indicate strong disapproval of the unjust killings of Black people by the police. They demand that society should value the rights of the Black community as much as it values that of white people because the Black community continues to face greater economic and social barriers than others. 
By analyzing the data regarding the protests in countries like the US and UK, The New York Times evaluated that Black Lives Matter protests may be the most widespread movement in the country's history.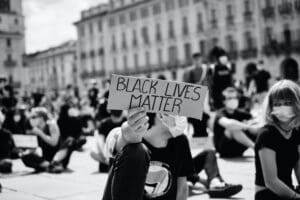 The Black Lives Matter movement is a modern-day lynching that wants to stop the unjust treatment of people based on color because blacks have been facing this issue for centuries.
People of the black community actively participate in social issues so that the future generation can grow up in a world that would be free of pain and suffering but, it is not easy for them because it is emotionally exhausting as they face severe repercussions.
For instance, the member of black community who speak up against systemic racism, institutional racism, police brutality, and discrimination are beaten up, tortured, assaulted, and arrested. 
Social issues like racism, diversity, equity, inclusion, and justice are unaddressed issues in sports, the workplace, school, or the community. For example, the silence of the white community over the sufferings of people of the Black community. 
Like the Black community, other communities also inspire people around them like, LGBTQ+ and women who face criticism every day but never give up and fight for their basic rights and justice. They help others to believe in themselves and show respect for every difference among each other.
Racism is not a black or brown problem, and justice cannot happen by excluding oneself from the issue. Often, people of the white community do not realize that with privilege come with responsibilities. If they do not speak against the ill-treatment of the people and blindly follow orders of the supreme authority, in many direct and indirect ways, they are supporting the injustice people are facing. 
Silence is violence when happy and successful people do not want to be a part of public criticism and threats and resist a change in society and themselves. But they have to understand that their silence can take a violent turn in no time, and such issues will continue to prevail in different countries.
But silence is not violence in every protest because of varied reasons for silence. For example, silence is the best answer when somebody tries to force you to speak as instructed. 
This is a message for the majority that they should practice what they preach, stop making noise, do not fear punishment after speaking about an issue because this is a fight that the whole world is fighting, and helping the minority or the sufferers fight for a change or standing up for justice is always a good choice. As the popular saying goes, united we stand, divided we fall.
When the majority will stand with the minorities and acknowledge their sufferintheir support for justice, a differenceoccur place.
Read this article to develop an understanding of how to avoid violence by speaking up.
Effective Solutions to The Slogan "Silence Is Violence"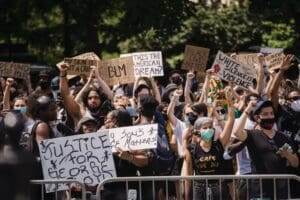 It is possible to make the slogan "silence is violence" effective in Black Lives Matter protests. There are numerous ways to do so.
1. Create Awareness About The Issue
One way is to increase awareness about the current issues like the struggle of the black community for liberty and equality and make people understand the difference between right and wrong practices of society.
We can start this practice by raising and educating children to love and discussing with them about the ongoing issues across the world and developing their insight about them. And this will be a positive start to make them aware of why silence is violence.
 2. Offer Support to The Vulnerable Group
Another way is to offer emotional and material support to victims and appreciate the efforts of the vulnerable groups because this can act as a catalyst in protests. And this is an effective solution in support of the slogan silence is violence because it is also a way to be a part of a fight for justice.
 3. Communicate With Each Other
Communication helps to tackle numerous problems because it prevents misunderstanding among community members and allows each other to share their views on an issue. It can take place for a short while at places like the workplace, family, school, or within the community.
We can also try to build a culture of dialogue at the workplace to get a real picture of the company culture and emphasize workplace conversations in a healthy manner.
4. Perform Active Listening
People should listen with a non-judgemental and clear mind to both sides of the debate and then make the best decision whether to participate in protests or not.
For example, people of the white community can listen to problems faced by the black community and how they are planning to deal with them as a team and then put forth their opinions about the issue.
5.  Be Courageous
Be courageous enough to take a stand for the right cause and bring a change in society. We can become courageous by studying and understanding the reason for the protest, letting the inner voice come out, not fearing judgment, rejection, and punishment, and putting efforts to stop the unfair treatment of people based on color.
6. Encourage People
We can try to encourage people to vote and get real leaders in positions of influence who want a change to happen in society. For example, we can encourage people to participate in elections by developing their insight about the types of government accepted in different countries and making them aware of the policies adopted by different leaders for the welfare of people.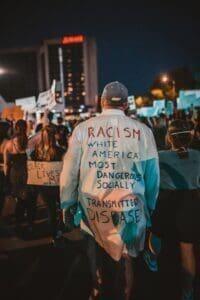 The problem becomes worst when we realize that in a world where silence is violent and courtesy is wrong, there is very little room for truly free speech which means that the fight for freedom of speech is still active in many parts of the world.
We have to be cautiously optimistic that the protests will have a real impact which will help dismantle racism in different countries because small efforts can create a big difference, and what matters is the listening power and efforts to solve the problem.
It is not just the big cities but, even small towns have seen protest gatherings ranging from peaceful and energized to violent, where people have come out at personal risk to stand up for injustice and discrimination against black people.
You don't need to experience racism to participate and understand the pain it causes but, you have to pay attention to the level of injustice happening in the community and respond to it. Most countries are now democratic which, guarantees the right to freedom of speech and expression. 
Nowadays, social media also plays a vital role in spreading any protest or movement because it provides the platform to talk about social injustice, which furthers decentralizes the movement. For instance, by using hashtags and stories, the slogan silence is violence in Black Lives Matter protests can be made effective.
Starting with yourself and trying to apply the same technique in everyday life by speaking up for equality and inclusion in family, school, and sports. For instance, girls should speak for gender inequality in the family and fight for equal rights because we all deserve peace and equal treatment in all our stages of life.
Silence is violence because silence will delay justice. Henceforth, to avoid violence, one should take time, learn about the issue and then take appropriate action and speak up for justice and equality.