Get ready for a fantastic journey through time in Orlando, as you step inside the fascinating Orlando Auto Museum at Dezerland Action Park in Orlando, open to the public on various dates and varied time slots.
If you are an iconic car seeker, this new must-visit destination in Orlando will make your automotive dreams come true.
The Orlando Auto Museum at Dezerland Action Park offers an opportunity to get up close and personal with cars made famous by TV and movies, including Ghostbusters, Scooby Doo, The Fast and the Furious, Back to the Future, Spiderman, Batman, and also houses the world's largest collection of James Bond vehicles.
Head to Fever now and secure your slots for an extraordinary adventure filled with endless excitement
Inside the Orlando Auto Museum
The Orlando Auto Museum is part of the Dezerland Action Park, a massive indoor attraction with 800,000 square feet of entertainment where visitors can enjoy the longest indoor go-kart track, boutique bowling, bumper cars, a trampoline zone, and an extensive assemblage of more than 300 arcade games.
The Orlando Auto Museum is not just a mere museum tour, it's a thrilling experience that brings the magic of the big screen to life and you can walk among over 2,000 vehicles from different eras and countries.
You can even snap selfies with the most famous vehicles like the Mystery Machine from Scooby Doo, the iconic Ecto-1 from Ghostbusters, the time-traveling DeLorean from Back to the Future, the Batmobile from Batman, and many more.
One of the museum's main attractions is the world's largest collection of James Bond vehicles, where you can see the cars driven by the world's most famous secret agent in action.
The museum is also home to a plethora of motorcycles, microcars, and Vespas including the Guinness World Record holder for "Longest Car".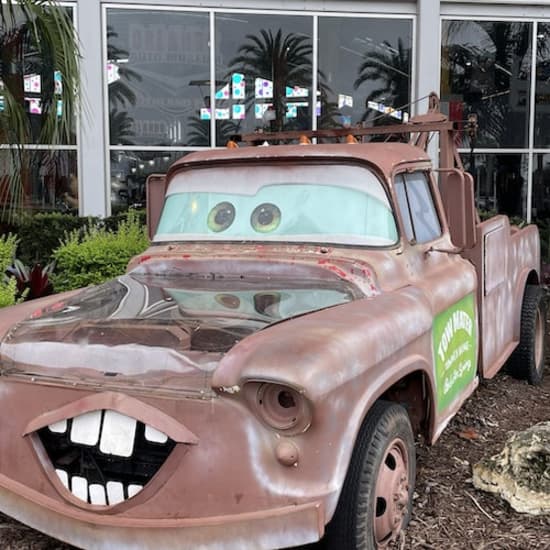 Additionally, the museum boasts a helipad, a hot tub, and space for 75 people inside; an engineering marvel that will leave you in awe of human creativity and innovation.
For history buffs, a special gem awaits – the last surviving WWII "DUKW Boat" that fought at Utah Beach on D-Day.
It's a one-stop destination for family fun and entertainment.
Additional Information
The Orlando Auto Museum awaits you at Dezerland Action Park in Orlando and there are a few important considerations to keep in mind while planning your visit.
The museum offers wheelchair access for those who need accessibility and you can conveniently show your smartphone ticket at the guest service desk located at the museum's entrance.
Please note that there are no refunds, as all sales are final, so plan your visit accordingly; additionally, children under 4 years old can enter for free without a ticket, making it a great family-friendly destination.
Tickets for the Orlando Auto Museum at Dezerland Action Park do not include admission to the other attractions within the park, so make sure to purchase the appropriate tickets from Fever if you plan to explore everything Dezerland has to offer.
Tickets
Visit Feverup.com or download the Fever app to book your slots hassle-free for the Orlando Auto Museum which has an array of ticket types to choose from, including options for children and adults.
The ticket price for children who belong to the age group of 4 to 12 is $20.90 and for the adults who belong to the age group of 13 to 64 is $29.90, for more details go through the Fever website.
The Orlando Auto Museum at Dezerland Action Park is a destination that will leave you with incredible memories, so go ahead and book your tickets now on Fever.
Family Fun and Entertainment Awaits at Dezerland's Orlando Auto Museum
What: The Orlando Auto Museum at the Dezerland Action Park.
When: Available on various dates.
Where: Dezerland Park 5250 International Drive Dezerland Park Orlando, Orlando, 32819
Time: Varied time slots are available.
Myself Farheen Naaz sheikh, I hail from Nagpur Maharshtra. I have completed my education from Nagpur University. After my education I worked in IT sector around 1,2 years, after working in It sector I decided to move forward my career in Digital Marketing , for reason of I went through some digital marketing internships.
Talking about my skills, I have good communication skills, excellent in content writing and willingness to learn new things, one more skill is there, management and team work.