Planning a trip to the city of San Francisco to explore its breathtaking beauty and awesome attractions? Yes! Then, you might want to know all about the San Francisco CityPASS, available on Fever for sale.
As a golden ticket to visit four of its most memorable and iconic places at the most attractive prices, San Francisco CityPASS is a dream come true for travel enthusiasts!
So, go ahead and enjoy the time of your life and immerse yourself in the best offers without going through the hassle of purchasing individual tickets.
Why San Francisco CityPASS?
San Francisco CityPASS has some of the most interesting offers that include plenty of discounts and other interesting add-ons. Let's take a look at the highlights of the CityPASS:
You are given a whopping 46% discount on the admission fees. Therefore, you will have the most exciting time at the most iconic locations in San Francisco without burning a hole in your pocket!
The CityPASS gives access to San Francisco's 4 renowned attractions to explore at your own pace including California Academy of Sciences and a San Francisco Bay Cruise!
You can also choose to explore the fascinating history at the "Walt Disney Family Museum" or its awesome science culture at the "Exploratorium"
Furthermore, the City PASS holders can go on a  mesmerizing Blue & Gold Fleet Cruise. Admire the city's charm as you float along the enchanting San Francisco Bay.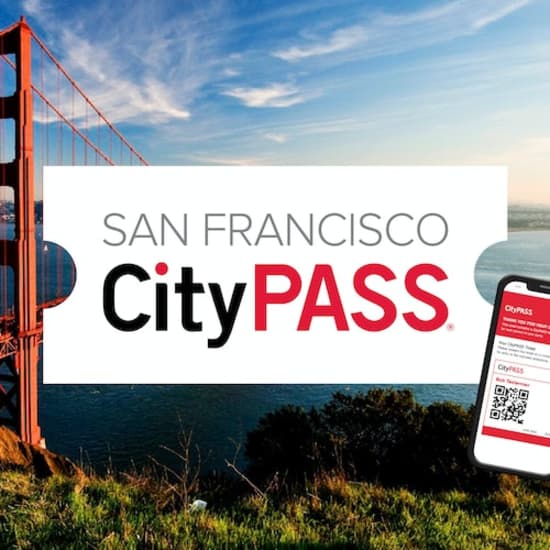 Please note that City PASS is valid for nine consecutive days from the day it's being used. How cool is that?
Best of all, the San Francisco CityPASS has convenient digital access and therefore, you do not have to worry about paper tickets. All you need to do is to show the ticket confirmation on your smartphone! And voila! You are set to explore your favorite destination!
Also remember the cityPASS carries two mandatory attractions, namely, the California Academy of Sciences and the Bay Cruise. You are free to choose the other two as per your preference.
Additional Info
The San Francisco CityPASS tickets are valid for nine consecutive days, so ensure you do not miss any of the captivating experiences that the attractions have to offer.
Although the CityPASS allows you to visit them directly, it is always recommended you check if online booking is necessary to avoid getting disappointed.
San Francisco CityPASS gives you a fantastic opportunity to view San Francisco's most iconic destinations at the most attractive prices and it is recommended to visit the attractions during the day.
With digital convenience, customizable solutions, and terrific options from a wide array of attractions, the CityPASS is every traveler's answer to the perfect adventure to explore the heart of San Francisco.
Tickets
The San Francisco CityPASS can be purchased from Fever.com at a discounted price. For children (4-11 years), the ticket price is  $63.95 and for adults (12+ years), the ticket price is $83.95.
Ready for the Adventure of a Lifetime with San Francisco CityPASS?
What: San Francisco CityPASS.
Where: Explore 4 iconic attractions of San Francisco.
When: Choose the day and time of visit at your convenience and the CityPASS remains valid for 9 days from the first day of its usage.
Tickets: The CityPass is available on Feverup.com.
Angeline is a Content Writer at Icytales who believes that books are her favourite companion. She immerses herself in thought-provoking good reads. Her writing mainly delves on subjects that inspire personal growth and positivity. She loves to bring smiles and motivate readers through her articles.