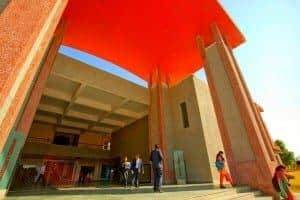 RK University, Rajkot celebrated its Foundation Day on 14th Oct '15. Convocation Day was also planned on the same day, later in the evening.
It's hard to wake up in the morning for lectures, but students were enthusiastic to celebrate Foundation Day. It began with a speech from dignitaries. And then the fun part began: performances from students.
Singing and dancing highlighted the day. The voice of the singer was a voice to be heard. The audience was also singing along-with melancholy. And not to forget the instrument players. The music controlled the rhythm of the heart. It felt like the beats of the drums, and the beats of the heart were in sync. Dancers made us groove, made us move, made us tap our feet and turn around.
This is how the celebrations began. All RK University organisations had their stalls set up to kick-off the day, where they showcased their organization. To briefly make you aware of the "organization thing" ( making a hand gesture of double quotes ), Student Organizations Advisory Council (SOAC) is the main body under which various non-profit organizations are working. They could be related to social awareness, Software awareness, Sports related or Music or writing or anything.
Foundation Day celebrations ended by afternoon. But there was still something left for the day.
Convocation celebrations began in the evening. All the graduates and postgraduates of RK University received their certificate and medals from the most important people of their lives, their parents. Yes, it was a proud moment for the student and their parents and the University. Gold medalists were interviewed about their experience in RKU and their future endeavours. The most enjoyable moment was meeting friends after so long and then having fun in a photo shoot.
It began with celebrations of Foundation and ended with celebrations of Convocation. It couldn't have been any better.