If you are someone who is a fan of art and comics, then we are here with an event that is going to blow your mind at the Society of Illustrators in NYC. With the Society of Illustrators – General Admission ticket from Fever, you will discover some of the artistic marvels. Get yourself engaged in a world of visual storytelling and creativity, with the museum open on various dates and time schedules.
This captivating institution is a heaven for art enthusiasts. It features a rich collection of illustrations, comics, and cartoon art.
From self-guided tours to the MoCCA Gallery and the option to sip on your favorite drink on the outdoor terrace, it's an artistic haven waiting to be explored. 
About the Society of Illustrators
The Society of Illustration is a hidden treasure for those who appreciate the beauty of visual storytelling.
Situated in the heart of New York City, this museum boasts a diverse collection of over 2500 pieces, including curated illustrations and captivating comic and cartoon art. 
With four unique galleries, it's an opportunity to dive into the world of creativity and expression and whether you are a dedicated art enthusiast or simply curious about the magical power of visual storytelling, this is an engaging visit for all.
This visit will certainly transport you into the magical world of art and also promises to provide you with a unique experience.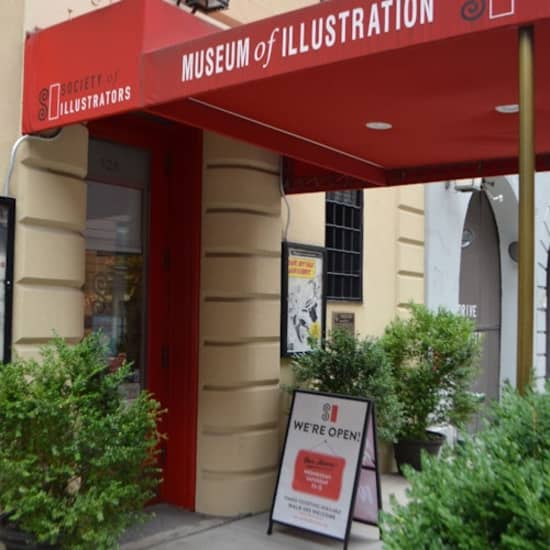 Additional Details
The Society of Illustrators is open to the public from  Wednesday to Saturday. You can explore its wonders between 11 am and 5 pm and this allows you the flexibility to schedule your timings accordingly. Find this artistic haven at 128 East 63rd Street right in the center of New York City. 
Visitors from all age groups are welcome to the venue. For children under the age of 10, entry to the event is free if they are accompanied by an adult and the main gallery is wheelchair accessible which ensures that art is accessible to all. 
The Society of Illustrators provides a unique and captivating experience for art lovers and those who seek inspiration in the world of visual storytelling.
From comics and illustrations to events and themed exhibits, this institution promises an unforgettable journey through the world of artistic expression.  
Tickets
Aren't you already excited to enroll yourself and your loved ones in this exciting event? We know you are! To embark on this artistic adventure, securing your tickets is a hassle-free process.
You can purchase tickets for this exciting event through Fever, a user-friendly platform for event reservations. Visit Feverup.com or download the Fever app and search for Society of Illustrators – General Admission in New York City. 
This is your gateway to explore the enchanting world of illustrations and visual narratives. Book your tickets today and get ready to be inspired!
Details to Remember about NYC's Society of Illustrators
What: Society of Illustrators – General Admission.
When: From Wednesday to Saturday.
Where: Society of Illustrators, 128 East 63rd Street in New York City.
Time: 11 am to 5 pm.
Ticket: Tickets are available on Fever.
Santhra Krishna is a talented and passionate content-writing freelancer specializing in news and current affairs. With a keen eye for detail and a love for research, Santhra delivers well-crafted articles that provide insightful perspectives on the latest happenings around the world. With a commitment to staying informed and up-to-date, Santhra ensures that every piece of writing is accurate, engaging, and thought-provoking. Through a skillful blend of creativity and professionalism, Santhra captures the essence of complex topics and presents them in a clear and concise manner.