If you know someone who loves Formula1 so much that they only ever refer to it as F1, you'll know that the sport can be extremely intensive for fans. And as someone who lives their life outside of the F1 (yeah, I have to call it that at home) bubble, I sometimes struggle to find good gifts.
With pretty much any other sport, a jersey or hat with the logo on it will always work, but with certain teams changing names and drivers not being the most recognisable names, how can you ensure you've bought a failsafe gift when the likes of birthday are coming up?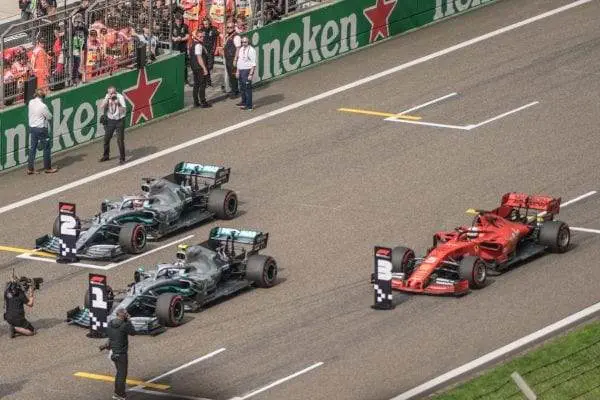 Fear not friends, as I have found some underrated F1 gift ideas you should know about and keep in your back pocket when you need to surprise someone.  They'll be guaranteed to get you in pole position, or at least a podium placement in the gift rankings.
Thrustmaster Wheel
Racing games in arcades typically have the same style of steering wheel we have in our cars. And when you go to buy the latest racing game in-store or online, it tends to be that the game will be bundled with a similar steering wheel. There is a slight problem with this. Formula 1 cars do not use a traditional steering wheel. 
If you've never seen one before, the wheels are actually more rectangular with A LOT of buttons in the middle which controls every single facet of the car. The latest racing games will take these wheels as controllers, and I've found that Thrustmaster is the best out there in terms of licensed wheels that match what you'd get in an F1 car.
For anyone who has a partner or friend who plays racing games religiously with the normal controller and thinks they're great, get them one of these wheels to see if they can race as well as a professional driver.
Scale Model Car
F1 racing attracts a lot of fans who would be more interested in the mechanics and engineering that goes into the cars just as much as watching a race. If the racing fan in your life is obsessed with details and can go deep in conversation on car build and such, getting a scale model car they can sit and build in their own time is going to do the trick.
For example, this 1:8 scale Ferrari 312 T4 model comes as one big kit to assemble everything from the engine and seat belts to wheels and logo in detail. Also, unlike watching the actual sport, it is a surprisingly calming activity.
A local race track
Now, I can't promise that your local track will have an old F1 car sitting around ready for a spin, but local tracks tend to offer dedicated sessions with high-performance cars at a much better price than you'd expect. Again, it all depends on where you live and if the closest track is used professionally for races (prestige tracks = expensive rates), but being able to surprise someone with an hour where they can really go for it on a professional track is as adrenaline-fuelled as it gets.
F1 Etsy Prints
F1 and Etsy seem incompatible on the surface, but the online store is a treasure trove for affordable one-of-a-kind gifts. You'll find everything from hoodies and socks to cufflinks. There is a surprisingly good level of racing art by independent artists available too, many of whom adopt minimal styling as opposed to giant landscapes of the cars
I would keep an eye out for A2 prints of the circuits as they look quite trendy and could fit in with any existing art you have hanging up at home.
Racing Candle
This last gift is for those on a budget or who have to get a Secret Santa that is a little more fun. Even though it is seen as a very manly sport, who's to say that the F1 fan you know and love doesn't like to lighten the mood in the evening by striking a match and lighting a scented candle?
Well, if they love the smell of burning rubber or new cars, you can buy (this isn't a joke) racing fuel candles, which is an oxymoron if I ever saw one. Now it won't smell exactly like someone is lighting petrol, but some do have more intense pine scents that can take pride of place in any man cave.
Now get to shopping!
Thanks for reading this little gift guide for Formula 1 fans. I hope you've found some gift ideas that will make for a great surprise.