Grab your Everson Museum of Art Tickets and get ready to hit The Everson Museum of Art, a cultural gem nestled in the heart of downtown Syracuse, New York, open on various dates and varied time slots.
Everson Museum Art invites art enthusiasts, culture aficionados, and curious minds to embark on a journey of discovery, housing over 10,000 artworks, and a rich tapestry of exhibitions.
Head to Fever and book your slots now and read below to get a clear picture of what to expect if you are planning to explore the world of art and creativity;
Unveiling the Everson Museum of Art
The Everson Museum of Art is more than just a museum; it's a sanctuary for the senses; and designed by the legendary architect I.M. Pei, the museum's architectural brilliance is a work of art in itself. 
As you step into the museum, you'll find yourself surrounded by a diverse collection of over 10,000 artworks, each with its own unique story to tell, a dynamic hub of cultural activities, and more.
The museum boasts an ever-changing roster of over 20 exhibitions annually which means that each visit is a unique and refreshing experience, with new artworks and themes to explore.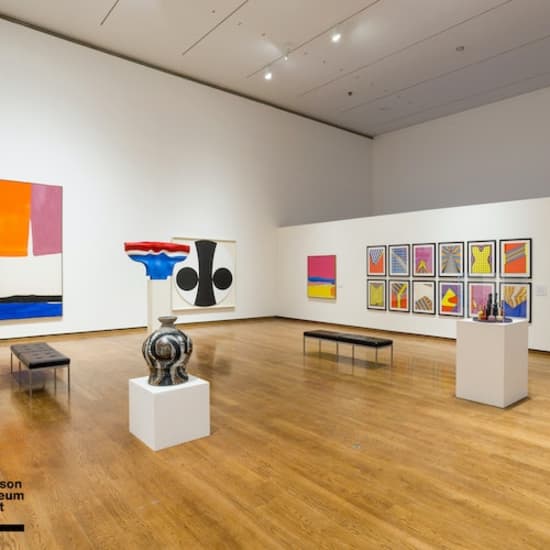 Whether you're a contemporary art seeker or an avant-garde lover, the Everson Museum has something for every art lover, and for those who want to delve deeper into the art on display, guided tours are available too. 
What to Expect?
Get ready to immerse yourself in the vibrant world of art and culture waiting at the Everson Museum of Art; your ticket grants you access to the Everson Museum of Art where you explore the extensive collection of paintings, sculptures, ceramics, and more, and lose yourself in the world of creativity.
Art appreciation can be an invigorating experience, and you might find yourself in need of a little break. Head over to Café Louise, the museum's café, and savor locally sourced cuisine and a variety of refreshments.
The Everson Museum of Art believes in making art accessible to all and additionally, they offer free admission on Wednesdays and every third Thursday of the month.
It's an opportunity for the entire community to come together and explore the world of art without any financial barriers. So, mark your calendars for these free admission days and book your tickets from Fever 
Tickets
Ready to embark on this artistic masterpiece and cultural journey?
Tickets for the Everson Museum of Art Tickets can be easily available on Fever; visit the website of Fever, Feverup.com or you can purchase the tickets for this event through the Fever app.
Tickets are categorized based on the age of the visitor and the types of tickets available are Adult (13 to 64), Senior (65 and above), Student (valid student ID is a must), and EBT cardholders.
Explore the Cultural Cornerstone at  Syracuse's Everson Museum of Art
What: Tickets to The Everson Museum of Art.
When: The museum runs on various dates.
Where: Everson Museum of Art at Syracuse's 401 Harrison Street.
Time:  Varied time slots.
Tickets: On Fever.
Myself Farheen Naaz sheikh, I hail from Nagpur Maharshtra. I have completed my education from Nagpur University. After my education I worked in IT sector around 1,2 years, after working in It sector I decided to move forward my career in Digital Marketing , for reason of I went through some digital marketing internships.
Talking about my skills, I have good communication skills, excellent in content writing and willingness to learn new things, one more skill is there, management and team work.