As an affiliate-driven website, Icy Tales earns from qualifying purchases.
We all agree that we have had these midnight thoughts of bleaching our hair. For some, it may be an impulsive decision. Nonetheless, we watch a video on How To Bleach Your Hair Blonde All Over At Home.
Some people prefer dyeing their hair at home because it is cheaper than in salons. You can buy a dye from any shop and apply the dye to your hair. But before doing so, consulting a hairstylist is very important. The question "How To Bleach Your Hair Blonde All Over At Home" is a tough one because you cannot just buy a box of dye and bleach your hair.
The bleaching process is a challenging procedure to handle by yourself. Have you ever noticed how many colorists employ one, if not two, helpers to expedite processes? Time is the key to lifting and lightening your color; therefore, having extra hands on board to set foils and draw them out will significantly improve results. Because bleach can swell, where and how you apply it, it will swiftly influence how long your strands will last. Additionally, a lot of it depends on the history of your hair. You have to be very careful while bleaching your hair.
If you plan to bleach your hair blonde, this article will help you safely bleach your hair blonde and aftercare methods.
This article answers the question of How To Bleach Your Hair Blonde All Over At Home.
1. What Is Bleaching?
Hair bleaching is utilizing bleaching substances to lighten hair color, usually for aesthetic reasons. Bleaching can be done independently, with a toner, or as a pre-coloring procedure.
More pigment is dissolved, and the hair gets lighter the longer the bleach is applied to the hair. Hair that already has blonde undertones will have an easier time turning platinum. Still, darker hues like dark brown or black would probably look yellow or even reddish after the first application.
Your hair's proteins are broken down by the harsh intruder known as bleach, which also removes color. Your hair is left with lighter, much weaker strands when the bleach is removed. The negative effects of bleaching your hair include breakage, frizz, and dryness.
2. Side Effects Of Hair Bleaching
How To Bleach Your Hair Blonde All Over At Home: Bad Side
One of the most popular things individuals like doing is bleaching their hair. It changes the color of your hair and gives it a lovely, shiny finish. However, coloring your hair has quite a few negative side effects, and bleaching your own hair may also harm it.
All the videos on "How To Bleach Your Hair Blonde All Over At Home" may look easy, but the process is complicated.
When you bleach your hair blonde, your hair's cuticle, which is the outside, scale-covered layer, is forced to lift when you bleach it. This lets the lightener penetrate the hair's inner cortex and disperse the natural pigment. Once the hair has been styled or treated, the cuticle is sealed back down. Repeated bleaching can damage or weaken the protein links inside the hair, raising the cuticle permanently and causing moisture loss, brittleness, and breaking.
i. Scalp Ache After Bleaching –
While getting the color applied, your scalp may experience a burning sensation. Additionally, the burning discomfort may linger for some time after coloring. All of this results from the potent chemicals included in bleaching products.
Additionally, it's conceivable that the bleaching products' chemicals might irritate the scalp and result in contact dermatitis.
ii. Dry Hair –
When you bleach your hair blonde, it may look dull and lifeless.
The main worry is that bleached hair might become extremely dry. This results from the oxidation process. Your hair undergoes oxidation to bleach. Due to this technique, your hair may wind up being incredibly dry and lifeless. Therefore, even though you may assume that changing the color of your hair will make
Make sure to have your hair bleached after a particularly extended time of rest and relaxation if you want to do so. Bleach your hair blonde only when your hair is normal.
iii. Hair Is Prone To Damage –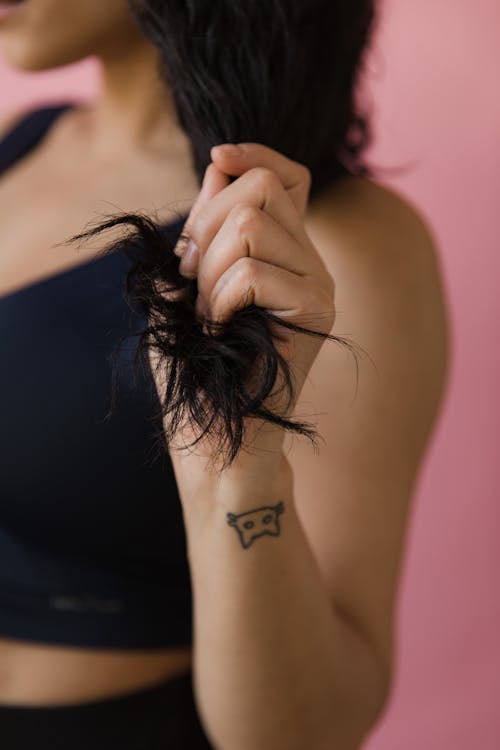 We all detest frizzy hair, but split-end hair is a serious candidate for the worst hair annoyance ever! Sadly, when you bleach your hair blonde, it might actually worsen the situation.
Your hair is more vulnerable to damage after bleaching. You may experience various problems if you bleach your hair blonde, like split ends and hair loss.
Extremely frizzy and lifeless hair can be caused by too much oil, wind, grime, damaging UV radiation, etc. Even hair growth slows or abruptly ceases throughout the process.
Bleached hair can be fragile and prone to harm if done incorrectly.
iv. Discolored Hair –
Hair that has been bleached often results in discoloration as a side effect. Unattractive discolored hair might also create the impression that you don't care about your appearance or hair.
This makes your hair appear strangely lifeless and unnatural. If you conduct the bleaching at home and cannot apply the coloring chemicals in the proper amounts, you are more likely to have discolored hair.
Things To Consider Before Bleaching your hair
How To Bleach Your Hair Blonde All Over At Home?
Before starting your path to become blonde, keep in mind all the key guidelines:
Consider how generally healthy your hair is before bleaching. Hair that is dry, brittle, or damaged shouldn't be bleached. Since virgin, or undyed, hair responds best to bleach; experts advise waiting at least three months before treating your hair.
Your hair loses its natural moisture and oils when you use blow dryers, flat irons, curling irons, and rolling irons that produce heat. Keep away from them for at least a week before bleaching.
Avoid washing your hair for the first day or two before bleaching. The natural oils in the scalp act as a small barrier between the bleach and the hair strands.
Coconut oil will nourish the hair and give an extra layer of protection before bleaching.
You should see your dermatologist and request a "patch test" to see how bleach affects your skin. If you have dermatitis, psoriasis, eczema, a scalp problem, or any adverse reaction to the patch test, you should think again before bleaching your hair.
Just as it's crucial to prepare your hair for bleaching, it's crucial to maintain the health of your hair after bleaching. Use additional caution while handling your bleached hair. To keep your blonde hair from turning brassy, hair stylists advise rotating between moisture and protein washes and conditioners, including a purple shampoo and conditioner in your regimen, and drying your hair with a microfiber towel.
While visiting a salon might be expensive, bleaching your hair at home is something that many people have been doing for years.
One bleaching session won't produce brilliant blonde hair if you have black or brown hair; numerous bleaching sessions are necessary to get that lighter hue. You might need the help of a hairstylist if you want to bleach your hair blonde.
How To Bleach Your Hair Blonde All Over At Home?
Things you will need to bleach your hair blonde:
Blonde powder bleach.
Crème developer strength
Toner (optional)
Neutral protein filler.
Plastic bowl.
Gloves.
Tint brush
Shower cap
Plastic bag
The process of How To Bleach Your Hair Blonde All Over At Home:
Step One
To make the combination, combine the bleach powder and the developer in a mixing bowl. You should follow the directions and mix developer and bleach powder in a 1:1 ratio, but you should double-check your product for details. Taking a spatula, combine the powder with the appropriate amount of developer in a mixing dish.
Step Two
First, split your hair properly into four portions, two for the front of your head and two for the back, and clip each section in place.
Step Three
Apply the bleach mixture to hair that is totally dry (never apply it on wet hair). Paint the mixture on one portion at a time with the tinting brush. Saturate your hair with the mixture completely.
Work from your hair ends up to a few inches towards the roots; save the roots for last since they digest bleach more rapidly. Do not apply bleach close to your scalp (hair shaft or hair cuticles) while styling the ends of your hair to prevent heated roots. If you have dark hair, wait 20 minutes after bleaching your ends before applying it to your roots.
Step Four
Cover your hair with a plastic shower cap or aluminum foil; the heat generated behind this will increase lift. Let the bleach sit.
As the bleach works, your hair will go through many color phases. It will change from its original dark hue to orange, orange to yellow, and eventually to light yellow. Wet a piece of your hair with water from a spray bottle, then towel the bleach off to check the color. If your hair still seems dark, re-apply a small amount of bleach to the area you removed with a wet cloth, and let it stay there for an additional 10 minutes.
Depending on the structure and color of the hair, this process might take anywhere from a minute to an hour. Every report claims that the bleach loses effectiveness after 60 minutes. Longer exposure will just cause harm to your scalp and hair with no additional whitening benefit.
Step Five
Wash your hair with cold water to remove the bleach. Rinse continuously until the water is clear. For 24 to 48 hours, refrain from shampooing. After the bleach has dried and can be washed out, condition your mane. Since you simply cleanse your hair of all oils, avoid using shampoo.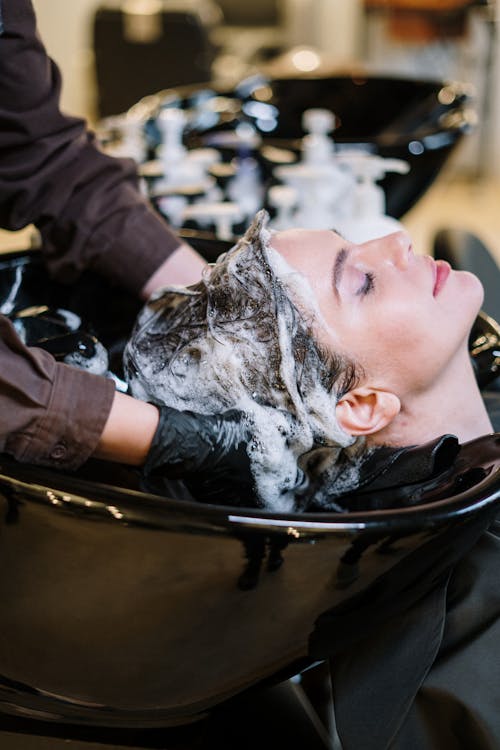 Use the additional nourishing conditioner most bleach kits include before applying them to your hair. Wash one more, then observe your stunning effects when your strands have dried. Apply a thorough conditioner or hair mask after your wash. If you have black or unprocessed hair, you will need a few more bleaching sessions to achieve a blonde look.
How To Bleach Your Hair Blonde All Over At Home.
vi. Maintain with a toner
Mix one component toner to two parts volume 20 developer in a mix to tone your hair. The concoction will seem blue. Don't forget to wear gloves to prevent getting the items on your hands. Toners come to the rescue since you don't want to subject your hair to too much bleach in a short amount of time.
Toners, which are used to balance the appearance of dyed locks, will aid in removing the pigment that is yellowish or orange after the first color lift.
It will take more bleaching sessions if you have naturally dark or virgin hair to get your hair to a platinum blonde color. It will still be too warm, particularly at the back. To balance this, use a toner in a cool color like silver or light ash. Follow these steps even if you want a warmer hue, like a golden or buttery blonde. If you choose a warm tone, you'll either end up with the strawberry blonde or brassy blonde. If you have light hair color like light brown, one coat of bleach will be enough for you.
After four to six weeks, you may tone or touch up your roots to eliminate the warmth and have a larger selection of colors. Until then, using purple shampoo and conditioner daily could be beneficial.
vii. Take Care Of The Bleached Hair Color
If at all possible, stay in the shade and avoid the sun. You might utilize an SPF spray made exclusively for hair. Before diving into a pool or the ocean, rinse your hair with bottled or tap water. Then, immediately after, take a shower to eliminate any extra salt or chlorine. And take a break from using your electric-style equipment.
Don't you hate that brassy tones? The solution occasionally uses a "purple" shampoo to counterbalance those unwanted yellow pigments. The recommended frequency of use is once per four to five washes.
Use only sulfate-free products designed for colored hair. Salt is a major component of sulfates, which can harm and dry out your hair. Read the labels carefully before purchasing things like shampoo, conditioner, hairspray, or other items. Whenever possible, avoid products that include sodium lauryl, ammonium, or sodium Laureth sulfates. To keep your hair healthy after color treatment, you also need to make sure that every product you use is designed for color-treated hair.
Bleach-damaged hair can be repaired with leave-in conditioners, which are widely available at supermarkets and beauty shops. You may apply certain heavy leave-in conditioners in the shower. Some are straightforward formulations that you may spritz on your hair before you leave for the day. Use specialized blonde hair care products to hydrate the fibers of your hair generally, improve and enhance your pigmentation, and protect your hair as much as possible. We advise using a sulfate-free shampoo.
Apply the bleach solely to new growth when it comes time to touch up the bleach at your roots; do not re-bleach your entire head. Your entire head being bleached repeatedly will cause hair loss and breaking.
Specially made hair oils like argan oil, olive oil, and coconut oil are excellent for treating dry hair since they assist in repairing and restructuring hair fibers with their necessary compositions. Apply them like a serum to the tips of your hair in the evening, and you may even treat yourself to an oil bath once a month to help keep all that moisture in for healthy hair.
Antioxidants found in abundance in argan oil can help shield your hair from additional harm. Additionally, coconut oil can seal your hair and stop protein loss. And never go by those videos which tell us How To Bleach Your Hair Blonde All Over At Home.
There are natural methods you may attempt to restore the strength and flexibility of your hair strands if you have bleached your hair, which is fairly unusual. It could take some time for your hair to start taking its original form, so the true solution might just be a little patience.
Stick to a regular hair care routine that restricts heat style.
By cutting off broken ends, bleach-damaged hair can be given new life. Ask your hairstylist or professional colorist to take off 2 to 3 inches; you could feel like a burden has been removed.
The idea of "How To Bleach Your Hair Blonde All Over At Home" frequently will cause increasing amounts of deterioration. Bleach your hair no more frequently than twice every two months. The American Academy of Dermatologists advises waiting 8 to 10 weeks between processing treatments on your hair.
viii. Alternative To Bleaching
Fortunately, bleaching is not the sole method for achieving lighter strands. There are safer alternatives. If you can't get to the salon, you may try to bleach your hair blonde at home before turning to a do-it-yourself bleach job.
This tool will help you respond to "How To Bleach Your Hair Blonde All Over At Home" if your hair color is naturally lighter (like light brown) and your roots appear to have grown out a little. Blonding brush is far less daunting than home hair bleaching because they are made with lemon juice and a small amount of hydrogen peroxide.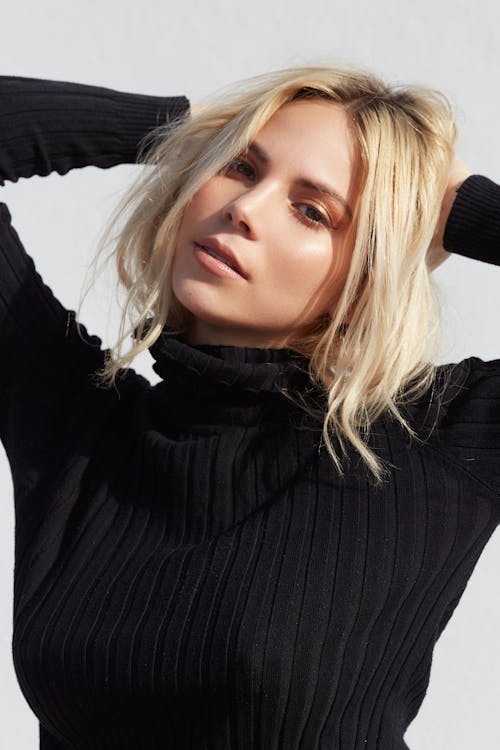 To cut a long tale short, How To Bleach Your Hair Blonde All Over At Home is more likely to go wrong than well. You have many options besides bleach to consider if you want to preserve and enhance your home's hue. Choosing to live with your roots is obvious over the hazards of wrongly bleaching your hair at home. To keep bright and blonde between treatments, stick with one of the safer solutions and leave the bleaching to the hairstylist.
It's better to bleach your hair blonde at a salon.
We hope this article helped you in "How To Bleach Your Hair Blonde All Over At Home."
Click here to read more.