Get ready for an enchanting experience in Orlando with Gatorland Orlando: Gator Night Shine, being organized at the Gatorland, and available to the public on various dates and different time schedules depending on the month.
Enjoy a unique experience of tossing food to the wild alligators in the eerie swamps below at this nighttime flashlight adventure in Florida.
Surrounded by a remarkable ambiance, travel over the wooden walkways and explore the alligator's breeding marsh at the Gatorland.
Head on to Fever and book your slots now for an exhilarating and educational journey into the heart of Florida's wilderness.
About the Alluring Allure Gator Night Shine Tour
Gator Night Shine is not a typical Orlando attraction. It is an after-dark adventure that combines excitement, education, and the thrill of feeding alligators in the eerie swamps below. 
Explore the Gatorland Flashlight tour at night that promises an unforgettable escapade in the heart of Florida.
Get ready for an adrenaline-fueled adventure, armed with a trusty flashlight and an irresistible feast for the magnificent gators, as you wander through the mystical Alligator Breeding Marsh, surrounded by the enigmatic melodies of nocturnal creatures.
One of the most exhilarating aspects of the tour is the opportunity to feed these incredible beasts and as you shine your flashlight, you'll see countless fiery red eyes drawing near, each gator eager to taste the delectable treats you provide.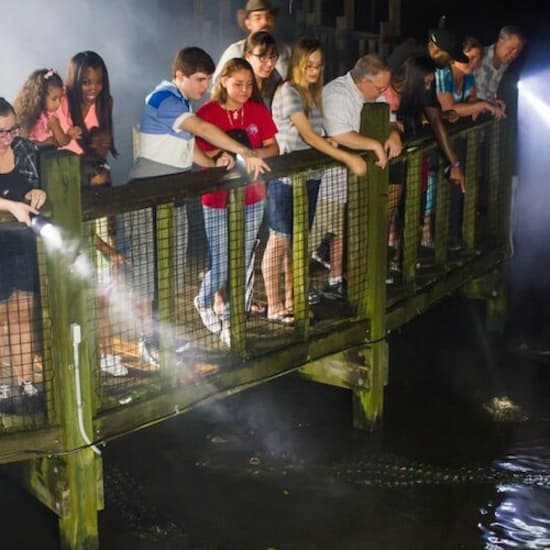 It is a heart-pounding excitement that will leave something you won't forget soon, offering a unique opportunity to immerse yourself in the mysterious and thrilling world of alligators under darkness.
Additional Information
Discover a truly unique and adrenaline-pumping experience in Orlando with Gator Night Shine at Gatorland.
So gear up, arrive early, and prepare for a 90-minute adventure that leaves a lasting imprint on your memory.
Gatorland's commitment to making this adventure accessible to all visitors is commendable and the tour is wheelchair accessible, ensuring that everyone can enjoy the thrill of Gator Night Shine. Additionally, children aged 0-2 can join for free.
To ensure a smooth start to an adventure, make sure to arrive 15 minutes early for the timeslot, and the minimum booking requirement is for five guests; so gather your friends and family for a night to remember.
Please note that your Gator Shine Night is exclusive to Gatholand's breeding mash and excludes access to other areas of the park and tips are not included.
The package includes a guided tour of the alligator breeding marsh, a flashlight to help you navigate the dark swamps, insect repellent, and, of course, the alligator food that will make your interaction with these incredible creatures. 
Date and Time
From April 2nd to August 31st, the tour starts at 8.30 pm.
From September 1st to November 4th, the tour starts at 7.30 pm.
From November 4th to January 1st, the tour starts at 6.30 pm.
Duration
The tour runs for approximately one hour and thirty minutes
Tickets
You can purchase the ticket for the Gator Flashlight Tour at the official website of Feverup.com or from the application of Feverup.
The regular ticket price for individuals aged 3 and above is $24.94. For more details check out the tickets on Fever.
Feed the Wild Alligators at the Gatorland in Orlando with the Gator Flashlight Tour
What: The Gator Night Shine
When: Available on various dates throughout the year.
Where: Gatorland Orlando, 14501 South Orange Blossom Trail, Orlando, 32837
Time: Various time schedules are available. Check Fever.
Myself Farheen Naaz sheikh, I hail from Nagpur Maharshtra. I have completed my education from Nagpur University. After my education I worked in IT sector around 1,2 years, after working in It sector I decided to move forward my career in Digital Marketing , for reason of I went through some digital marketing internships.
Talking about my skills, I have good communication skills, excellent in content writing and willingness to learn new things, one more skill is there, management and team work.