A brief overview of Jhandi Munda
Let's start by answering one question. What is Jhandi Munda? For those who don't know, the short answer is, it is a game, and it is very popular in India. The game is also known as Langur Burja or Crown and anchor in other parts of the world.
Being a game of chance, you don't need to learn complex playing strategies to walk away with huge winnings while enjoying this offering. You can therefore claim amazing cash prizes irrespective of your experience. Also, remember that the dice game has variations, and you can play it for fun.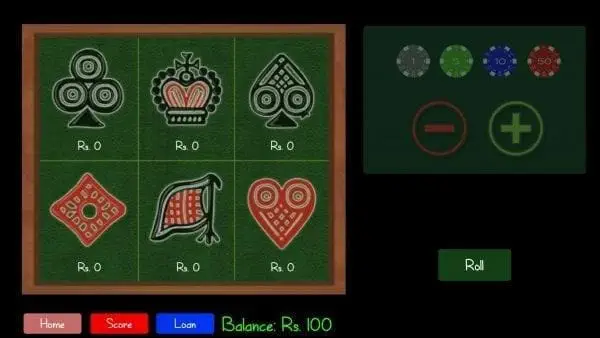 Players can enjoy Jhandi Munda Online on several top Online Casinos in India. Here is some great news if you are a native of India or reside in the country. The game is available offline. Consequently, you can enjoy playing against your friends, family, and other opponents in a social setting such as a birthday party.
Jhandi Munda: History and Origins
While players can enjoy Jhandi Munda from their smartphones, tablets, or computers, this was not usually the case. In the past, the game was mostly played on busy streets and alleys by people of all ages. Now, with the advent of smartphone and internet technology, digital boards are replacing the wooden boards and canvases on which the earliest Jhandi Munda variants were played.
A lot has changed since the game was first introduced, but we can confidently assert that the reasons to enjoy the game have remained the same. In India, Jhandi Munda is played during important festivities such as Dashain and Dashami. The people of Nepal also play the game when honoring traditions such as Tihar—the festival of light.
Here is an interesting fact. Jhandi Munda, like roulette, is one of the few games that have managed to stand the test of time. The British Navy was playing variants of this game as early as the 18th century.
How to play Jhandi Munda
Like most games of chance, Jhandi Munda is easy to play. You should also note that the game is fast-paced and is played with 6 dices. Therefore, the betting rounds end within a short time. The gameplay involves players betting on which symbol will appear facing up after the dices are tossed.
If a player bets on "Flag," then it appears facing up on 2 of the dices after a toss, then the player will win twice his/her stake amount, and they will also receive the initial stake. Seasoned Jhandi Munda players will tell you that "when it rains, it pours," which means that you should place bets on the symbols that land facing upwards frequently—a tip that will help you improve your chances of winning.
What Similarities do offline and online Jhandi Munda variants have?
Deciding whether to play offline or online Jhandi Munda variants can be a challenge. Below are similarities between the two variants of the game. Use them to help you make an informed decision.
Both are games of chance
Jhandi Munda is a game of chance. The online version available on gambling platforms and the offline version you can play with friends in social places or public places don't require special betting strategies.
They use a similar number of dice
Six is the number of dice used to play both offline and online Jhandi Munda variants. Each dice has six symbols: diamond, flag, spade, face, heart, and club.
Both can be played for fun or money
Jhandi Munda enthusiasts can enjoy the offline and online versions of the game for fun. Alternatively, they can also opt to play either of the games' variants against opponents for real money rewards.
Legal status
You won't be breaking any rules when you dive into the online or offline version of Jhandi Munda. There are no laws that prohibit individuals from playing these games. That said, you still need to be over 18 years old to play either of the versions on gambling platforms.
A look at the differences between online and offline Jhandi Munda variants
While online and offline variants of Jhandi Munda share a lot in common, the two have some differences, and you can learn about them here.
Age restrictions
You can play the online version of Jhandi Munda on leading online casino sites in India. These platforms do not accept players below 18 years, and this means that there are individuals who can't enjoy the online version. The offline version can be played by adults and youngsters alike, whether at home, in the streets, or at cultural functions since it does not have a defined age limit.
Payouts
Individuals who play the online Jhandi Munda variant can walk away with a lot more in cash prizes than their counterparts who play the offline version. Besides casino bonuses, the online version has an RTP % of 97%, and this allows players to claim significant returns if they are playing for real money rewards.
Guarantee of safety
As earlier mentioned, Jhandi Munda Online variants are available on online platforms. Licensed and regulated gambling establishments that have this offering allow you to enjoy the guarantee of withdrawing your winnings. The same can't be said for the offline Jhandi Munda alternatives since oversight authorities do not regulate their activities.
Lots of free games
You don't have to use your hard-earned cash on Jhandi Munda while enjoying the online version. Online platforms with this offering will allow you to enjoy as many rounds as you want for free. Knowing this, it would be best to play Jhandi Munda for real money rewards only after you've mastered the game and its rules of gameplay. The offline version, on the other hand, doesn't provide you with free rounds that can help you take your game to the next level.
Where can you play Jhandi Munda?
The answer to this question depends on the variant you will be playing. Being a street game, you can enjoy the offline version in public/social places across India or Nepal. In contrast, you can play the online version from the comfort of your home or while on the go using dedicated casino mobile apps.