They have proved it time and again that a transgender person is not born only to be dragged into prostitution or beggary but that they are capable of doing the same things as anyone else, that they are only humans who want to be cared about and are not meant to be thrown away as waste papers from the society.
Here's presenting to you 4 transgender personalities who, despite facing several odds, didn't give up but have successfully reached the top summit.
In 2013, Swapna, a 23-year-old transgender person, finally decided to pursue her dreams and appear for the Tamil Nadu Public Service Examination. She had to secure The Union Public Service Commission's permission to receive her hall ticket. Still, it was only after the court intervened that she was finally considered eligible for the examination. Despite facing such odds, Swapna's strong determination did not let her give up.
Today, the entire transgender community takes pride in her as she is the first from her community to appear for the civil service examination.
She was very well aware of her womanly instincts, but she chose to hide her real self beneath her manly attire. Why? Because she wanted to escape from her conservative father's taunting remarks. But soon, a change of mind had set everything in her life in the right place. She finally decided to undergo a sex-change operation and thus became Manabi from Somenath.
This step of hers only made her bolder. If nothing else, dealing with the various challenges that life had offered to her helped her prove that people belonging to the transgender community were nothing less than the other two genders, she decided to set an example herself.
She is the first from her community who has earned a doctorate. Later she took to teaching Bengali at Vivekananda Satavarsiki Mahavidyalaya in West Midnapore District, after which she has also been appointed as the college principal of Krishnanagar Women's College.
She is our country's first transgender entrepreneur. From holding two master's degrees in journalism and international relations to running her own business venture called 'Sahodari,' Kalki has done it all!
The main idea behind creating 'Sahodari' is to generate income for people belonging to the trans community and the poor people belonging to all communities.
Today, her relatives have accepted her for the kind of person she is, but they also reflect her deep feelings towards humanity.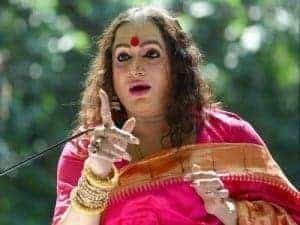 You may have seen her before because she has been a part of the 5th season of the controversial reality show Bigg Boss. But apart from that, there is a lot more you didn't know about her. Did you know that Laxmi Tripathi is the first from the Indian transgender community to represent Asia Pacific in the UN in 2008? In year 2007, she formed her own organization 'Astitiva' to promote the interests of the sexual minorities.
Apart from being a social activist, she also holds a post-graduate degree in Bharat Natyam and has been a part of several Ken Ghosh videos.