Nowadays, men have become a lot more aware and involved when it comes to fashion. This is great for them because the way you look has a huge impact on the way people perceive you. It can also play a part in the way you are with people because if you look good, feel good and feel comfortable, you will become more confident and approachable in return.
However, everyone is different, and something that works well for one person may not work for another, so finding a style that suits you will require time, patience and maybe a bit of experimentation. To help you improve your style, here is what you can do to dress to impress.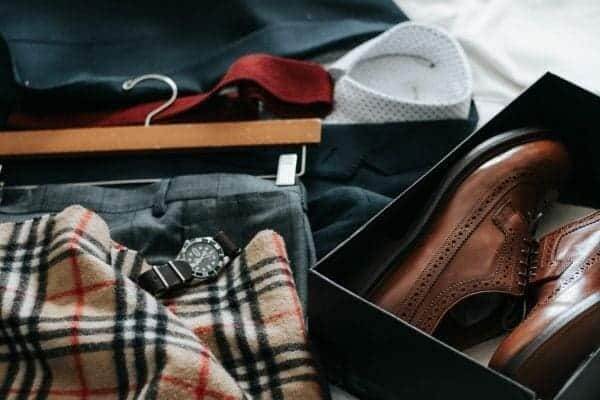 Aim for Smart-Casual
When you are trying to dress to impress, then you should alter your style and choice to the situation you are going to be in. However, one style that meets the needs and requirements of most settings is smart-casual wear. When the perfect smart-casual look is achieved, you will instantly look more professional, approachable, and successful.
You can adjust this look for the occasion, for example, if you are dressing to browse the high-street or go for lunch with friends, then you should choose to wear fewer layers and jeans instead of tailored trousers, as this will be more comfortable. 
Keep Your Shoes Clean
You wouldn't go out in dirty clothes, so why would you go out in dirty shoes? When you are dressing to impress, you need to keep the condition of every item you choose to wear in mind. Shoes may be one of the last items of clothing people notice, but they are an extremely important part of your overall appearance. Any high-end footwear will complement an outfit and give your appearance an upper-class finish. Whatever shoes you choose to wear, you should take care of them and clean them before and after you have worn them for the day. 
Invest in a Watch 
A designer watch is like a piece of art. Their value increases with age, so it is vital to maintain them when they are in your care. You should purchase a watch because you love it, not because you think it is an investment and will make you some money in the future. Watches are a simple accessory and are useful. They literally mark your passage through time, so as well as looking good, they should be practical. Certain models are designed to tolerate wear and tear of everyday use. The watch you choose should fit your wrist perfectly and feel comfortable to wear throughout the day.
Upgrade to Designer Items
Designer items are expensive, but these items are highly effective at improving your style and impressing the people who see you. You should be passionate about the brand and the items you want to purchase. For example, if you love British fashion and you are interested in the country's fashion history, then Burberry may be the perfect designer name for you. If you like the sound of this brand, then you should check out the Burberry collection at SSENSE where you're likely to find a few pieces that suit your style. 
Make Sure Everything Fits
If your clothes don't fit properly, then this will instantly affect your appearance. When you choose to dress to impress, then you should avoid tight or loose clothing. You should purchase clothing that suits your body shape and size. For example, if you have a muscular physique, then you should choose to wear muscle fit shirts to avoid looking restricted in your clothing, and to improve definition. In order to waste less time and improve the success rate of any purchases, you should measure yourself. Once you know your exact size, it will be easier to find clothes that fit perfectly. 
Look After Your Appearance 
Clothing is important, but your overall appearance also plays a big part in the way you look. Taking care of your appearance is essential when you are trying to dress to impress. You should keep your hair clean and tidy, by washing and trimming it on a regular basis. When it comes to facial hair, make sure you maintain it to a high standard, as it can easily bring down someone's appearance when it looks messy and unkempt. Taking care of your skin and teeth will also make a huge difference in your overall appearance and will make you look healthier and younger. 
Dressing to impress isn't always easy. One thing to remember when it comes to adjusting your style and improving the way you look and feel in your clothing is that you should choose items that make you feel good as well as look good.