We all know and love Michael Buble and his role in today's music industry. The Sinatra-esque performance machine is loved for his classic and classy interpretation of both oldies but goldies as well as his own compositions.  Ranging from sad to jolly, his songs have echoes in many a household. Lately, his mood has been more driven towards the former category due to his family's problems with their son.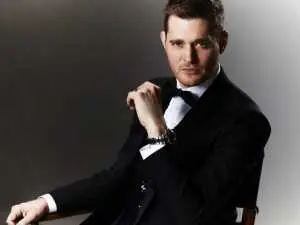 The little guy was battling cancer and of course, that put a heavy toll on the entire family. You can only imagine the kind of ordeal Michael was going through. Luckily however, he can now smile again as his son managed to beat cancer and restore faith in the family. The 3 year old Noah brought forth the best gift any parent could ever ask for: his health restored.
Michael Buble's son Noah was diagnosed with liver cancer. This happened back in 2016, in November to be more precise, and now that's just a nasty memory and nothing more. The boy received the best treatment in the United States where he was obviously overseen by some of the best specialists. It took them 5 months of what could only have been very stressing and troubling times, but Michael Buble's family managed to break through the gloom and emerge victorious out of this battle with cancer.
Michael Buble's wife was also part of this story and while she did not give many comments throughout the whole thing, the relief of seeing her son through with cancer has allowed her to speak her mind at a press conference. She puts her faith in God and believes in becoming more powerful for the sake of one's children. Here is what she had to say:
"My faith in the fact God had a miracle helped me. I became strong so my son would get better. I transmitted that to all my friends and family"
From the hospital to the award show
Now that his son is safe, Michael Buble will be return in the public eye to receive an honorable award from the Governor General of Canada. The award is the National Arts Centre Award and it will be handed over in Ottawa on June 28th. He will also be live from the scene on the following day, thus making a return to the stage.
While everyone is happy that his son is out of the woods and completely understands the shift in priorities, people are also very excited about seeing Michael Buble return to what made him be such a loveable figure in today's music scene. From records to artist ringtones and live shows, Michael Buble has made a lot of people happy over the course of his career so far.