So, the winter season is here, and it calls for the perfect homemade recipes for chilli. These recipes for chilii are versatile and delectable comfort dishes.
It can be served as a main course with other homemade delicacies such as cornbread, baked potatoes, waffles, or spaghetti.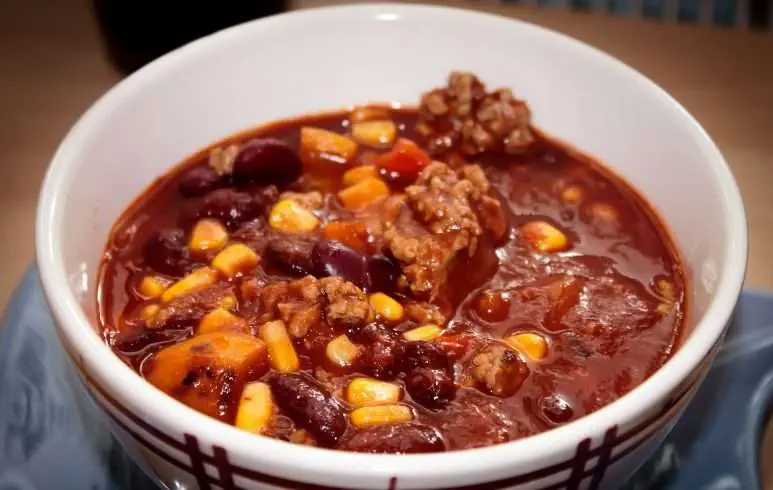 I think we can all agree that everyone should have a simple chili recipe with beans in their recipe box! I'm talking about no-frills classic recipes for chili with beef and beans that are tasty yet simple to make.
However, there is so much you could do with a simple dish, so many creative and delicious recipes for chilli that you can't miss. Below are the ingredients you need for the first recipe.
Recipes For Chilli: Classic Chilli
Ingredients
1 Tablespoon olive oil
Green onions
14.5 ounce can petite diced tomatoes, undrained
1 pound pork sausage
1/4 cup red wine vinegar
2-pound lean ground beef
Beef broth
4 cups tomato sauce
1 cup ketchup
2 15 ounce cans of pinto beans, undrained
1 Tablespoon packed brown sugar
16 ounce can kidney beans, undrained
3 Tablespoons chilli powder
¾ teaspoon garlic powder
½ teaspoon pepper
1 teaspoon paprika
1 teaspoon ground cumin
Hot sauce
Cayenne (a few teaspoons)
Shredded Cheddar cheese (optional)
Sour cream (optional)
Instructions
Over medium flame, place a large soup pot and a few tablespoons of olive oil. When the oil is heated, add the onion and simmer for 5 minutes, stirring regularly. Cook the onions in olive oil until they are soft and begin to become brown and caramelized.
Add the meat. Cook, breaking up the ground beef and sausage into tiny pieces with a wooden spoon until browned. Any grease should be drained.
Cook for 1 minute after adding the vinegar. In a mixing bowl, combine the chopped tomatoes, tomato paste, ketchup, beans, brown sugar, chili powder, garlic salt, pepper, paprika, cumin, and cayenne pepper.
Simmer with the remaining ingredients. Bring the mixture to a boil, then lower to low heat. Enable for at least an hour of simmering time to allow the flavors to mingle.
Bring to a boil over medium-high heat, stirring regularly, then lower to medium-low heat and simmer for at least one hour, or up to three hours, stirring occasionally.
Serve in bowls, topped with a dollop of sour cream and a sprinkling of cheese.
Chilli goes well with cornbread, biscuits, or a green salad.
Recipes for Chilli: Homemade Vegetarian Chilli
This chili recipe is ideal since it is a substantial vegetarian alternative. Furthermore, if you pick your toppings wisely, they may be vegan and gluten-free. This chili recipe is sure to please everyone.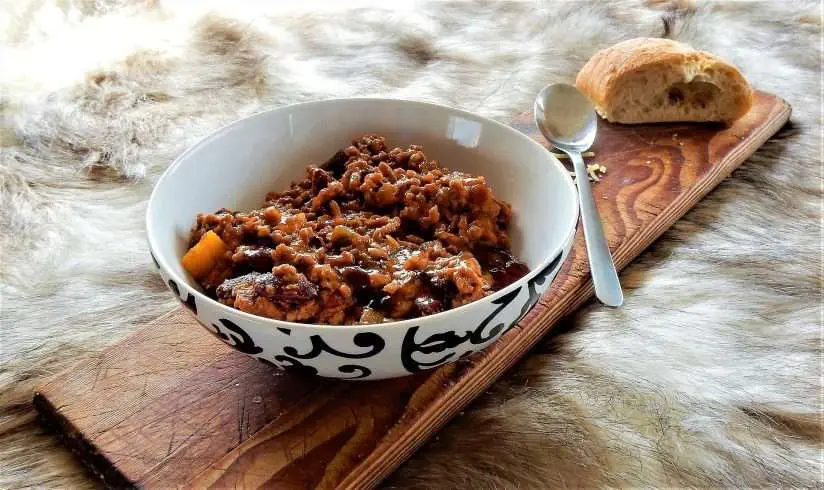 While the ingredients in chilli recipes are simple, the flavors are not. Simple ingredients may taste extraordinary when starting with aromatics like onion, carrot, celery, and garlic.
I used typical chili spices as well as smoked paprika to provide a flavorful, smokey touch. Canned beans and tomatoes add flavorful plant-based protein and bulk.
Ingredients
2 tbsp extra-virgin olive oil
12 teaspoon salt, divided 1 medium red onion, diced 1 large red bell pepper, chopped 2 medium carrots, chopped 2 ribs celery, chopped
4 garlic cloves, crushed or minced
Chili powder (about 2 teaspoons)
1 teaspoon dried oregano
2 teaspoons ground cumin 12 teaspoons smoked paprika
1 big can (28 ounces) diced tomatoes (with juices) or 2 small cans (15 ounces each)
2 tins (15 ounces each) washed and drained black beans
Drained pinto beans, 1 can
2 cups water or vegetable broth
Kidney beans
1 leaf of bay
Chopped cilantro about 2 tablespoons
sherry vinegar, red wine vinegar, or lime juice, 1 to 2 tablespoons
Chopped cilantro, sliced avocado, tortilla chips, sour cream or crème fraîche, shredded cheddar cheese, and other garnishes.
Instructions
Warm the olive oil in a large Dutch oven or heavy-bottomed pot over medium heat until it shimmers. Add the onion, bell pepper, carrot, and celery, as well as 14 tsp of salt. Stir to combine and cook, occasionally stirring, for 7 to 10 minutes, or until the veggies are soft and the onion is transparent.
Combine the garlic, chili powder, cumin, smoked paprika, and oregano in a large mixing bowl. Cook for 1 minute, stirring regularly, until aromatic.
Combine the chopped tomatoes with tomato paste, the drained black and pinto beans, vegetable broth, and bay leaf in a large mixing bowl. Stir to combine, then reduce to low heat to bring the mixture to a simmer. Cook for another 30 minutes, stirring regularly and decreasing heat as needed to maintain a medium simmer.
Remove the bay leaf and remove the chili from the heat. Transfer 12 cups of chili to a blender, including some liquid components, for the best texture and flavor. (Alternatively, you may use an immersion blender or a potato masher to mash the chili until it reaches a thicker, more chili-like consistency.)
 Secure the cover, blend until smooth (careful of the hot steam), and return the mixed mixture to the pot. Stir in the chopped cilantro, then season with salt and pepper to taste. Season with salt to taste—I used another 14 tsp at this point. Divide the mixture into separate bowls and top with desired toppings. This chili will keep for approximately 4 days in the refrigerator, or you may freeze it for longer storage.
Tips: If you blend the chillis a bit, it will have a different texture and flavor. That's a tip I picked up from my lentil soup, which is another hearty alternative for cold days.
The chili is made even more vivid and fresh by finishing it with a dash of sherry vinegar (or lime juice) and fresh cilantro. The vinegar adds acidity and depth to the dish, and it makes all the difference.
Toppings for Chili
As mentioned earlier, this chili is dairy-free and vegan. Vegan toppings like sliced avocado and tortilla chips might help you keep it that way.
Here's a whole list of possibilities:
Grated cheddar cheese,
crème fraîche or sour cream,
avocado, sliced or diced,
Chips made with tortillas (crumbled if desired),
a little more cilantro,
slices of lime.
Leftover Chili
The leftovers from this chilli can be stored well in the refrigerator for four days. Reheat your chili in a bowl and serve.
This chilli recipe is also delicious as a protein-packed topping for nachos, baked potatoes, or oven-baked fries. Chilli can be stuffed into burritos or quesadillas.
This easy vegetarian chili's smokey and rich taste comes from pantry staples, vegetables, and spices! This recipe makes enough chili for 4 big or 6 moderate portions.
Spice Note:
I prefer spicy food and thought this chili to be well-balanced in its current form. If you are sensitive to spice or are using highly powerful spices (I've heard that chilli powder purchased outside of the United States may be rather spicy), you may want to reduce the amount of spice used in this recipe.
Start with half of the specified amounts and adjust to taste.
Recipes for Chilli: Tips for Homemade Chili
What is the finest secret ingredient for a chili recipe?
It all depends on the flavors you choose when it comes to chili's hidden components.
Peanut butter, cornmeal, and chocolate are all common hidden ingredients, but rarely all simultaneously. Check out some more chili-secret ingredients.
How can you improve the flavor of chili?
Our favorite approach to improving the flavor of a chili recipe is to "bloom" the spices by slowly toasting them in a pan until fragrant before adding them to the chili.
You'll be shocked at how much of a difference it makes! Here are some more techniques to boost the flavor of your chili.
Is it safe to let chili cook all day?
Allowing your chili to simmer is the best option. Beef takes roughly 2 hours on average to decompose fully. If you want to simmer your chili for a longer period, we recommend using a slow cooker chili recipe.
Recipes for Chilli: Texas Chili
To keep everyone warm, it's time to bring out some hearty, satisfying meals. Now that the nights are longer and colder, Texas Chili is the ideal dinner recipe. Serve it with a slice of handmade Ultimate Cornbread for a complete dinner.
There's something about a large pot of Texas Chili cooking on the stove that might make the other recipes for chili jealous, Texas chili makes you think of the fall and winter months, and leftovers are even better. You can make it at the beginning of the week and eat it as leftovers and lunches for the rest of the week.
Ingredients
2 tablespoons olive oil 2 yellow onions, diced 3 garlic cloves, coarsely chopped 2 pounds ground beef, (85/15) 1 teaspoon kosher salt, 1/4 cup ancho chili powder, 2 tablespoons cumin, 1 tablespoon paprika, 1 tablespoon brown sugar,  4 cups beef broth.
Instructions for making texas chili
Heat the vegetable oil and onions in a large dutch oven over medium heat until the onions are transparent, about 6-8 minutes.
Cook, constantly stirring, for 1 minute after adding the garlic.
Allow the ground beef to sear for 6-8 minutes, breaking it apart as it cooks but leaving the pieces a little larger.
Cook for 1 minute after adding the salt, ancho chile powder, cumin, paprika, and brown sugar. Whisk in the diced tomatoes and tomato paste until the tomato paste is thoroughly combined.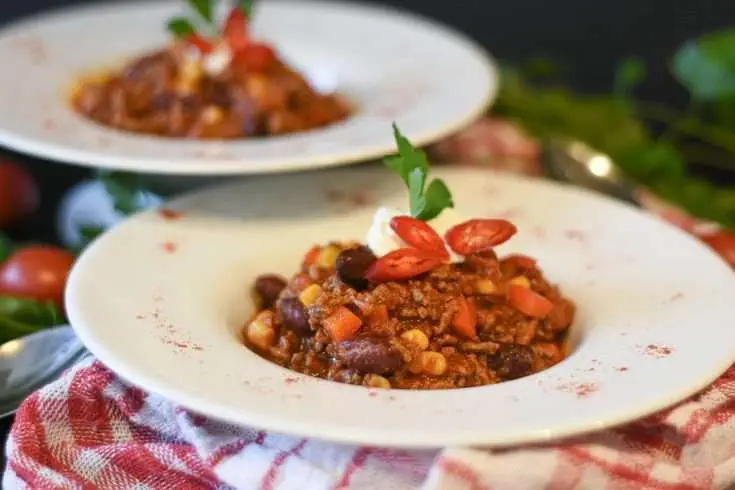 Bring the beef broth to a simmer, then reduce to medium-low heat and cook for 1 hour, stirring every fifteen minutes. The steak doesn't get lost in the gravy.
Chilli is ready when the beef stock has been reduced to a consistency that allows the ground beef to remain visible in the gravy.
Variations
Toppings:
You can top your chili with almost anything. Add a dollop of sour cream, cheddar cheese, or tortilla pieces, or cut up some jalapenos.
Spices:
To play with the tastes without starting from scratch, add 3 teaspoons of chili powder to my Chili Seasoning Mix.
Chilli peppers:
Because Texas Chili is named after chili, you can make it spicy to get a sweet, smoky, or strong spicy flavor, chop up some pasilla, serrano, or chipotle peppers. There is still a pepper you can add if you don't like spice: bell pepper. It's sweet, doesn't have much heat, and pairs well with Texas Chili.
Meat:
Use ground beef, but a chuck roast sliced down to stew meat size would suffice.
What is Texas Chilli, exactly?
So, what distinguishes Texas chili from other varieties? Texas-style chili differs from traditional chili in that it contains no beans and is classified as a type of chili con Carne.
What constitutes authentic Texas Chili varies depending on who you ask, although most people agree it has no beans. The ground chuck and delicious chilli mixture provide the majority of the savory, smokey taste. In certain circumstances, Texas Chili is made without any tomato sauce at all.
Texas chilli chefs take their craft seriously, and there are a variety of chilli cook-offs held across the country and even around the world to determine whose recipe is the finest.
Why are there no beans in Texas Chili?
It's nothing more than a custom. Texans are proud of their bean-free chili.
What makes a chilli pepper spicy?
In Texas, Chili is usually made with ground beef, spicy peppers, chilli powder, and beans.
Why is it that chili tastes better the next day?
Chilli allows the meat to break down a little more and release more flavor into the stew.
How long will Texas chili keep fresh?
Don't keep this Texas Chili out for more than 2 hours, like with most non-shelf stable goods.
Texas Chili will keep in the fridge for up to 3 days before needing to be thrown out. Make sure it's sealed correctly in an airtight container or a sealable bag. Also, before putting it away, allow it to cool entirely to room temperature.
Freeze:
In a sealable container, Texas Chili can be frozen for up to 4 months. Make sure to let it cool completely before attempting to seal it.
Before microwaving or reheating on the stovetop, let the food thaw overnight in the refrigerator. Usually, in such recipes for chilli, it's preferable to freeze in a shallow container or reheat on half-power if you're going to heat from frozen and you know it ahead of time.
When is it safe to eat Texas chilli?
When the ground beef chuck temperature reaches 160 degrees F, it is deemed safe to eat (71.1 degrees C). This chili is incredibly simple to make because the slow cooker performs the majority of the work! Here's how you'll do it:
Aromatics should be sautéed before adding to the slow cooker: Heat the olive oil in a large and deep nonstick skillet over medium-high heat.
Sauté the onion for 3 minutes, then add the garlic for 30 seconds more. Fill a 6 or 7-quart slow cooker halfway with onions.
Beef browned: Return the skillet to medium-high heat, add the beef, and cook, stirring periodically, until the steak is browned.
Remove the fat off the steak and place it in the slow cooker: Remove most of the fat from the beef, leaving roughly 2 tablespoons in with the steak. Next, you can add the beef to the cooker.
Stir in the diced tomatoes, tomato sauce, beef broth, chilli powder, cumin, paprika, cocoa powder, sugar, coriander, and season with salt and pepper to taste.
Low and slow cooking: Cook for 5–6 hours on low heat, covered with a lid.
Stir in the beans: Stir in the dark and light red kidney beans and cook for about 2 minutes.
Serve hot with chosen garnishes.
Recipes for Chilli: Crockpot Chilli
Don't forget to sauté the onions before adding them to the slow cooker. You'll wind up with crispy onions in your chili if you do.
Make use of high-quality ground beef. I like to use 85 percent lean Angus meat in my recipes. Avoid meat in tubes since it is of inferior quality.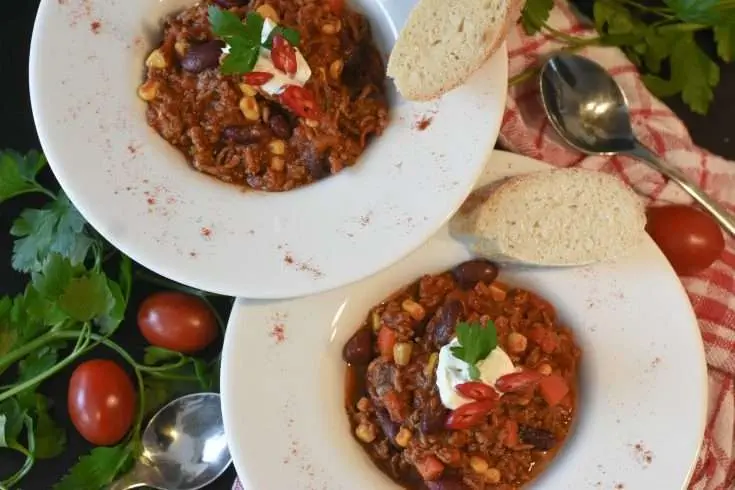 Bloom the spices before adding them to the chili for even more flavor. Sauté them with the onions for the last 1 minute.
Cook the beef in two batches if you have the time. Cooking 1 pound of beef at a time gives it more room to brown rather than steam. Browning, of course, adds wonderful taste.
Cooking over high heat should be avoided. Cooking at this low and moderate temperature lets the flavors develop and mingle and makes the beef softer.
Because canned beans are already cooked, adding them at the beginning results in mushy beans. Wait until the very end to add the beans. And there you go, these recipes for chilli will help you have fun with cooking. Choose the recipe that fits you best.
The next time you want to have something good, you don't have to keep looking for too long because you will have this list of best recipes for chilli.
Enjoy!