Who doesn't dream to live the life of a billionaire? Not worrying about money, being able to afford pretty much everything money can buy, to fulfill any dream, no matter if it's having a cup of tea on the top of the Everest or diving in the crystal clear waters of the Caribbean… what else could you ask for?
Well, it seems, having a huge pile of money and being able to afford almost everything money can buy is not enough for some of the super-rich. How else would you explain some of the things they have been caught doing?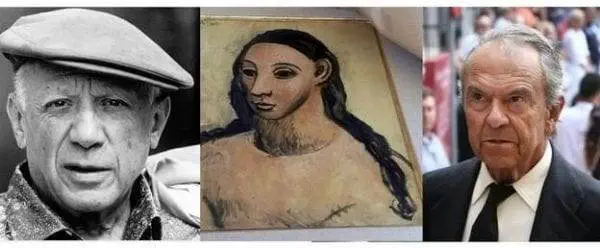 Jaime Botín
Banker and art collector Jaime Botín-Sanz de Sautuola y García de Los Ríos will go down in history as the billionaire caught smuggling Picasso. Señor Botín apparently couldn't imagine sailing without one of his most prized possessions, Picasso's "Head of a Young Woman" valued at $29 million, despite being ordered by the local authorities to keep it safely within Spain's borders. He defied court orders and took the painting with him on his yacht to Corsica (the island, despite being in Italy's vicinity, is France's territory). 
Botín was arrested, sentenced to 18 months in prison, and ordered to pay a $58 million fine for "smuggling". Law, it seems, applies to everyone in Spain.
Allen Stanford
Robert Allen Stanford was on his way to becoming a successful real estate mogul in the 1980s, investing in buying up serious quantities of real estate in Texas after its oil bubble burst. This, it seems, was not enough for him – he moved to the Caribbean, started a financial investments company, and a bank with the goal of making even more money.
The authorities, in turn, found that the returns he promised his investors were much higher than those of the market and that the investment results he presented were based on nothing but words. An investigation followed, resulting in the conviction of Stanford for everything between wire fraud and money laundering after it has proven beyond doubt that the Stanford Financial Group was nothing but an $8 billion Ponzi scheme. Stanford was sentenced to 110 years in prison, the payment of $5.9 billion in fines.
Joaquín Guzmán Loera
Joaquín Guzmán Loera was born in a poor Mexican family in 1957. He was a brave prankster, protecting his younger brothers from his violent father, dropped out of school in third grade to work, and started his own plantation at the age of 15. Ultimately, he grew in ranks to become one of the biggest leaders in history, with a net worth of up to $4 billion in 2016.
Joaquín Guzmán Loera, better known as "El Chapo", is perhaps the most infamous billionaire on our list. He is currently serving life plus 30 years in the US.
Patty Hearst
The heiress of the massive Hearst publishing empire, Patty Hearst is one of the more controversial names on our list. In 1974, she was kidnapped by the Symbionese Liberation Army, an American left-wing terrorist organization. But many have disagreed with her alleged "kidnapping", claiming that she has, in fact, willingly joined the organization, especially after she was caught committing serious crimes with members of the organization.
Ultimately, she was sentenced to 35 years in prison for bank robbery, a sentence later reduced to 7 years.
Alkiviades "Alki" David
Finally, let us mention Alki David, film producer, and entrepreneur, member of the massive Leventis family with holdings ranging from shipping companies to the Coca Cola bottling business that covers about half of Europe.
Apparently, the stress of the business was a bit too much for the entrepreneur so he was seeking some herbal remedy to it. Unfortunately, this caught the watchful eye of the St. Kitts and Nevis authorities that caught him smuggling around 5,000 cannabis plants – worth $1.3 million – to the Caribbean island on his private jet, seemingly to start a cannabis-based business on the island. Since cannabis is not legal there, Alki David was arrested and charged with possession, and importation of a controlled drug and possession with intent to supply.
Also read: Story of Dunkin Donuts.