When you click through from our site to a retailer and buy a product, we may earn affiliate commissions. This helps support our work, but does not affect what we cover or how, and it does not affect the price you pay.
Travel would always be on somebody's favorites list, and traveling by road is always exciting. Road trips let you explore better and have a deeper impact on your journey and your travel experience. Road trips allow you to explore the unexplored. Road trips allow you to introspect and gives you a deep insight on various aspects. There have always been many places for those who love road trips, but this long route will ensure that you get the longest road trip ever. Here is a guide to the supreme journey. Do read on to find out.
Road trip lovers, there is a new pick that will now top your list and surprisingly it starts from India and ends in Thailand.
[ ATTRIBUTE: Please check: http://www.flickr.com/photos/21255424@N07/15347971600 to find out how to attribute this image ]
What a contrast of Nature's beauty and beguile adventurous experience it is. For all road trip lovers, it would take an average of 15 days to cover this route. Put on your amazing beats and watch yourself start from south Asia and slowly mingle into the southeast. Read on to find out what one passes through during the ride. Thailand has assisted the Construction, and it starts from Moreh in India to Thailand's Maesot via Myanmar.
Yes! This supreme journey covers 4 countries on road. It is part of the Asian Highway project to connect the Asian boundaries. This road's total distance is 4500, which cuts into various valleys, highlands and surreal waterfalls, and several long pasture lands into its shorter versions. A similar agreement has been made by 32 different countries to allow highways across the continent and reach Europe.
Travelling is about experiencing. Experiencing Culture, Experiencing Nature's Beauty and making memories for a lifetime.
Let's see what you cut into during the progress of this journey.
PASTURE LANDS.
Astounding Vegetation and Massive Structures.
You get to see that Green Patches of land and few massive structures represent the customs and traditions of this place. Some massive structures greet you all through the way.
PAGODAS.
It gives you an altogether different feeling when you enter this country with such religious practices.
Surreal Waterfalls.
When Nature's at its very best. Anisakan is on the route where you can refresh yourself during the course. You can have a halt, refresh yourself with some peace and fun time with your friends.
Ancient Architecture.
When you enter Laos, you get to see ancient architecture and the city's architectural beauty. Most of these architectural marvels are an ancient pride of the country.
Amazing Landscapes.
The destination has beautiful landscapes. Some of the surreal surroundings come across during the end of the travel. When you step into this nature's marvel, you will be greeted with such wonderful landscapes.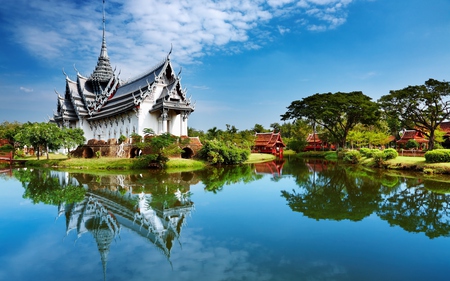 This is the total route you go through; all these 15 days of travel are worth it. Every road traveler would take back endless memories from this iconic journey. It would fill you up with all those memories, and insights on various aspects and much more.
I hope you take a month off and allow yourself to indulge in this astonishingly beautiful road trip.
D Saikiran
Author | Loves Travelling | Photography.