Get your hands on the Iconic Seattle Exploration Game ticket, available exclusively on Fever, and explore all the iconic sites of Seattle that capture the innovative vibe of the city. You can start the experience at any time of your choice and the departure point of the tour is the Father and Son Fountain.
Popular for rainy weather, coffee, and a city filled with entrepreneurs, innovators, artists, and techs, Seattle brings to you a new interactive exploration game filled with adventure and excitement, where you be a fictional character and follow a story.
The Experience 
Iconic Seattle Exploration Game ticket is your passport to discover the innovative spirit of Seattle at varied iconic locations such as the Space Needle, Seattle Cloud Cover, Anne Frank Chestnut Tree, and the MOPOP.
Understand more about the pioneers whose hard work and ambitions have crafted the explorative space of Seattle and the world.
Also, get to explore the beautiful green spaces and parks which include the Olympic Sculpture Park and the Seattle Center, and be awed by the marvel. 
While exploring the city game, follow hints that help you discover places and be captivated by the innovative Seattle spirit.
This exploration game on the phone can transport you into the iconic spots of Seattle with its flexibility on an app, that guides you on an exploration of different popular and well-known spots.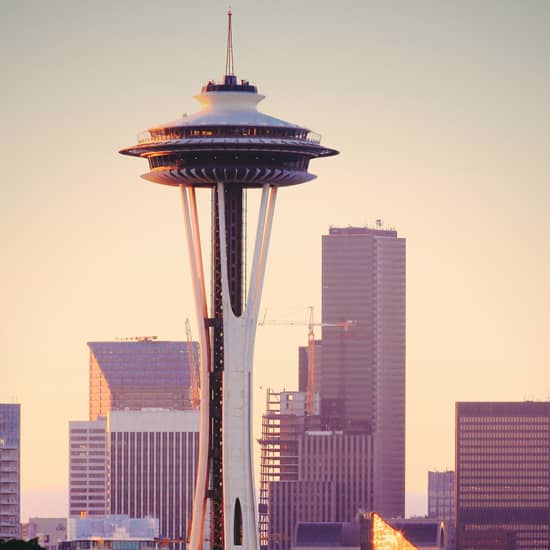 A self-exploratory and interactive game that helps you explore various iconic spots as well as step into the shoes of a time traveler where you find a pal in his last known location and time.
Solve challenges at your pace that will help you unfold a story, and the directions on your phone will provide the route to the next spot where you will discover exciting and historic locations downtown. 
Date and Time
The Iconic Seattle Exploration game can be started any time after you purchase the tickets. The duration of the game is 1 hour and 30 minutes covering approximately 3 km. However, you are welcome to play at your own pace. 
Additional Info 
Discover a perfect mix of an outdoor escape game and a treasure hunt with this exploration game in Seattle.
Your exploration game starts at Father and Son Fountain from where you follow the game routes and instructions accordingly.
Bring smartphones to flash your tickets. Minors are to be accompanied by parents or caretakers.
Use your tickets anytime after your purchase at the departure point, Father and Son Fountain. 24/7 customer support is available by Fever. No booking fees are required.
Tickets
Buy tickets from the official Ticketing platform Fever where one ticket for the exploration game costs $6.99 and you can get more details about your booking in the confirmation email and your Fever ticket.
Also, buying an adult ticket assures children below 15 years to play free of charge.
Get Your Tickets Now for the Adventurous Exploration Games in Seattle
What: Ticket to your Iconic Seattle Exploration Game
When: Any time after you purchase the tickets.
Where: Embarks from Father and Son Fountain, Belltown, Seattle, Washington. 
Tickets:  Priced at $6.9, available on Fever. 
I am a passionate writer with a vivid interest in various spheres of life. My interest in movies and reading books has helped me widen my horizons and imagination. I am also an art enthusiast and love various art forms. As a creative person, I live my life to the fullest.