Make your evenings interesting and fun in Dallas with Sips After Sunset at World of Barbie, being held at the Stonebriar Centre, and organized on various dates and time slots that can be chosen from the ticket selector.
Indulge yourself in sipping delicious themed cocktails while grooving on the dance floor with your friends at the iconic Barbie World in Dallas. 
The Experience 
Clad yourself in your favorite Barbie-core dress and experience the fantasy of adult-only evenings at World of Barbie at Stone Briar Center, Dallas' hottest venue to experience the excitement. 
Be a social butterfly while you hit the dance floor with your bestie or partner while sipping refreshing Barbie-themed cocktails.
Grab yourself some delicious bites while you relish the Barbie-themed beverages that grant you exclusive after-hour access to the World of Barbie.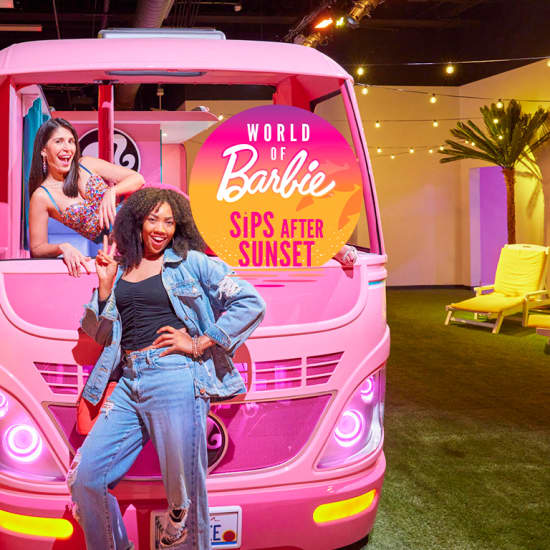 The Cocktails Menu 
Malibu Sunset – vodka, cranberry, and pineapple juice that are shaken on the rocks and garnished with lime.
The Pink Drink – tequila, juice of pink grapefruit, triple sec, lime juice shaken on the rocks and garnished with lime.
Additionally, you can also order Rose, Prosecco, and Sauv Blanc which are available at the venue.
Additional Info
Explore the World of Barbie and the iconic photo op while you shop for exclusive merchandise and stroll around the 25000 sq ft Barbie Universe for 120 minutes. 
A plethora of interactive activities to explore while you make customized Barbies and explore the Barbie sound studio where you can sing and record your favorite songs. Also, get a chance to discover those cute accessories from Barbie's wardrobe.
Immerse yourself in a visual retreat while they shake your lime juice on rocks. The hand-crafted drinks and cocktail menus are a treat to the eyes and a feast to the taste buds. You have varied options of drinks to choose from, an absolute joy and relaxation after sunset. 
Apart from various other places to explore in Dallas, this place offers an exclusive and immersive experience of fun, excitement, and laughter.
To know more about the interactive World of Barbie experience, check this out.
Tickets
 Reserve your spot for the Sips After Sunset at World of Barbie as it is only a limited-time offer.
A general admission ticket for one person is priced at $45.71 and you can buy your tickets at the official ticketing platform, Fever. 
The minimum age requirement to attend the event is 21 +; so do not forget to carry a valid ID to the venue. The ticket price does not include drinks and you will have to buy them on-site from a cashless bar. 
Dates and Times 
The Sips After Sunset at World of Barbie in Dallas is available on various dates and time slots, that can be chosen while buying the tickets from the official website of Fever.
Venue
The event is being organized at the World of Barbie, being held at Stonebriar Mall, settled at 2605 Preston Road, Frisco.
The venue is a sophisticated shopping and entertainment destination featuring 200 shopping stores. 
Pose Stylishly to a Selfie while you Sip your Favorite Cocktail at World of Barbie
What– Sips After Sunset at the World of Barbie.
When- Check the ticket selector.
Where– At the World of Barbie, being held at Dallas' Stonebriar Mall.
Time– Varied time slots.
Tickets– Available on Fever priced at $45.71.
I am a passionate writer with a vivid interest in various spheres of life. My interest in movies and reading books has helped me widen my horizons and imagination. I am also an art enthusiast and love various art forms. As a creative person, I live my life to the fullest.