Step back in time and explore the fascinating history of Louisiana and the lives of Creoles with the Laura Plantation: Guided Tour, in New Orleans, available to the public on various days and time schedules, commencing from Louisiana's Creole Heritage Site
Get to explore Louisiana's Great River Road, a historical gem that offers a unique opportunity to delve deep into the complex and often misunderstood history of the region.
The Laura Plantation, a Creole Heritage Site, presents a guided tour that transcends time and takes you on a captivating journey through the lives of Creoles, both free and enslaved, before, during, and after the American Civil War.
A Guided Tour of the Laura Plantation
The Laura Plantation tour is a window into the past, inspired by Laura Locoul Gore's "Memories of the Old Plantation Home," which captures the essence of this former sugarcane plantation.
Get ready to experience this 1 hour and 15 minutes tour in the heart of Louisiana's Creole Heritage Site within the grandeur of the Big House, a magnificent antebellum mansion that has witnessed centuries of history.
As you wander through the house, you'll explore its raised basement and galleries, allowing you to step back in time and witness the opulence of the men's and women's parlors, service rooms, and common areas. 
But the tour doesn't stop at the Big House. It delves even deeper into history with a guided walk through the 200-year-old homestead, where generations of Creoles lived and toiled.
This is where the lives of the enslaved community come to light. As you explore the authentic 1840s slave cabin, you'll gain a poignant understanding of the stark contrasts in living conditions.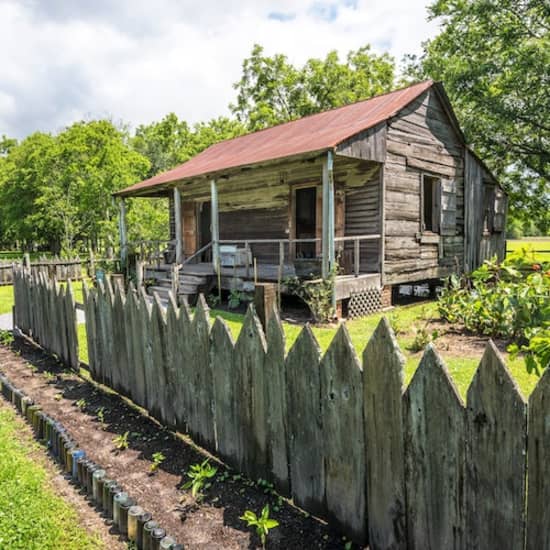 Beyond the captivating historical narrative, Laura Plantation boasts breathtaking gardens that have stood the test of time.
Brace yourself into an educational journey that uncovers the intricate tapestry of Creole society, bringing to life the challenges and triumphs of those who lived through the Civil War era.
More Details
Plan your journey into a historical adventure with the Laura Plantation Guided tour.
English tours are available every day at 10:00 AM, 11:20 AM, 12:40 PM, 2:00 PM, and 3:20 PM, and French tours on select days like Mondays, Tuesdays, and Fridays at 1:00 PM.
The tour is wheelchair accessible, ensuring that all visitors can partake in this enlightening experience. It proceeds regardless of weather conditions, so come prepared.
Smoking is prohibited, and guests are requested not to disturb the natural environment by picking flowers, fruits, vegetables, or nuts.
To ensure a respectful and immersive experience for all, phones must be silenced and muted during the tour and additionally, the tour guide has the authority to request the removal of disruptive children. Bags, tripods, and selfie sticks are not permitted during the tour, so it's advisable to leave them behind.
For transportation to and from Laura Plantation, please note that it is outside the service areas for taxis and Uber, so plan your transportation accordingly.
However, free parking is available on-site for your convenience.
Tickets
Don't miss the chance to experience this unique piece of Louisiana's past. Tickets for the Laura Plantation: Guided tour can be easily booked through Fever or download the app Fever app to book your slot.
This tour offers tickets for children who belong to the age group of 6 to 12 for $12.00, youth who belong to the age group of 13 to 17 for $19.95, and for adults, 18 and above for $29.95.
Book your tickets now and explore a chapter of history that will etch itself into your heart forever.
Get Ready to Embark on the Laura Plantation Guided Tour to Immerse yourself in the Rich History of the Generations of Creoles
What: Laura Plantation: Guided Tour.
When: Available on various dates.
Where: At the Laura Plantation located at Louisiana's Creole Heritage Site 2247 in Vacherie, Louisiana.
Time: Various time schedules are available. Check Fever.
Tickets: Buy tickets for the official Fever website.
Myself Farheen Naaz sheikh, I hail from Nagpur Maharshtra. I have completed my education from Nagpur University. After my education I worked in IT sector around 1,2 years, after working in It sector I decided to move forward my career in Digital Marketing , for reason of I went through some digital marketing internships.
Talking about my skills, I have good communication skills, excellent in content writing and willingness to learn new things, one more skill is there, management and team work.