Are you looking out for some holiday recipes for Christmas and New Year? Want an alternate delicious recipe to replace the old-fashioned monotonous desserts?
Who would say no to apple desserts! It's a healthier choice to fulfil your dessert cravings. Nothing beats the taste of homemade apple crisp.
To the beginners out there, the Do-it-yourself apple crisp recipe is here!
Apple crisp: what is it?
Apple crisp is a dessert that contains streusel on top. Traditionally, apple crumble is a baked dessert with oats and brown sugar. Both desserts are referred to as 'crumble' in European countries, but they are distinguished in the US. Both terms are used ambiguously in Canada.
In addition to cooked apples, butter, sugar, flour, cinnamon, oats, brown sugar, ginger, and nutmeg are usually included in the apple pie.
Various types of fruit crisps are also made. You can use other fruits, such as pears, berries, or peaches, as an alternative to apples.
There are various desserts made of apples, but none of the apple desserts is so good as to match apple crisp.
The other variants of crisp apple desserts are apple brown betty, apple crumbles, apple cobbler, honey crisp apples and Eve's pudding.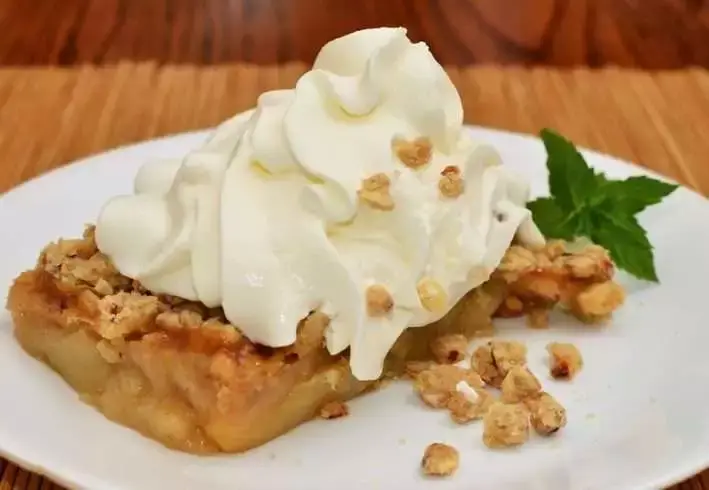 Traditionally, Apple Brown Betty (or apple pudding) is made by alternating layers of apples and sweetened buttery breadcrumbs or crackers, usually with a sauce.
Baked apples are covered with a cobbler crust made from batter, pie crust, or baking powder biscuit dough in an old apple cobbler recipe. In this dessert, the apples are arranged in clumps as the very name, apple cobbler.
Apple crumble served during World War II for the British people. The buttery crumble was perfectly balanced by mixing it with equal amounts of fruits and served during the food rationing.
We all know about the famous biblical reference, Garden of Eden. So as the name suggests, Eve's pudding is nothing but sponge cake topped with apples that originated as a favourite British dessert. This apple crisp recipe tastes delicious.
Why should you choose apple crisps over any other apple desserts?
Compared to an apple pie filling, it's way much easier to make. The apple crisp doesn't take much time and effort as the apple dessert, and you can skip the dough-making part altogether.
Instead, we are going to switch to the oat streusel topping. This warm dessert suits best for a fall dessert. It is best when combined with vanilla bean ice cream.
Apple crisp recipe is an egg-free apple recipe made using delicious golden apples.
Apple crisp recipe can be made using the persisting staples in your kitchen. It has various steps but involves the same ingredients. It's a combination of both classic and modernized apple desserts.
We all lookout for a simple yet crowd-pleasing recipe. Are you looking out for one? This seasonal dish can be made in a few minutes, and guess what? It takes only a very little time to cool down.
Doesn't this sound amazing? Include this crisp apple recipe in your dessert cuisine.
So, What's better than warm cinnamon apples and chewy-crisp oat topping in cold weather?
1. Classic Apple Crisp Recipes
The Classic apple crisp dessert is a must-try dessert! The taste of the apple crumbles is delicious.
You can also make this amazing dessert one to two days before Thanksgiving, Christmas, or any other big event. Thaw them overnight and before serving, bake them in the oven for 30 minutes for 350°F until heated through. Just freeze the prepared dessert in the freezer.
You can also cover the crisp after preparing and baking them the next day. It lasts longer, up to 3 months, before baking. But the baking time might be longer as the prepared crisp in the freezer would be colder.
My favourite combination for the classic apple crisp dessert is using granny Smith apples & light brown sugar and serving it with french vanilla ice cream while the crisp is still hot. Yummy!
The Preparation time takes about 15 minutes, and the cooking time is comparatively longer, about 40 to 45 minutes. So the total time to prepare this delicious dessert would be around 60 to 65 minutes. This portion serves about 8 to 10 people.
Ingredients:
3 pounds sweet apples
1/4 cup rum, apple cider
1/4 to 3/4 cup light brown sugar
2 tablespoons melted butter
2 tablespoons boiled cider
1 1/2 teaspoons apple pie spice,
1 teaspoon cinnamon
1/4 teaspoon nutmeg
/4 teaspoon ginger
3 tablespoons All-Purpose Flour
1/4 teaspoon salt
Topping:
3/4 cup all-purpose flour
1/2 cup oats
heaping 1/4 teaspoon salt
2/3 cup brown sugar
1 teaspoon cinnamon
3/4 teaspoon baking powder
8 tablespoons frozen butter
1/2 cup chopped pecans or walnuts (optional)
Preparation
Take a square cake pan of your choice and grease it with butter using a brush. Now, preheat your oven to 350°F.
Slice apples into thick pieces of your liking. Now prepare the filling.
To make the apple filling, take a large bowl and add half a cup of light brown sugar, 1/4 all-purpose flour, 1 teaspoon vanilla extract, ground cinnamon, and half teaspoon ground nutmeg 1/4 teaspoon salt. Spread them in the pan evenly—toss apples in the pan. Mix the filling well.
To make the topping, whisk together the flour, oats, salt, sugar, cinnamon, and baking powder.
After the above step, add the cold butter and stir it evenly on the apple crumble mixture. Make no lumps and work on it evenly.
Spread the prepared topping over the apples in the pan.
To catch any drips from the prepared mixture, set a parchment paper or foil-lined cookie sheet while setting the pan.
Bake the apple crisp for about 60 minutes. Look for some bubbling in the apple crisp, and it must turn golden brown.
Before serving, allow the apple crisp to cool for at least 20 minutes after removing from the oven.
The taste of the best apple crisp can be attained only when it's served cold. For the apple crisp to be soft, serve it while it is warm or lukewarm. To make the apple crisp or pie firm wait until it's completely cool.
But for a few individuals who prefer delicate crumble, it's better to reheat in the oven. Classic apple crisp is best accompanied with vanilla ice cream.
Nutrition
368 calories; total fat 13g; saturated fat 8g; polyunsaturated fat 1g; monounsaturated fat 3g; cholesterol 33mg; sodium 237mg; potassium 119mg; carbohydrates 64g; fiber 2g; sugar 46g; protein 2g; trans fatty acid 0g; vitamin c 5mg; thiamin 0mg; riboflavin 0mg; niacin equivalents 1mg; vitamin b6 0mg; folate 36mcg; vitamin b12 0mcg; calcium 20mg; iron 1mg.
2. Instant pot Apple crisp recipe
Compared to the classic apple crisp recipe, this delicious recipe takes less time to cook and prepare.
The preparation time is about 20 minutes, and the cooking time takes up to 8 to 10 minutes. The total time in making the instant pot apple crisp recipe is 28 to 30 minutes. It serves about 10 to 12 people.
Ingredients
9 cups apples (such as Granny Smith apples, tart apples, Gala, or Ambrosia), peeled and sliced apples
1 cup apple juice or apple cider or water
2 tablespoons lemon juice
1 tablespoon apple cider vinegar
1 teaspoon vanilla extract
2 tablespoons cornstarch or arrowroot flour
2 cups rolled oats
1/2 cup flour
1/2 – 3/4 cup packed brown sugar
3/4 cup melted butter ( can also replace it with coconut oil)
2 1/2 teaspoon ground cinnamon
1/8 teaspoon nutmeg
1/8 teaspoon ground cloves
1/4 teaspoon salt (if you use unsalted butter)
Preparation
Grease the liner of the Instant Pot with butter or any oil of your choice.
Core and slice granny smith apples. Removing the peel of apples in this step would improve the texture of the complete dish.
Now, add the apple slices to the greased Instant Pot.
Add half a teaspoon of cinnamon to the apples in the pot and add a pinch of salt to enhance the sweet taste.
Take a measuring cup or a mixing bowl. Now, combine apple juice, lemon juice, apple cider vinegar, and vanilla extract.
Pour half of the apple juice mixture over the apple and now add another 2 tablespoons of water and keep aside the remaining liquid mixture.
In a medium bowl or a cup, mix arrowroot flour/cornstarch with a few spoonfuls of water.
Now add the above mixture to the apples and toss them until they are combined well.
Add rolled oats, wheat flour, brown sugar, remaining cinnamon, nutmeg, cloves, and salt in a large bowl if using unsalted butter.
Add melted butter and stir until it is distributed evenly.
Pour oat topping on top of the apples until the mixture covers them.
Once oat topping is spread over the apples, gently pour the reserved apple juice mixture over the oat topping.
Close the prepared Instant Pot and set it accordingly after closing the valve.
When it's done, it releases quick steam. Check for the steam and switch it off.
Transfer the crisp to another baking dish and let it sit and cool for ten minutes before serving.
If you crave a crispier topping, take a microwave-safe dish and transfer the apple mixture into it. Set the oven for 3-5 minutes and broil it for the brown texture.
Serve warm, or serve with a scoop of vanilla ice cream, frozen yogurt, or whipped cream. We eat ours with vanilla frozen Greek yogurt. Apple crisp also goes well along with frozen cranberries and chopped nuts.
It's quite trickier to make apple crisp in an Instant Pot as your apples might become too soft or delicate. Not everybody likes the smooth texture of apple crisp.
The crisp apple texture might vary based on the types of apples used to make the recipe. People go for apple picking in mid-august until late October.
Some apple varieties decompose very quickly, while others maintain their shape. Granny Smith apples, Gala apples, or Ambrosia apples are suitable apples to use.
Depending upon the model, some instant pots can trigger a burn notice if food sticks to their bottom while they are cooking.
Adding a couple more tablespoons of water and turning the pot a quarter turn to move the spot where the heat is concentrated will help if you receive a burning message.
Stir the apple crisp and scrape anything accumulated at the bottom of the instant pot.
Nutrition
Calories: 273kcal | Carbohydrates: 39g | Protein: 3g | Fat: 13g | Saturated Fat: 7g | Cholesterol: 31mg | Sodium: 155mg | Potassium: 191mg | Fiber: 4g | Sugar: 21g | Vitamin A: 405IU | Vitamin C: 5mg | Calcium: 29mg | Iron: 1mg
3. Gluten-free apple crisp with vanilla ice cream
The preparation of this apple crisp recipe takes about 20 minutes, and the cooking time is 35 minutes. It serves about 8-10 people.
Ingredients:
 10 large or 14 sliced granny smith apples
⅔ cup honey (or sweeteners like maple syrup)
½ cup water (or brandy, or apple cider or apple juice )
2 tablespoon lemon juice
4 teaspoon arrowroot powder or 2 tablespoon cornstarch
1 teaspoon ground cinnamon
½ teaspoon ground allspice or nutmeg
2 cup old-fashioned oats (better to use gluten-free oats)
For the filling
1 cup firmly packed almond meal ( almond flour )
1 cup chopped pecans or walnuts (optional)
⅔ cup lightly packed coconut sugar or brown sugar
½ teaspoon salt
8 tablespoon unsalted melted butter
½ cup plain yogurt
Preparation
Preheat the oven to 350 degrees Fahrenheit. Take a baking dish of your choice, and it's better to go with a 9×9″ baking dish.
In a measuring cup, whisk both water and honey until combined.
Now, add the lemon juice, corn starch, cinnamon and combine it with all the other spices to form a mixture.
Pour the mixture over the apples, toss it well, and bake it for about 20 minutes.
At the same time, in a medium mixing bowl, stir the oats, almond meal, pecans, coconut sugar.
Add the required amount of salt and sugar to the above mixture. Mix in the melted butter and the yogurt.
Stir until all of the flour and the mixture is whisked and moistened thoroughly.
During the last 20 minutes of baking time, stir the apples and redistribute them evenly into the baking sheet.
Then, spoon small spoonfuls of the oat mixture evenly over the filling. Return the baker to the oven and bake for 25 to 30 more minutes until the filling is bubbling around the edges and the top is nice and golden.
I recommend letting the crisp rest for 5 to 10 minutes before serving alongside vanilla ice cream.
Leftovers can be kept covered in the refrigerator for about 5 days. Don't forget the vanilla ice cream for serving!
Nutrition
Calories 170 | Fat 6g | Saturated Fat 4g | Cholesterol 15mg | Sodium 0mg | Total Carbohydrate 29g | Fiber 3g | Sugar 21g | Protein 1g | Calcium 0% | Vitamin D 0% | Vitamin C 2% | Vitamin A 4% | Potassium 4% | Iron 4% | Thiamin 2% | Magnesium 2% | Whole grain 7g
Generally, apples grown conventionally are high in pesticide residues. So it is highly recommended to buy organic apples.
The recipe can be made nut-free by omitting the walnuts and substituting 3/4 cup both wheat flour and oats replacing almond meal and oats specified above. However, it will no longer be gluten-free.
If you wish to maintain the gluten-free status, you could substitute gluten-free oat flour or gluten-free all-purpose flour for the almond meal.
To make the crisp apple vegan, use non-dairy yogurt and coconut oil replacing butter while preparing the topping. In the case of the filling, maple syrup serves healthier when compared to honey.
For the apple crisp to be dairy-free, I prefer non-dairy yogurt and coconut oil over butter.
I hope you enjoy making these apple crisp recipes.