Are you looking for winter flights to Canada? The Québec Winter Carnival is one event you will not want to miss. The 'Carnaval de Québec,' as it is called locally, is the world's largest winter carnival, drawing thousands of families, couples, and individuals each year.
The event takes place at the start of the year at various places across Old Québec—all conveniently placed within walking distance of one another—and pays tribute to long-standing traditions joyfully and festively.
Because of the province's frigid climate makes snow and ice-related activities a big festival component.
The most popular attractions are the colourful night parades, the ice canoe race, and the snow sculpting contests, which have Canadian and foreign divisions.
The palace is also transformed into a dance club at night time. DJs blast some tunes, and partygoers dance the night away while sipping strong alcoholic beverages from adjacent huts.
History
Although the Carnival was first held in 1955, the custom dates back to 1894, when the early inhabitants of New France gathered to celebrate before Lent from the end of January until the middle of February.
Festivities were organized expressly to offer a winter boost for the tourism business in the latter half of the twentieth century.
It has grown to become one of the largest winter festivals in the world, and it is a celebration of all things French-Canadian. The meadows on the historic Plains of Abraham are the principal location for the Québec Carnival.
Highlights of Quebec Winter Carnival
Given the length and scope of the celebration, it would be nearly impossible to list all that happens throughout the Carnival.
Here are a few of our favourite activities that you might want to include on your to-do list.
Foosball for humans
The first is perhaps the Carnival's most unusual event. As you attach yourself to a pole and cooperate with your colleagues to score the most goals (but keep in mind that no hands are permitted!), you will become one of the game's participants.
Sculptures made of snow and ice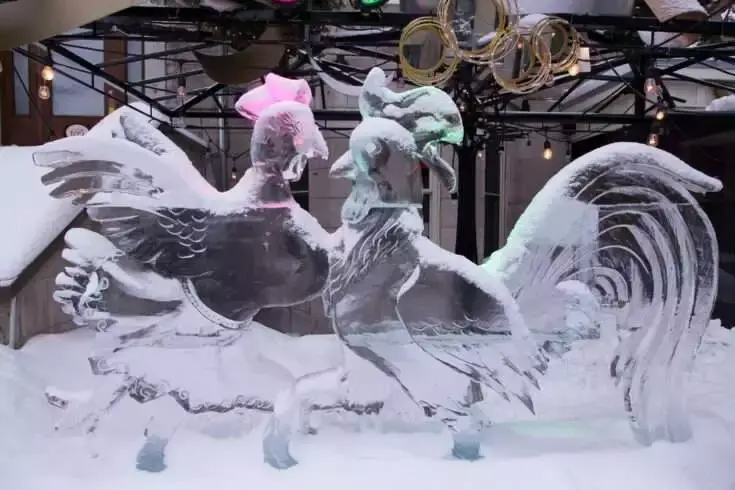 Sculptors slice massive slabs of snow and ice bordering the promenade into the fairgrounds during the Carnival's opening weekend, creating works of art. Each year at the Carnival, the International Snow Sculptures Contest brings together artists worldwide.
Canoeing on the ice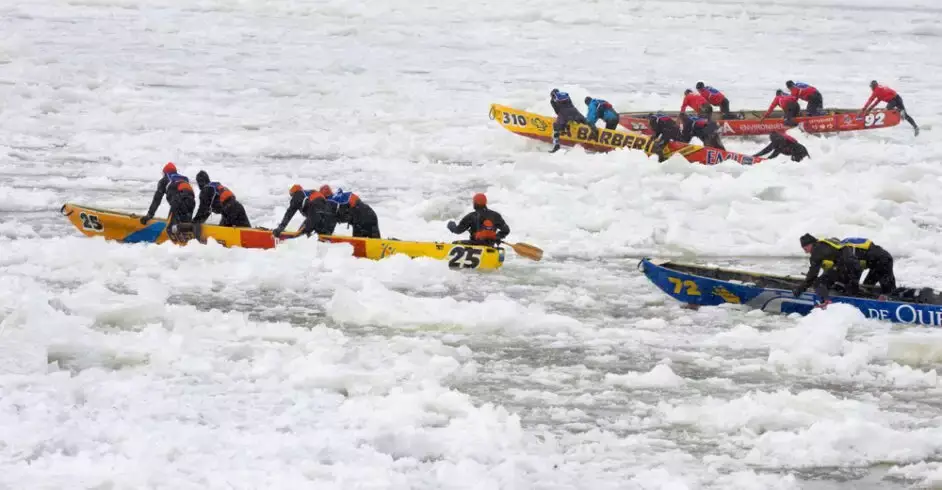 Ice canoeing is a sport that dates back to the 1600s when it was the only method to traverse the area's famed St. Lawrence River. It was part of the first-ever Carnival in 1894, and it involved teams pushing and paddling their boats through a half-frozen terrain.
Sports challenges are open to everybody, such as the coureurs des Bois triathlon, axe throwing, the mechanical moose ride, the three-ski grand Prix, and other pleasant events.
Explore the Ice Palace
Bonhomme, a large snowman wearing a red hat and a customary chevron sash, is the official ambassador of the Québec Winter Carnival. If you've read anything about it (or visited before), you've probably seen him—a gigantic snowman wearing a red hat and a traditional chevron sash.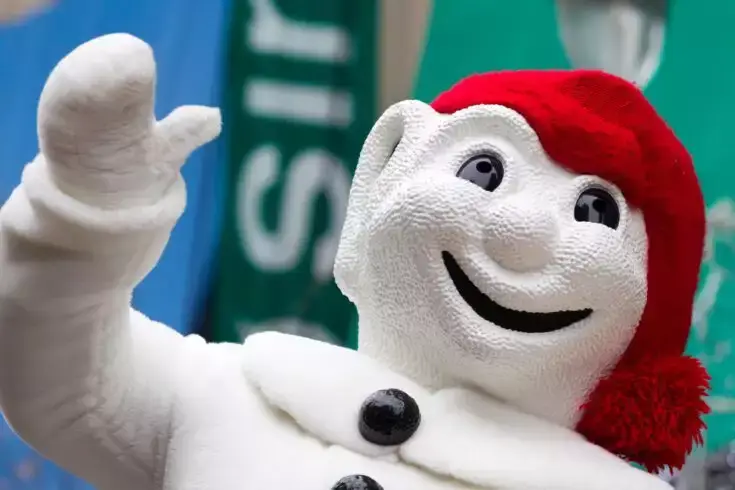 Since the inaugural Carnival in 1955, Bonhomme's official house has been the Ice Palace, located directly across from Québec's renowned Parliament Building.
Visitors may tour the inside of Bonhomme's palace, which is also used as an entertainment venue at night when it is wonderfully done up with brilliant lights, and many stay for a picture op with Bonhomme himself.
Each year, the Ice Palace has a distinct theme and is one of the greatest venues to learn about the Carnival's history through numerous exhibitions.
Children's Activities during the Quebec Winter Carnival
Bonhomme's World offers a variety of activities for children of all ages. The Quebec Winter Carnival is a fun-filled family event with puzzle games, play zones, and floor hockey.
The Quebec City Winter Carnival offers a wide range of activities for children. It's all about layering up, getting outside, and playing a variety of activities with your friends.
The fairgrounds for the Québec Carnival are reminiscent of a winter amusement park featuring a variety of activities for children.
Bonhomme is the Quebec Winter Carnival's King, and he represents the entire festival. He stands seven feet tall and is built of 400 pounds of compacted snow.
He can do high kicks like it's no big deal. Did you know that his greatest ambition is to stop global warming?
A Winter Wonderland of Ice sculptures and Snow
Due to the fact that it is winter in Quebec City, there is a lot of ice and snow. During the Carnaval de Quebec, several unique winter events transform the concept of winter into something truly spectacular.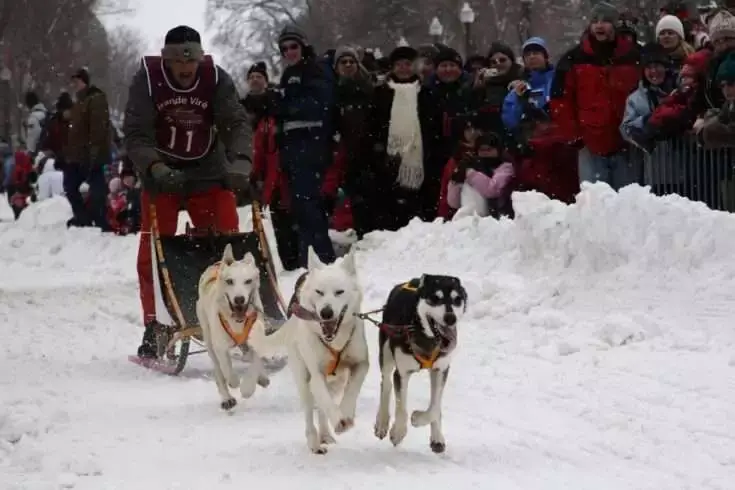 Another of the event's features is its strong roots in Québec customs. Winter sports such as ice canoeing, snowshoeing, dogsledding, snowmen, snow forts, slides, skating, and other activities have long been a part of Québec culture.
The Ice Palace in Quebec City
You must visit Bonhomme's magnificent Ice Palace. It is located just across the street from the Quebec Parliament Building.
The Ice Palace at the Quebec Winter Carnival is a spectacular ice edifice. It's lovely and worth seeing both during the day and at night.
Inside this ice castle, ice sculptures and exceptional graffiti paintings are done by local artists covering the walls. The Ice Palace is vividly lighted at night in a bewildering display of hues.
Experience Carnaval de Quebec Like a Local
If you want to experience the Quebec Winter Carnival like a québec City resident, you'll need to dress the part. Attend the carnival-like the locals do to get the most out of this Quebec City winter celebration!
We've got you covered on everything from what to wear to what to eat and drink.
Put on an arrow sash.
You may purchase an arrow sash from various local merchants and proudly wear it throughout the event. The arrow sash is a long scarf with a long history in Quebec.
In the nineteenth century, it was worn around the waist to tie garments, carry goods, and support the back. Like Bonhomme, traditionally, wear your arrow sash. You may also wear it as a choker.
Drink Caribou, Carnaval's Official Drink
After that, you must sample Caribou, the official drink of the Quebec Winter Carnival. Caribou reminds me a little of the mulled wine you'd see at Christmas markets. Red wine, brandy, maple syrup, and spices are used to make it.
Additionally, red plastic canes with Bonhomme's head on top are offered on-site. These are used to transfer Caribou from one location to another.
While drinking in public isn't strictly allowed, you'll get a pass during Carnival if you're strolling about with a red cane. After all, even on the coldest days, the booze will keep you warm.
Maple taffy is another popular treat in Canada. This delectable dessert is produced from boiling syrup sprinkled over snow and then chilled into a delectable soft candy that can be eaten on a stick!
Make Arrangements to Attend the Quebec Ice Carnival
You'll need to wear the Effigy to obtain access to most Carnaval locations. It's a collectible plastic charm that features Bonhomme's visage. It should be worn on your coat.
The Effigy is $15 (or $10 if purchased in advance), and numerous bundle packages are available.
It is available for purchase at most Carnaval venues or in advance online.
You can easily stroll between Carnaval spots, Upper and Lower town, the Toboggan Slide, and skating rinks in Quebec City. Quebec City is a walker's paradise.
If you're planning a trip to Quebec City for a few days and want to see more of the city, check out our 3-day itinerary.
The Hilton Quebec is the ideal place to stay for the Quebec Winter Carnival. It's Carnaval's official hotel, and it's conveniently located near all of the festivities. In addition, your hotel suite offers amazing views of Quebec City.
What Accommodations Should You Book in Quebec City?
If the Hilton Quebec is fully booked, plenty of other fantastic lodging alternatives is available. There are several excellent hotels and Airbnb options in Quebec City.
Auberge Saint-Antoine
The Auberge Saint-Antoine, housed in three 17th-century houses, just won the top prize in the trivago Awards 2017 4-star category, and a short glance at its information sheet shows why.
The Saint-Antoine admirably portrays the distinctive spirit of Quebec City, seamlessly merging polished elegance with French-Canadian rusticity.
The chic boutique hotel is also steeped in history, with items from the city's early days adorning the walls, a museum-like atmosphere.
Winter Visits to Old Quebec
There are stunning winter views across the city and Bonhomme's Ice Palace. Lower Town has the most beautiful vistas of all.
Christmas lights and snowflakes adorn Quartier Petit Champlain and Place Royale throughout the winter, as they are both winter celebrations.
Professional ice artists have made ice sculptures at nearly every little shop and corner. Carefully manage the Breakneck Stairs on your trip down to Lower Town.
Ride the Funicular on your journey back up to Upper Town for beautiful views of Old Quebec.
Well, this is where this guide ends. I hope you got a clear preview of the Quebec Winter Carnival.