As an affiliate-driven website, Icy Tales earns from qualifying purchases.
A Dinosaur is a vast group of reptiles that were dominant vertebrates during most of the Mesozoic era (245-65 million years ago).
The dinosaurs were predominant in this Mesozoic area's Jurassic and Triassic periods. The different types of dinosaurs were distinguished from other scaly, egg-laying reptiles by their feature of erect limb stance.
The Triassic period is known as the "Age of the Dinosaurs." During the Cretaceous period with which the Mesozoic era, dinosaurs evolved into a wide variety of species. Although during the end of the Cretaceous period, most dinosaurs became extinct.
The dinosaurs were the most successful land vertebrates on the earth to date, which appeared almost 230 million years ago, survived for nearly 165 million years and became extinct 65 million years ago.
Hierarchy of dinosaurs
'Dinosaur' is the superorder of the hierarchy. It comes under the following hierarchy :
Kingdom: Animalia
Phylum: Chordata
Class: Archosauria
Subclass: Ornithodira
Super order : Dinosauria
Cladogram of different types of dinosaurs lived
Dinosaurs are mainly of 2 types, namely, Saurischia and Ornithischia. Saurischia is further divided into 2 types named theropod dinosaurs and Sauropodomorpha. Theropod dinosaurs are of 3 types: Herrerasauridae, Ceratosauria, Tetanurae.
Sauropodomorpha consists of 2 types of dinosaurs: Sauropod dinosaurs and Prosauropod dinosaurs. Ornithischia consists of 2 different dinosaurs, such as Thyreophora and Cerapoda. Thyreophora has 3 different dinosaurs: Scelidosaurus, Stegosaurus, and Ankylosaurus.
Cerapoda consists of 3 different dinosaurs: Pachycephalosauria, Ceratopsia, and Ornithopoda. Most of the dinosaur species belong to this order of the superorder Dinosauria.
Categorization of different types of dinosaurs
The dinosaurs were categorized into two groups according to the structure of their pelvis: The lizard-hipped dinosaurs and the bird-hipped dinosaurs. The bird-hipped dinosaurs are also known as Ornithischian.
Dinosaurs ranged in sizes, from smaller than a rat to the largest land animals ever discovered.
The different types of dinosaurs that existed had an erect limb stance which enabled them to keep their bodies erect and well above the ground, unlike other reptiles.
Features and Characteristics of different types of Dinosaurs
Theropods
They emerged 230 million years ago in late Triassic times; the oldest example known comes from South America. It is written in Greek as 'wild beast foot.'
They are a subgroup of the Saurischia.
They were bipedal, i.e., two-footed.
The typical theropod dinosaur had small arms with sharp claws
They had muscular hind legs, usually four legs.
Most of them were exclusively carnivorous dinosaurs, i.e., meat-eaters.
Some examples of theropods are Tyrannosaurus rex, Baryonyx. 
It also includes ostrich-like omnivores and herbivores (i.e., plant eaters) with toothless beaks like Struthiomimus.
Like dinosaurs admitted as ancestors of birds, archaeopteryx has also evolved from within a group of tetanuran theropods.
Tyrannosaurus rex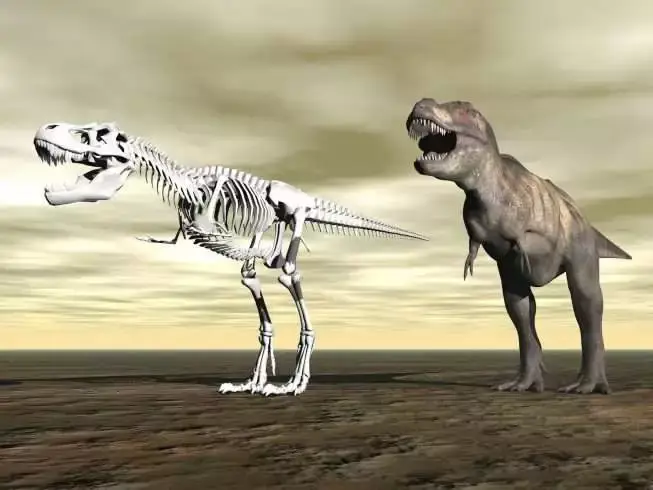 Tyrannosaurus translates essentially as "tyrant lizard king." Tyrannosaurus rex or t rex were carnivorous bipedal, i.e., they used to be meat eaters and had two hind legs. The two forelimbs of the t rex were very short, consisting of the wrist joint, elbow joint, metacarpals and phalanges.
T rex was one of the most ferocious dinosaurs to ever live on the earth. T rex is a well famous dinosaur. Tyrannosaurus is also known as the "King of the dinosaurs."
Baryonyx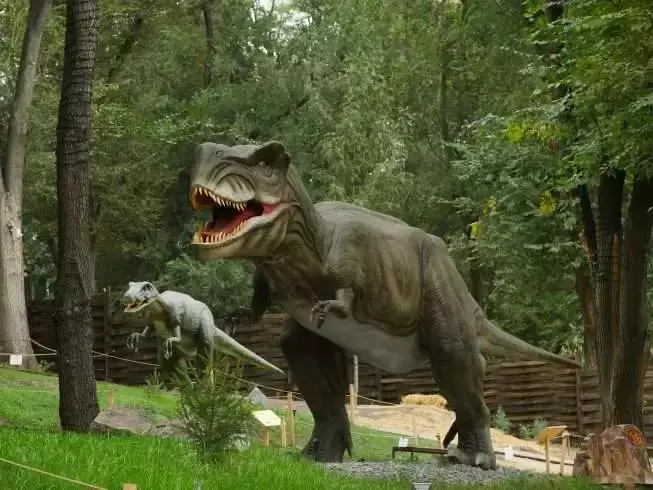 The main features of Baryonyx are
They possessed large thumb claws.
They had flexor tubercle at the beginning point of the thumb.
They used to have trochlea.
Group: Spinosauridae
Length: 30 ft
Megalosaurus
It is an extinct genus of theropods. It is recorded as the first dinosaur discovered. These dinosaurs were carnivorous and lived in the middle of Jurassic time.
Gallimimus
Gallimimus adults had large eyes and small heads, and it may have borne feathers in the head and around its stomach.
Examples of large Theropods
Some large theropods are:
Eustreptospondylus
Group: Megalosauridae
Length: 25 ft
Yangchuanosaurus
Group: Sinraptoridae
Length: 33 ft
Examples of small Theropods
Some small Theropods with their characteristic features are
Chirostenotes
Length: 2m
Avimimus
Length: 5 ft
They are believed to have bird-like characteristics and behaviour and possess feathers.
Coelurus
Length: 6 ft
Procompognathus
Length: four feet
Early Theropod
Herrerasaurus is one of the early theropods known.
Family Ornithomimidae
It is a family under Theropoda, consisting of dinosaurs who externally resembled modern-day birds, especially ostrich.
They were either carnivores or herbivores. They had a toothless beak that could run fast. The examples include:
Gallimimus
Dromiceiomimus
Garudimimus
Struthiomimus 
Archaeopteryx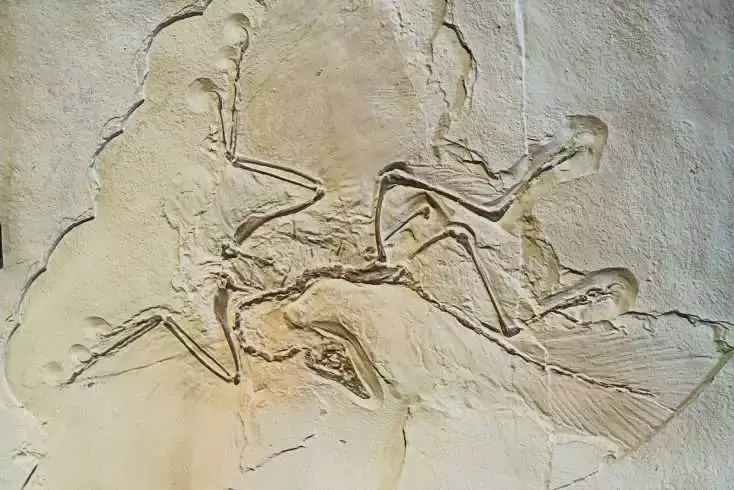 Archaeopteryx means "Ancient feather." It possessed the features of both reptiles and birds. It lived in the Late Jurassic period, around 150 million years ago.
They had jaws with sharp teeth, a long bony tail with feathers, reverse hallux, fingers with claws. They are a close relative of Mesozoic dinosaurs as well as older birds. They are the missing link between non-avian dinosaurs and birds.
To date, scientists discovered almost twelve fossils of this kind. They are deposited mainly in limestone. The fossils are kept in different museums, like the Natural history Museum of Berlin, the Natural history Museum London.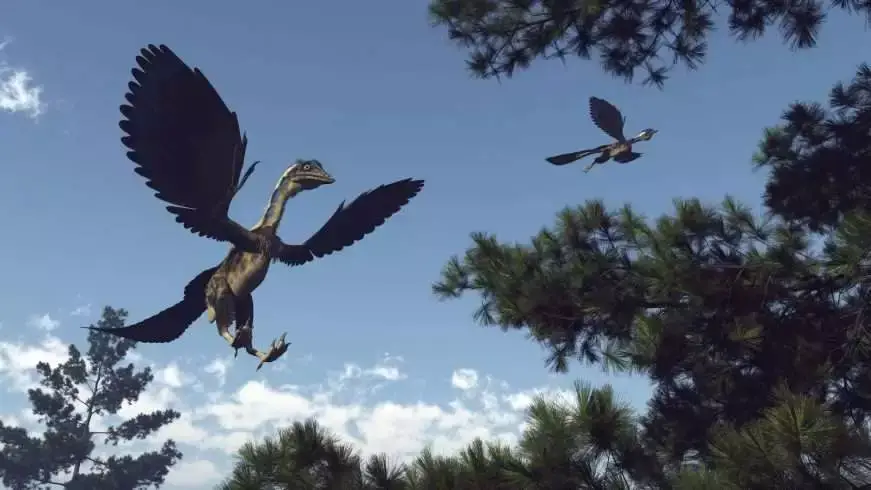 Sauropodomorph dinosaurs
The sauropodomorphs are divided mainly into two subgroups. The Saurischia group had a small head, a bulky body, and long necks and tails. The sauropodomorphs, better known as lizzard-feet forms, were plant-eaters, that had four legs.
Pro sauropod dinosaurs
They lived in the late Triassic to early Jurassic times. It includes one of the first very giant dinosaurs like Plateosaurus.
Sauropod dinosaurs
They replaced the prosauropods. They consist of the heaviest and the longest land animals ever, like Diplodocus, Brachiosaurus. 
Sauropods were the most common large herbivores until late Jurassic times and survived until the late cretaceous period.
Examples of Pro sauropods
Massospondylus
Group: Massospondylidae
Length: 16 ft
Lufengosaurus
Group: Massospondylidae
Length: 20 ft
Riojasarus
Group: Riojasauridae
Length: 36 ft
Melanorosarus
Group: Melanosauridae
Length: 23 feet
Examples of Sauropods
Diplodocus
A normal Diplodocus was as large as the distance of a double-decker bus. The dinosaur has the name from its double-beamed body structure.
It had bones underneath its large head. The Diplodocus dinosaurs were herbivores.
Brontosaurus
They are one of the giant sauropod dinosaurs known as the Thunder lizard.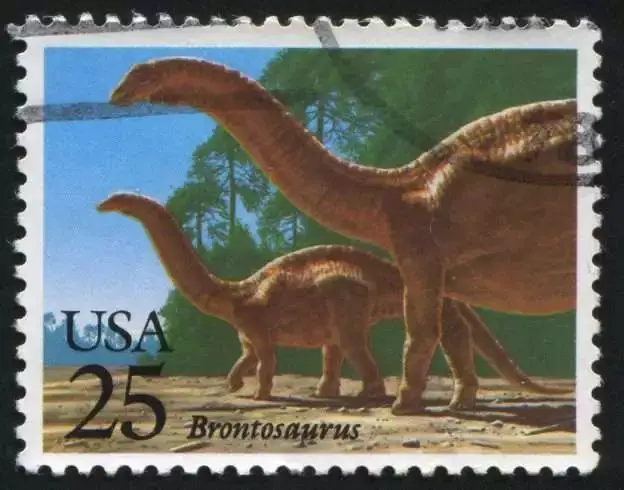 Brachiosaurus
They were one of the early dinosaurs, herbivores (they used to eat plants) and had a long tail. They are the long-neck dinosaurs.
Thyreophorans
Thyreophorans means Shield bearers. They were quadrupedal, heavily armoured dinosaurs. They were one group among several Ornithischia, i.e., bird-hipped dinosaurs. One of the most well-known genera of thyreophorans is Stegosaurus.
Stegosaurus
Several genera of Stegosaurus survived into the early cretaceous period. They were characterized by bony plates or spikes on their back, which helped regulate their body temperature and protected them from predators.
They had a small head with small cheek teeth, and probably they were herbivores.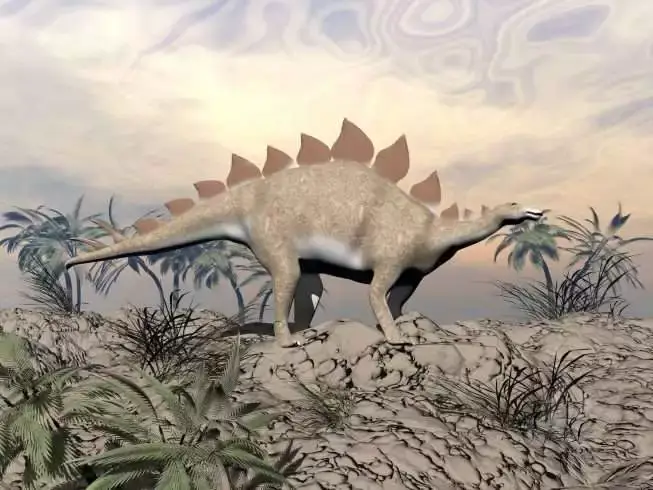 Examples of Stegosaurus
Huayangosaurus
Group: Huyangosauridae
Length: 13 feet
Kentrosaurus
Group: Stegosauriae
Length: 16 ft
Wuerhosarus
Group: Stegosauriae
Length: 20 ft
Ornithopods
Ornithopods or bird feet were a group of Ornithischian, i.e., hipped bird dinosaurs (they had bird-like hips).
These were bipedal (have two legs) or quadrupedal herbivores (plants eater) whose pelvic and bony tendons stiffened the tail region. They evolved teeth and jaws adapted to pulping vegetation.
These dinosaurs survived from the Middle Jurassic to the late cretaceous period.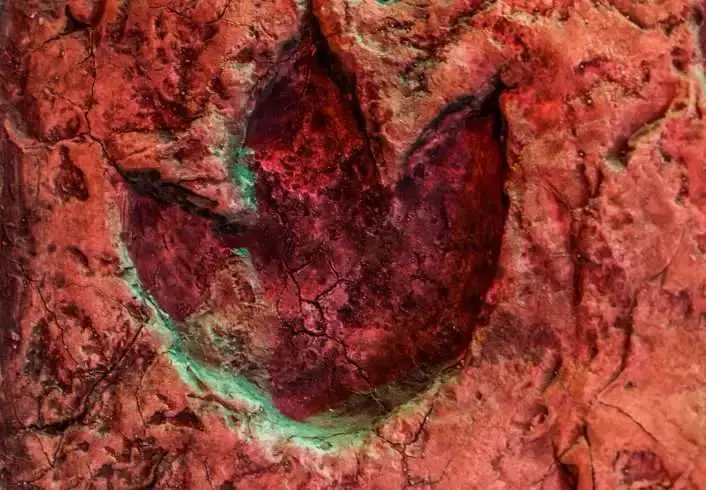 Iguanodon
They used to have toothless beaks at the end of a long snout. They possessed long jaws and a heavy tail. They had large thumb spikes for stabbing attackers.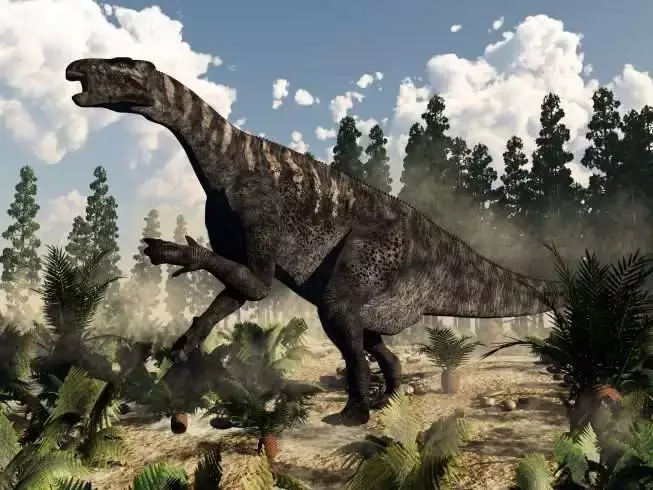 Hardosaurus
They are another group of ornithopods who lived in the late cretaceous times. Most people call them "duck-billed dinosaurs" as they possess broad beaks.
Some examples of this group are Gyposaurus, Hadrosaurus. 
Examples of Iguanodonts
Camptosaurus
Group: Camptosauridae
Length: 16-23 ft
Probactrosaurus
Group: Hadrosauroidea
Length: 20 ft
Marginocephalians
These were a group of bipedal or quadrupedal with bony frills at the back of the skull. They can be classified into 2 different dinosaurs groups: Pachycephalosauria and Ceratopsia.
Triceratops
Triceratops is one of the different types of dinosaurs among Ceratopsia. They had three horns. The neck of Triceratops and Triceratops, like other types of dinosaurs, was strengthened to support the head, and the frill made their appearance frightening.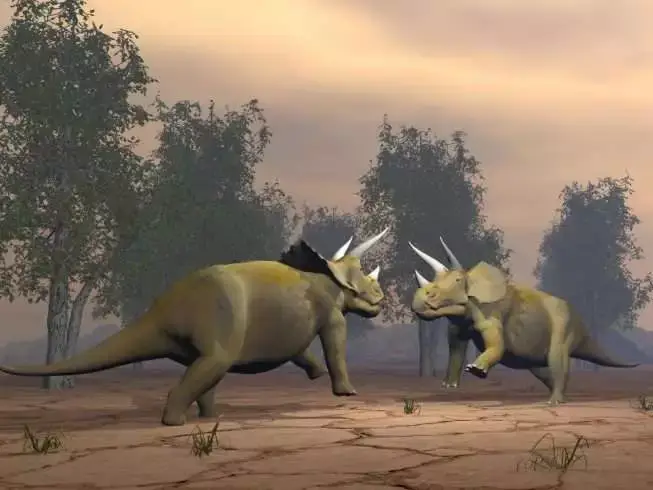 Some examples of Marginocephalins
Psittacosaurus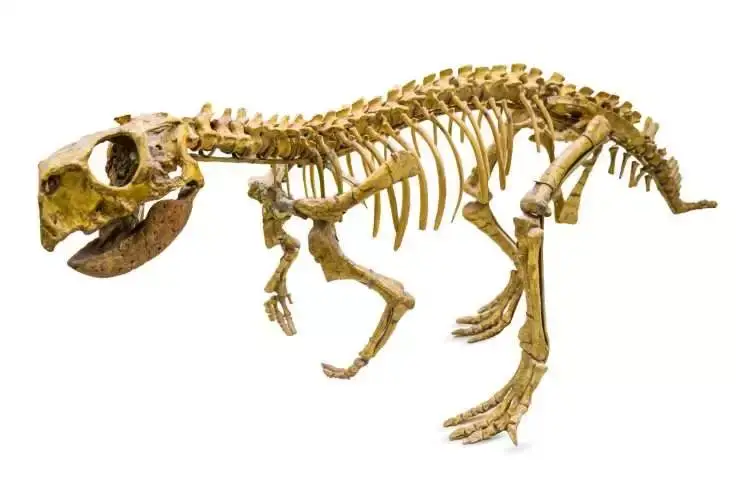 It is the most species-rich non-avian dinosaurs' genus.
Protoceratops, Styracosaurus, Pachyrhinosarus, Leptoceratops are some other common examples.
Some other well-known dinosaurs
Pterosaurs are known as the flying reptiles, which belong to one of the extinct dinosaurs.
Pachycephalosaurus: This is a thick-headed lizard as they possess thick skulls.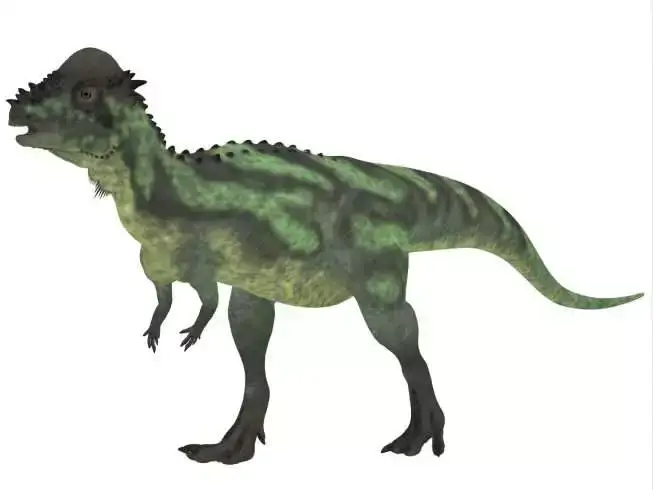 These are some of the different types of dinosaurs that existed. This terrible lizard extincted from the earth around 65 million years ago. Scientists have discovered 300 various genera and 700 different kinds of dinosaurs and named them.
Suppose you are keen to know more about the different types of dinosaurs. In that case, you can refer to the book: DK's Ultimate Family Visual Dictionary, which has an amazing brief of dinosaurs with proper images.
Scientists also said that the dinosaurs might have become extinct because of sudden mass extinction. If you have watched the movie Jurassic Park, you may find some dinosaurs already known, and you can imagine the 3-D version of many of these different types of dinosaurs.
But if you haven't watched it yet, grab a popcorn and watch it now because it's better late than never.
Some Amazing Facts about Different Types of Dinosaurs
And now comes some interesting facts about dinosaurs. You will be super amazed after knowing these.
#1. Most of them had feathers.
The bigger the dinosaur was, the fewer feathers it had. The feathers were mainly for thermal insulation, protecting their bodies from environmental conditions.
Some of them were colourful, which probably increased the chance of reproduction.
#2. They had fleas of the size of Cockroaches.
Giant animals like dinosaurs were not free from fleas. They had them, and they were the size of cockroaches.
They had such a bigger size that you could probably pick them up by your hand.
They were probably wingless insects and had longer legs.
#3. The Aquatic Dinosaur
Dinosaur is probably the most dominant land reptile ever. There is only one aquatic dinosaur known to date: Spinosaurus.
#4. Is Crocodile or Alligator a type of dinosaur?
The simple answer is no. The crocodile or alligator has so many physiological dissimilarities with dinosaurs, and they do not have a common ancestor either.
#5. Most of them were Herbivores.
Have you ever wondered if we, the humans, would have been existing in the same era as the dinosaurs? Scary, right?
But, probably it would not have been that much dangerous either! Because most of the dinosaurs were herbivores, i.e., they fed on the plants.
But now you imagine you are co-existing with the dinosaurs and suddenly one day you faced one t rex in front of you, then my friend, your life would have been at stake.
#6. They did not just live in the jungle.
The dinosaurs used to live in deserts and arctic regions, not in the jungles only, as shown in most documentaries and films.
#7. They had a tail with a Sonic Boom.
Apatosaurus is a species of Sauropods, and they measured about 70-75 feet long from head to tail. They had massive pillar-like legs and long tails.
They used to produce a supersonic sound by the long tail. The males used to compete with each other for the females by producing this type of sound and trying to impress them.
This also helps them to frighten and warn other species.
Majungasaurus: Facts that will shock you
You have probably heard of some fish species which feed on their own. But dinosaurs? It's not difficult to imagine dinosaurs battling one another, but probably you haven't imagined that a dinosaur would turn on its kind.
Native to Madagascar, they were not necessarily cannibals. Scientists have found tooth marks of these on their kind of bone. When food was scarce, they probably had to turn into cannibals.
The Majungasaurus used to replace their teeth every two months.
Aren't the facts amazing? If you want to know more interesting facts about dinosaurs, you can refer to this video also. So what are you waiting for? Go, watch, learn and enjoy!