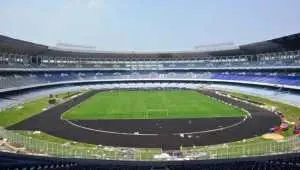 Kolkata's Salt Lake Stadium will host the final of 2017 FIFA which will be held in India from 6 October to 28 October 2017. The decision was taken after the 6 days long inspection by the FIFA Delegation. The delegation even rated the stadium ten on ten.
The semi-finals of the tournament will take place in Guwahati and Navi Mumbai and the opening games will be held in New Delhi and Navi Mumbai. The quarter-finals will take place in Goa, Guwahati, Kochi, and Kolkata.
After the announcement of venues, the FIFA Head of Tournaments Jaime Yarza said " The FIFA U-17 World Cup is an exciting milestone for the growth of football in India and now it has reached a very important stage. The schedule of the match has been created keeping in mind the players' health, the format of competition, movements of the team, weather, local festivals and various other factors. Each venue will host about eight matches and while allotting the venues we preferred infrastructure and local enthusiasm both."
Javier Ceppi, the tournament director of the local organizing committee said: " India will be hosting the tournament for the first time and also it will be the first time an Indian team will participate in the tournament".