For those who wonder what lasagna is? Lasagna is a traditional mouthwatering Italian dish served over generations in Italy. If you are a meat and pasta lover, then this lasagna dish is just made for you.
Lasagna ought to be one of the best tasting pasta/meat combinations ever invented. The recipes for lasagna are made with freshly prepared high-quality tomato sauce, fresh cheese, and a decent amount of beef stuffed, and it's for sure a plate of happiness.
When you take a bite of lasagna in your mouth, you will admit that the dish is indeed Scrumptious!
People who've tasted lasagna in restaurants will try making it at home. Even picky eaters love tasting lasagna. If you haven't tasted lasagna even a single time, then surely you're missing out on something good.
And for those of you, here are 3 recipes for lasagna to try at home with one's ease.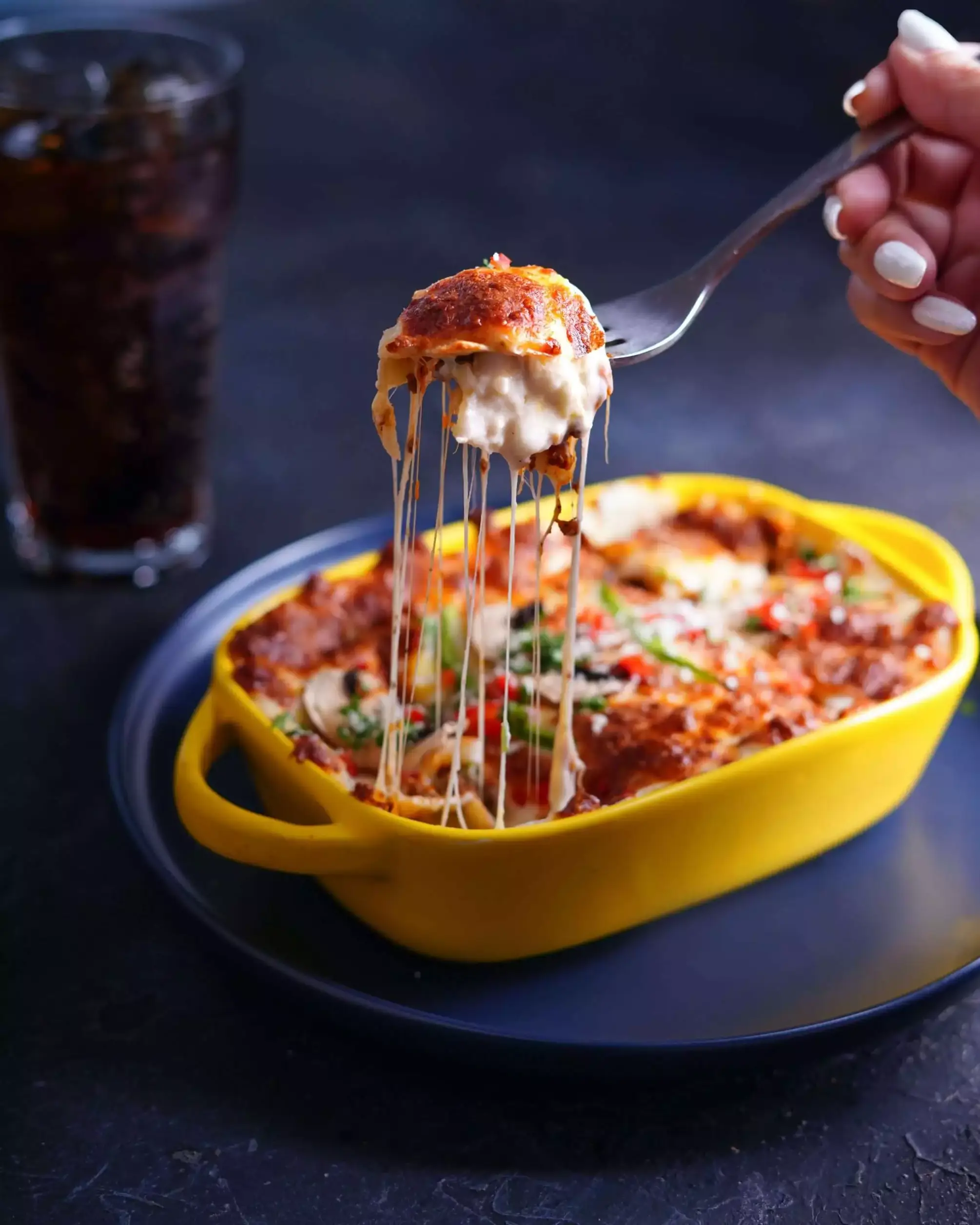 1) Recipes for Lasagna- Meat Sauce and Ricotta Lasagna
Out of the three recipes for lasagna, the first one is a meat and sauce ricotta lasagna
Recipes for lasagna: Cooking time: 80 minutes
Recipes for lasagna-: Preparation time: 40 minutes
Total time: 120 minutes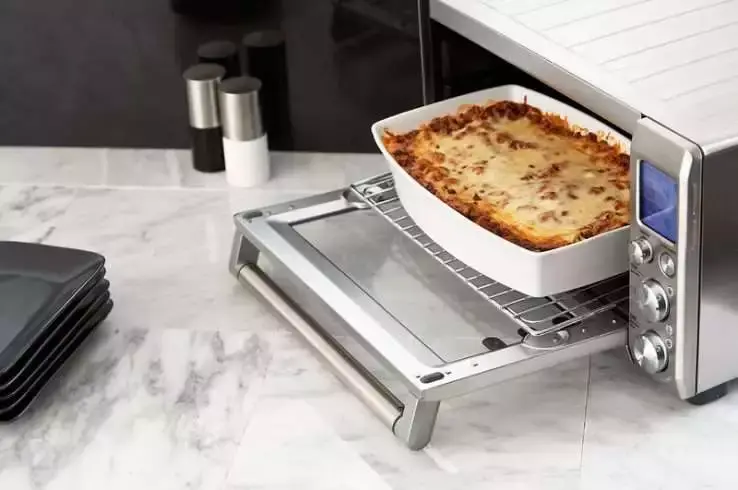 The world of lasagna is varied and huge. In general, lasagna is a perfect combination of three items: meat, pasta, and rich cheese.
Adding ricotta mixture to lasagna is famous in the US, and it originates from Southern Italy. Lasagna itself with ricotta is often enjoyed during the Carnival time in Naples.
The immigrants brought ricotta lasagna from Southern Italy to the world. And these recipes for lasagna are considered an Italian-American dish.
This dish is different from the others as it uses a whole pork shoulder and tomato-based meat sauce to give the flavor. However, the tomato-based meat sauce mixture is removed while assembling, and then it is served.
The removed sauce is served as a second course which means two in one. So you get pasta as the first course and the meat as the second course from a single method!
You can top it off by serving some tossed salad with bread to finish out your meal.
Ingredients Needed
For preparing meat sauce:
Olive oil- 3 to 4 tablespoons
Pork shoulder- 450 grams (1 pound)
Ground beef- 900 grams (1 1/2 pound)
Medium-sized onion- 1 (sliced)
Sliced cloves garlic minced- 3
Tomato (as a paste)- 1
Tomato (crushed to a purée form)- 1
Grounded black pepper
Water- 1/2 cup
The required amount of salt
Baking soda- 1 teaspoon (only optional)
Sugar- 1 tablespoon (only optional)
For preparing the filling:
Fresh ricotta cheese- 900 grams (2 pounds)
Grated Parmigiano (Reggiano cheese)- 1 cup
Fresh chopped parsley leaf – 1 tablespoon
Salt to taste
Grounded black pepper- to taste
For preparing Lasagna:
Lasagna noodles- 450 grams (1 pound)
Mozzarella cheese slices- 239 grams (1/2 pound)
Procedure to make Meat Sauce and Ricotta Lasagna
These are simple steps on how to prepare a meat sauce and ricotta lasagna. Simply follow them, and you will be all set.
To prepare the meat sauce: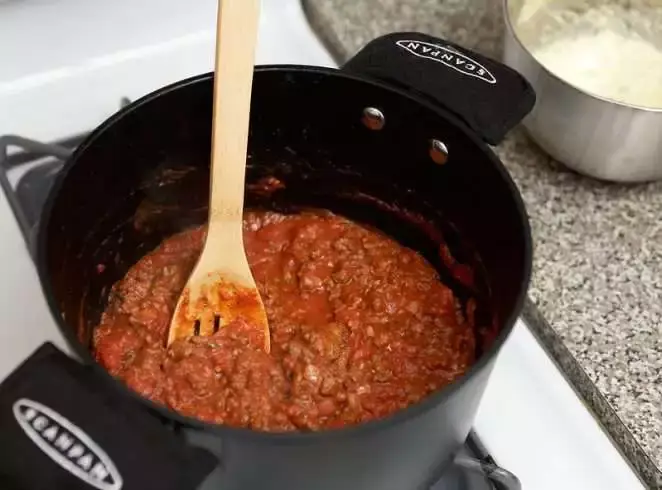 1) Gather all the ingredients to prepare the meat sauce.
2) Pour some oil into a pan and heat it. Add the pork shoulder with 1/2 teaspoon salt and pepper, let it sit till the meat becomes brown on all the sides.
3) Remove and transfer only the meat to a plate. Leave the gravy in the pan.
4) Add the ground beef along with the sliced onions and sliced garlic.
5) Flavor the mixture with both salt and pepper. Keep cooking till the beef shoulder becomes brown.
6) Add the tomato paste, tomato purée, and then water. If you're using baking soda and sugar, you can add that now.
7) Set medium heat on the stove and keep stirring for 5 minutes.
8) Now add the pork, which you've kept on the plate.
9) For 1-hour, sauce simmer the meat mixture till the pork becomes soft and fork-tender.
To prepare the filling: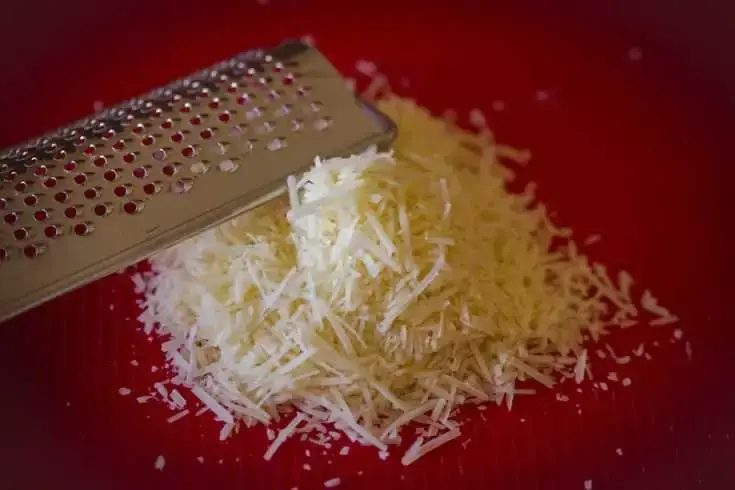 1) Gather all the ingredients to prepare the filling.
2) Combine ricotta cheese mixture with the grated cheese (Parmigiano cheese).
3) Flavor the mixture with salt and pepper and lay the pan aside.
To assemble the lasagna: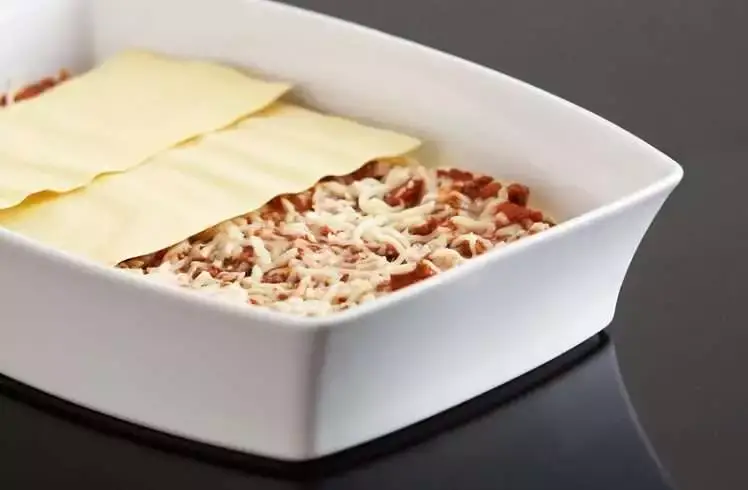 1) Firstly, the oven must be preheated to 180 degrees C. Now, boil the lasagna sheets, a few at a time, in slightly salted water till they become soft.
2) Remove the lasagna sheets with filter paper and drain the water gently without breaking the sheets.
3) Remove the cooked pork from the sauce into another plate.
4) Coat the very bottom of a tray with a half cup of the sauce.
5) Add a layer of pasta next to the sauce.
6) Add a layer of ricotta next to the pasta.
7) Continue doing the same process with pasta, sauce, and ricotta.
8) Cover up the final layer of pasta with the prepared sauce and then with mozzarella slices.
9) For 30-40 minutes, bake till the mozzarella cheese on the top is completely melted and becomes close to brown color.
10) Finally, the delicious lasagna is served as a first course, and the juicy pork is served as the second course.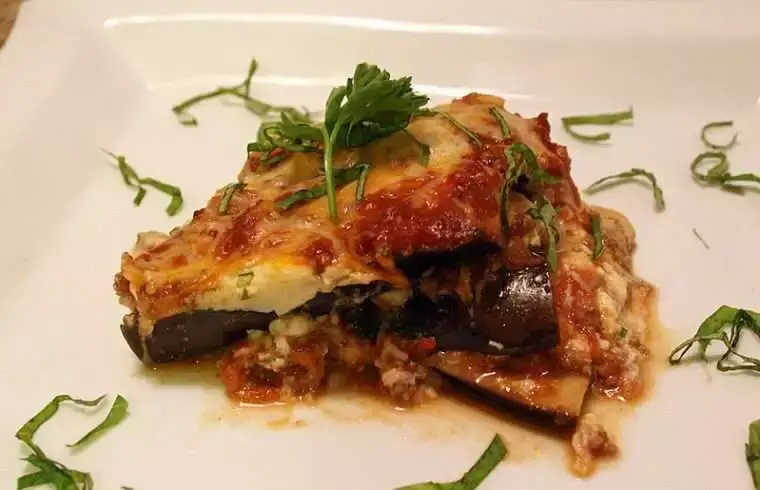 Note: To enhance the flavor, you can add tiny meatballs to the sauce and layer them up in the lasagna. Bake as directed to enjoy a delicious lasagna.
2) Recipes for lasagna- Classic Lasagna
Recipes for lasagna- Cooking time: 105 minutes
Recipes for lasagna- Preparation time: 25 minutes
Recipes for lasagna- Resting time: 10 minutes
Total time took: 2 hours and 20 minutes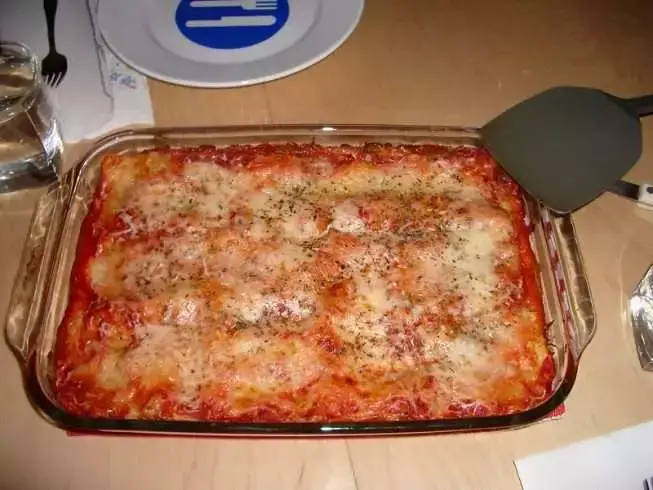 The Classic lasagna is just yummilicious! Putting the classic dish together requires some effort, but the time spent will be worthy of the taste.
This irresistible traditional recipe is made with tomato sauce and meat, and it's placed alternatively. Wow, this stuff is cheesy!
Preparing the meat sauce is easy, and it can be done first after preparing, cooling down, and storing in the fridge for nearly a day before the lasagna is layered. After that, the process is quite easy.
Make sure you bake as directed! It takes only a few minutes to get the noodles done and then put together the whole dish. The best part is that the sliced mozzarella cheese makes the classic lasagna even more flavorful.
This classic lasagna recipe might need an accompaniment. It can be served either with some salad or with garlic bread.
Ingredients required
For preparing the sauce:
Onion (finely chopped)- 1/2 cup
Round beef chuck- 1 pound
Olive oil- 3 tablespoons
Cloves garlic (minced)- 2
Crushed tomatoes (canned)- 1
Tomato paste (canned)- 1
Dried basil- 1/4 teaspoon
Cayenne pepper- 1 pinch
Salt- 2 teaspoons
Water- 2 cups
Bay leaf- 1
For preparing lasagna:
Lasagna noodles- 8 ounces
Required salt
Olive oil- 1 tablespoon
Ricotta cheese (low fat)-6 ounces
Parmesan cheese (grated)- 1/3 cup
Mozzarella cheese- 6 ounces
Procedure to make the classic lasagna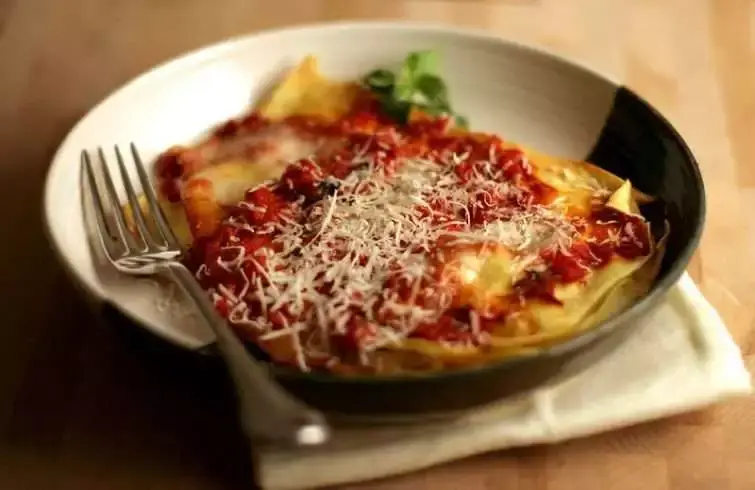 These are the easy steps of how to prepare a traditional lasagna.
To prepare the sauce:
1) Gather all the ingredients first to make lasagna sauce.
2) The preparation of sauce must be advanced by 30 minutes. Select a deep saucepan to cook. Now preheat the saucepan. Add 3 tablespoons of olive oil to the saucepan, then add the onion. Sauté the onion till they become soft.
3) Add the ground beef to the saucepan, brown it, and keep stirring.
4) Along with that, add tomato paste and keep stirring till it's bubbling, for about 3 minutes. Add water, salt, tomatoes, cayenne pepper, basil, and bay leaves. Keep stirring them well.
5) Reduce the heat, open the lid, and occasionally stir for 15 minutes until the sauce thickens.
To assemble the classic lasagna recipe and bake.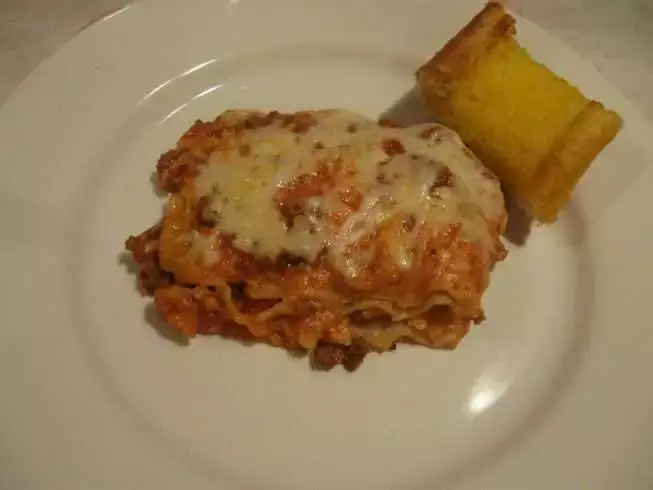 Boil lasagna noodles and then cook lasagna noodles as per the package directions.
1) Add water to a stockpot and boil it.
Don't forget to add some salt to the water. Keep stirring to prevent the cooked noodles from sticking. Drain the water. Now gently toss the lasagna noodles by adding some olive oil.
2) Preheat the oven to 375 F and then take a large baking dish.
3) Now, add enough sauce to cover up the bottom of the large baking dish.
4) Top the sauce with a layer of cooked lasagna noodles. Then add 1/3 of the remaining sauce above the noodles. Next, add about 1/2 of ricotta cheese uniformly over the sauce. Then sprinkle some grated Parmesan cheese above that. Then, to add more cheesiness, add 1/3 of the shredded mozzarella cheese to it.
5) Repeat the same process- 1/3 of lasagna noodles, 1/3 of sauce, remaining from 6 ounces ricotta cheese, 1/3 mozzarella cheese, and a few gratings of Parmesan cheese. The lasagna is filled with cheese layer now.
6) After that, end with the final layer of lasagna noodles, remaining sauce, grated Parmesan cheese, and finally the shredded mozzarella cheese.
7) Now, uncover and bake the lasagna for 45 minutes. If the top becomes brown too soon or the noodles become overcooked, use aluminum foil and loosely cover the lasagna pan. Otherwise, don't remove it ahead of time.
8) You can now remove the lasagna from the oven and allow it to cool down for 10 minutes. After that, the classic lasagna can be sliced and served.
Give this best lasagna recipe a try. The taste will be worth all the efforts you are going to put into this.
3) Recipes for lasagna- Meat lasagna
Recipes for lasagna- Cooking time: 55 minutes
Recipes for lasagna- Preparation time: 15 minutes
Total time: 1 hour and 10 minutes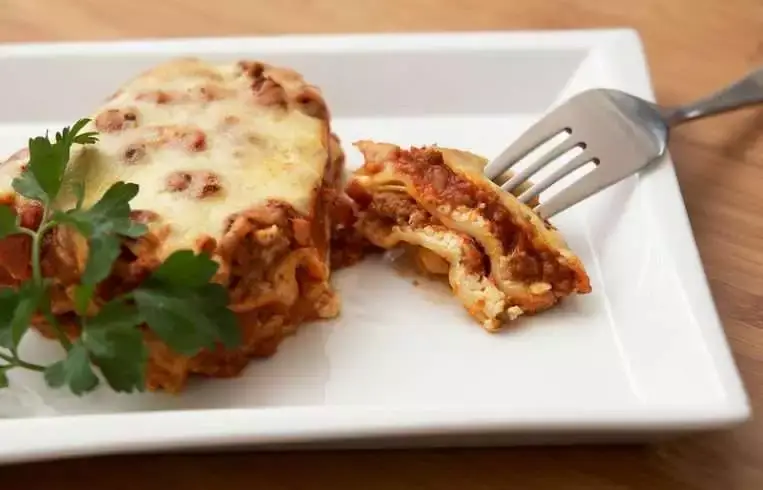 Generally, lasagna is considered to be a perfect dish to serve a crowd. Because first of all it can be made well in advance and be stored up.
Second of all, everyone loves the taste of lasagna. If you're wondering how to make one easily, then make sure you keenly follow the steps.
The flat and wide lasagna noodles are considered an old one in the culinary world. This meat lasagna is a simple yet rich dish.
It is made with many layers containing pasta, sauce, and ingredients like cheese, meat, and vegetables. After taking them, you all will feel stuffed! If you wish to make this dish a complete meal, add some garlic bread or salad.
Once you get to know how to make one with the help of this recipe, you can make slight alternations according to your tastes.
If you're a vegetarian and want to make this lasagna, you could add roasted vegetables instead of ground beef. Or, if you prefer eating more meat, you can add sausages.
Otherwise, to make it look lean, add chicken instead of beef. You can not only change the vegetables and meat, but also you can make the dish creamier by adding alfredo sauce.
If you want to turn this meat lasagna into a Mexican dish, then add some taco meat along with that. Because, people, the possibilities are endless!
Ingredients Needed
Cooking spray
Lean ground beef (90% lean)- 1 pound
Diced onion- 1/2 cup
Ricotta cheese (skim)- 15 ounces
Eggs (slightly beaten)- 2
Shredded Asiago cheese (divided)- 1 1/2 cups
Italian seasoning- 1 tablespoon
Garlic powder- 1 teaspoon
Black pepper- 1/2 teaspoon
Jars of spaghetti sauce- 2 (26-ounce)
Lasagna noodles (oven-ready & no-boil)- 12 piece
Shredded Parmesan cheese- 1 cup
Shredded mozzarella cheese- 1 cup
Procedure to make Meat Lasagna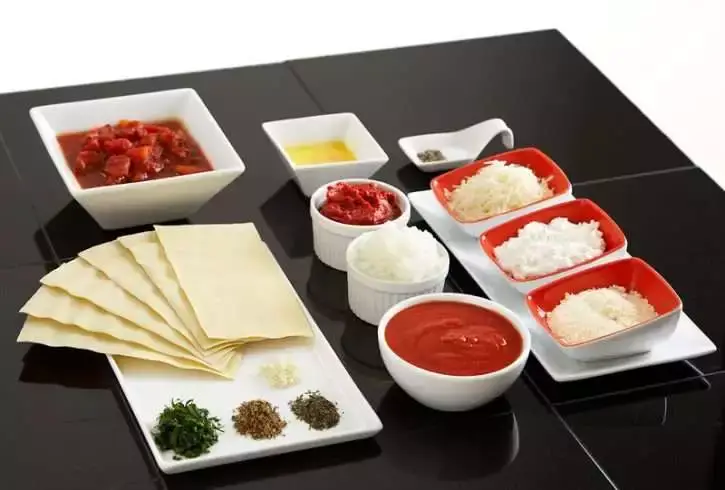 1. Firstly, gather all the ingredients you will need.
2. Warm up the oven to 375 F. Take a 9- x 13-inch baking vessel and spray oil with cooking spray.
3. Cook the ground beef with the onion until it slightly turns brown.
4. If it's too oily. Pour the oil and keep it aside.
5. Mix all the ingredients: eggs, garlic powder, 1/2 cup of the shredded Asiago cheese, ricotta cheese, Italian seasoning, and pepper put all together. Keep it aside.​
6. Spread the spaghetti sauce (3/4 cup) on the bottom of the ready pan.
7. Above the sauce, put a layer of the lasagna noodles four in a row.
8. Top it off with 1/2 of ricotta cheese mixture.
9. Above that, lay that with half of the ground beef.
10. Next, put the rest of the Asiago cheese.
11. Cover that with 1/3 of the leftover spaghetti sauce.
12. Next to that, repeat this layer: 4 lasagna noodles, remaining ground beef, remaining ricotta mixture, 1/3 of the spaghetti sauce, and the shredded Parmesan cheese.
13. Place the final 4 lasagna noodles like a layer on top of that. Pour the leftover spaghetti sauce above it.
14. Over the top, you can lay the pre-shredded cheese.
15. Bake the lasagna for 40 minutes, and cover it with aluminum foil.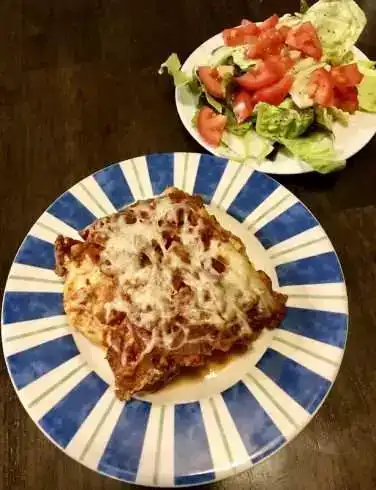 16. Remove the aluminum foil cover. Then bake the lasagna for up to 15 minutes till it becomes bubbly, and the cheese becomes golden brown. Otherwise, don't remove the foil ahead of time.
17. Let the lasagna sit for at least 15 minutes. It is essential to do that before serving. Let the lasagna rest at least 15 minutes before eating. If it's not set, then it'll become a gloopy mess.
Well, make sure you try this best lasagna recipe!
Recipes for lasagna- How to Reheat and Store up Leftovers
After eating half of the lasagna, you can store the leftover. Yes, you heard it right! This lasagna can be kept for at least 5 more days, and you can enjoy eating it. You can either heat the entire dish or reheat slice by slice in the oven till it becomes bubbly again.
Recipes for lasagna- How to Reheat and Freeze lasagna
The lasagna can be frozen as baked or unbaked.
Unbaked Lasagna: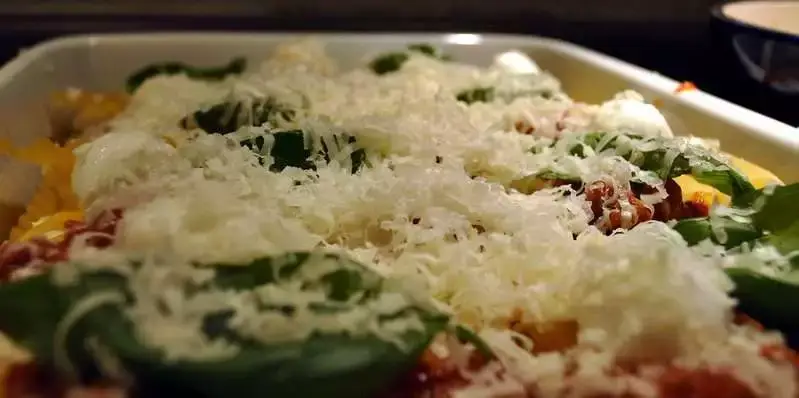 To freeze- Before assembling with a foil, line the pan. After that, assemble the unbaked lasagna. Now let it cool thoroughly. Then freeze the unbaked lasagna till it becomes solid. Take the frozen unbaked lasagna piece from the pan dish, and cover it with more foil. This could now be frozen up to a month.
To reheat- Take the unbaked lasagna from the freezer. And unwrap the foil and transfer it to another pan dish. Cover it and let it melt overnight in the refrigerator. Once it is melted, bake till it becomes bubbly.
Baked lasagna: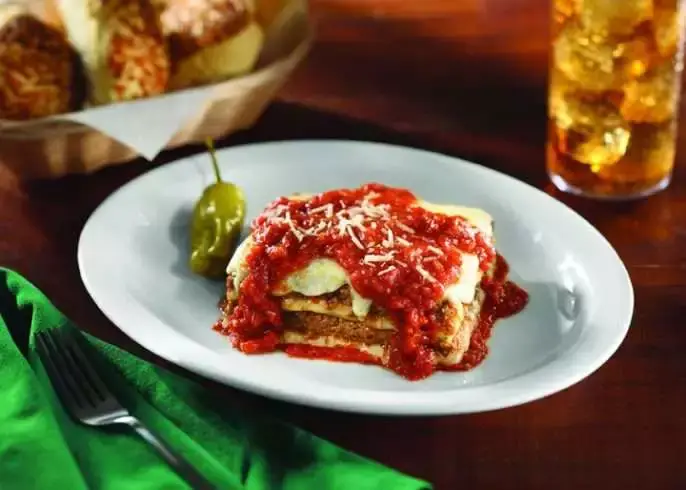 To freeze- Before assembling everything, use a foil and line the pan. Foil and bake the dish as directed. Thoroughly let it cool down. And then freeze-bake the lasagna till it turns solid. Lift the frozen block of lasagna from the pan, foil it, and you can freeze baked lasagna for nearly a month.
To reheat- Take the baked lasagna from the freezer. Cover the baked lasagna and allow it to melt. Once it melts, warm the pan dish covered with foil in the oven till it turns out bubbly at 350 F. And unwrap the dish from the foil and shift it to a pan.
How to reheat and freeze individual lasagna slices:
You can cut the lasagna into pieces and wrap them with aluminum foil on every piece individually.
If you want to eat them, then thaw them overnight. Unwrap and reheat a few minutes till it becomes bubbly and enjoy your lasagna again and again! Then you can freeze it for a month.
Do try this easy lasagna recipe at home; serve lasagna on a plate hot & fresh. Homemade recipes for lasagna is always a fantastic recipe flavored with mozzarella and parmesan cheese.
Do let us know your views on these three recipes for lasagna. And if you have your own set of recipes for lasagna, feel free to share them with us in the comment section.
Go crazy with these recipes for lasagna, and add a flavor of your own.