As an affiliate-driven website, Icy Tales earns from qualifying purchases.
When dogs can be so loyal and faithful to you, why should you stay behind? We know that you love your dogs as much as they love you. But the best you can do to show it is to give them the best of the best. Be it food, toys, or shampoo for dogs, and you should treat them with the utmost care they deserve.
A puppy needs to be looked after very carefully. When you bring your new baby home, you must keep in mind all the necessities for dogs. Their health and comfort should always be a priority of yours. Dogs are usually a little hesitant to bathe or have water being poured on them. So you must understand how to give them a bath which is comfortable and tender for your pup.
The little one that is your pet must have a bath that is gentle and soothing. So we've curated a list of the best puppy shampoo, which could also be considered some of the best dog shampoos. This list is based on customer reviews, ingredients, and ratings to find which is the best puppy shampoo for your beloved dog.
The Best Puppy Shampoo: Top 9 Picks
Let us quickly hop on to the list of the top-rated, best puppy shampoos to find the best puppy shampoo for your pet.
1) Earthbath Cherry Puppy Shampoo (Ultra-Mild)
With a lovely fragrance of cherry, this tearless puppy shampoo contains natural cleansers to clean your dog's coat and keep it shiny. This shampoo is very gentle on the skin of a puppy as it is free of parabens, sulphates, dyes, and phthalates, which could be harsh for your dog.
Our suggestion for the usage of this shampoo is for your pup to be at least 5-6 weeks old. It is an age younger than what a lot of other dog shampoos can be used upon. This dog shampoo is cruelty-free and contains organic Aloe Vera extracts.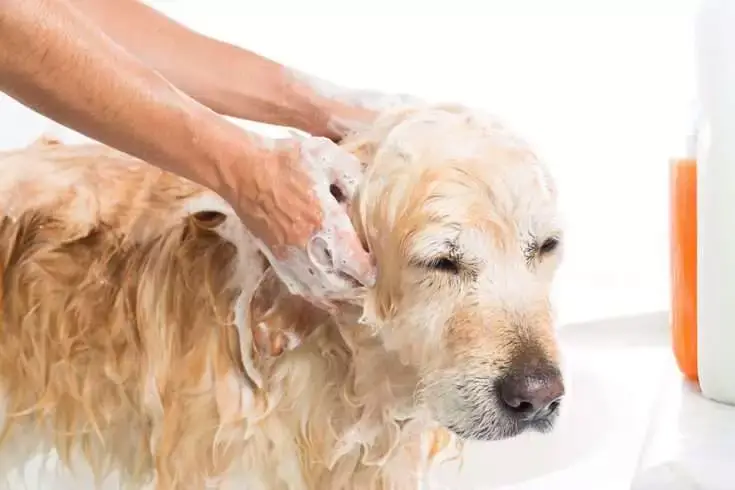 Aloe Vera provides a soothing feeling to your pet by reducing irritation and itchiness. It is a widely preferred scented dog shampoo that lasts for days. However, the smell of cherries might be too strong for some people. You can also use flea treatment after bathing your pet with this shampoo but do check the bottle to see how long you should wait before using the flea treatment.
Another good thing about this shampoo is that it is pH balanced. The coconut-based cleansers in this dog shampoo give a soft and shiny lustre to the coat of your pup, making it the best puppy shampoo. It is super gentle for sensitive skin as well! So the little one shouldn't normally face issues during a bath using this shampoo.
Ingredients
The ingredients include organic aloe vera, purified water, natural preservatives, renewable plant-derived coconut-based cleansers, glycerin, gentle conditioner and Detangler, wild cherry essence, and Vitamins A, B, D, and E.
2) Burt's Bees 2-in-1 Tearless Puppy Shampoo And Conditioner
Now, this is a great option for your pet as well as for your pockets. Get your dog ready for a bath with Burt's Bees puppy shampoo, which is mild and pH balanced specifically for puppies. It has linseed oil and buttermilk as the main ingredients, which provide a soothing sensation to the skin of your puppy.
Burt's Bees Tearless Puppy Shampoo does not contain artificial colours, fragrances, petroleum, or sulphates. The fragrance is honey-scented, which is very light. So the scent is a nice feature of this puppy shampoo, as it is not too strong and not too bland. Moreover, it contains 97% natural ingredients.
Being a tearless puppy shampoo, it uses a gentle formulation in order to reduce stinging the eyes and not hamper the pH level of your dog's coat. It does not contain any harsh chemicals, and the natural ingredients ensure a shinier and healthy coat for dogs.
Since it is a 2-in-1 shampoo that acts as a combination of both shampoo and conditioner, it is very watery. This can be a drawback of this shampoo as being too watery makes it harder to lather. But overall, this puppy shampoo has done wonders for pets and in the market.
Ingredients
Honey, Water, Buttermilk powder, linseed (Linum usitatissimum) oil, glycerin, Disodium Cocoyl Glutamate, Coco-Glucoside, Coco Betaine, Beeswax, Xanthan Gum, Glyceryl Oleate, Sodium Benzoate, Colloidal Oatmeal, and Potassium Sorbate.
3) Arm & Hammer Super Deodorizing Dog Shampoo (Kiwi Blossom)
It is another dog shampoo that is tearless and scented. However, it is not just a normal dog shampoo. It is multi-purpose and contains baking soda! Baking soda is highly effective in removing dirt and locking odour off of your dog's coat.
It can be a good dog shampoo for reducing fur shedding too! The fruit and flower extracts help in giving a sweet fragrance. The scent is not too strong, giving fragrances of rose, kiwi, and white tea, which lasts long. It contains coconut-based surfactants and natural ingredients that are gentle to the coat of your puppy, which is still not mature.
This shampoo is categorized as the best puppy shampoo in terms of fragrance and hair fall. So not only will your dog be clean, but your house will also stay free of fur all over the carpets and floors as you bathe your dog with this shampoo.
Ingredients
Honey, Water, Sodium Bicarbonate, Coconut-based Surfactants, Lavender flower extract, Kiwi fruit extract, rosemary leaf extract, Lemon peel oil, fragrance, yogurt extract, Verbena Officinalis Flower Extract, glycerin, DmDm Hydantoin, and Disodium Edta.
4) TropiClean Gentle Hypo-allergenic Puppy and Kitten Shampoo (Coconut)
Hypo-allergenic means that this shampoo is good for puppies and kittens who are allergic or simply have sensitive skin. It is very gentle and mild to the skin of your furry friend and is safe to use daily as well. It moisturizes and softens your dog's skin and coat.
It has a soap-free formula which means that any tick or flea treatment won't be washed away after use. However, read the bathing instructions on the flea treatment box to not cause any troubles involving your pup.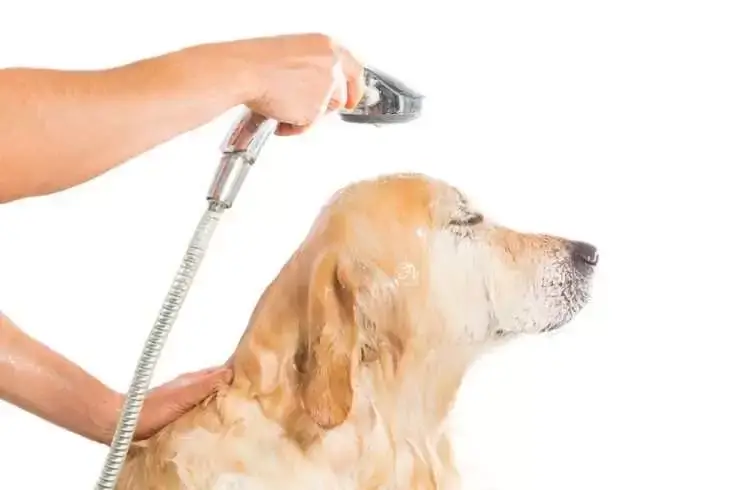 Do note that this puppy shampoo must only be used on puppies older than 12 weeks. It contains coconut extracts, which are ultimately skin-friendly. This can be useful in soothing away any disturbing skin conditions that your pup has.
If you are looking for a dog shampoo that is pH balanced, paraben-free, does not contain harsh chemicals, and is good for allergic dogs, this one is probably the best for you and your dog. This best puppy shampoo option is tear-free and contains quality certified organic ingredients.
Ingredients
Aloe vera extract, purified water, Avena Sativa Oatmeal, Mild coconut cleanser, and Vitamin E.
5) BioSilk For Dogs Tearless Puppy Shampoo
An affordable and easy-to-use puppy shampoo, it is suitable for puppies older than the age of 8 weeks. With a delightful jasmine fragrance, this puppy shampoo is made with a tearless formula for young eyes. BioSilk shampoo for dogs is listed as one of the best cleansing and nourishing dog shampoos that you could ever find.
Featuring aloe vera, milk proteins, and Vitamin E, it soothes and nourishes your dog's skin and coat while also bringing out the natural shine of their fur. It is a high-quality, tear-free and pH-balanced shampoo for dogs and cats. The scent is another feature that this BioSilk dog shampoo is famous for.
What's more, is that this puppy shampoo is made with just 11 ingredients. It also conditions your dog's fur, functioning as both shampoo and conditioner. It is gentle, without any sulphates or parabens. It is safe to use on sensitive skin. This is another option for the best puppy shampoo, which is very much affordable.
Ingredients
Aloe vera, milk protein, water, Argan oil, mild-cleansing Silk protein, Soy protein, honey, fragrance, chamomile, panthenol, and Vitamin E.
6) Perfect Coat Mild Puppy Shampoo
It is a tearless dog shampoo with a baby powder scent. Being one of the best puppy shampoos, it has the richness of keratin, jojoba oil, and aloe vera for nourishment and moisturization of the fur of your puppy.
It is an economical alternative to other similarly effective dog shampoos that are rather expensive. For a puppy shampoo, it is probably the smartest choice you can make. This is because it contains tearless ingredients with a nice fragrance, topped with rinsing agents.
These agents make the shampoo lather quickly and hence, become easily washable. It can cut down the bathing time of your puppy by almost half of what it would have been otherwise. It also contains extra-mild ingredients, which are essential for the shine and softness of the skin and coat of your dog.
Ingredients
Aloe vera gel, jojoba oil, water, mild surfactant blend, hydrolyzed keratin, moisturizing and rinsing agents, preservatives (like parabens and Diazolidinyl urea), FD&C Yellow #5, FD&C Yellow #6, fragrance, and salt.
7) Nootie Sweet Dreams Tearless Puppy Shampoo
For a tearless shampoo, this is the best dog shampoo that you'll get. It uses a tearless formula that won't irritate your dog's eyes and does not contain parabens or sulphates. In addition to that, it is free of harsh chemicals and made with all-natural ingredients.
Even your dog will love this tearless puppy shampoo and enjoy his/her bathing time. It's also suitable for cats, but it can only be used on dogs and cats older than or equal to 12 weeks of age. It provides a shiny and nourished coat to your puppy while detangling problematic knots in your pup's coat.
Out of all the tearless shampoos for dogs, this is the smartest choice you could make in addition to all the other benefits, and it's also good for giving a lovely fragrance to your dog. This puppy shampoo is a 2-in-1 shampoo and conditioner, so you'll save the time and money of using conditioners too! No doubt it is considered one of the best puppy shampoos.
Ingredients
Fragrance, Water, Citric Acid, Polyquaternium-7, Disodium Laureth (3) Sulfosuccinate, Disodium Cocamido Mipa Sulfoduccinate, PEG-80 Sorbitan Laurate, Kathon CG, PEG-150 Distearate, Sodium C14-14 Olefin Sulfonate, Sodium Trideceth Sulfate, Lauroamphocarboxyglycinate, Lauramine Oxide, and Cocamidopropyl Betaine.
8) Pets Are Kids Too Premium Oatmeal Shampoo For Pets
Made with all-natural ingredients, here is another dog shampoo that gives your dog a lustrous and healthy coat. It's one of the few quality dog shampoos that contain a mixture of all the essential ingredients for a healthy dog coat and shedding and odor control, which are organic oatmeal, coconut, aloe vera, and baking soda.
Among our list of the best puppy shampoo, this is probably the only dog shampoo that should be used on much older dogs. It isn't ideal for puppies who are young or very sensitive. However, it feels gentle to a dog's skin and cleanses and soothes it without any harmful chemicals.
The scent is light and smells like oatmeal cookies. Another feature of this premium oatmeal shampoo is that it relieves hot spots and itching too. For the best results, leave the lather in your dog's coat for five minutes.
Ingredients
Deionized water, oat proteins, plant-derived coconut-based cleanser, glycerin, baking soda, DMDH Hydantoin (Natural Preservative), and Vitamins A, D, and E.
9) Oster Oatmeal Essentials Gentle Puppy Shampoo
This Oster shampoo is the shampoo you would need for puppies who have very sensitive skin. Made with 100% oatmeal, it soothes and protects the puppy's skin. Furthermore, it has rosemary extracts, wheat protein, and gentle humectants to help moisturize the skin and coat of that furry paw-toner of yours.
Neither does it have harmful chemicals, nor does it contain parabens, sulphates, alcohol, phthalates, and dyes. Made with gentle and natural ingredients, this puppy shampoo is created to help your dog feel fresh and clean, without itchiness and irritation.
There are so many reasons why many pet parents consider it the best puppy shampoo. It uses a pH-balanced formula and is ideal for puppies with extra sensitive skin. So your pup is probably going to find bathing comforting if you keep using this best puppy shampoo.
Ingredients
Aloe vera is a blend of coconut-based cleansers, rosemary leaf extract, purified water, oatmeal extract, thickening agent, hydrolyzed wheat protein, preservatives, and fragrance.
Conclusion
We hope that this list of the best puppy shampoo will be useful for you and your dog. Be sure to keep a check on your dog's overall health and preferences, and then select the shampoo and conditioner for the little one. Stay healthy and happy to keep your dog healthy and happy too!
Also check out, Is Baby Oil Good for Your Hair