Experience the enchanting charm of the Great Smoky Mountains with an adventure tour at the SkyLand Ranch, in Sevierville, Tennessee, with the tour available on various dates and time slots to choose from on Fever.
The Experience 
Experience a spell-bound adventure at the Skyland Ranch, a 100-acre farm in Sevierville's downtown, featuring adventurous scenic rides, live entertainment, animal encounters, picturesque views of the Great Smoky Mountain and so much more.
Gift your taste buds an experience of a culinary extravaganza from the Skyland Cafe & Bakery and the other 3 food trucks available at the spot, while you enjoy shopping for irresistible goodies. 
The jaw-dropping scenic views of the majestic Smoky Mountains make this adventure tour all the worthwhile.
Unlimited entertainment awaits here as you meet and greet the adorable ranch animals including mini donkeys, mini horses, alpacas,  llamas, goats, sheep, longhorns, sica deer, fallow, and highlander bulls and cows with the Safari Hayride.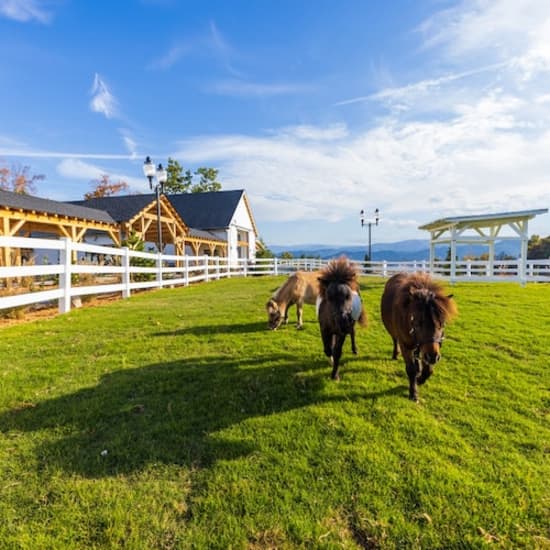 Hop on the Horizon Skyride, which provides visitors with an adventurous and enthralling ride to the top of the Skyland Ranch, offering picturesque views of the Smokies and Sevierville.
Allow your children to play at Buckaroo Playbarn equipped with slides, climbing structures, and more; undoubtedly the perfect place for kids to have a blast.
Additional Info 
The ticket allows you to visit the Skyland Ranch for 3 consecutive days, how cool is that?
You do not require any tickets for children under 3 years of age and the Horizon Skyride chairlift does not allow strollers.
Wheelchairs are not accessible and the ticket does not cover SkyLand Shootout BB Gun Range, Gem mining activity, and Wild Stallion Mountain Coaster.
Smartphone voucher must be exchanged for an admission wristband at the box office and the wristband can be used for 3 consecutive days.
Tickets
Get ready to witness the magic of the mystical Smokey Mountains by reserving your spot for the Skyland Ranch tour, from the official ticketing platform, Fever.
Tickets for adults are priced at $ 24.52 and for children above 3 till 9, the tickets are priced at $14.46.
The tickets cover,
3 consecutive days of admission to the beautiful Skuland Ranch.
Admission to Horizon Skyride Chairlift and Kids' Buckaroo Playbarn.
If you do not want to ride the Chairlift, you even have an option for an open-air safari truck or a shuttle.
Close encounters with the ranch animals.
A daily dose of live entertainment which includes shows, dance, games, and music.
Enjoy the Views of the Gorgeous Smokey Mountains and Explore the Skyland Ranch
What- Skyland Ranch Adventure Tour.
Where– Skyland Ranch at 1620 Parkway, Sevierville.
When– Various dates are available for the tour.
Tickets- Buy from Fever.
I am a passionate writer with a vivid interest in various spheres of life. My interest in movies and reading books has helped me widen my horizons and imagination. I am also an art enthusiast and love various art forms. As a creative person, I live my life to the fullest.