Want to know when is the best time to visit Leh Ladakh? Check out this guide.
Ladakh is a mesmerizing and beautiful place in India. This union territory of India is located in the Northern part of the country and western mountain ranges. Ladakh is one of the best and most visited hill stations in India.
People love to see the natural beauty of lakes, valleys and also enjoy many adventurous activities. The camel ride is also one of the favorite activities of tourists.
Ladakh is the highest plateau of India that lies near the Karakoram range and Himalayas. This is one of the coldest places. Ladakh is also known as Little Tibet. Tibet is a place in China.
During winters, the lakes of Ladakh freeze, and the mountains are covered with snow.
The icy rivers meltdown in the summer season, which is the best season for camping. Leh is a beautiful town in Ladakh and also a tourists place.
Let's learn the best time to visit Leh Ladakh and which is the hottest and the coldest month in Leh Ladakh.
The adventures, activities, and festivals are things to enjoy in Ladakh, and there are many beautiful places to visit.
Let's discuss the monthly weather and atmosphere during the whole year in Ladakh that will help you decide which is suitable and best time to visit Leh Ladakh for you.
But before that, let's see why one should visit Leh Ladakh in the first place:
1. You can enjoy the best scenic views
Anyone who knows India knows that Leh Ladakh is one of the most beautiful places. Well, this is a given. There is an abundance of scenic beauty and unparalleled views.
So, how can one not visit this place?
2. Leh is for the foodies
If you are a big-time foodie, this place is for you. You will find varied kinds of cuisines here to satisfy your taste buds.
And if you are a chai lover, you will be amazed to have a sip of warm pink tea or butter tea.
3. It's a trekkers paradise
Ladakh is the land of trekking. With plenty of hiking and biking trails to choose from, one can have the best time of their lives here.
The best time to visit Ladakh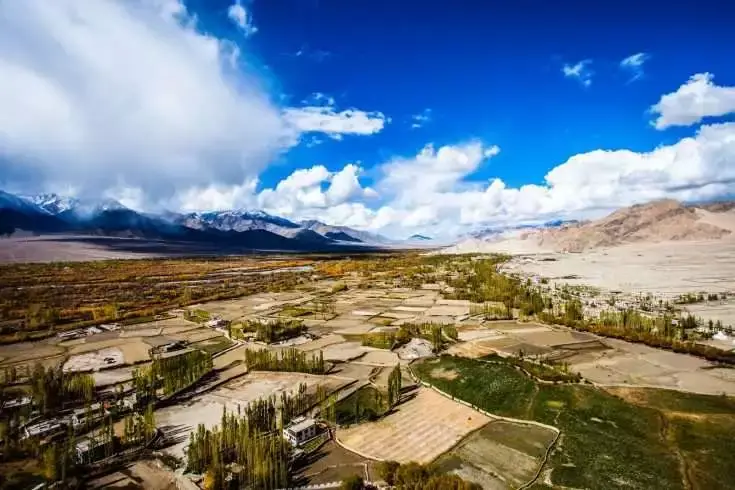 Weather in April-May
The weather in April and May is hot, but not in Ladakh. The temperature rises in Ladakh, but it is still -1 degrees celsius to 15 degrees celsius.
Sometimes snowfall can be witnessed in this month as well but not in harsh quantity. Little to moderate snowfalls are seen at this time. So, it is an excellent and best time to enjoy the chilly weather in Ladakh.
At this time, the lakes like Pangong Tso and Tso Moriri start to melt but still, you can enjoy the view of snow-capped mountains like Khardung La and Chang.
Everything feels so fresh and just like a fresh new morning. If you plan to visit in April to mid-May, then choose flight as a mode of traveling because not all routes by road are opened like the Srinagar Leh highway and Manali – Leh highway remain close.
Nearest and the main airport is Leh Kushok Bakula Rimpochee Airport. In the second half period of May, the weather is not sunny, but snowfall stops. So this time is the best time to visit Ladakh without shivering.
Weather in May – June
If you want to enjoy the mesmerizing and fantastic road route, then this is the best time to visit Ladakh. The snow starts to melt, and road routes like the Srinagar Leh highway and the Manali Leh route open up.
You will enjoy the beautiful and charming view of lakes and rivers. Not just that, the exciting festivals of Ladakh like Saka Dawa, Yuru Kabgyat, are celebrated during these months.
So this is the best time to visit Leh Ladakh for those who want to enjoy snowy roads and routes and the culture.
Weather in July- August
This is the best time to visit Leh Ladakh by bikers. For those who want to experience the marvelous and adventurous ride of the bike on the roads of Ladakh, then this is the best time for them.
July to August months are the hottest months, so if you want to feel the sun rays shining upon you while you discover the roads, this is the best time for you.
If you are planning the trip to Ladakh during July and August, then keep in mind that, at this time of the year, both routes, Manali Leh and Srinagar Leh highway, are a little busy with people, so try to leave early for your destination.
The temperature of Ladakh rises to about 25-degree celsius, and at this time, Ladakh is a combination of brown and white mountains, so this adds wonders to the beauty of Ladakh.
Also, this is the season of festivals for the people of Ladakh. They celebrate Hemis, Stongday, Karsha, Sachukul, Karzok, Sani Nasjal, and such festivals make your trip to Leh Ladakh a memorable tour.
Weather in September
The temperature at this time remains between 5 degrees Celsius to 21 degrees. This is one of the best times to visit Leh Ladakh for those who want to enjoy snowfall.
In the amid of September snowfall starts and rates of hotels are not at their peak so saving money is possible. You will enjoy the snowfall, clear roads, beautiful view of sunkissed rivers.
But sometimes, snowfall results in roadblocks. But besides that everything is lovely. From Pangong Tso to Nubra valley, every view is near to heaven and fabulous.
Weather in October
The temperature at this time falls to a maximum of 14 degrees Celsius and a minimum of -1 degrees Celsius. The roads are overcrowded and flooded with people as the snowfalls begin, and people visit to enjoy the view of snow-capped mountains, but the usually dhabas, and other places remain closed due to snowfalls.
So if you want to avoid the rush and traffic, you can go for flights as well, and this is the best time to visit Leh Ladakh with a limited budget as the prices of hotels are lower at this time.
The best part of visiting during October is the Diskit Festival in October. Enjoy your trip and this festival with ladakis.
A trip to Ladakh In November
The weather in November drops down to a maximum of 7-degree Celsius and the rivers start to freeze again, so you are unable to travel by road as they are closed during this time.
So if you are planning a trip to Leh Ladakh, traveling by flight is the only option. This is the best time to visit Leh Ladakh for those who want to enjoy and learn the livelihood and culture of Ladakis.
Overall this season to visit Leh Ladakh is colder and freezing. If you can bear it, you are going to have fun.
Atmosphere in December
Travelers do not prefer to visit Ladakh in December as this is the coldest month of the year. Everything freezes in Ladakh at this time. Most of the highways and routes remain closed.
You will see the least visitors this month because the weather is unbearable. Although if you ever visit this month, Nubra Valley will remain open with its beautiful view, it closes only when the snowfall is at its peak. So this is not the best time to visit Leh Ladakh.
So you can still enjoy the view of Nubra Valley, Pangong Tso, and tso moriri freezes at this time. Ladakh is one of the coldest places.
The Frozen Zanskar River in January to March
The cold and temperature are at their peak during these months. The temperature falls and remains between -2 to -14 degrees. The cold is unbearable at this time of the year. This is the best season to visit for adventurous people as the Zanskar Valley welcomes the people for trekking.
The highest passes, Khardung La and Chang La are covered with around 2-3inches or more snow. Trekking here is known as snow leopard trekking.
Traveling in this period of January is a little difficult, and sometimes even flights get canceled.
Leh highway both Manali Leh and Srinagar Leh highway remain close. Pangong Tso and Tso moriri, Nubra valley, and Zanskar valley are frozen at this time.
In March, everything starts to come back in its normal position though it is still cold in the evenings.
This is not a tourism season, but still, Ladakh is cherishing its snow-white beauty and greenery. This is also when snow leopard is seen once or twice for the food search.
Best time to visit Leh Ladakh
Concluding the weather and atmosphere, the best season to visit Leh Ladakh is in May – September. The cold is also bearable so you can enjoy at your best in this time and also visit every beautiful and tourist place.
Best places in Leh Ladakh to Visit
But the rest depends upon your relevant interests and schedule. Ladakh is also known as Little Tibet as it represents the Tibetan Buddhist Culture.
The specialty of this region is Pashmina Shawls, Handicrafts, silver jewelry, apricots, shawls, turquoise, and beautiful snow-capped mountains, valleys, and Buddhist Monasteries.
The popular tourist places in Ladakh are Zanskar Valley, Pangong Tso Lake, Hemis National park, Diskit Monastery, Nubra Valley, Thiksey Monastery, Markha Valley, Tso Moriri lake, Khardung-la Pass, and Chang la, Sham valley and Gurdwara Pathar Sahib, and Hall of Fame.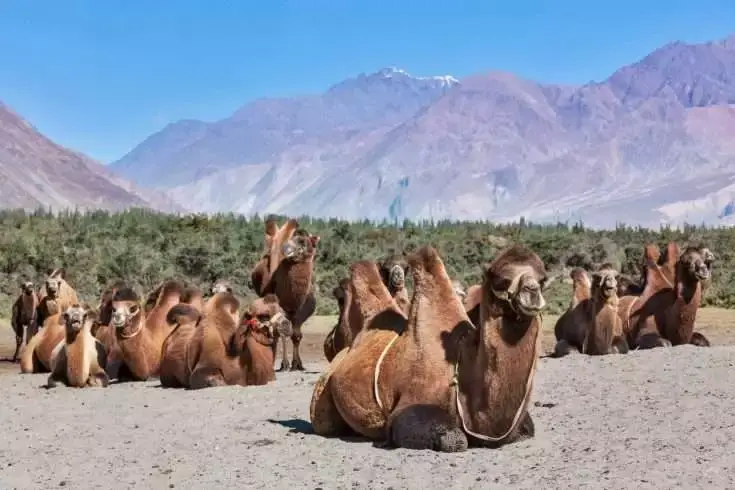 Ladakh offers many adventurous activities like Chadar Trek, Markha Valley Trek, Snow leopard trek, Rock climbing, Ice hockey, Camping, Ladakh Marathon, motorbike ride that is adventurous Mountain Biking, Jeep Safari, River Rafting, Camel Safari.
The above picture shows the double hump camels of Ladakh. Camel Safari is a fantabulous experience. Srinagar Leh Tour, Archery, copper art, and don't forget about Mountain Homestays. Sounds fun, right?
One must-Visit Leh Ladakh and enjoy your trip to the fullest with this guide.
Festivals of Ladakh
Many cultural festivals are celebrated in Ladakh by Ladakis. The Saka Dawa Festival is the most famous in Ladakh. Sindhu darshan, Hemis festival, Losar festival, Diskit festival, Gustor, Sacred Mask Dances, Ladakh Polo, Chemday Wangchok, are other unique, popular, and cultural festivals of Ladakh.
If you love to learn about the culture of different regions, do visit and enjoy these different and lovely festivals.
How many days are sufficient for a trip to Leh Ladakh?
A trip of 4-5 days is enough to cover the most popular places. But 7-10 are required to experience the thundering and adventurous activities of Ladakh.
A trip of 15 days for those traveling lovers who love to learn about cultural activities and livelihoods of different regions.
Main routes and ways to visit Leh Ladakh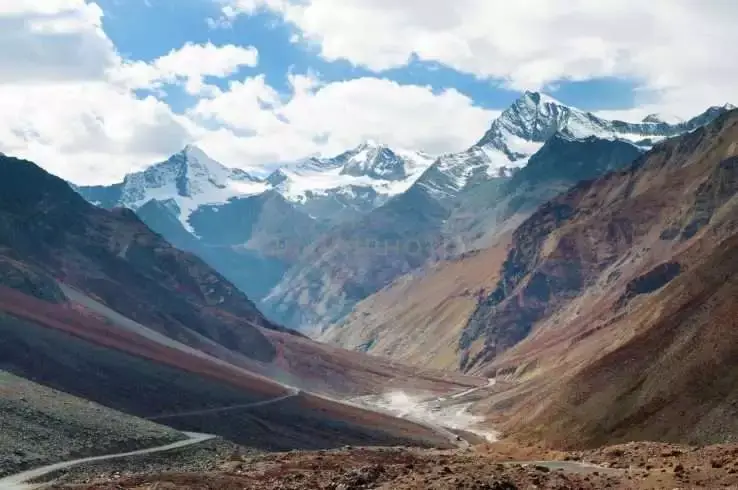 The road routes of Ladakh – Manali Leh highway and Srinagar Leh Highway. The air route for the trip to Ladakh, the nearest airport, is in Leh Kushok Bakula Rimpochee Airport, and from other ways, you can catch a Cab that is already available most of the time outside the airport.
Conclusion
I hope you enjoyed the article, and now you can easily decide the best time to visit Leh Ladakh according to your relevant interest, schedule, and holidays. Make many memories from this trip with your families, friends, and loved ones. Plan a trip and enjoy it to the fullest.
But make sure that if you plan to visit Ladakh by the road, then Srinagar Leh and Manali Leh highway must be open as they are closed during the coldest times of the year because of snowfall.
Another important thing is to leave Manali a little early if you choose the Manali Leh highway and the same with Srinagar if the route is Srinagar Leh highway because, during the season, the roads remain busy with the tourists. Sometimes roads get blocked because of snowfall.
Also, if you are visiting in April May, use winter wear because the weather is still cold. Avoid visiting in December and January.
I hope this article is helpful. Drop your experience of Ladakh in the comments. Also, please share your favorite places and memories to re-enjoy them.
Hope you have a happy trip to Ladakh.