It is well quoted by a famous personality that no man is really happy or safe without a hobby. Working 24 hours a day without taking a break would make life too exhausting and tiresome. Adding any hobby to a person's daily routine that he/she loves to do not only adds excitement and curiosity to his/ her life but it also helps in overcoming boredom.
Hobbies also act as a great stress reliever as when we do something we love and are passionate about; then our mind feels relaxed.
Engaging in a hobby is a great way to disconnect from our dull and monotonous daily schedule and do something that makes us happy.
If you are free and you want to utilize your time doing something creative and worth spending your valuable time, then you should consider the options such as drawing, painting, pottery etc.
But these things require a lot of material and can stretch to a longer duration. They can be tiresome also. So if you are a person who loves to make something artistic or creative and don't have time to stretch your hobby for a long time, then brush pen calligraphy is the right choice for you.
So what are you waiting for? Grab all the required material and get started on a new journey.
If you don't know how to do calligraphy, but you are still interested in doing brush pen calligraphy, then you don't need to feel sad or gloomy as here is a guide on how to learn calligraphy for beginners.
What Exactly is Brush Pen Calligraphy
As the name suggests, brush pen calligraphy is used doing a brush pen. It is not done using any normal pen but requires brush pens instead. People sometimes get confused between hand lettering and brush lettering, but to be specific, they are the same.
The calligraphy that can be done with simple pens is known as hand lettering or faux lettering.
The tip of the brush pen is usually flexible, which is used to create upstrokes and downstrokes, as well as 3D calligraphy.
In calligraphy, emphasis is done on drawing words and not writing them. It focuses on the beauty of words.
Material Required
Before we start how to do the brush pen calligraphy, it is important for us to arrange and assemble all the material beforehand to avoid the last-minute hustle and bustle. The material required for brush pen calligraphy is easily available in the nearby stationery shops, or you can purchase them from any online store if you wish to.
1. Paper
This is the very first material required when you begin with brush pen calligraphy.
If you are a beginner, then for the first try, you can also use any simple paper such as drawing paper if you don't have a specific calligraphy paper available but make sure that the paper should be smooth. Else, it will cause the ink to bleed.
Using a smooth paper ensures that your brush pens don't smudge, giving a good finishing touch to your calligraphy. But it is not advised to use A-4 sheets to do calligraphy.
The selection of good quality paper is very important as it is directly liked with the life of your brush pen also. If you use good quality paper, then it will extend the life of your brush. Otherwise, it can cause the tip of the brush pen to lose its fineness.
2. Brush pens
Once you are done with selecting the required paper, you should proceed with the choice of a calligraphy pen. There are various calligraphy pens available in the market from various companies of different sizes.
The price of these pens is also different depending upon the characteristics such as brush tip, size of the pen and the ink used in the pen. But as a beginner, you don't have to focus so much on the tip or ink.
You can start experimenting with different brush pens after you become good with calligraphy, and also, you are sure that you want to pursue calligraphy as your hobby further.
As a beginner, you can use a less expensive brush and then upgrade the pen as your calligraphy level increases.
Many artists give good suggestions about brush pens which they had used as a beginner. There are various tutorial videos available on YouTube which provide full information on how to use the brush pens in the correct way.
You can also have a look at their suggestions so as to get a little idea of which pen to use in the starting.
A few brush pens suggestions for beginners
Tombow Dual Brush pens can be used if you are interested in doing medium or large-size brush lettering. These brush pens are good to use if you are a beginner, and they are smooth to use.
Its ink is non-toxic, i.e., safe to give your kids too if they are also interested in doing brush lettering or calligraphy.
Sakura brush pen is also suggested as a good choice for freshers when they do brush pen calligraphy. The size of the brush tip of these pens is either large or medium, and it is available in 48 different colors. Its tip is highly durable and can make very nice bold strokes.
Pentel Fude brushes touch pen. These are the 3rd type of pen which are suggested by brush calligraphy artists. The size of the tip of these pens is usually small, and you don't need to apply too much pressure while creating strokes with these pens.
These brush pens are available in 12 different colors in the market.
Apart from these, you can also use Ecoline brush pen, Karin brushmarker, Crayola marker, Zig Kuretake Brushables or any other such brush pen as per your comfort.
However, it is not compulsory that you should stick to the preferences made by the artists, as they make these choices made on their comfort and ease.
Therefore it is advisable that you should use that brush pen only which you find nice and your grip is also good.
You should choose such a pen which you are able to hold easily so that it does not slip from your hand whenever you make a turn.
After you have selected all the materials required, you all are ready to create magic with a brush. So what you are waiting for, grab all your material and start pursuing your passion.
So let's begin with the the guide to starting your brush pen calligraphy journey.
Congratulations, now you are all set to begin
For beginners, a lot of brush pen calligraphy artists advise to draw lines and then practice drawing letters in between the lines lie we used to write alphabets when we were kids.
Practicing brush pen calligraphy using these lines will ensure you that all your words are in symmetry and that it doesn't appear as if the letters are running here and there.
You can also try drawing angled lines if you want to write in italics.
Drawing in between the lines is also considered beneficial as it gives us a brief idea of how are brush lettering will look once it is completed.
If you are not confident using a brush pen in the starting, then you can start calligraphy with a pencil or simple pen first. Once you feel that you are able to draw the strokes nicely with a pencil or simple pen, then you can switch to a brush pen.
There is no compulsion that a person has to start calligraphy with pens only. It all depends on how handy and comfy you become with the brush pens.
Don't practice too hard curves in the starting. Start with practicing easy letters and alphabets. Practice easy strokes in the starting, and don't strain yourself too much in the starting.
Also, don't exert too much pressure on the tip of the brush, as this might break the brush tip and will result in spoiling your art.
There are various practice sheets and books also available on the market for freshers. If you want, then you can also purchase them from the market to get handy on the curves and to learn brush pen calligraphy in a better way.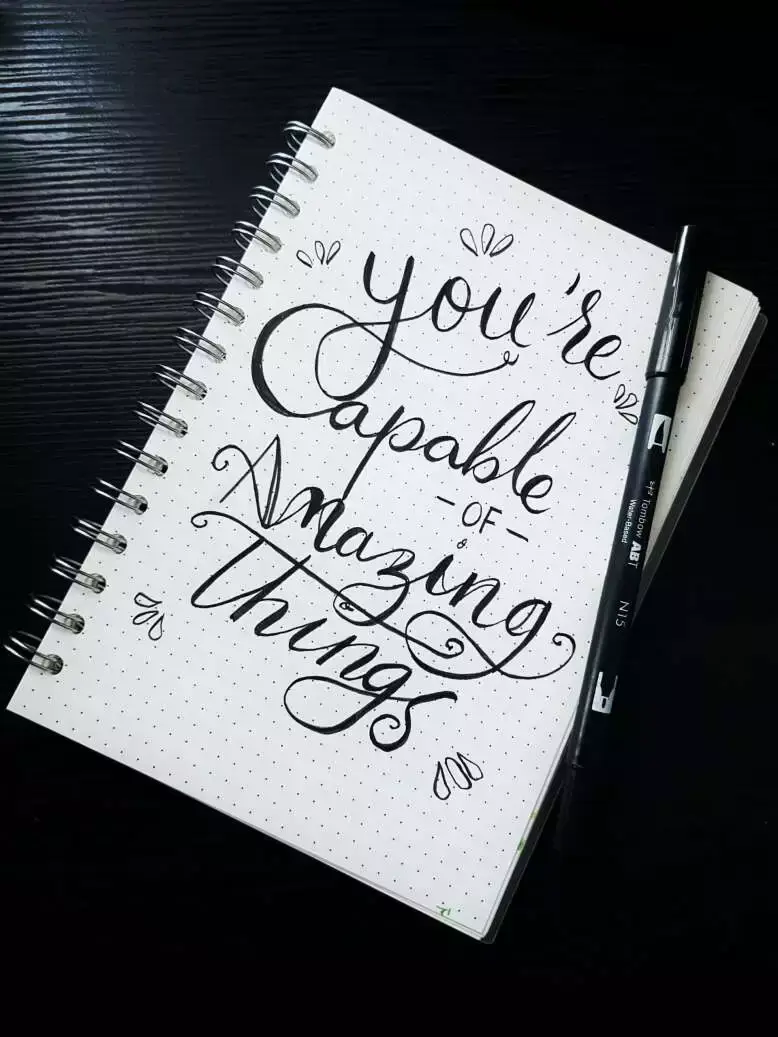 Upstroke and Downstroke
Although there are 4 curves in calligraphy, upstrokes and downstrokes are the two basic strokes involved in brush lettering or any form of calligraphy. The entire beauty of your calligraphy depends on how neatly, gracefully and elegantly you draw these strokes.
If you want to create a beautiful brush pen calligraphy art, then you should very carefully focus on your strokes.
When you have to lift your brush pen upwards on the paper, then that is referred to as an upstroke. Whenever you draw an upstroke, make sure that you do it with a light hand.
Upstrokes are generally thin and lighter than downstrokes. Pressure applied in an upstroke is very light in comparison with the downstroke.
Whenever we move our brush pen down on the paper, then that is known as a downstroke. Downstrokes are usually thicker than upstrokes, so you need to apply a little more pressure than upstrokes.
To make your brush pen calligraphy more artistic and appealing, make sure that the difference between upstrokes and downstrokes is clearly visible. Although this thing might not be visible from the very beginning, it will appear gradually and with regular effort and practice.
As a beginner, your strokes might not be too perfect, but no need to lose heart or get demotivated as it is a regular practice only which makes a man perfect. All you need to do is to keep going on. You will definitely see positive results after a certain period of time. This might not happen within a few hours after beginning, but yes, this will definitely happen after a few days.
How to Hold the Brush Pen
These pens are not held like normal pens. They are tilted a little and held in such a way that your wrist is free to move on the sheet. It may feel a little uncomfortable initially, but you will get used to it with time.
Generally, the brush pen should be held at an angle of approximately 45 degrees. If the brush pen is held in an upright position, then there are chances that the tip of the brush pen breaks, or you may not get nice upstrokes and downstrokes.
Do not move your fingers too much like you do while writing normally. Instead, try moving your elbow to have good control of strokes.
Don't hold the tip of the brush pen. Keep at least a distance of 1 inch from the tip of the brush pen or even farther back while doing calligraphy to get fluency in strokes.
While holding the brush pen, don't be too clumsy; just relax and hold it with a light hand. Brush lettering is not like normal handwriting. It should be done fast. No, it isn't like that you can do it slowly and patiently.
Tips for Beginners
For an attractive brush pen calligraphy, it is recommended that your letters shall possess the following characteristics: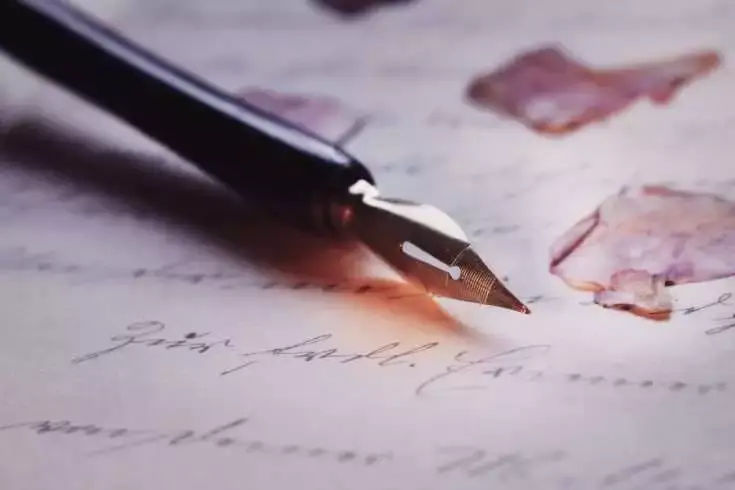 Clarity: You should focus on the clarity of the formation of your words. It doesn't matter how attractive or unique your letters are if they aren't clear. 
Avoid overlapping of words: Be very patient while doing brush pen calligraphy. If you do brush lettering too fast, then you will end up mixing your upstrokes and downstrokes, making your calligraphy look messy and unappealing.
As a beginner, it will take some time to adjust to the grip of the pen, so there is no need to be depressed. Rather, work a little hard and see the positive results within a few days.
Be slow: If you get demotivated after looking at other people's brush pen calligraphy videos on various social media sites, then it is important for you to know that these videos are highly sped up.
Always know that everything shown on social media is not true. There are always additions made so as to make the videos attractive and to catch the attention of viewers.
In reality, if you want to learn brush lettering in the true sense, then go slow. This will also help you in understanding the formation of the lettering using brush pens. Even the experts also brush pen calligraphy very carefully and slowly.
So no need to hurry and mess things up. Remember, good things take time.
Practice: As we know that it is practice only which makes a man perfect. Therefore, keep practicing on a regular basis, and then you will be amazed to see the improvement in your brush pen calligraphy.
With regular and constant efforts and after following all the tips given by experts, you will see an improvement in your brush pen calligraphy subsequently.
All you need is patience, strong determination and a not to give up attitude.
Things might feel a little demotivating and gloomy in the early stage when you will see no change between your normal handwriting and brush lettering.
Thoughts of giving up might strike in your brain. But remember, an expert was also once a beginner, so there is no need to give up. Stay a little consistent towards your mission, and you will definitely see the positive results eventually.
But once you are a pro, you can create aesthetic masterpieces that are worth appreciation, and you will definitely feel proud of the amount of hard work and dedication you had put into the art.
Conclusion…
'Nothing is impossible even the word impossible says I-M Possible.' All the marvels of creation visible today were ideas once which were conceived in someone's mind before being actually sculpted and in front of our eyes.
Brush lettering might sound a little tough and out of the box to you as a fresher, but once you learn how to do it properly, I am sure you will definitely enjoy it and suggest others also do the same.
It is a good way to spend your precious time, and you would love to do it again and again after you see positive results.
Rome wasn't built within a day, and there is nothing in this world that can be learnt within a day. Everything requires effort, patience and consistency to flourish. These are the stepping stones to the success of almost everything in this world. We can not skip any of the steps as this might lead to the failure of the work we are indulged in.
Remember, there are no shortcuts to success, and hard work is the main ingredient of the best results, so never give up and lose hope if you don't see positive results in the beginning.
All you should do is hang on a little more and see success with your own eyes and feel the pride yourself.