Hrithik Roshan is known as the Greek God of Bollywood and for obvious reasons. His acting is a joy to watch; his well-maintained physique is the envy and inspiration of us all. Here are 15 facts you didn't know about this Indian hunk!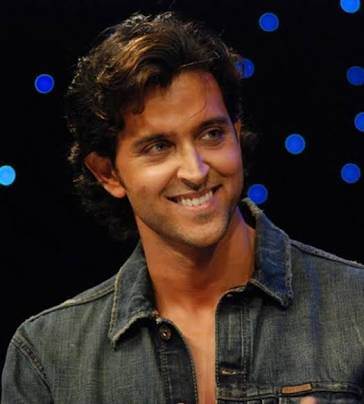 Everyone is familiar with Roshan's films, but only a few are aware that he has also been a playback singer! He has performed various songs, and most of them are from his own movies. To name a few are – 'Kites in the Sky' from Kites, 'What a Wonderful World' from Guzaarish and the hit song 'Senorita' from the much-loved film Zindagi Na Milegi Dobara.
Most of us have watched and enjoyed his debut film 'Kaho Na… Pyaar Hai'. What is truly commendable is that his performance earned him TWO Filmfare Awards – for Best Actor AND Best Male Debut! Yes! he has been killing it from the start.
Those of you who think his debut movie, Kaho na Pyaar hai, was his first on-screen appearance, you are quite mistaken! Hrithik's maternal grandfather, producer-director J. Om. Prakash was the one who brought his six-year-old grandson onscreen for the first time by shooting his actions for the film Asha (1980) as he uninhibitedly danced around. How cute is that?
This wasn't the only movie in which you get to see a tiny Hrithik Roshan running about and being adorable. He makes a few unaccredited appearances in films like his father's Aap Ke Deewane and his grandfather's Aas Paas. The aim was to have his presence act as a lucky charm for the movie!
He certainly comes from a family of highly gifted individuals. While his father Rakesh and his maternal grandfather are known for the films they produced and directed, did you know that his paternal grandfather Roshan Lal Nagrath was a gifted classical musician? He was a renowned composer who helped define Bollywood film music as a music director. His grandmother, too, was quite the music maestro.
Speaking of his family, it may come as a surprise to some people that Hrithik or 'Duggu' also has a sister – Sunaina! This lovely lady has had quite a controversial personal life and has also, unfortunately, had to brave the fight with cervical cancer.
Hrithik's career has not been devoid of controversies either. He was subjected to a defamation campaign in late December 2000. Malicious rumors stated that he hated Nepal, and the country's people took this very seriously and rioted against him and his movies. However, these rumors were duly proven to be baseless and fabricated.
The end of 2000 wasn't all bad for him, though, as he married his childhood sweetheart Suzanne Khan on December 20th! While this is relatively old news, the details of his love story are lesser-known to the public. Hrithik has stated that he fell in love with his wife of 15 years at a traffic signal, the good old love-at-first-sight way. Suzanne has said they went from being friends to best friends and fell in love suddenly. Perhaps both versions are correct in their way! It made their recent parting of ways all the more heartbreaking.
A lot of people were probably also heartbroken by his marriage and not the separation! The year he entered the state of holy matrimony, the handsome actor had got more than 25k marriage proposals on Valentine's Day! It must be some record.
Hrithik is quite a good human too. Mr. Roshan pays visits to terminally ill children in hospitals, fulfilling their wish to meet their favorite action hero. Now that is indeed sweet and thoughtful.
He also supports a charitable cause for old girls and recently took part in a Dahi Handi celebration contributing towards the same despite being warned by his doctor following his brain surgery to stay away from crowded areas.
The brain surgery was the result of a recent misfortune that had befallen the actor. A CT scan and an MRI revealed he was suffering from a subacute subdural hematoma, a type of blood clot in the brain. He was immediately treated at Hinduja Healthcare in Khar and underwent surgery. In fact, while promoting his movie Bang Bang, the star wryly stated that the biggest challenge in the film was getting the blood out of his brain.
The actor has a unique physical trait – he has two thumbs on his right hand that has grown together. But then I assume that most of us know that already.
Hrithik is far more than just a handsome face. Apart from being a superstar, he also excels in the field of academics. He passed out of the Bombay Scottish School and holds an undergraduate degree in Commerce from Sydenham College.
This dedicated artist also turned down a scholarship to complete his Master's in the US to focus on his career in the film industry.
And that makes 15 bits of trivia that make you just a little more knowledgeable about this talented performer. Oh, and one bonus fact – it's his birthday TODAY! Happy 42nd Birthday to everyone's favorite celebrity, Mr. Hrithik Roshan! May you celebrate many more and continue giving us blockbusters like Koi Mil Gaya, Jodhaa Akbar, and Dhoom 2 while showcasing your mesmerizing dancing skills!
We will always love you, Hrithik!