Let's learn how to cleanse crystals in different ways.
A Guide to Clearing and Charging Crystals
Crystal helps soothe your mind, body, or soul.
Often the crystal acts at energy levels sending the natural vibrations into the world. Every phase exposes a stone's energy to a misalignment of its energy.
Healing Crystals are beautiful glass stones that aid in the purification of natural energy and the healing of all unwanted energy from the inside out.
Utilizing crystals to cure has been around for millennia, and many celebrities believe in it today. However, in ancient practice, it has had a more widespread comeback.
Crystals have a wide range of energy capabilities that may be utilized to heal, materialize, and unblock chakras that have been closed.
Why are cleansing crystals important?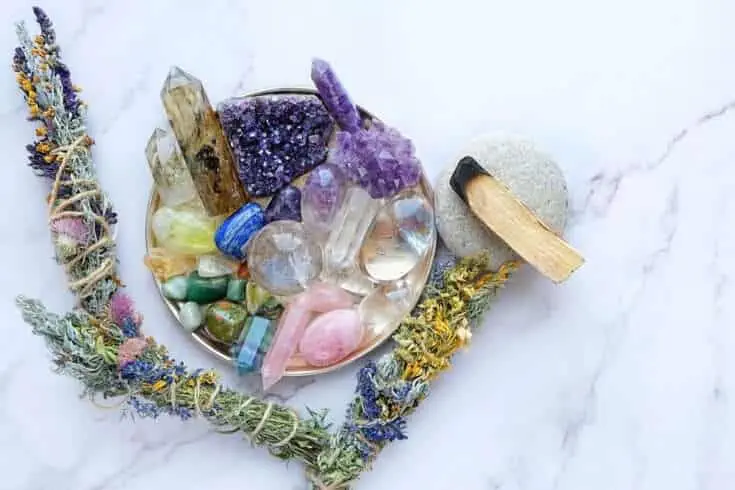 Crystals are awesome. They aid in the process, give us stability, and protect us from negative energies and toxic vibes. It is possible to cleanse your gemstone with the right tools and techniques to maintain that uplifting feeling and clear inharmonious vibrations.
We first wash the utensils to remove any bacteria or impurities when we prepare food. The same is true with crystals: to us, crystals are a source of positive energy that ultimately aids us in achieving high vibrations throughout our lives, and caring for one is a critical element.
Cleaning your crystals helps to dispel any negative energy lurking inside them and revitalizes their therapeutic potential.
Unlike any other substance in the world, their composition allows them to receive, purify, and release energy rapidly that attaches to them like glue because they are such porous crystals.
How and when a crystal needs to be cleansed?
You don't have to bring them all out every full moon to clear your crystals.
When a stone needs to be cleansed, you can feel your intuition. It's probably time for cleaning if your energy seems dull or less 'alive' than usual. More stone is used, and more energy is stored. It's recommended to clean up all your rocks once per month to get rid of inharmonious energies.
You should always cleanse new crystals before using them, whether you bought them at a market or received them as a present from a friend. Following that, cleaning crystals at least once a month is recommended.
If your crystals are handled or used by anybody else, or if you utilize them during a particularly intensive healing session, they should be cleaned as quickly as possible. It's easy to decide to cleanse your crystals.
Do you need to cleanse crystals?
It's critical to cleanse them regularly if you use them as healers.
However, if you only use them to decorate your home, you may not need to clean them as frequently. However, before using crystals for any reason, it's usually a good idea to give them a quick cleanse.
Because crystals collect vibrations on touch, if you don't cleanse them regularly, they can become overwhelmed with bad vibes, which contradicts your aims and aspirations.
You can keep your crystals clear and energetically balanced by purifying them regularly, which will help you reach your goals. The greatest approach to cleansing crystals is the one you believe is the most effective.
Cleaning your crystals isn't difficult, but it is necessary.
It's critical to cleanse and preserve all emotionally shaped stones near at hand. The greater the size of the stones utilized, the better the cleanse will be.
Crystals help clear space, and it's not acceptable to throw away your priceless gems if they're full of negativity. Learn how to keep the stones gleaming in the light while reducing the strange vibrations.
How to Clean Crystals: 11 Various Methods
Here are a few ways to cleanse crystals if you want to include them in your spiritual or self-care practice.
1. Full Moonlight Cleansing
Moonlight is a more sensitive form of sunshine when it comes to cleaning. It also doesn't put any of your stones in danger of discoloration. Moonlight cleaning is extremely beneficial with a full moon. This can also raise the stone's vibrations.
The Full Moon marks the end of the lunar cycle, culminating in a climax rich with raw lunar force. Because it has tremendous cleaning powers for impurities flushing that no longer benefit you.
Placing your crystals directly outside during a Full Moon will ensure that any residual negativity is removed.
Allow them to recharge and recycle excess negative energy by leaving them out overnight and bringing them inside first thing in the morning.
2. Sunlight
The sun's gold coating gives more male power despite the moon's feminine influence.
The sun's strength is immense; no one has ever been able to suffocate a winter with the assistance of the sun. Set up the stones on a beautiful or clear day to warm up in the sun.
Make sure to keep healing crystals for a few hours and not prolonged exposure. Having sunbaked stones in one's hands and feeling bliss flow into one's spirit is simple and fulfilling.
3. Eclipses
Eclipses are strong forces that help in cleansing crystals and purifying negative energy. The crystals are refilled by renewing when you see a lunar eclipse or a solar eclipse.
Solar eclipses talk of interior alterations that influence the entire structure of our life, while lunar eclipses tell of large exterior upheavals.
Place your treasures on a windowsill, balcony, or another secure outside place where they can soak up the sun. If you choose the solar eclipse charge, make sure your stones are compatible with sunlight.
Certain diamonds, namely those with warm sun-colored stones, can fade when exposed to direct sunlight.
4. Saltwater Bath
Water, which lies at the heart of life, is the most important resource. It nourishes and purifies us. Water revitalizes the healing power of stones in the same way that it revitalizes life.
There are a few different ways to use water for crystal cleansing, depending on where you reside. Salt has long been employed in rituals and belief systems worldwide to absorb undesired vibrations and guard against harm.
Soak your crystals in a water bath with a pinch of sea salt to utilize this cleansing procedure. Even better if you can get your hands on some saltwater for this. In the morning, rinse your crystals to remove any salty residue.
Sea salt and water can assist in the removal of unwanted energy from your stone. Adding salt should be enough if the stone is not fragile. However, a porous stone with many small holes or ridges should not be placed in salt water since it would be harmed.
Check to see if the stones you're working with are water-safe crystals before using water to wash them. Some softer, more porous crystals don't respond well to water and salt and require a different way of cleansing.
5. Burying in soil
Burying crystals in the soil allows the Earth to be directly boosted, making this the most effective way to cleanse your crystals. The Earth will begin regenerating energy by directly drawing it from the crystals, making this a highly effective method of crystal cleansing.
Burying your gemstones in the dirt is an excellent technique to re-ground them and allow any negative energy to escape.
Select a peaceful, undisturbed area in your garden and bury the stone inches deep. This approach necessitates a direct connection with the Earth; thus, instead of burying your crystals in your pots or garden.
6. Smudging
Smudging is an old technique of cleansing and purifying items, people, and environments with herbal smoke. Smudging may be done using a variety of plants, but the most frequent is sage. To use sage to cleanse crystals, ignite the end of the sage stick and let it smolder.
Make sure you're smudging your stones near an open window or outside so that evil energy has somewhere to go. For the finest and cleanest results, use bundled sage sticks.
Light the tip of the sage stick in one hand and the stone in the other, then wave the sage over the stone for at least 30 seconds to allow the smoke to surround it.
7. Sound Bath
One of the most popular methods. Take out any singing bowls, bells, or even a chant that you enjoy.
Sound is another safe and effective means of purifying and charging crystals. Make the sound loud enough for the crystal to be completely engulfed in vibration. This is a smart solution for folks who have a large number of crystals that would take an eternity to wash and charge individually.
Tibetan singing bowls, for example, provide a high cleaning and purifying sound. Placing your crystals near the bowl and gently striking the bowl's rim or side with a wooden mallet is one way to cleanse them using a Tibetan singing bowl.
To keep the ringing going, move the stick around the outside of the bowl in a clockwise circular manner. This allows the sound waves to wash over the crystals, assisting in removing any negative energy they have received and keeping you protected from negative energy.
8. Larger stone vibrations
Do you know that different stones may be used to cleanse crystals?
Large quartz clusters, amethyst geodes, and selenite slabs, for example, can be effective cleaning tools for smaller stones. Because clear quartz and selenite are self-regulating and do not require human washing, they are commonly utilized in the process of crystal cleansing.
Place the crystals you want to cleanse on a flat surface and around them with your biggest clear quartz and selenite crystals. Allow them a few hours to take out and cleanse any surplus negative energy before returning them to their separate homes.
These stones can be placed within or on top of your stone. The vibrations of the bigger stone are considered to eradicate the inharmonious energy present mal the resting stone.
9. Breath
Breathwork may also be used to cleanse the body. Hold the stone for a minute, concentrate on your purpose and inhale deeply through your nose.
Take several deep breaths while holding the stones in your palms. Then envision the bad energy being evacuated while breathing on the crystal. This method resembles a brief meditation session, a more gentle approach to charging and cleansing your crystals.
To eliminate such energy, you can softly blow balanced breath on the stones for around 30 seconds per stone.
10. Visualization
Do you know that visualization and meditation technique is great for cleansing crystals?
You are also able to cleanse your stones using your sense. Clearing stones with meditation techniques may strengthen your relationship with crystals.
They've given it to you, and you'll give it to them. This is also an efficient and effective method for cleaning a stone's natural balance by removing all contaminants. This is also one of the safest ways to clean your stones by using water, dirt, sun, or other substances.
Hold the stone in your dominant hand and focus on grounding your energy until you feel balanced. Visualize a vast white light enveloping the stone and soaking into every pore in your hands.
Concentrate on the impurities and bad energies leaving your stone and being replaced by pure, radiant light.
11. Brown Rice
Brown rice is a beautiful approach for cleansing crystals if your crystal has been exposed to a lot of negativity recently, and you don't want to release the vibrations into your house or take it on yourself.
Place the crystal in a dish of dry brown rice and bury it. Keep it there for now. An entire 24-hour period. Throw the rice away after you're finished. It will have absorbed the negativity you're attempting to expel.
Conclusion
Crystals act as natural energy and provide a healing process and lingering energy work. It contains all healing properties.
Different techniques to cleanse crystals and use your intuition to choose the right approach for you and your prized possessions have been provided. When touching them, keep in mind that some are rather fragile.
And, as always, put your faith in the process. And now that you know how to cleanse crystals in so many ways, go ahead and cleanse your crystals using one of these techniques now.