The white bread with cheese and herbs is excellent and flavorful. This bread will be as savory as it is beautiful to look at, similar to seasoned bread rolls stuffed with cream cheese, garlic, and herbs like parsley, thyme, basil, and sage. Continue reading to learn more about Italian herbs and cheese bread.
Thanks to the eye-catching wreath design and the aromas that explode in the first bite, you'll want to make this Italian herb and cheese bread recipe again and again. Soft and simple to create, Italian herbs & cheese bread is brimming with flavor. This amazing savory bread recipe combines cheese and herbs.
We are introducing a quick recipe to make homemade bread. For kneading you do not need to have a dough hook, you can simply knead the dough with your hand. Take the large bowl with warm water and yeast and leave it for 15 minutes to settle down in the mixing bowl.
Add all flour, active dry yeast, salt and white sugar to the mixing bowl. Divide the dough by your hand into equal parts onto your greased bowl and shape it into loaves of bread. Place each loaf of bread on a parchment paper, making sure to leave equal space between each of them. Cover it with a wet towel and leave the dough to rise for about 35 minutes in a warm environment.
Place dough and cut it into slices on top using a sharp knife. Skim with melted butter and sprinkle garlic powder and Italian seasoning. Split every cheese. Bake it on a baking sheet for about 370 degrees in oven prep time for 30 minutes until it turns golden brown.
1. How to Make Italian Herbs and Cheese Bread
Italian herb and cheese bread recipe will make your night showstopper dish!  Italian herb, Savoury cheese and crunchy crust, this bread is too delicious.
Pizza is impossible to beat. The best alternative option for the side dish is the Italian herb and cheese bread. You will love this because it is perfect for future or occasional gatherings, brunch and side dishes etc.
For the dough- flour, instant yeast mixture, salt, olive oil and water. For Italian herb and cheese bread- Mozzarella cheese (king of cheese), parmesan cheese, garlic powder, basil, parsley, and butter. You can also use dry herbs instead of fresh ones. You are free to choose the toppings of your tastes and free experiment.
If you are a foodie, you would love the subway Italian herbs and cheese bread. It is a perfect fulfilling dish for brunch or dinner at night. It is cost-effective food Try this awesome food. This food is famous among sandwich lovers. Italian dishes have taken over worldwide and become the most celebrated classic cuisine.
1.2. Tips for Baking Italian Cheese Bread Recipe
Italian cheese bread goes with every Italian food.
You can prepare bread and pasta at home and make kids nutritious food.
Garlic breads just topped with cheese and Italian herbs ready-to-go dish.
2. Difference Between French Bread and Italian Bread 
Italian cheese bread gets brushed with egg white mixture to get a golden exterior. They both come in all shapes and sizes.
Bread is very essential in European countries. French bread is BAGUETTE in stick form eaten throughout the province. Standard French bread like COUROMNE comes in a ring shape.
Types of Italian breads are Ciabatta, Paolina and Panettone. Most Italian bread is moist. Generally, Italian bread comes in all shapes whereas French bread comes in stick-like long shapes. Italian bread is smaller than French bread. The variations are large in number.
2.1. Serving suggestions
French bread can be eaten as a starter and morning breakfast meal on the other hand Italian pieces of bread as an additive to pizza, pasta and many main courses. Italian loaves of bread are one of the best accompaniment dishes that absorb sauces very well.
 3. Is Subway Getting Rid of Fan-Favorite Bread?
The major reason is the shortage of herbs and cheese production. The hustle and bustle started all around as this was a matter of worrisome as Italian herbs and cheese bread is one of the most loved foods and may lead to the loss of many loyal customers. This is the cheapest food found in Italy and other countries. Subway has not yet officially announced the discontinuation of Italian herbs and cheese bread.
3.1. Best Italian Subs in U.S.
America -Italian food culture started by the end of the twentieth -century Italian food nurtures the heart and soul of the body.
The Godmother at bay Cities Deli & Bakery – Santa Monica
Hot Salami Sandwich at Gioia's Deli – St. Louis.
Monica's Original Italian sub at Monica's Mercato -Boston
Bub's Italian Hoagie at Bub & Pop's -Wahington, DC
Alyssa Milano at Lion's Italian Heroes -Brooklyn
 3.2. Potential Importance of Low Sodium Bread
The sodium reduction process is ongoing, efforts are made by food manufacturers to make it successful. It is easy to find zero-sodium cereals in the market whereas it is hard to find bread with low sodium in stores. Public health and medical recommends low sodium loaves of bread can be beneficial for health protection and we can find its large accessibility.
 4. Tips to Store 
The herbs method to preserve the aromatic herbs is to sauté them in olive oil and freeze and store them in an ice cube tray. The leftover virgin olive oil can start a very exotic meal. Herbs contain anti-inflammatory and antioxidant properties.
components used in herbs are- basil, cilantro, chives, dill, mint, oregano, parsley, rosemary, sage, and thyme.
components used

in

cheese bread are- flour, olive oil, yeast. Italian blend, cheese, butter, Italian seasoning, garlic salt, sugar, and warm water.
5. Italian Cuisine: History 
The Middle Ages During the Middle Ages of Sicily people of the island embraced tempting tastes and rich habits. In Sicilian culture spices and dried fruits were found. Arabs found dried pasta, they appreciated it was easy to bring and preserve from long sea trips to Italy.  Monks of Italy were on a strict diet of bread, seasonal fruits and legumes. The meat was prohibited.  
During the late Middle Ages, the country blossomed, and there was a development of a new class found, the Bourgeoise. The Crusaders started communicating with neighbors which made it easy to import and export. This commerce crowd Neighbours having good food. The flavorsome sauce was rediscovered meats and vegetables roasted and braised flavorsome
The Lords of The Castle rediscovered old, authentic ideas in the kitchen with the introduction of new spices and cane sugar. Salt, sugar and honey were exchanged to create new recipes.
During the 13th century sugar almonds (called confetti) were created. Most of the dishes' roots are from Middle Eastern changed a lot throughout for example the Pasta Di Mandarich (pasta made of almond flour and sugar). The history of Italian foods is very long and fascinating.
Italy's spectacular culinary traditions are world-famous because of its historic ingredients, techniques, and customs. Italy is full of too many recipes and cuisines.
Italians used forks way before to handle slippery foods like pasta. Italians discovered chilling drinks and ice creams. Italians emphasized Europeans had more vegetables over meat. Salad has been very important in their dishes.
The Italian obsession has been popular since ancient times because of its unique style in every sphere. You can find many newspaper articles and magazines covering Italian cooking recipes. Most of the cooking shows always cover Italian dishes.
6. Homemade Bread Vs Store Bought-Bread: The Major Difference
When you visit the store next time make sure you flip the back of the bread to know the ingredients. You will be astonished to see preservatives, emulsifiers and other ingredients not good for the health.  Bread is considered bad because of bad carbs and high glycemic index (GI) particularly in-store bread leads to health problems like diabetes, weight gain, and digestive problems.
6.1. Is It High Time to Ditch Store Bread Over Homemade Bread 
You are in charge of ingredients. Choose any whole wheat, oats, or barley flour over white flour. Garlic and onion or cheese and herbs combination of your tastes. You can control the amount of sugar and add extra toppings of your liking.
Avoid undesired ingredients homemade bread contains no chemicals, enzymes or anything. You do not have to stress about added sugar or processed fructose. Homemade bread is low-sodium bread.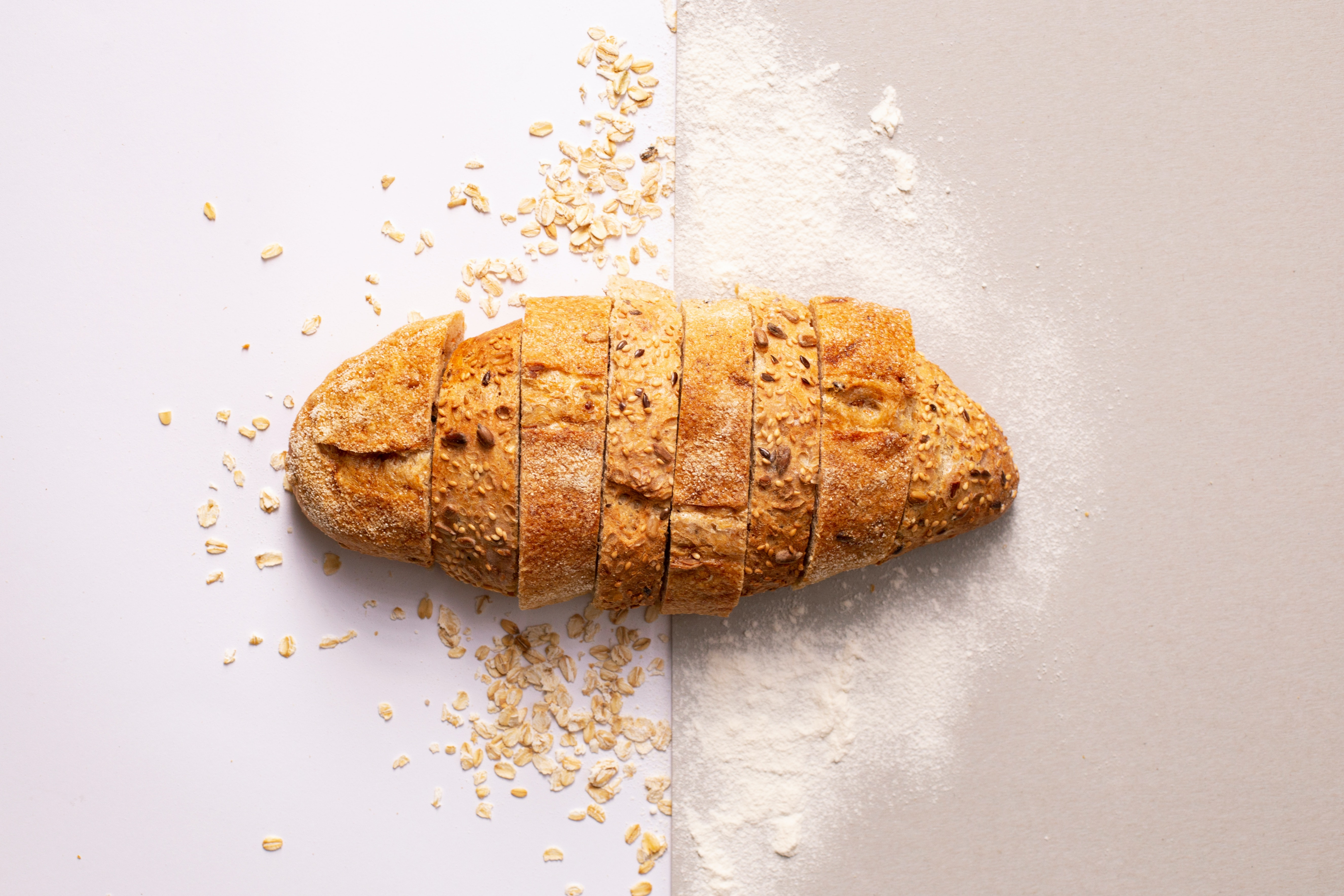 Relieve stress and great enjoyment in making homemade bread gives immense satisfaction. Cooking at home is a therapy kneading dough by yourself and mixing ingredients relieves stress and soothes the soul.
Could be cost-effective, the cost of homemade store bread depends on what you value. However, but you can lessen the cost of homemade by making more than one bread. Any leftovers within three days can be frozen or gifted.
6.2. How To Make Bread Dough
The basic process of preparing dough is same everywhere. Learn the following steps to make bread dough at home. The thing is: Learning how to make the dough is pleasing. It is satisfying to use your hands to knead mix all the ingredients and bake the tempting creation.
First, you need ingredients, knead and shape the dough and leave it to rise, for about 10 minutes at least an hour waits while the dough rises to preheat oven and bake for about 25 minutes.
If you are using a conventional oven-making recipe you can allow the bread machine to make the dough. You mix all the ingredients (1 cup warm water, 1 teaspoon dry yeast, 2 cups of flour, and 2 teaspoon salt can also add little sugar.  Using olive oil or melted butter is optional.
 7. Herbs and Cheese Pull-Apart Bread 
Italian herbs and cheese pull-apart is everyone's Favorite party food.  It is super easy to prepare and tempting.  You can prepare by using several flavors combinations of your choice. Garlic is considered the winner in any food. You should make sure to use it to give perfect flavor to Italian herbs and cheese pull-apart bread.
7.1.  Why Bake This Herbs and Cheese Pull-Apart Bread
This is a very mouthwatering dish very convenient to bake, easy to serve and fill with flavors of your choice.  Italian herb and cheese pull-apart bread is the kid's favorite approved dish.  Do not forget to have it with dips for your taste buds.
7.2. What Kind of Filling Can Be Used 
You can use garlic and cheese in making the layer.
You can use any mixed herbs combination of your choice over Italian herbs
You can make sweet bread using sugar and cinnamon. You are free to choose cheese and toppings of Your taste buds.
Olive oil would be a great alternative to layer inside bread. You can skip melted butter.
7.3. More Pull-Apart Bread to Enjoy 
Monkey Bread
Pull Apart Potato Stuffed Pinwheel rolls
Homemade buns
8. Final Words
The fluffy bread with Italian herbs and cheese is bursting with flavor. The wreath is soft and light and has a delicious flavor combination that looks just as good as it tastes. It can be served at dinner parties, on special occasions, or as a gourmet weeknight meal. However, you can prepare some as a snack at home if you like.
This is a wonderful white bread with lots of flavor. It resembles a seasoned bread roll and is loaded with parmesan, thyme, basil, sage, and other herbs as well as garlic. It has a distinctive wreath shape that is definitely eye-catching, and the flavors explode with the first mouthful. You'll want to enjoy this bread in all of its component's time and time again. It can go well with almost any soup or sandwich combo.
In conclusion, these recipes for Italian cheese bread are simple to make and yield a tasty, cheesy, and fluffy loaf of bread. The next time you're in the mood for some handmade bread, try this recipe for Italian cheese bread!
Hello, I am a content writer expert in writing different niches like lifestyles, gaming, fashion, beauty, food, travel etc. I have written several lifestyle related contents for Icy Tales. Currently I'm writing and researching lifestyle related contents and helping people deal with day to day and general life issues as well as social life issues as well.