Tigers are the most beautiful as well as one of the most intimidating animals on Earth. There are many Tiger subspecies such as the Bengal Tiger, Indochinese Tiger, Malayan Tiger, and Wild Sumatran Tiger, and even more information about Tigers that you don't know. Like, July 29th is celebrated as International Tiger Day all over the globe.
Even after being an extremely powerful animal, it is considered to be an endangered species, and several tiger conservation initiatives take place to conserve the wild Tigers. It is a well-known fact that Tigers are one of the largest cat species in the world in terms of their length and weight.
Here is some interesting and rare information about Tigers that you didn't know before!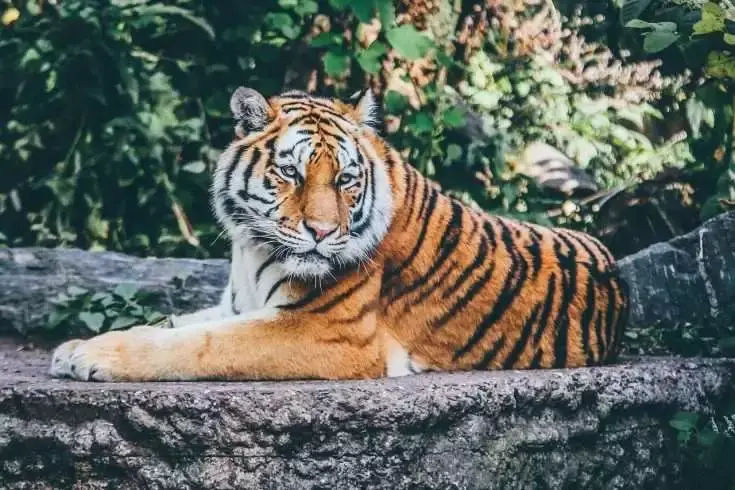 Information About Tigers And Their Bodies
The physical features of a Tiger are what makes it so powerful. There is a lot of information about Tigers and their physical strength that we are not aware of. Few of the unique information about Tigers and their body are listed below:
1) Tiger Skin
The Tiger family has uniquely beautiful skin and black stripes on their fur, along with many interesting features attached to it. The tigers appear as big cats with striped fur, but it is not a piece of much-known information about Tigers that actually the skin underneath the fur is also similarly striped.
Due to skin pigmentation, each and every Tiger has a unique pattern of black stripes on its skin. Two Tigers can never have similar and identical stripes. The stripes of the Tiger is just like the human fingerprints. Everyone has a different pattern. Tigers also have white spots that look like eyes on the back of their ears.
2) Coarse Tongue
The tongue is one of the unique Tiger parts. It is a piece of rare known information about Tigers that they not only have sharp teeth but also have a course and tough tongue. It is curved towards the Tiger's throat.
Their tongue is covered with sharp and small projections like a thorn that are known as the "Papillae". These hook-like projections help the Tiger population survive in the wild by easily eating the flesh. It helps them to kill prey in a more easy manner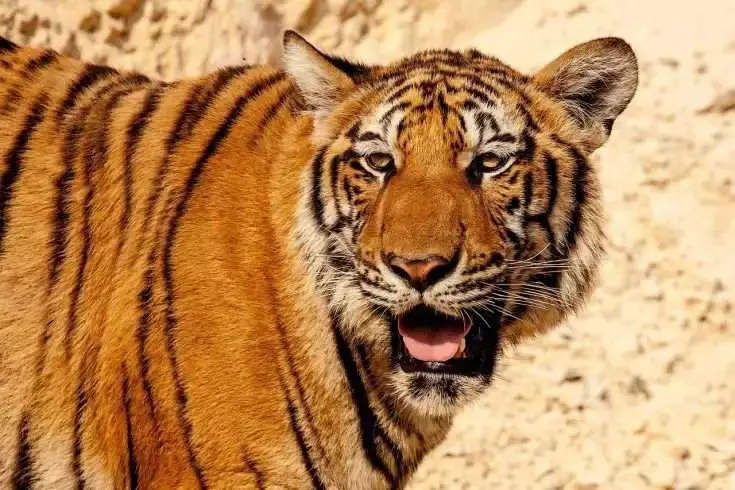 3) Tiger's Weight
The Tiger family is known as the bulky and big cats. But the exact information about the Tiger and its weight is lesser-known to many of us. They are one of the heaviest cats in the world. The adult Tigers weighs around 143 to 683 pounds. But this information about Tigers is not uniform across all the subspecies as their weight varies.
An average female Tiger weighs around 143-375 pounds, whereas the males are 198-683. The cubs weigh approximately 1.75- 3.5 pounds.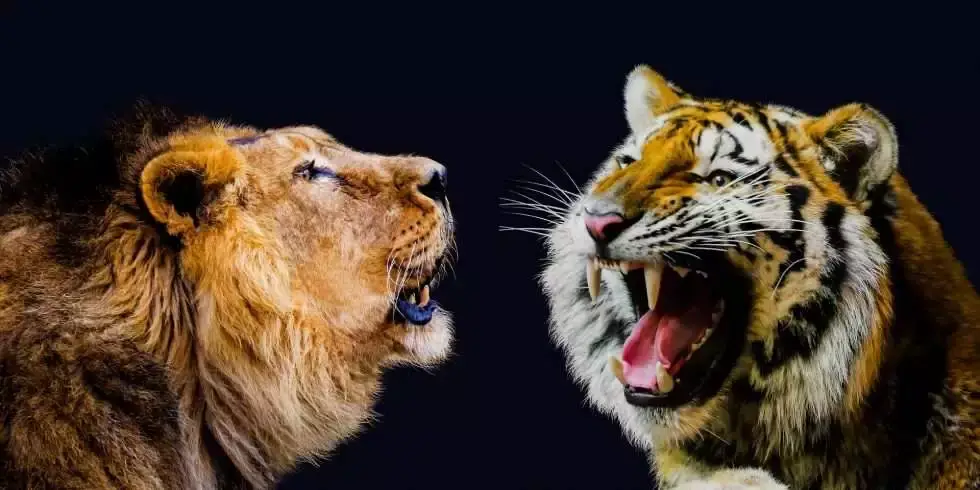 4) Tigers can be more powerful than Lions
Both Lions and Tigers are considered to be powerful animals in the wild. But this is a piece of interesting information about Tigers that they are actually more powerful than Lions in some aspects.
A male tiger weighs more than a male lion because of its muscle density. Some different Tiger parts make them more dangerous as compared to the lions.
Tigers can attack their prey by standing on the hind legs, which is not possible to do for lions—the Tiger attacks in a more dangerous and different manner than that of a Lion. There have been instances where Tigers have had the upper hand against a lion.
It is extremely rare that a Lion wins against a Tiger. There have also been several instances of man-eating Tigers that show how powerful even a lone tiger can be.
5) Tiger's Powerful Roar
The Tigers can produce such a powerful roar that it has a deep impact on its prey. It can produce a very low pitched infrasound of frequency 18 hertz or even below. This powerful roar has the ability to almost paralyze the prey. Often human trainers of tigers also get deeply affected by the impact of its dangerously intimidating roar.
What Are The Different Types Of Tigers
When it comes to the types, most people have little information about Tigers. There is a wide range of its subspecies all over the world. The information about Tigers and their sub-species is crucial. They differ in size, location, color and other features. Here are some of the types:
1) White Tigers
The White Tiger is one of the extremely rare subspecies of the big cat family. They are considered to be one of the threatened species. They have white-colored fur with black stripes similar to other tigers.
Only if both the parents are from the White Tiger family they can give birth to a white cub. It is rarely known information about tigers that the White tigers grow faster as compared to the other tigers.
The White tigers are known to have a unique history as they are considered to be a different form of the Bengal tiger subspecies, which is also named the Panthera Tigris Tigris. An adult male tiger's weight is around 420 to 570 pounds, whereas a female white tiger weighs around 350 pounds.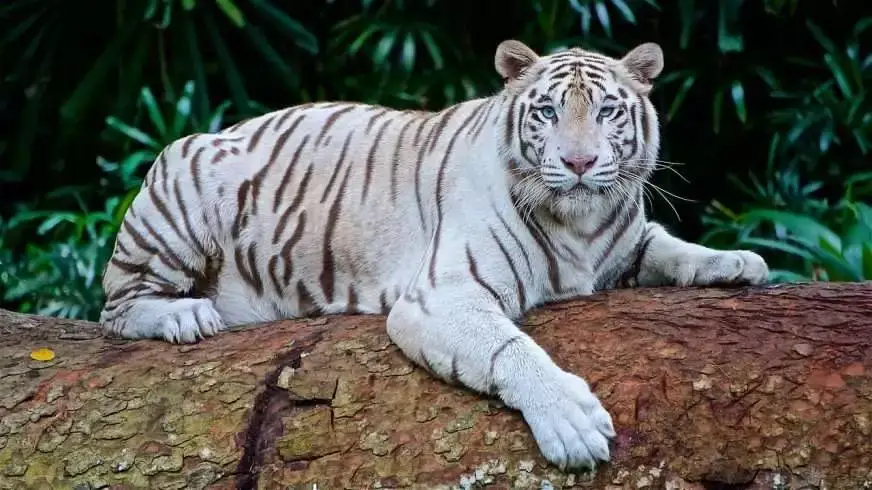 2) Golden Tigers
The Golden Tigers are also extremely rare tigers. It is a critically endangered species to the extent that they are no longer left in the wild. The Golden Tigers, also known as the Strawberry tiger, are extinct from the wild.
They are now only present in the tiger conservation units or the tiger habitats. They are also considered to be a variation of the Bengal Tigers with a rare genetic mutation that caused the pigmentation.
These tigers live for around 18 years in the Tiger Conservation units or tiger habitats and approximately for 8-10 years in the wild. 
The Tiger has golden skin with yellow patches making it look different from the regular combination of orange and black found in the other tigers. They are sometimes also larger in size as compared to ordinary tigers.
3) Bengal Tigers
The Bengal Tigers are also known as the Indian Tigers or the Panthera Tigris. They are one of the well-known tiger populations. They are found in the subtropical areas of India and Bangladesh.
Some rare mutations of Panthera Tigris have made some other types of tigers, such as the White Bengal tiger(Panthera Tigris Tigris). The average weight of a male Bengal tiger is around 485 pounds, and that of a female Tiger is around 309 pounds. The Bengal tigers attack silently and prey species such as Deer, Buffalo, Wild boar, etc.
Champawat Tiger is a Bengal Tiger that is known to be one of the most man-eating tigers. It was shot dead by a British hunter Jim Corbett. It is believed that this female Tiger was one of the deadliest tigers the world has ever seen. 
4) Siberian Tiger
Siberian Tigers are also known as Panthera Tigris Altaica. They are known to even prey species that are extremely dangerous such as Bears and Wild Dogs. The Panthera Tigris Altaica is one of the largest cats from the tiger family.
The Siberian Tiger marks their tiger scent on the trees as a way to mark their territory so that other tigers stay away from that particular territory. It is a piece of known information about tigers that they are an endangered species.
The Panthera Tigris Altaica is also one of the threatened species in the world. National Park, tiger habitats, World wildlife fund, and Tiger conservation units have been working to conserve these tigers.
It can be distinguished from the other types of tigers as this one has pale orange fur. Its body is massive in size and is considered one of the most majestic and royal tigers in the world. It can also adapt to extreme climatic conditions.
That is why just like snow leopards, they can also survive in harsh and cold places. It has a number of other names by which it is known in the world. These names include Manchurian tiger, Northeast China tiger, Korean Tiger, and Ussurian tiger.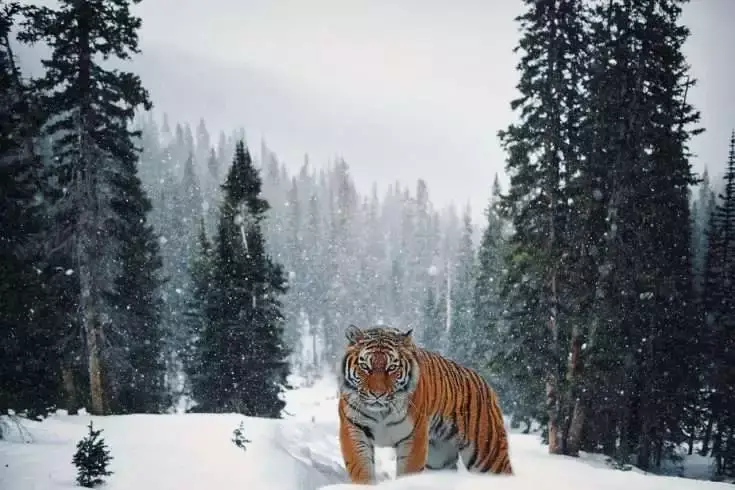 5) Indochinese Tigers
Also known as the Panthera Tigris Corbetti, these tigers are found mostly in Southeast Asia. Panthera Tigris Corbetti is mostly found in countries like Cambodia, Thailand, Vietnam, Myanmar and some other parts of southeast Asia.
They eat animals such as wild boar, wild cattle and even porcupines. The key information about tigers is that most of them are threatened species. Similarly, Tiger poaching is one of the major threats to the Indochinese Tiger. They have also become one of the rare species globally.
They have a color combination of dark orange and golden. These subspecies prefer to live in seclusion. They are mostly found in forested areas that are secluded and live in a camouflaged environment.
Another interesting fact is that these animals prefer mountain or hilly areas more as compared to the flat plains. The female Tiger gives birth to an average of three cubs at a single time. It can also go up to seven, sometimes.
6) Sunda Tigers
Sunda tigers are also known as Panthera Tigris Sondaica. The Panthera Tigris Sondaica are found in tiger habitats, forest habitats, wetlands and grasslands. The information about tigers of the Sunda region is less known. According to the World Wildlife Fund, only 400 of the Sunda tigers are left today.
They are one of the rarest species, with rarely any of them being left in the wild. They are orange in color with heavy black stripes on them. They are also similar to the Bali tiger, but they are now extinct. 
Sunda tigers are similar to the Sumatran tigers, and some even believe them to be the same as Sumatran tigers. The Sumatran tiger is also known as Panthera Tigris Sumatrae. The Sumatran tigers are mostly found in Indonesia. The Sumatran tigers lived in areas of rising sea levels.
It is believed to be the reason for their isolation from the other subspecies of the nearby regions thousand of years ago.
7) South China Tiger
The South China tigers are also known as Panthera Tigris Amoyensis. The Panthera Tigris Amoyensis is closely related to the Caspian tiger and the Indochinese Tiger. Caspian tiger was earlier found in Eastern Turkey, Mesopotamia, and other areas around the Caspian Sea.
They are also found in dense tropical forests. The South China tigers have a unique color combination of yellow and orange. They have a great swimming ability which makes them able to prey inside the lakes and other water bodies in the forest.
A female tiger of this subspecies can give birth to around five cubs at once. These cubs stay with their mother for 18 months. After this period, the cubs start hunting on their own and start living their solitary life as most other tigers do. They have a life span of around 18-25 years of age.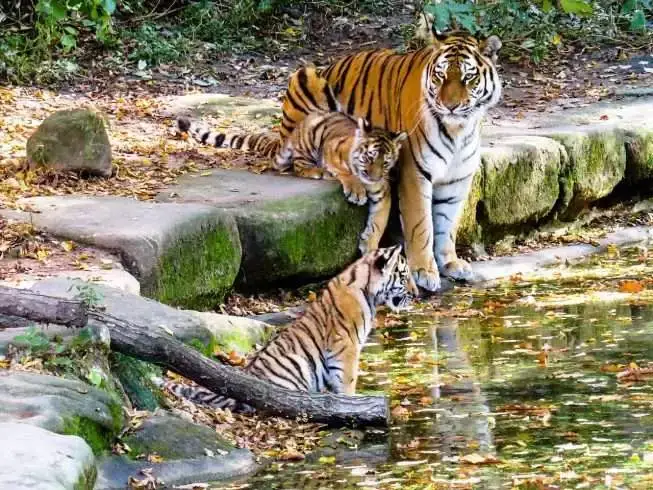 8) Malayan Tigers
The Malayan Tiger is also known as Panthera Tigris Jacksoni. The Panthera Tigris Jacksoni is found in tropical and subtropical forests. They are currently present in Malaysia. It is one of the smallest tiger species in the world. It has thin stripes of black on its fur and is orange in color.
Only a very few of them are left in the wild areas. It was listed on the red list of endangered animals globally. Before 2004, it was considered to be a part of the Indochinese subspecies of Tiger. This type of Tiger plays and swims in shallow rivers and other water bodies.
What Are The Problems Faced By The Tiger Populations
It is evident information about tigers that their population continues to decrease despite being one of the most powerful animals in the wild. Here are some of the reasons for the population's downward slope:
1) Lack of information about Tigers captivity
Breeding the Tigers in captivity is not the same as tiger conservation. The U.S has the most prevalent and the oldest recorded captive Tiger. There are around 5,000 or more captive tigers in the U.S.
It becomes extremely difficult to track tigers in captivity. These tigers are sometimes inbred. This can harm their health and cause birth defects in them. It has been one of the major threats to the wild tiger populations. The global wild tiger population is lesser than 4,000.
2) Lack of information about Tigers Poaching and Hunting
Due to the lack of awareness, people hunt them in forests. It is a process of killing tigers for their skin that has led to a decline in tiger population and even extinction of some of its species. Tiger-skin is also often used to make rugs and artefacts.
Other than the tiger skin, they are also killed for Tiger bones, claws and teeth. They are considered luxury items in some cultures. Around 97% of the Wild tiger population has been lost due to hunting and poaching. Though poaching is illegal in many countries all over the world, it still remains one of the major threats to wild tigers.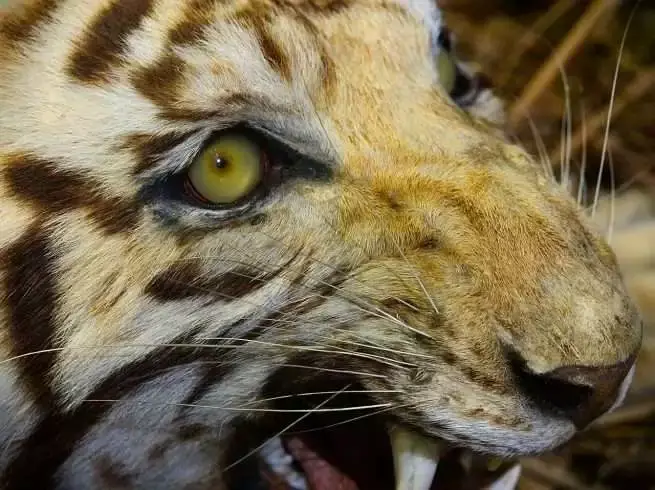 Information about Tigers Conservation Units
All the unique information about tigers tell us that they are an extremely important animal in wildlife. Moreover, they are a crucial part of maintaining the balance of the ecosystem as they are a major part of the food chain in the wildlife.
Tiger reserves are one of the important ways to reach tiger populations and protect them in the area rather than captivating them. The following are some of the tiger reserves made to conserve the population of tigers:
1) Big Cat Rescue
The Big Cat Rescue runs a sanctuary for animal protection and conservation in Florida. They play a key role in preserving the endangered species of the big cat family, which includes tigers. Their website and other communication platforms also play a vital role in disseminating information about tigers.
2) Cedarhill Animal Sanctuary
Cedarhill Animal Sanctuary is located in Mississippi and focuses on rescuing and providing shelter to the animals. It is a safe home to many exotic cats and tigers. They have played a crucial role in rescuing the privately-owned tigers. They have about 250 animals who were rescued.
3) Forest Animal Rescue
The Forest Animal Rescue is located in Florida. It is a sanctuary made for the rescued wild animals. It has a variety of animal species, including tigers, American black bears, exotic monkeys, wolves, lemurs, etc.
As we know from the collected information about tigers, they are an integral part of forest life; hence, they should be preserved to prevent their rare subspecies from becoming extinct.