While talking about Hill stations in India, the only places that strike our mind are Nainital, Mussoorie, Shimla, Srinagar, and Manali. There are a few others like Nahan that, though not very popular, have succeeded over time in keeping up to the hierarchy. Then comes another category of hill stations that have isolated themselves from the tourists' namesake hierarchies over time. Places such as Darjeeling, Ooty, Kufri, and Munnar come under this category.
Nahan – The Underrated Paradise
Under such category comes the majestic hill station, "Nahan," located in Himachal Pradesh's Sirmaur district. It was also the capital of Sirmur Princely states. It is situated on the top of the Shivalik hills, surrounded by stunning green hills. As mentioned in the earliest census, the total population comes up to be around 25,972.
When one begins its journey towards Nahan from Delhi, it takes almost 6 hours to reach there by car if one drives at a nominal speed. The map portrays the road as not a straight way as is expected from Hill stations surrounded by mountains. The roads are wavy. The area of Kala amb and Dadahu is also covered under the area of Nahan.
1. Hills and Mountains
Nahan owns an immortal beauty of hills and mountains naturally made of different colors such as Orange, Brown, and even black in some places. The hills look immensely aesthetic when viewed from a moving car as they change color every 5-10 kilometers of distance. The journey is really appealing to the eye, where temples and fountains add their lot to the already beautiful surroundings along the way.
When one reaches the destination, they will be lost in a spiritual aroma, The Temple of Renuka, made in stunning and attractive colors. Renuka is believed to be a Hindu goddess worshiped predominantly in Maharashtra. One of its temples is located in Nahan as well. The temple is not as crowded as the temples in Maharashtra, suitable for people who like to visit more isolated places.
The most beautiful aspect of this place one can understand is the peace embedded in the greenery surrounding the whole area. Along with the beautiful yellows and reds used to paint the temple, the greenery adds an effect so profound that one delves deep into it and views it with adoration.
2. The Renuka Lake
For those who plan to visit Nahan for only a day or two, few places are close to the good hotels where they can find peace and liveliness and get the freshness of the waters' nature and beauty. Connected to the Renuka Temple is the largest lake in Himachal Pradesh, 'The Renuka Lake,' popularly known as Shri Renuka Ji, is available for boating and sightseeing.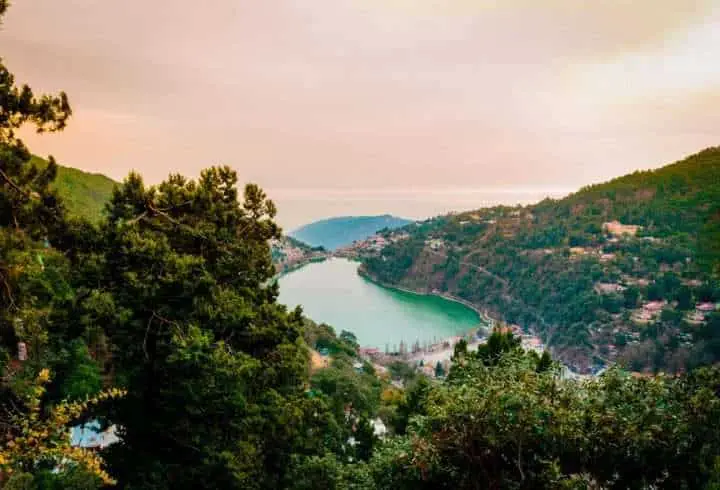 There are some beautiful big fishes on the verge of the lake, and vendors stand nearby selling the fish food, which one can purchase to enjoy the lovely fishes' eating gestures while feeding them with that food. This lake's area is full of palm and khujur trees and long grass.
And if someone has never seen a turtle in their life, Renuka lake will come as a treat to them as an ancient turtle life under the waters of this lake which comes out when someone offers food to him.
3. Renuka Reserve Forest
There is a zoo attached to this lake for people out there who enjoy wildlife, and they can find peace in watching and observing the animals within 5 minutes walking distance, crossing over a few shops. It is a sanctuary of about 4.028 km, and the entire sanctuary consists of the Renuka reserve Forest.
The zoo is constructed in an innovative structure whereby one can enjoy the entire zoo from a moving car at a slow speed. To see some bird or animal closely, the tourists and passers-by can stop the car and one can move closer to the fence to view it.
This is the best time to visit Nahan. The place is not very famous, and thus there is less traffic and crowds, especially in July and August. One can also visit Nahan in November as the weather is pretty pleasant.
For people who want to get away from day-to-day hassles and get an environment full of greenery, liveliness, and isolation, Nahan is a place for them. There is not much to see here, but the few places there are would be enough to give a peaceful atmosphere.
"Nature's heart beats strong amid the hills."
― Richard Monckton Milnes
Hey, this is priyanka, a student of English literature, keen on exploring the depths of it. I am an introvert, shy and more inclined to my books. Love old Hindi music. Good at sketching and poetry.