As an affiliate-driven website, Icy Tales earns from qualifying purchases.
When I say California, what comes to your mind?
Most of us picture luxurious celebrity houses, Hollywood signs, and the glittering walk of fame. There's more to California than that; it also hides a stunning gem, that is Napa Valley, although it's not hidden, nor it is a secret! It is the reservoir of world-class wine.
Haven't we all dreamed of running through the stretching vineyards in the never-ending horizon, getting lost in the room full of aesthetic wine barrels, getting smell and taste of freshly brewed wines in their most original form from watching our favorite romantic comedies, such as Mamma Mia, Letters to Juliet, Under the Tuscan sun?
Every once in a while, you deserve the taste of such magic.
Napa Valley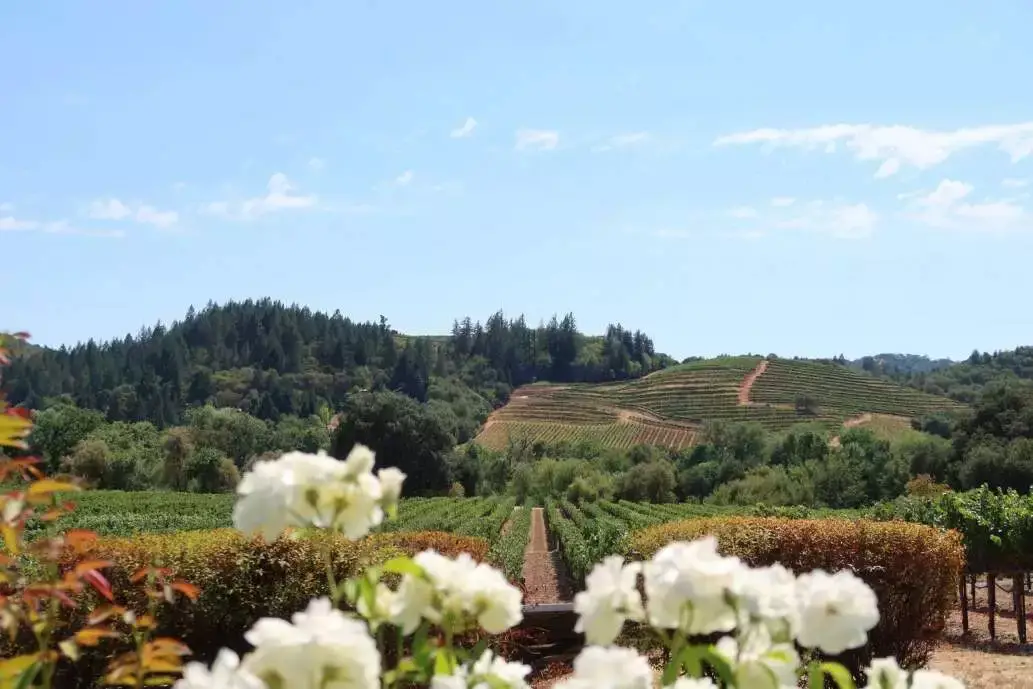 The infamous Napa Valley is located in the northern part of California, in San Francisco, mostly known for Napa wineries. Therefore, naturally an attractive site for wine connoisseurs and tourists.
Other than this, Napa Valley is home to exquisite flora and fauna, including serene lakes, marshes, and reservoirs, some of them including Napa river and Lake Marie.
There are many other adventurous and interesting things to do in Napa Valley, such as taking part in the Napa Valley marathon exploring Castiloga's labyrinth, with views of spa pools and art galleries. Art and architecture in the Napa Valley create an air of sophistication, history, and self-expression.
The best time to visit Napa Valley is in the harvest season, which is from August to October; hence, you can find the place crowded with tourists at this time of the year. This county will charm you with its picturesque drives and dazzling autumn.
When you visit Napa Valley in the autumn times, it will give you a feel of walking in a beautiful fire. Only it will take your breath away with different shades of yellows and burnings browns.
Napa Valley produces a total of 415 wine brands, and Napa wineries have been there for a long time since the 1800s, and most of the Napa wineries are family-owned; hence, every winery has its distinctive personalities and style.
According to a study taken from the International Wine & Food Society, Napa Valley generates over $50 billion for the American economy.
Napa Valley Grapes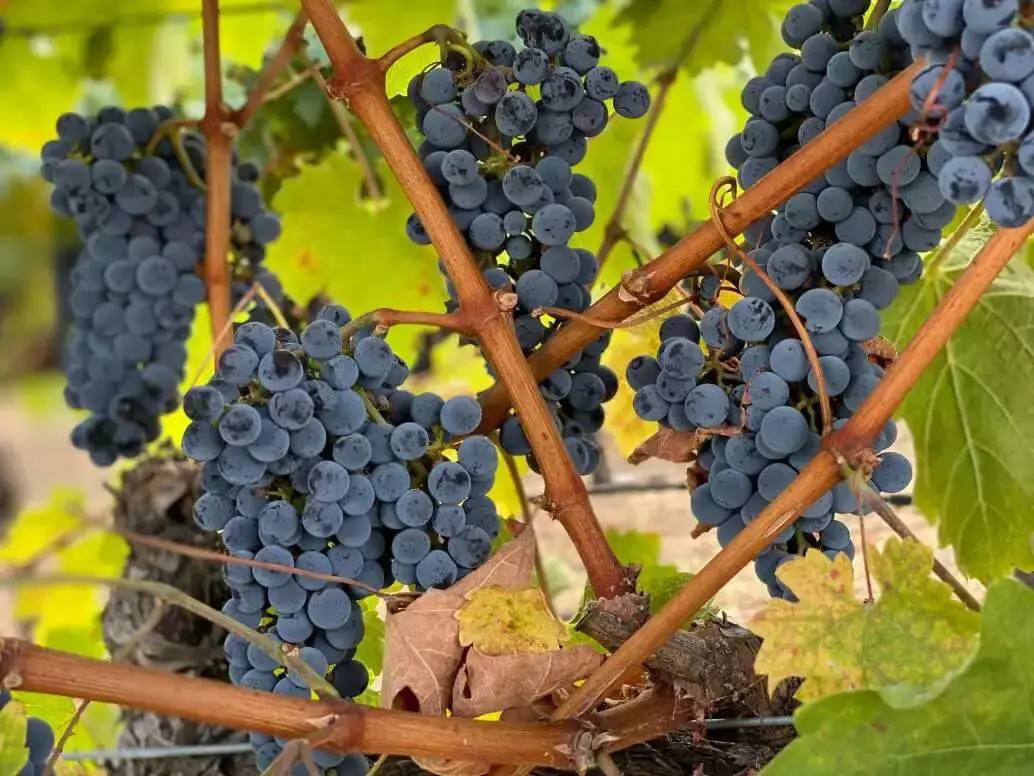 The root of the popularity of Napa Valley is the wine grapes that grow in the region; the variety of the grapes means two things.
The kind of grapes that are available, such as Chardonnay or Cabernet Sauvignon.

The style or the type of wine made: This means that wines could be sparkling, red, white, and so on.
Napa Valley houses different varieties of grapes, which attracts many wine lovers in the regions. One amazing fact is that Napa Valley grows more than three dozen varieties of grapes!
Some of the varieties found in Napa wineries are as follows:
1. Cabernet Sauvignon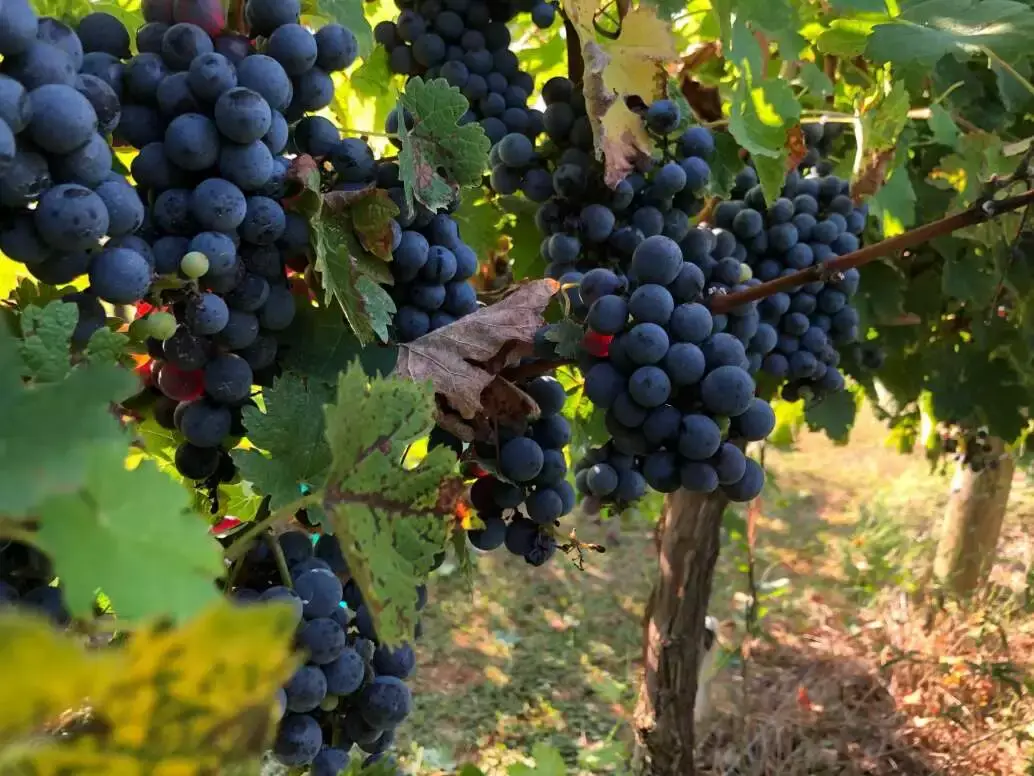 Cabernet Sauvignon is one of the most expensive and widely known red wine grapes available not only in Napa Valley but also in Australia, Tuscany, Bordeaux, South America, Santa Cruz Mountains. The wine made from Cabernet Sauvignon has been known to age 7 to 10 years.
Napa Cabernet wines reveal the flavors of ripe plum, black current, black cherry, raspberry, blackberry, and little licorice.
The most expensive wine Cabernet Sauvignon:
Screaming Eagle Cabernet Sauvignon 1992 has been one of the most expensive wine bottles ever sold in Napa Valley. Cabernet Sauvignon tastes best with red meats such as steaks and lambs.
2. Chardonnay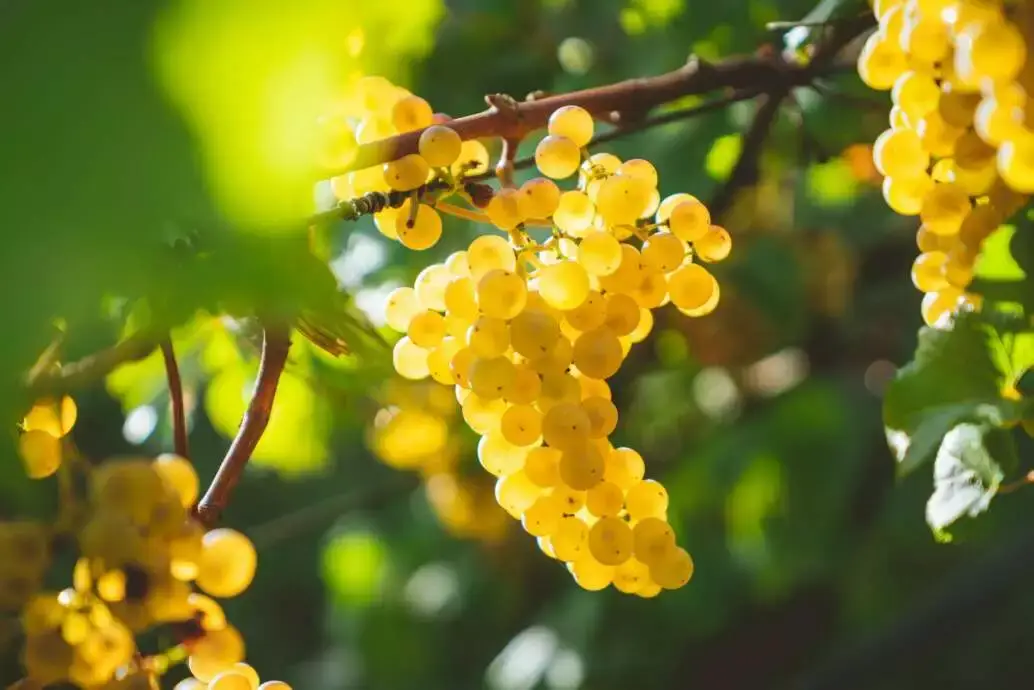 Chardonnay is also one of the most popular wine grapes known in the wine industry, however not as Cabernet Sauvignon. The ideal condition in which it is should be grown is a cool climate so that it can get the chance to ripen slowly.
It is made from green-skinned grape and results in beautiful and simple white color, hence it creates a white wine. It is also a popular wine produced in Napa wineries.
3. Pinot Noir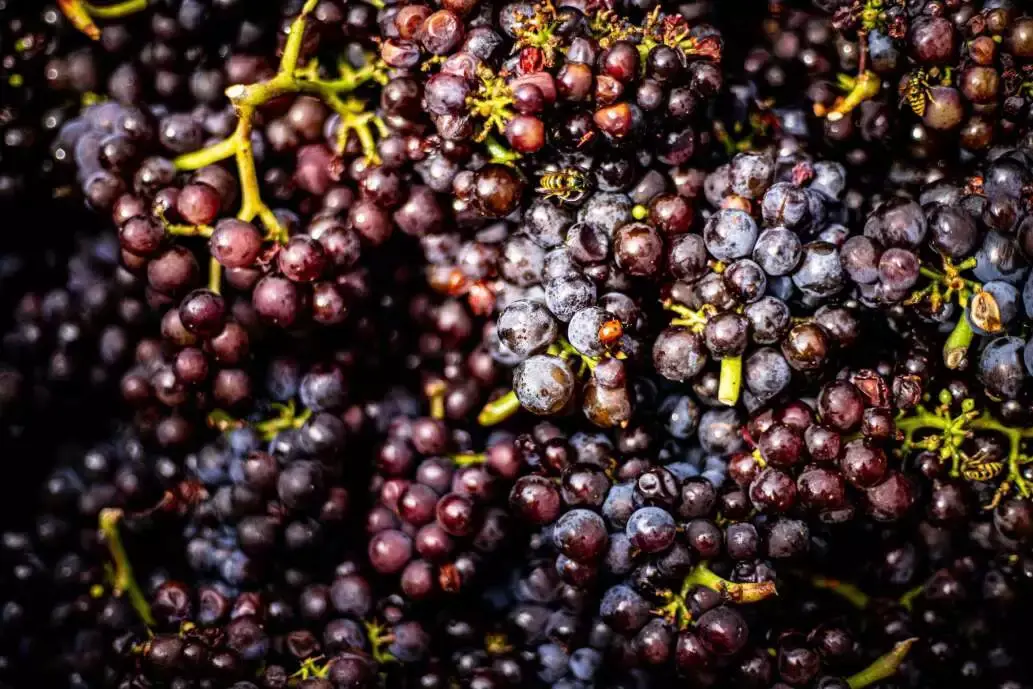 Pinot Noir is also a red wine grape. The nature of this wine is dry and includes an interesting combination of cherry, raspberry, mushroom, and forest floor. The ideal temperature for this kind of wine is 55-60 degrees Fahrenheit.
The best food pairings with this wine are with salmon and other fish.
Some of the other well-recognized wine grapes are Zinfandel and Sauvignon Blanc.
Wine Tasting
What is the Wine Tasting Process
Wine tasting is the slow process that is directed to study and inspect wine, being mindful throughout the process by engaging the senses of sight, smell, taste, and touch. Wine tasting experiences involve examining the wine's quality, the location in which it was made, its aroma, texture, and different flavors.
Wines can be tasted either for your enjoyment or at public or private wine tasting events. However, it is important to note the flavors one may prefer since every wine drinkers have their taste. Therefore, what you consider as good wine does not have to be a high-priced one.
What Does the Color and Aroma of the Wine Indicate
Some of the important things to keep in mind while examining wines in different ways are color, darker color wines are young and the color lightens, and turns into brownish shades as they age.
Whereas based on aroma, some wines have intense aromas whereas others are subtle, aromas are also a good way of indicating the kind of fruits the wines have.
What Does the Taste of the Wine Indicate
If the wine is inspected through taste, then it's important to keep in mind some basic elements such as alcohol, tannin, acidity, and dryness. Furthermore, the quality of the wine depends on the longer it tastes in your mouth.
Every winery offers wine tastings for wine enthusiasts and before you decide to visit Napa Valley, having some information regarding the wine tasting process is a must as it will give you a deeper and richer wine tasting experience.
Napa wineries also offer wine tasting events for you to experiment with tastes.
Wine Caves vs Wineries
It is easy to mistake the difference between the words wine caves and wineries. However, both of them have different meanings. Wineries are the places or the companies where wine is produced, whereas wine cellars or wine caves are underground cave-like places to store or shelter wine so that it can be aged well.
Wine Caves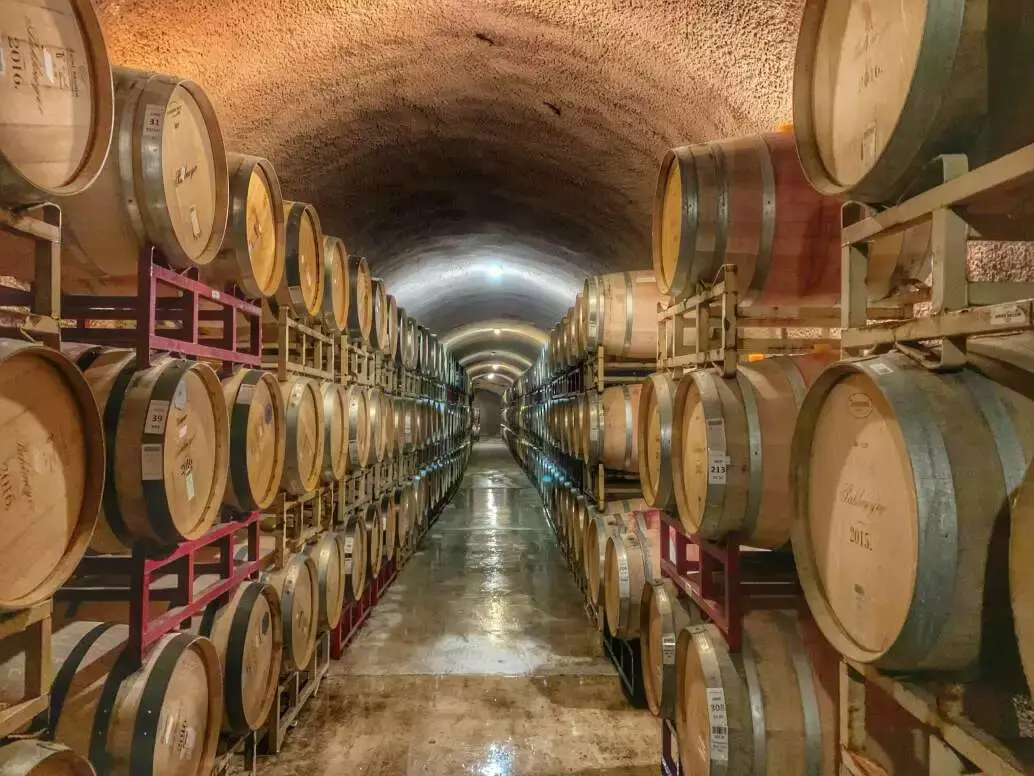 Napa Valley is known not only for Napa wineries but also for the underground wine caves. Wine caves offer a perfect place to relax and taste great wines in sunny weather and is a place where wines can age safely because of the accommodating temperature that the wines require.
Some of the wine caves found in the Napa Valley include Pine Ridge, which is also a vineyard that also offers cave wine tastings, including the best Cabernet Sauvignon wines. Some of the others are Jarvis Estate, Porter Family, Del Dotto, and CADE estate.
Jarvis Estate is a hilltop winery beautifully lighted with big oak barrels and even a pretty waterfall that make you come back again, whereas Del Dotto includes grand caves with lovely chandeliers. CADE estate gives wine lovers a chance to observe the winemaking process and even organize lunches and dinners.
Every wine has a story, and tasting wines is one hell of a way of experiencing those stories. Let's get on with the best Napa wineries in Napa Valley to finally get that experience of beautiful stories.
Best Napa Wineries
Napa Valley already has a renowned reputation among the producers of the most brilliant wineries, especially because of the acknowledgment made by the Judgment of Paris in history but also because of the breathtaking and mesmerizing views and architecture it exhibits.
1. Sterling Vineyards
Sterling Vineyards are one of the most aesthetically pleasing Napa wineries in the Napa Valley. The reasons behind this are that it is located above the town in Calistoga.
This is one of those Napa wineries that offer a trip by aerial tram through which you have the opportunity to experience the golden fields of the Napa Valley wineries and soak in the smell of greenery.
Through the tour, you can see the lovely walkways and galleries. With your friends or your partner, you can have the ideal afternoon as you sip wine and more wine tastings experiences.
Sterling vineyards are the producers of Chardonnay, Zinfandel, and Cabernet. To add to your flavors, they also offer cheese-paring with your glass of wine and have the Sterling terrace for you to take your time and relax.
2. Far Niente
Niente winery is located among the 13 acres of enchanting gardens that especially look charming in the Spring and Autumn, which only adds more to the wine tasting experience in the wine country. It was built in 1885 by John Benson with the vintage-style chateau surrounded by trees.
The famous wines this Napa winery offers are Chardonnay and Cabernet, and it is known that Far Niente winery also stores aged wines. If you are a true wine lover, you will keep in mind to carry some extra cash for the special ones such as these.
The name of the Niente winery is derived from an Italian phrase, dolce far niente, which means "sweetness of doing nothing." On your trip to this winery, you can leave all your worries, taste some vintage and enjoy the sweetness of doing nothing.
3. Castello di Amorosa
When you enter Castello di Amorosa, you will be immediately transported into Italy. The architecture of this castle winery is that of 13th-century Tuscan style, giving you an altogether different feel as compared to the rest of the Napa wineries.
The courtyard of the castle is decorated with lights above with wooden tables and chairs to enjoy the view as well as have some food and wine. The castle has several rooms, such as the gift shop, a small chapel with colorful paintings behind the altar, a royal room brilliantly lighted by medieval-style chandeliers.
One of the stunning aspects of the castle is its terrace, which is spacious and surrounded by comfortable tables and chairs for wine lovers to revel in the glory of old times. The terrace is also a perfect place to stand in the corner relax in the luscious greenery and mountains that embrace the castle.
The wines produced in this Napa Valley winery are Cabernet Sauvignon, Merlot, and Sangiovese.
4. Robert Mondavi Winery
This Napa winery was built in 1996 and belonged to Robert Mondavi, who was an American winemaker. He was a brilliant marketing strategist who gave rise to the fame of American wines. He created his signature wine called Fume blanc, which are his Sauvignon Blanc wines. It also produces Cabernet Sauvignon.
The front of the main medium-sized white structure of the winery display sprawling vineyards, with the mountains with grassy patches in the background. The wine grapes available at this winery are Cabernet Sauvignon, Fume Blanc, Pinot Noir, Cabernet Franc, Chardonnay, Merlot, Moscato, and Petite Sirah.
5. Stony Hill Vineyard
Stony Hill Vineyard is a gem located on the slopes of Spring Mountain, between Mt. Helena and Calistoga. It is a 168-acre plot of land bought in 1943 by Fred McCrea and his wife, Eleanor. Some also call Stony Hill Vineyard "America's greatest white wine estate."
This is one of those Napa wineries that is known for its white wine since the climate of the region provides perfect weather for different varietals of white wine grapes, including Pinot Blanc, Johannesburg Riesling, Gewurztraminer, and Semillon. However, only in the later years the winery begins creating Cabernet Sauvignon and Merlot.
6. Somerstone Estate
Somerstone Estate is a family-owned winery located in the Vaca Mountains of the eastern side of Napa Valley, and it is a total 1,615 acres property with majestic-looking vineyards. To display the distinctive nature of their land, they focus on producing Bordeaux-style blends.
Somerstone Estate offers wines such as Merlot, Sauvignon Blanc, Cabernet Sauvignon, and Cabernet Franc. This winery exhibits outdoor as well as an indoor wine tasting area. Furthermore, it is surrounded by beautiful gardens and fun picnic areas. To have a perfect day, you must have your picnic lunch ready!
7. Domaine Carneros
Domaine Carneros is another one of the family-owned Napa wineries and a landmark in Napa Valley in 1987 by Claude Taittinger on a 138-acre land. However, now it comprises a total of 400 acres, where 250 acres are set aside for Pinot Noir and 150 for Chardonnay. The winery carries on the tradition of the family for female leadership.
This Napa winery is pleasing to the eyes; it breathes elegance and an air of France since it is inspired by classic 18th-century French chateau de la Marquetterie in Champagne, the home of Champagne Taittinger.
The entrance of the winery is surrounded by lush green bushes on both sides and a grand staircase leading to the chateau with blue skies in the background, which forms an attractive picture for wine lovers and tourists.
The winery is known for its passion for producing sparkling bubbly wines with unique styles, including Brut Cuvee and luxury Le Rêve Blanc de Blancs.
8. The Signorello Winery
Just as other Napa wineries in the Valley value their land and express the taste of their land through their wine, the Signorelli Winery also aims to create the wine that is as unique as their land and wishes to carry this tradition.
The winery started as just for growing grapes, but soon the potential of winemaking business began to grow in the minds of the owners, Ray Jr. and Ray Sr.
The winery is located in the southeastern corner of the Napa Valley near the Silverado Trail. The fruit is handpicked and hand-sorted, the estate produces Cabernet Sauvignon, Merlot, Chardonnay, Malbec, Syrah, and Viognier.
Napa Valley is not short on charming and grand wineries. There are many more Napa wineries known for their distinctive blends and varietals, including Stag's Leap Winery, Artesa, Peju, Beringer, Sutter Home and William Hill estate; some of these are budget-friendly wineries.
Other than these, eco-friendly and biodiverse Napa wineries also exist, such as Spottswoode, Cliff Lede, Keenen Winery, and Opus One.
Although visiting Napa Valley and the best Napa wineries can be quite expensive, surprisingly, there are certain Napa wineries that provide free wine tasting. They are provided by lesser-known Napa wineries as well as some known Napa wineries.
Wine tasting takes at least 30 mins, and some of the Napa wineries that offer free tastings include Buehler Vineyards, Heitz Wine Cellars, Homage Vineyard, Sutter Home Winery, and Vincent Arroyo Wineryuehler Vineyards.
Napa Valley has so much to offer to those looking for adventures and the ones who have an eye for beauty because Napa Valley is an artistic landscape by its means, with tall magnificent trees and sprawling vineyards embraced by the luminous sun.
It is a must-see site for wine connoisseurs and even amateurs, as they can start their journey of learning about winemaking from Napa Valley. Before you embark on the journey, it is quite important to know about the wine tasting process since it will help you give a richer wine tasting experience.
Chardonnay, Cabernet Sauvignon, and Pinot Noir are the sparkling gems of the wine country and are offered in almost all of the Napa wineries but with their styles and personalities that reflect the quality of their land.
While you are there, visit Napa Valley caves to get a sense of mystery as you sip wine with friends and family! If you have ever visited Napa Valley, which Napa wineries have been your favorite and why? Drop your answers in the comments section. We would love to know about your wine tasting experience from the Napa wineries!