A Pet Bear Becomes Family
Here is very good news for all the animal lovers in the world. We have found a pet bear that gives a new definition to the meaning of family. Svetlana and Yuriy Pantaleeko had adopted a bear named Stepan when he was merely three years of age. Now the 23-year-old bear, weighing 300 lb and with a height of more than 7 ft, is a lovable part of their family.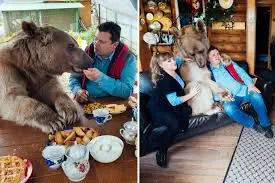 Stepan's Daily Life
Just imagine what it would feel like if you woke up every day to see a bear roaming around your house. The Pantaleeko family goes through such an experience every day, and they are very happy with their adopted child. Stepan has slowly grown up to become a sweet and lovable part of their family. The basketball fanatic even helps around in the house by watering the flowers.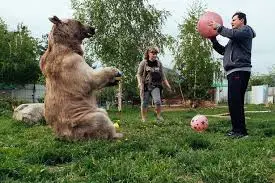 What Would It Feel Like To Give A Bear Hug To A Bear?
Svetlana informs us that Stepan has become so domesticated that they can easily hug him and cuddle him. Being cosy with a bear, sounds interesting right? Would you really risk it? But on the flip side, the offer does sound enticing, to get an opportunity to hug a soft fluffy being of 7 ft, now that would be a once in a lifetime experience.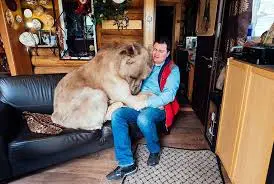 Pet Lovers, Do You Sit With Your Small One For Dinner?
Well, this question goes out to all the animal lovers in the world: Do you have your dinner with your pet? Stepan is that lucky pet who gets to sit with his family and have dinner with them. He starts with 25 kg of fish, vegetables and eggs as his main course and then moves on to a can of condensed milk, his favourite dessert.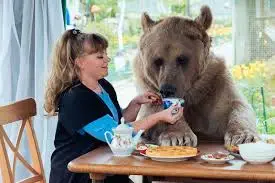 Stepan-The Pet Or The Son?
The sociable bear likes it when there are people around him. For so many years, staying in a family has made him a gentle and loving bear; his temperament is very low, almost inexistent. His favourite pastime is cuddling on the sofa with his parents. Living life with a bear around the house is something we could only dream of. It is amazing how the Pantaleeko family has turned a wild bear of the forest into a darling member of their family with their love and care.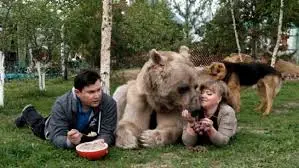 Stepan is no more their pet, and he has become the son of this small and happy family.
Hello. I am a student of English Literature. Word keep on fascinating me and makes me grow further as a human being. I have always believed that words are powerful enough to bring about a revolution. I am here, just trying contribute, in my own small way to life