As an affiliate-driven website, Icy Tales earns from qualifying purchases.
You might have seen salt dough recipe around you quite a few times, especially during holidays. Making the salt dough is one of the easiest and most fun activities for adults and kids.
The best part about the salt dough recipe is it requires a few ingredients and can keep you and your child quite busy for hours.
Do you want to try it too but don't know how to? Then, you are at the right place.
Here, we will tell you everything about the salt dough recipe!
What is Salt Dough?
Just like clay, salt dough is used for modeling. For somebody who has heard its name for the first time, it might sound like it is edible. But no, you cannot eat it. It requires three basic things available in your kitchen- flour, water, and salt.
Salt dough is used to make handprints, ornaments, and sculptures. So, what do you do with it? Bake the dough in the oven and cool it, or you can also air dry it.
You can use acrylic paints, food coloring, and natural colors. Then, cut shapes using tools or hand, and paint them with your choice of coloring. It turns out into a fun painting activity for you and your kids.
The only tricky part here is making the perfect salt dough. If the salt dough breaks or crumbles, it wastes both time and effort. But, don't worry, we are here to give you an easy salt dough recipe with proper instructions, so this does not happen with you!
2 Best Salt Dough Recipe For You
There are two basic salt dough recipes- one that involves baking the dough and the other that requires air drying (no-bake recipe).
1. Baked Salt Dough Recipe
If it is your first time making salt dough, you can follow this most suitable salt dough recipe.
Prep Time: 5 minutes
Cook Time: 3-3.5 hours
Ingredients for One Ball of Dough:
Half a cup salt
Half a cup of water
One cup all-purpose flour
How To Make Salt Dough
First, preheat an oven at the lowest temperature setting.
Take a baking sheet and line it with parchment paper.
Add the said amount of all-purpose flour and salt to a large mixing bowl. Then, add water slowly and knead the dough.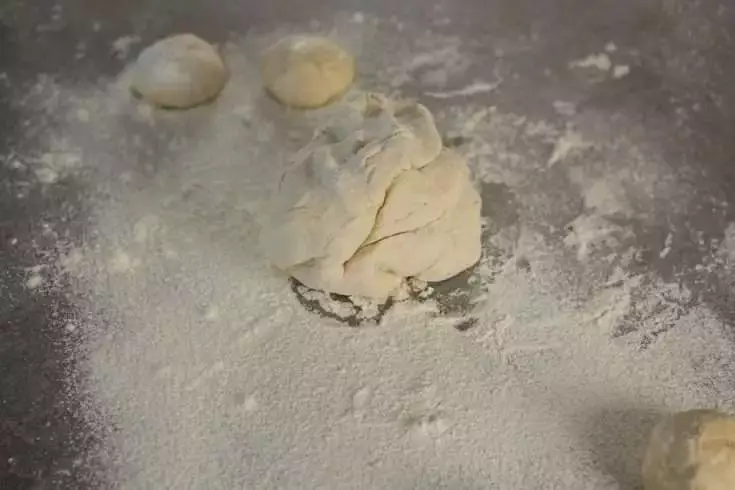 4. After that, use a rolling pin and flatten the salt dough.
5. Finally, use cookie cutters and cut out different shapes as per your choice.
6. Bake salt dough for around three hours until it is solid. Take it out and cool completely.
7. Then, paint it using acrylic paints or food color as you wish. And it is done!
Isn't the salt dough recipe super easy? However, you should keep a few things in mind as a first-timer while following the salt dough recipe.
2. No-Bake Salt Dough Recipe
You can try this recipe if you do not have an oven. So, let us see this salt dough recipe now!
Prep Time: 5 minutes
Cook Time: 1-1.5 hours
Ingredients for One Dough Ball
Half a cup salt
Half a cup of water
One cup all-purpose flour
1/4th teaspoon of gel Food coloring
How to Make Salt Dough
In a large bowl, mix flour and salt, and gel food coloring of choice.
Then, slowly add water and knead for about 10 minutes.
Roll out the salt dough into a thin 1/2 or 1 cm thick sheet.
Use cookie cutters to cut different shapes.
5. Pierce a hole using a straw or any other cooking equipment.
6. Hang a thread or chain through the hole.
7. Finally, please keep it on a flat surface to air dry for a few days.
Now, you can try any of the salt mentioned above dough recipe. Both are super simple, but the no-bake salt dough recipe takes a lot more time than the baked salt dough recipe! So, it is up to you what you want!
Tips and Tricks for Perfect Salt Dough
To perfect the salt dough on the first try, here are a few tips and tricks you can consider:
Go for Easy Shapes:
As you might be aware, salt dough isn't quite well made until baked. So, as a first-timer, you might want to try some simple designs that are super easy to make but equally fun.
Once you get the hang of it, you can move on to difficult shapes and complex sculptures.
Use Silicone Baking Sheet:
If you do not like to clean the mess after baking, a silicone baking sheet is honestly your savior. Trust me, it saves a lot of time and makes cleaning trouble-free.
Plus, you can bake more ornaments at once compared to other sheets.
Avoid Salt Dough Puffing:
Sometimes you can notice puffing in the salt dough after taking it out from the oven, even after baking it at the lowest temperature. The reason for this can be flour. If you have used self-rising flour, it is bound to happen. Therefore, use all-purpose flour or plain flour.
Now, how to solve it? The best way to solve this problem is to dry the salt dough ornaments. It might require a lot of patience from your side as it takes several ways to dry. Store it in a dry place and wait.
Store Salt Dough Ornaments Correctly:
After making some fancy salt dough ornaments, the next question is how can you store the salt dough effectively? You might not know this, but a salt dough can last for nearly a decade.
Interesting, isn't it? All you have to do is keep it away from dampness. For this, store them in an airtight container with some silica packets, and you need not fret anymore!
Give a Nice Look to your Salt Dough:
Once the salt dough is completely dry, the next step is to seal the dough. It gives a perfect finish and glossy look to your salt dough craft.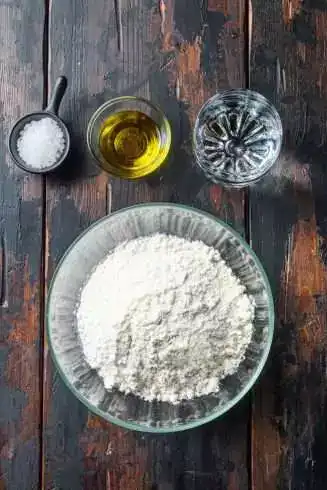 For this, mod podge or craft varnish is what you are looking at! Both of them are readily available online or at stores near you. Use any of them to seal the dough and enhance its overall look perfectly.
Salt Dough Ideas
Confused about what all you can make with this salt dough recipe? Don't be. Let us solve it for you! We are sure you will love salt dough crafts as much as we do! Here is some fantastic stuff you can try with the salt dough.
Salt Dough Handprints and Footprints
One of the best ideas for new parents is to keep their baby's handprint forever. You can also consider this brilliant idea for gifting purposes to your loved ones. So how do you make salt dough handprints and footprints?
Here are a few simple steps you need to follow:
Just follow the salt dough recipe mentioned above and knead the dough.
Once done, take a ball of dough and make a circle out of it using a cookie cutter, plates, or simply by a rolling pin. Here, keep in mind that the circle is according to the size of the hand. You can try other shapes as well, like heart.
Now press your hand or your kid's hand into the circle and bake it at 200 F until dry. You can also choose to air dry the ornament.
Once dry, paint the hand impression using acrylic paints, and it is done.
Similarly, repeat the same for footprints. If you wish, you can decorate salt dough ornaments further using your creative mind.
Salt Dough Handprint Ornament:
Just make a hole using a drinking straw before baking the salt dough.
Once you are done painting, you can attach a thread or chain to it. And your salt dough handprint ornaments are ready! To convert it into an ornament, here are the following steps:
Christmas Ornaments
Another thing you can do with salt dough is Christmas crafts. So, try this salt dough recipe next Christmas to engage your kids in something productive as well as cool. So, let us see how many ornaments you can make for Christmas with this easy salt dough recipe.
So, here is the superb salt dough recipe you can check out:
Preheat the oven at the lowest temperature setting. Ensure the oven temperature to avoid burning and browning of ornaments.
Add the flour and salt in adequate proportions in a large bowl.
Once done, add half a cup of water and knead the dough. If the dough is sticky and wet, add extra flour. If you find it too dry, add little water.
Knead the salt dough for around ten minutes before baking it. Once done, roll the classic salt dough into a sheet of about 1/2 to 1 cm thickness. The thinner the dough, the better your ornaments bake.
Use a knife to cut Christmas shapes. Here, we would suggest you buy Christmas cutters to achieve perfection. You can have various Christmas ornaments like snowflakes, mittens, Christmas trees, bells, stars, candy cane, and whatnot.
Again, use a straw to make holes at the top of Christmas ornaments.
Then, bake salt dough ornaments for around two hours. Make sure you keep checking in between. If they are not dry, keep them for about an hour more in the oven. You can also air-dry your ornaments.
After taking them out, cool the baked ornaments completely. Then, use non-toxic acrylic colors or food colors to paint them.
Seal the ornaments with mod podge or glaze spray to keep them longer.
Finally, apply clear glue and add glitter to the ornaments. Use green glitter for the Christmas tree, red glitter for mitten and candy cane, golden glitter for bells, and silver glitter for stars and snowflakes.
To understand the salt dough recipe for Christmas ornaments better, here is a short video you can watch:
So, this is how you can spend your holidays with family by indulging in an exciting activity before Christmas.
Not only does it provide you with family time, but it also extra cost spent on Christmas decorations. So, try this DIY salt dough recipe next Christmas!
Salt Dough Sculptures
If you have mastered the art of salt dough ornaments, it is time to up your game. How? Try your hands on the salt dough sculptures now! It requires a little precision and patience. So, start only if you have some time.
Here is the procedure for salt dough sculpture:
Add two cups of flour and one cup of salt in a large bowl.
Next, pour one cup of warm water slowly and knead until it is firm. Then, make a ball from it.
Suppose you want to make an animal. Divide the ball into different parts depending on the sculpture you have chosen. So, divide the ball for its ears, mouth, body, and limbs.
Now, use your hands and give each part the shape you desire.
Attach all these dough balls into a 3D figure.
Put the finished sculpture on parchment paper into the baking sheet. Put it in the preheated oven and bake at 200F.
Once done, leave it inside the oven to cool. This prevents it from developing any cracks.
Finally, use different colors to paint it. Ta-da, your salt dough sculpture is ready for display!
Other Important Questions
We have tried to answer some other questions that you might have. Take a look at them and let us know if you have any further questions in the comment section below.
1. Can You Microwave Salt Dough?
Yes, if you do not have an oven and don't want to air dry your dough, you can microwave salt dough to make salt dough ornaments.
It is one of the fastest ways to dry salt dough. Here is a quick and easy salt dough recipe for microwaving:
Ingredients for One Dough Ball
1 cup Plain flour
1/2 cup table salt
1/2 cup warm water
How to Make Salt Dough
In a large mixing bowl, add flour and salt. Slowly, add warm water and knead.
Flatten the dough and make salt dough ornaments as per your choice.
Take a kitchen paper and place these ornaments.
Please place it in the microwave for 10 seconds. Check them and again put them for 10 seconds. Repeat until dry. It is important to check after every 10 seconds to prevent the burning of the salt dough.
Let it cool. Finally, paint using acrylic colors.
2. Can you Make Salt Dough Ahead of Time?
Can this mean salt dough to be made days before using it? The answer to this question is yes. You can make salt dough days before using it.
But then, you have to take extra care while storing it so that it does not get damp. Therefore, you should make it when you need it.
But in case you do not have time, follow the salt dough recipe given above and keep it in a sealed box to avoid any moisture.
Take it out as and when you need it, and then again store it the same way!
3. What is the Role of Salt in Salt Dough Recipe?
The simple answer is that salt acts as a strengthening agent in flour. Salt holds water better and makes the flour firm.
The flour and salt mixture is why dough does not break when expanded. Therefore, salt is an essential ingredient for modeling material salt dough!
Finally…
Salt dough crafts are the best way to spend time with kids. It is an exciting game that every kid would find attractive. However, kids should participate in the decoration, while baking should be done under parental supervision or by the parents themselves.
Salt Dough Recipe is hassle-free but engrossing. Therefore, we are sure everybody will enjoy it!
Add salt dough crafts to your list of activities for the next vacation and try it out with your entire family and friends. If you want some suggestions for outdoor activities, check out this post on our page!