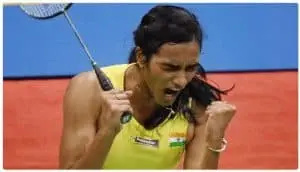 Pusarla Venkata Sindhu, known fondly as PV Sindhu, just won millions of hearts across the world as she beat Olympic champion Carolina Marin to win her maiden Indian Open Super Series title. Congratulations and praises are pouring in all from all directions on social media, and I am sure this must be even more satisfying to Sindhu after her Olympic defeat to Marin. I will not talk statistics but anybody who saw the match from the beginning would know that this could have gone either way, and no reward is better for hard work than sweet, sweet victory.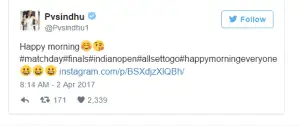 PV Sindhu started her day with the following tweet, which is beaming with positivity.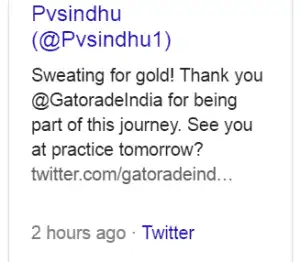 And ended the day with the satisfied tweet of a winner who is willing to push forward. It is extremely heartening how she talks of practice like it is a necessity for her.
The love she got from her countrymen is proof that our country has progressed. It accepts a woman sportsperson as the face of India, which would have been unthinkable even 20 years ago. P.V. Sindhu has proved her mettle again and again, and the support she got after losing out in the Olympics if proof that she has actually made a place for herself in the loyal Indian heart.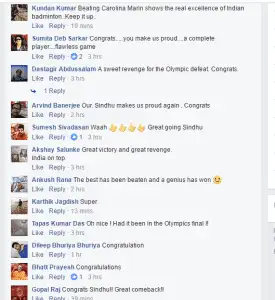 India has always harboured cricket and football devotedly. But the recent addition of tennis and badminton into the mix has inspired so many children to break out of the mould and opt for what they love. And this is one of the reasons why figures like Sindhu are so important. Cricketers joining to make Sindhu's win special is especially heartening.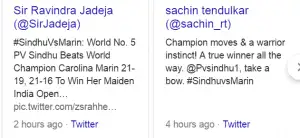 I have no doubt that she will continue to make us all proud and her reaction at the end proved what this win meant to her. Many are claiming that this was Sindhu's way of taking revenge for the Rio heartbreak. After all, the spirit of competition is what keeps taking the game forward.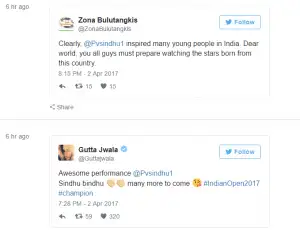 Sindhu's fellow badminton player, Jwala Gutta took to Twitter to congratulate her proving that as a nation we always stand strong. Saina, Sindhu and Gutta are the foremost female badminton players of India, and their spirit of true sportsmanship is what it comes down to in the end.
21-year-old Sindhu beat Marin  21-19, 21-16 in nervewrecking 47 minutes during the game had some fair ups and down. But Sindhu held her nerves of steel to put the nail on to the coffin. Before the game the odds, at least statistically, had been in Marin's favour but Sindhu had other plans. Sindhu, later, was reported saying:
"It was a good match overall. It was a tough contest. From the first point we were fighting hard. There were rallies, no easy points. I am happy with my performance…It (India Open) is one of the important tournaments and my second (Super Series) title after China Open. It's been almost two months since I have been training under the Indonesian coaches. Would like to thank them."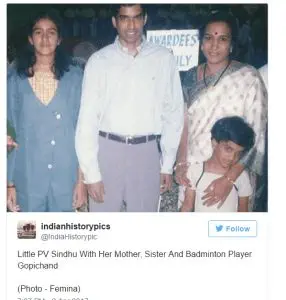 This young girl, today, is a shining star in the landscape of Indian sports.