Are you aware of the symptoms of a panic attack in a teenager? No? 
Panic disorder is a type of anxiety disorder that usually develops during late adolescence or early adulthood. Although panic disorder most commonly strikes people between the ages of 21 and 35, it can strike at any time throughout childhood or early adolescence.
Teens experiencing panic episodes should see their family doctor or pediatrician first. Parents should take their teen to a child psychiatrist if their doctor discovers no other physical ailment or condition as a cause for the symptoms.
Teens and Panic Disorder
Panic disorder symptoms in teenagers are quite similar to those experienced by adults. Recurrent panic attacks are the most common sign of panic disorder. Extreme fear, anxiety, physical sensations, and apprehension are common symptoms of these attacks, often striking without warning.
Panic attacks typically manifest themselves as a combination of physical, mental, and emotional symptoms. These attacks usually strike out of nowhere and are accompanied by four or more of the symptoms listed below:
Increased heart rate
Pain in the chest
Hot flushes or chills
Depersonalization or derealization (detachment within the self)
Sweating excessively
Fear of death
Apprehension of losing control or becoming insane
Dizziness, unsteadiness, lightheadedness, or faintness
Choking sensation
Feelings of numbness or tingling in the hands and feet
Nausea or stomach pains
Breathing problems such as shortness of breath
Shaking or trembling
The signs and symptoms of panic attacks in teenagers can be classified into various categories, which are as follows:
1. Physical Signs and Symptoms
Teens who are having panic attacks may have the following physical symptoms:
Flashes of heat
Chills
Throat constriction or lack of breath
Shaking or trembling
Sweating
Heart pumping at a breakneck pace
Chest pain
Headache
Cramping in the stomach
Numbness or tingling sensation
2. Behavioral signs and symptoms
If the teen's food pattern has altered or their sleep patterns have been disrupted, there's a good possibility they are having episodes of a panic attack. For no apparent reason, the children may separate themselves from peers or even family.
They can also refuse to leave the house or complete the chores you've set. Furthermore, they may lose interest in any activity that offers them delight.
They may become anxious at some time. Because they are uneasy, they may choose not to listen to your counsel.
3. Mental Health Signs and Symptoms
Changes in mental health can occur as a result of panic attacks. When panic attacks are left untreated, they can cause great damage, so it is of utmost importance that parents constantly observe, and if they notice any signs, it's better to approach the doctors.
Your youngster may get anxious for no apparent cause, which can progress to melancholy. When they are suffering from a panic attack, they may also fear death or a sense of impending danger or catastrophe.
So, what's the gist of it? If you suspect that the teen is experiencing a panic attack, the dread of losing control and dying, as well as suicidal thoughts, are the indications to watch out for.
The symptoms, intensity, and duration of panic episodes can all be different. The majority persist for only a few minutes, peaking within 10 minutes.
On the other hand, a panic episode may linger in the mind of a teenager for hours after it has passed, generating further worry and anxiety.
Panic Attacks: What Causes Them?
What causes panic attacks in teenagers is a question that many parents have. To help you better understand why teens have panic attacks, here are a few causes.
Imbalances in Hormones
During their adolescent years, your teen may experience a lot of anxiety. Hormones in their bodies may change, causing your child to become sad and fearful for the first time. As a result, individuals may suffer depression, as well as irritation and anger.
Girls may experience irregular periods at this stage. There is a 30-fold rise in testosterone production in boys, frequently associated with changes in behaviour and mood, such as despair or stress related to upcoming tests.
Expectations for the Future
High expectations are prevalent in today's society: educational systems, parents, and peer pressure. Today's teenagers want to live a life that demonstrates that they can do anything they set their minds to.
Teens may experience stress and panic attacks if they cannot satisfy their high expectations or maintain a specific standard.
Abuse of Substances
Many teenagers rush into drug and alcohol experimentation, leading to substance abuse and addiction. Ads on social media and mainstream media touting the coolness of drinking have had a negative impact on youth.
The widespread availability of drugs on the streets has resulted in a rise in panic episodes among teenagers.
Factors in the Environment
Another factor contributing to panic attacks in teenagers is their upbringing, particularly in terms of the amount of stress they are exposed to. The environment leads to a slew of expectations that your adolescent is eager to meet.
Life's hiccups and bumps are, without a doubt, a big contributing role. A panic attack can be triggered by a terrible event such as a family member dying, illness, or divorce.
Disorders of Health
Teens may experience panic episodes as a result of medical issues. Asthma, for example, has been linked to an increased incidence of panic attacks in teenagers.
You should keep an eye on your asthmatic child to make sure they do not come into contact with anything that could cause a panic episode.
Complications and Consequences
For a teenager, having a panic attack can be a terrifying experience. Teens who have panic episodes, like adults with panic disorder, are prone to developing avoidance strategies.
When this happens, adolescents tend to avoid situations, places, and activities that they fear would cause a panic attack. For example, a teen may avoid crowds during school assemblies or in the cafeteria.
They may also develop a phobia of driving or other modes of transportation and leave places they consider to be safe, such as their home.
A disorder known as agoraphobia is characterized by a persistent avoidance of situations that provoke panic attacks. Agoraphobia can develop during adolescence. However, it is more common among adults.
Around a third of people with panic disorder also have agoraphobia. This illness has the potential to become debilitating, leaving a teen with agoraphobia at home.
Treatment Approaches
Panic disorder can have a negative impact on a teenager's life if left untreated, leading to issues with school, relationships, and self-esteem. A teen with panic disorder can only be diagnosed by a doctor or other certified practitioner.
A doctor can also rule out medical explanations for panic attacks and see if any co-occurring diseases, such as depression, are present.
Because females experience anxiety at nearly double the incidence as boys, doctors urge all girls and women to be evaluated for anxiety during routine health checks. Teens with panic disorder can benefit from various safe and effective therapy choices.
Psychotherapy, medicines, and self-help initiatives are the most frequent treatment choices for panic disorder.
The best results are frequently achieved when a mix of these approaches is used, followed by treatment recommendations.
A teen can work through profound feelings and learn coping techniques in psychotherapy with a therapist who treats panic disorder.
There are various types of psychotherapy available, the most prevalent of which is cognitive-behavioural therapy (CBT), which focuses on assisting the teen in developing healthier ways of thinking and behaving.
Family counselling may be prescribed to help the teen and the rest of the family form supportive relationships. There may also be group treatment options available, in which the teen can work through challenges with peers who are dealing with similar issues.
Panic disorder can strike at any time during a person's lifetime. For example, a teen may experience frequent and unexpected panic episodes for several months before going years without experiencing any symptoms.
Panic disorder does not have to be uncontrollable, whether experienced for a short time or the rest of one's life. The sooner a teen receives the assistance they require, the sooner they will be on their way to recovery.
Consequences of Failure to Treat Panic Attacks and Anxiety disorders
Teenage is a difficult phase filled with insecurities and anxieties. It's the responsibility of the adults to notice the symptoms and the signs of panic disorder because early treatment is crucial.
Panic disorder can seriously impair a teen's life if not detected and addressed. Untreated panic disorder in adolescents can lead to:
Develop severe depression and may be at risk of suicide; use alcohol or drugs to try to reduce their anxiety; or
Develop "agoraphobia," when an individual avoids situations where they fear a panic attack may occur or where help may not be available. In severe circumstances, the adolescents may become so terrified that they cannot leave their homes. Around one-third of people with panic disorders will also develop agoraphobia symptoms.
Managing Panic Disorders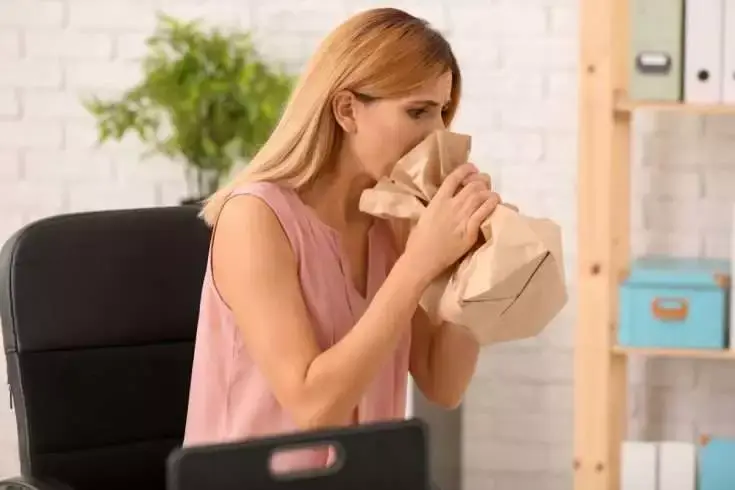 Most persons with panic disorder should acquire coping techniques to prevent and deal with panic attacks and get treatment.
Here are some tips on how to deal with the anxious feeling you get when having a panic attack.
Stress management practices can help your teen feel more calm and relaxed while keeping energized and focused, reducing panic attacks. Yoga, meditation, and deep breathing exercises are all popular stress-relieving activities.
Many people benefit from visualization. It entails spending time alone before a potentially stressful scenario, closing your eyes, and visualizing yourself succeeding.
Those who have the panic disorder can benefit from positive thinking. Negative thinking is a common symptom of panic disorder in teenagers. Encourage your teen to keep track of their negative thoughts throughout the day and replace them with positive ones.
If your teen experienced a panic attack recently, for example, they might feel humiliated and intense fear that "no one will want to hang out with me again." Instead, encourageDe your teen to think, "I'm embarrassed that I had an attack, but my friends are already aware of my anxiety and still like me." "No one is flawless. "
Having positive thoughts also helps mental health in the long run. They should be encouraged to get support, and it is quite normal their feelings must be validated.
There are things your kid can take to cope if they have an attack. Give your teen the following advice:
Recognize the warning symptoms of a panic attack. Before the full commencement of an attack, you should become an expert at recognizing what symptoms initially arise in your body. You can lessen the intensity of an attack by identifying the signals and trying to calm down or avoid triggers.
Remove everything that is causing you anxiety. Identify the signs; these are warning signs which usually come just before the panic attack. Once you identify them, try to get away from them, it can be anything from noise, person or even a place.
Keep your attention on your breathing. You breathe short, shallow breaths during a panic episode. Relax your mind and body by inhaling slowly (to the count of four) and deeply.
Recite a mantra several times. Choose a favourite quote or other statements that offers you hope, and remember it when you are in a calm frame of mind. Repeat your phrase again and over when an attack occurs. This strategy works for some people because it diverts their attention away from the thoughts that started the assault in the first place.
When a teen is given medical advice diagnosis with panic disorder, they might feel terrified, bewildered, and despondent.
Having panic disorder does not rule out the possibility of success in life. Encouragement from parents is important for the children. They can attain their goals and enjoy life with the help of treatment and practice.
Disclaimer
Whatever advice is given on the page it is solely for educational purposes. It is meant to supplement, not replace, medical advice from a qualified health care practitioner.
Anyone seeking advice, diagnosis or treatment regarding a health concern should seek advice from a doctor.