The sky is the limit— a phrase one often hears being used metaphorically, holds true for skydiving. Skydiving or Tandem Skydiving is a sport in which the sky really is the limit. Tandem skydiving is for budding adventure sports enthusiasts.
Tandem or solo, the skydiving experience changes you forever. It is unlike anything one may have tried. So, does it take a lot of work? And how rewarding is the experience?
One gets to see beauty through a bird's eye view. This happens when landing upon Earth peacefully in parachutes.
Many of us may have had some life-changing experiences. Some are near-death (near-life?), and one emerges from it like someone who passed through fire, recast, and all too aware of one's perfectly good existence. Like all such experiences, one is never able to go back to a time before it, to a time of oblivion and self-confidence.
So, what comes over people to jump off a perfectly good plane?
How to do Tandem Skydiving?
Instead of one person, two people make a tandem jump out of an airplane connected to each other. Here, of course, one cannot make skydiving jumps with one's best friend, as two newbies cannot skydive together. One can certainly share the experience with their friends by riding up in the plane together. One can watch tandem partners jump before them or land before them, but they are not allowed to jump together.
The tandem partner has to be one certified tandem instructor and a beginner. How does one qualify to become a licensed instructor? Do you have to attend "skydiving school"?
Well, it involves rigorous training, and one of the 500-time skydivers. As for how much training does a tandem skydiver need, there are well-organized skydiving systems. Most of the work is done by the instructor with who one will be jumping. They literally have your back!
An orientation video is shown before gearing up. In the video and following it, one learns about the equipment and how to help your partner best experience the freefall and landing. All this is briefed and covered minutes before the skydive, so not much training is necessary.
Making the jump of a lifetime, one would surely want to video for memory's sake. The videographers may be pricey, but worth it.
Any tandem skydiving consists of three parts— the airplane journey (15-20 minutes)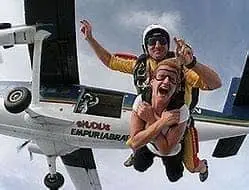 freefall (40-90 seconds),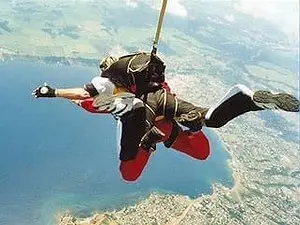 and the parachute ride (5 minutes).
Parachute ride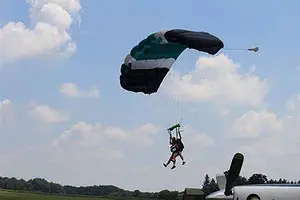 The following steps must be kept in mind before committing to the venture:
Make a jump out of an airplane from 14,000 feet. (As simple as that)
The freefall is at 120 MPH.
A brief class and orientation through video will take place.
The staff will take you through the types of equipment.
A pre-jump training of 45 minutes will be facilitated for beginners.
You will have to learn to 'Arch' or lifting your legs. This is learned in order to ensure your instructor's legs touch down first.
As part of the paperwork, fill in details and sign forms.
You will be attached with a harness to a licensed tandem skydiving instructor.
As and when instructed, you can pull your own ripcord and fly the parachute for a serene 5-minute.
After that, you make a soft target landing with the help of your instructor.
Although it may cost a bomb, it would definitely be worth getting a videographer and a professionally edited tandem skydive video and photos. This would serve to capture one of the bravest and most beautiful moments from your life, and you can relive your experience every time you want to!
If one has never jumped before, they'll be amazed at how easy the training is and how fun tandem skydiving is. It indeed is the thrill of a lifetime.
Celebs Who Are "Natural" Skydivers
Remember the now famous skydiving scenes in the 1991 classic, Point Break, where Patrick Swayze bids "adios amigo" to the camera before making the jump? It is actual footage of the man himself making a skydive, as he was a hobbyist skydiver even before he got this role.
Music sensation Miley Cyrus enjoys skydiving, and when freefalling for the first time at 120 MPH, she was "finally a bird."
An anxious and excited, Liam Hemsworth appeared in a skydiving video in 2014. It was his first tandem skydiving for an interview he was doing for Nylon magazine.
In 2014 in Dubai, Will Smith and Jada Pinkett Smith tried Wind Tunnel Flying and skydiving. In a couple of weeks, they brought their children to learn to skydive. They wished for them also to inherit this sensibility.
Golf superstar Tiger Woods is another licensed and experienced skydiver since 2007 when he made 30 skydives.
Does Skydiving Alone Feel Different From Tandem Skydiving?
First things first- no skydiving center will allow anyone to fly alone in their first skydiving. Some centers allow solo skydiving after a few tandem skydives. One then receives an A-license from the United States Parachute Association (USPA); only then they qualify to leap alone.
So, adventurists who want to experience jumping off a plane and watching the world from a bird's eye view, but do not wish to go through the hassle of the extensive training required to jump solo, may take the tandem skydiving route.
How Safe is Tandem Skydiving?
Skydiving centers will assure you that skydiving is safe and tandem skydiving more so, but it is wise to remember that nothing in life is without risk. To rip the band-aid off, yes, there have been deaths.
Now, the question remains, is the risk quotient acceptable? The answer again is yes. If we look at official statistics from the United States Parachute Association, 1 out of 500,000 skydivers may die. So, it's more likely a person may be killed getting struck by lightning or stung by a bee.
So, while not entirely foolproof and safe, tandem skydiving is a risk worth taking.
Few Things to Keep in Mind
One must remove all jewelry and piercings prior to the jump. To save oneself from the hassle keeping them back at home would be the best option.
Wear jeans, yoga pants, and full sleeve shirts. The goal is to keep as much fabric between the skydiver and the harness, ergo, shorts, sleeveless shirts, or tank tops should be avoided.
Clothes should also be worn, keeping in mind the weather. During the cold weather, one may wear two layers of clothing. Jumpsuits are also provided at centers, if necessary.
People with long hair or beard should wear hair ties, so that the view may not be spoiled by any hair flying in their face.
Contact lens' are preferred over spectacles.
What happens if the weather is terrible on the day of the jump? The tandem skydiving can be rescheduled for another day, as all payments are non-refundable. In any other scenario, if there is a need to reschedule the skydiving, the parties involved must apprise the center officials.
No center will discourage you, but a person who has severe air sickness must avoid skydiving- tandem or solo, else the thrill of the experience will be lost in throwing up. However, an awkwardness during the first few seconds should not be misconstrued as difficulty in breathing. It actually is caused due to the adrenaline rush and excitement of jumping out of an airplane.
People above 55 years of age must be in excellent physical condition to do tandem skydiving. If anyone has a previous injury of the knee, ankles, neck, or back they must consult their physicians beforehand.
 Top Places to Do Tandem Skydiving!
Below are some skydiving centers that offer tandem skydiving where one can feel their adrenaline rush while soaring over the city!
Dallas Tandem Skydiving jumps from up to two miles high with up to 45 seconds of freefall at 120 MPH!
The Chicagoland Skydiving Freefall University offers training and certification in minimum time to fly solo. The CEO of the center is Douglas Smith since 2000. Skydiving since 1994, Smith is currently an instructor, videographer, and pilot for Chicagoland Skydiving Center.
Skydive Ocean City or Ocean City Skydiving Center, Inc. is a group member of the United States Parachute Association. It has its centers in Annapolis, Assateague Island, Alexandria, Delaware, Baltimore, and Washington DC. Tandem Skydiving is the only type of skydiving offered here- it is a specialty apart from the terrific views of the ocean you would not want to miss!
The Skydive Spaceland Houston offers skydiving and parachute jumping in Houston, Texas. The staff has received rave reviews for reassuring first-time skydivers jumping out of a plane at 14,000 feet.
Like many other skydiving centers, the Houston center has the eligibility criteria of 18 years and a weight limit of fewer than 265 pounds (varies from tandem skydiving center to center) to tandem skydive. No, this is not body shaming, as there is a science behind this set limit.
There has to be complete comfort and the ability to make a tandem skydive. One's body shape and physical measurements play an essential role in determining this ability. One needs to be able to fit into the tandem harness properly along with their instructor.
The skydiver must be capable of the landing challenge that involves lifting their legs so that their instructors can touch the ground before them. A person is generally capable of tandem skydive if he can play sports such as tennis, basketball, or baseball smoothly.
It is wise to consult your physician if you have even the slightest doubts about your physical condition. There is no point in being delusional; it could be risky for everyone involved. For this reason, only people with less than 265 pounds fit the bill perfectly. At some other centers, the weight limit is 200 pounds or less.
What if someone weighs over 265/200 pounds and can still fit in the harness correctly and also lift their legs for landing without it being cumbersome? This may be due to their Body Mass Index (BMI). Well, there is still hope for them. They may receive prior approval from the instructors involves and skydive away!
At the Houston center, there is another great offer. If your friend or significant other has not experienced it yet, a perfect first tandem skydiving at Houston can be given to them as a gift!
Will You Marry Me?: Pop The Question
In addition, did you know that many people have popped the question to their significant others during their skydiving episode!
What better way to ask your partner to marry you right after they have landed with a customized banner spread on the ground where they make their landing. They've just experienced one of the most thrilling experiences of their lives, and another beautiful one would follow it!
Several skydiving centers provide customized banners reading— "Will you marry me?" or "I have a question to ask" or "Will you do me the honor of becoming my wife?". What's more, they also have the option of documenting this special day and moment in their lives.
Tandem Sky Diving
In conclusion, Tandem Skydiving is an exciting, rewarding, incredible, and magical adventure sports, and one's introduction to it is through tandem skydiving. It does take anyone A LOT of courage to jump out of a (perfectly good) plane, whatever the age. It is a whole new and novel world— new people, new instructors, sometimes a new language, strange-looking equipment for a newbie, and finally trusting someone one has just met with their lives!
At the same time, the experience of taking to the skies is unparalleled. Fear is nothing once you've jumped out of a plane from 18,000 feet. You can do anything once you push past that fear.
A few tandem jumps later; the novelty doesn't wear off. It just keeps getting better soon, very likely; you achieve solo status.