In this booming season for tours, visit Hobart and enjoy a Full-Day Bruny Island Tour from Hobart, held on various dates at 7:45 AM, embarking from Franklin Wharf.
In this full-day tour of Tasmania's Bruny Island, an eco-cruiser will take you to explore deep sea caves and sheer cliff faces. Doesn't this sound like a steal deal?
Immerse yourself in this awe-inspiring experience of the Southern Ocean as you explore this natural paradise, right here in Hobart.
The tour is a complete package of adrenaline and dopamine rush and is going to blow your mind. So what are you waiting for go and grab your tickets to an unforgettable experience now, at FeverUp's official website.
Highlights of the Tour
This tour not only promises beautiful views of the island, it lets you taste its flavors and local cuisines too. Get to enjoy refreshing morning tea and a hearty lunch on the island with its majestic views.
As already mentioned, the tour offers a three-hour coastal cruise around Bruny Island. Here, you get to experience the power of the Southern Ocean while touring this natural paradise.
Also, you get to discover the most exciting parts of an island which are the pristine beaches, wildlife, and remote coastlines.
The custom-built eco-cruiser awaits you, to take you on a thrilling ride along the deep sea caves and sheer cliff faces.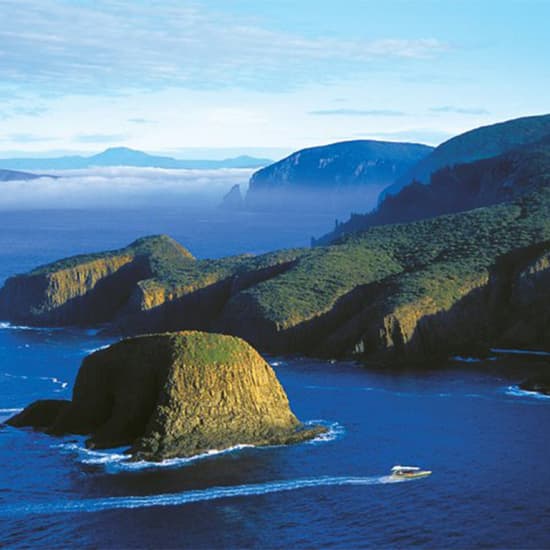 What to Expect?
Are you ready for a mind-blowing and exhilarating experience of walking along the pristine beaches and gazing at remote coastlines?
Enjoy this sightseeing tour at Hobart with a custom-built eco-cruiser which will take you to the deep sea caves and sheer cliff faces. 
Also, the tour allows you to enjoy the local delicacies and cuisines of Hobart's Bruny Island which includes a refreshing morning tea and delicious lunch on the Island. 
This three-hour coastal wilderness cruise can be your favorite tour of your life. The tour is both a couple-friendly and family-suitable cruise experience, perfect for a pre-winter vacation.
Additional Info
Dates and Times
The tour is held on various dates throughout the year at 7:45 AM and please choose your preferred date from the ticket selector at your convenience.
Location
The starting point of this tour is Franklin Wharf, Hobart. You get to explore Tasmania's Bruny Island and its pristine beaches on this tour.
Also, the eco cruiser is gonna take you to the deep sea caves and sheer cliff faces.
Tickets
The ticket price for this Full Day Bruny Island Cruises Day Tour from Hobart is $249.28 for the age group of 17-99 years.
Other Info
There is no age requirement for this tour. And all sales are final. The tickets couldn't be refunded, changed, modified, or canceled after the purchase.
The departure time is early at 7.45 AM.
Are You Excited to Experience the Beauty of the Bruny Island from Hobart?
What: Full Day Bruny Island Cruises Day Tour from Hobart.
When: On various dates.
Where: Embraking from Franklin Wharf, Hobart.
Time: Departure time is early morning at 7.45 AM.
Tickets: Purchase from FeverUp.
Ankita Barman is an enthusiastic individual currently serving as a Content Writer Intern at ICY TALES. With a passion for storytelling and a flair for words, Ankita excels in creating engaging and compelling content for a wide range of audiences.
With their passion for writing, Ankita continuously hones their skills by experimenting with different writing styles, formats, and techniques. They embrace feedback and constantly strive to improve their craft, making them a valuable asset to ICY TALES' content team.