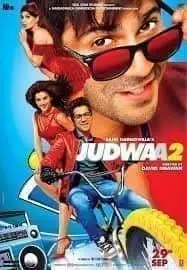 Almost two decades ago, Salman Khan had benchmarked his amazing comic performance in David Dhawan's Judwa (1994). And now after 20 years, Varun Dhawan is ready to get into the shoes of Salman Khan. The movie is nearing completion and the whole team is currently in Mauritius. Here are few things you should know about Judwaa 2.
Record of Remakes and Remakes
Before you get confused, you should know that Judwaa was a remake of Telugu movie Hello Brother. Ironically, Hello Brother was also not original, as it was a remake of Jackie Chan's movie Twin Dragon.
2. Cast
The cast of Judwaa had Salman Khan in a double role as Raja and Prem. Interestingly, David Dhawan has kept the role of Salman in Judwaa 2 untouched. This means Varun will be playing the role of Raja and Prem also. In this sequel, Jaqueline Fernandez and Tapsee Pannu are opposite Varun Dhawan.
3. Cameo
In order to maintain the essence of original Judwa, David Dhawan has managed to cast Salman Khan and his former co-star Karishma Kapur for the cameo of Judwaa 2. This has been possible also due to the close proximity of David Dhawan and Varun Dhawan with Salman Khan.
4. Is this a coincidence?
Salman Khan was exact 29 when he was cast in Judwaa by David Dhawan. After 20 years, Varun Dhawan is also 29. Is this merely a coincidence?
5. Denims
Salman Khan is so excited for Varun Dhawan who will be playing his role in the sequel that he gifted him a box full of his own denim which will help him in the movie.
6. David Dhawan returns after 3 years
After directing Main Tera Hero in 2014 which was also the Dhawan Duos product, David Dhawan stayed away from the director' hat for 3 years. He is a perfectionist in comedy films and promised to retain the same original flavor of Judwa.
7. The film begins with a devotional song shoot
The first segment of the film starts with a devotional song shoot which is dedicated to Lord Ganesha. Though Varun's look and the song have been kept under covers.
8. The chartbuster song to be recreated again
The song Oonchi Hai Building which was a hit in 1997 Judwa, is reportedly being recreated in this sequel. Let's see if this too becomes chartbuster song as well!
9. Varun's first double-role
Varun will be the first in his generation to play double-role. Double role is an achievement in every actor's life and it definitely takes his or her stardom to a whole new level.