As an affiliate-driven website, Icy Tales earns from qualifying purchases.
Deer might be sweet creatures that signify innocence and meekness, but they're definitely not friends for ornamental grasses and plants that one grows in their garden. In such cases, deer resistant flowers and plants may come in handy.
1. Deer: Symbols of Meekness
Deer are mostly found in deciduous forests, wetlands, tropical evergreen forests, pine forests and oak forests. These are known to be rather shy and modest animals and are proven to have a highly-developed sixth sense; they can detect danger from a great distance.
Deer have also been present in mythology, where they commonly represented a specific denomination of qualities, such as gentleness, kindness, grace, unconditional love and high levels of awareness.
Let's take a look at some interesting mythological references that included deer.
1.1. Deer in Myths
The best way to learn about the significance of something is through culture and mythology. Throughout mythology, deer were seen as beings that should be worshipped, as they were seen as symbols, and sometimes, even reincarnations of deities. They also brought in the pursuit of conquest, with the famous 'hunter chasing a meek deer' trope. All these concepts made deer a very famous choice of writers in literature and re-tellings of various myths.
1.1.1. Association With Goddess Artemis (Greek Mythology)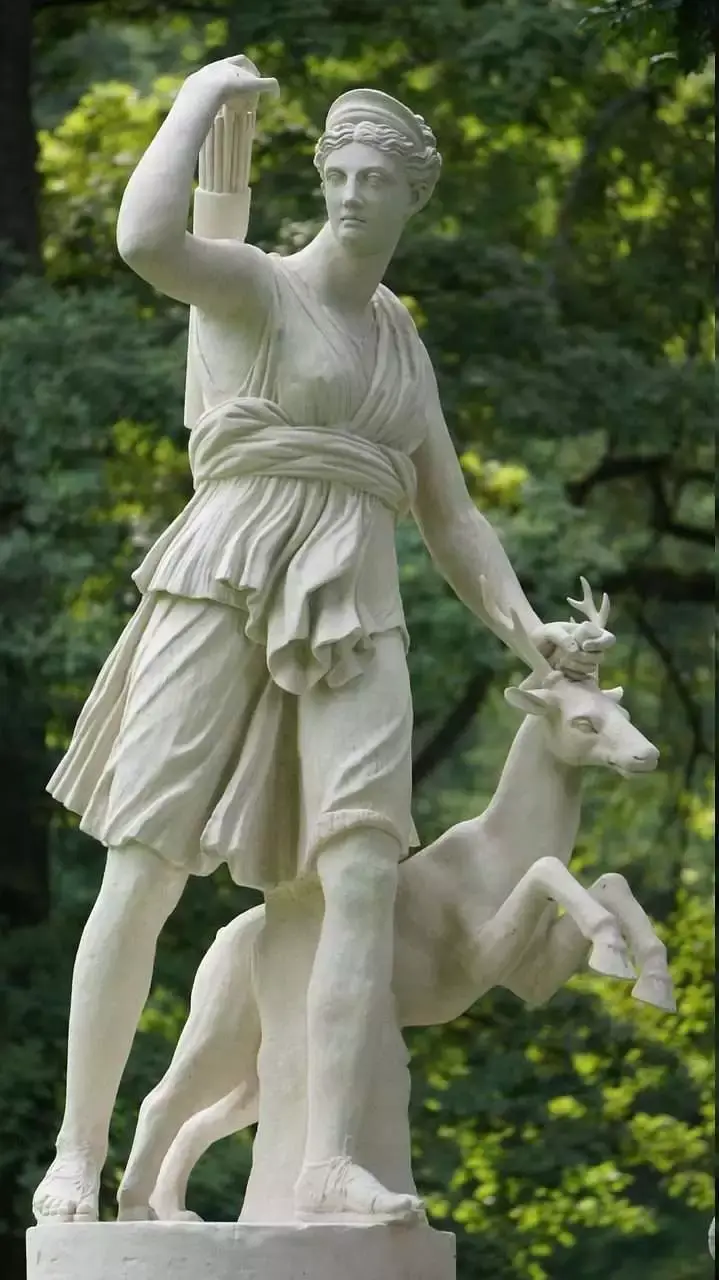 Artemis (Roman counterpart: Goddess Diana) was the virgin huntress goddess of the Greeks. Deer were seen as one of her symbols, and even as her disguise. The chariot of Artemis was also pictured to be pulled by deer. The most interesting story related to the goddess Diana is the story of Actaeon.
Actaeon was a hero of Thebes, who, according to myths, saw goddess Artemis naked while she was bathing in a forest. As a result, he was turned into a stag, after which he was torn apart to death by his own hounds.
1.1.2. Jataka Tales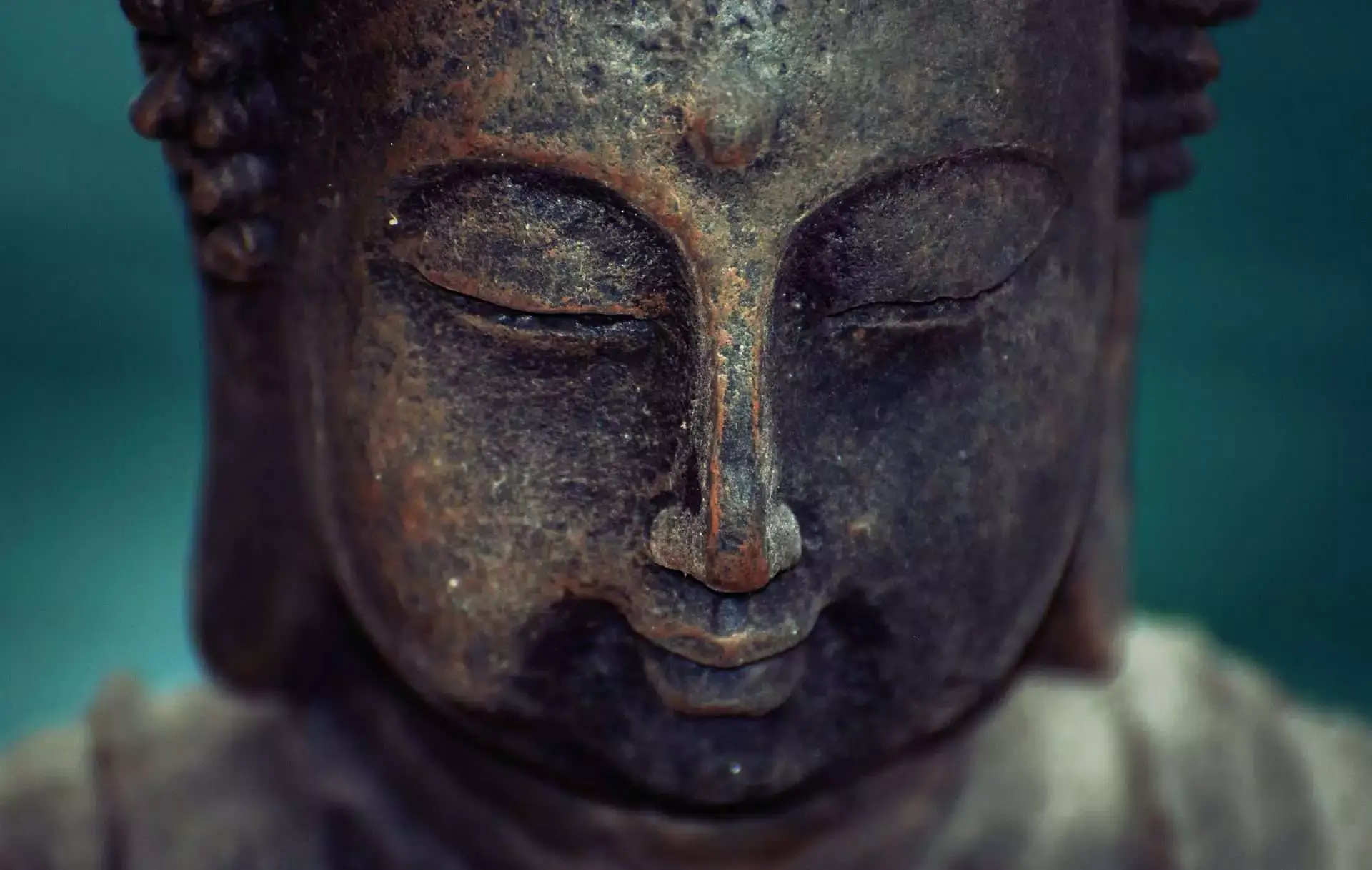 In Jataka Tales, which were comic series that revolved around the life and wisdom of Gautam Buddha, God Buddha was told to be reincarnated as a deer.
1.1.3. Native American Mythology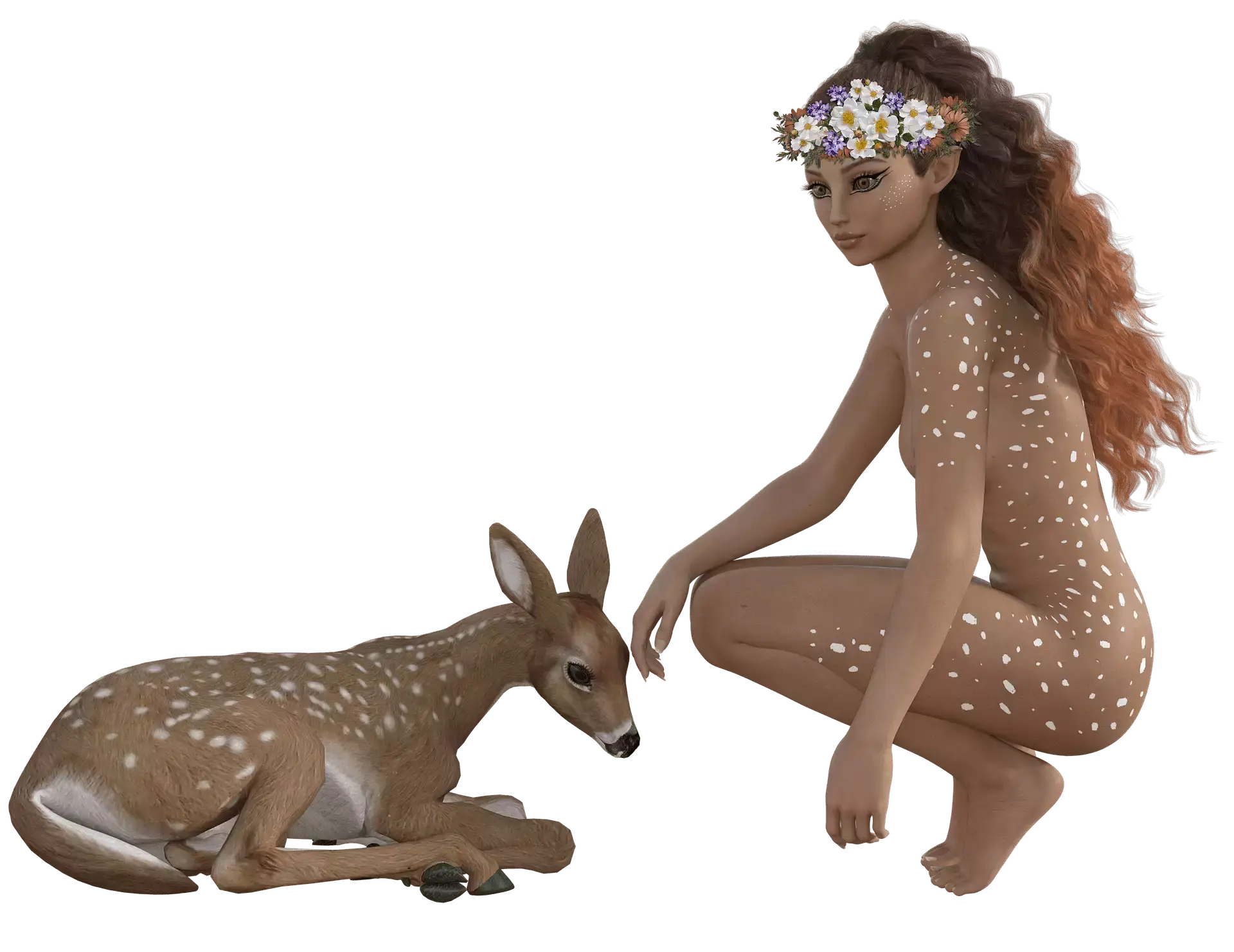 In native American mythology, the tale of the Deer woman is a very famous tale.
The belief revolves around the spirit of a lady, called the Deer Lady because she is pictured with either deer feet or the entirety of a deer.
The spirit is known to bless those who are kind and respectable towards women and children, showering them with fertility and love. On the other hand, towards those who disrespect women and children, she is known to be vengeful. She is said to lure such people into death traps.
2. Human Interaction With The Animal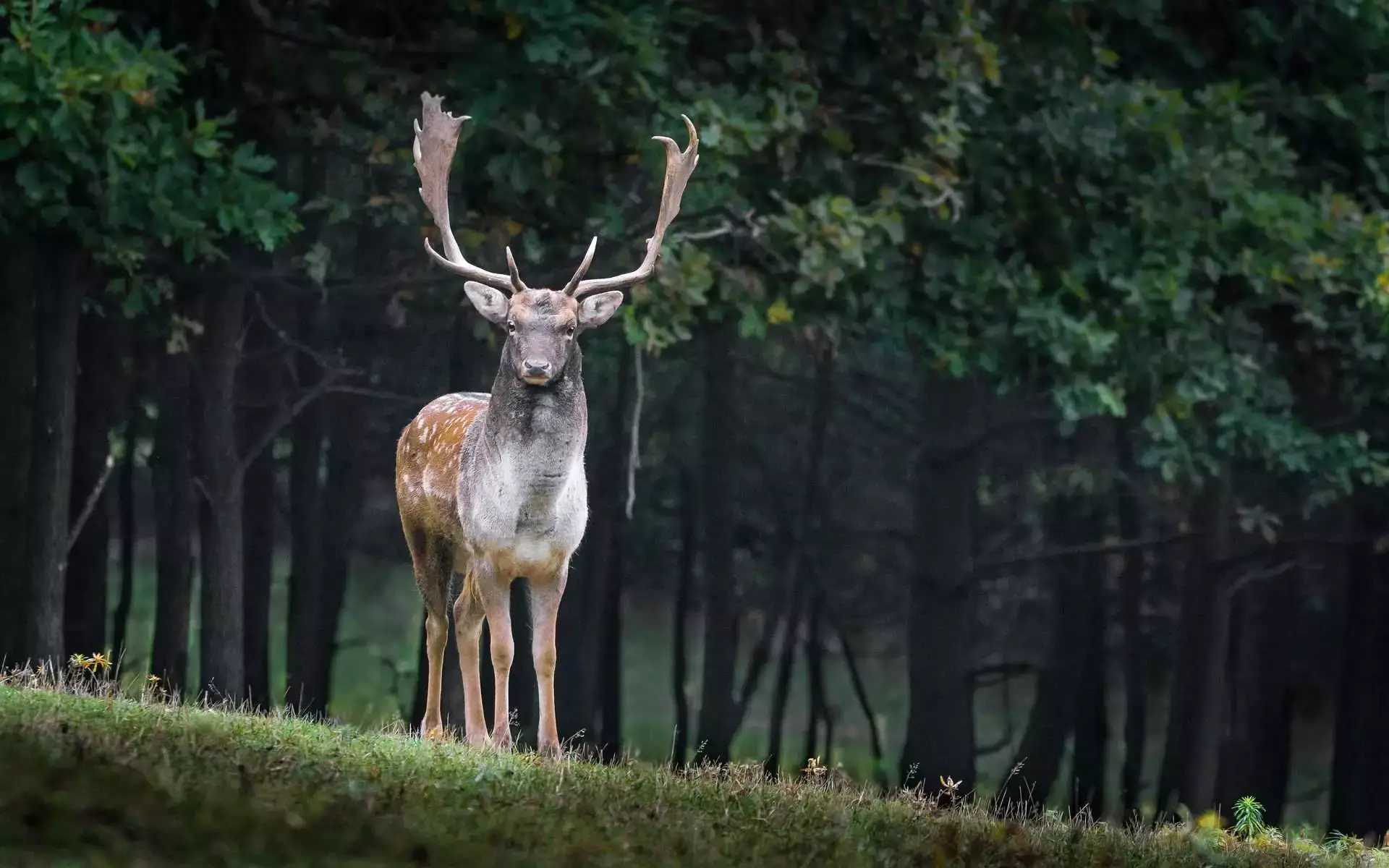 Human interaction with the animal, in the literal world that is away from mythologies, has not been too pleasant. It was mainly in pursuits of hunting, capturing or even killing.
While the animal is known to be meek, it still belongs in the wilderness. Thus, it just does not fit right with the human world. Every interaction between the two parties has somehow caused harm to at least one, which can be small-scale or large-scale.
Whenever deer have wandered to places that are inhabited by humans, they turned to be hurt, or hurt the property of humans. One such element of human property: is plants.
Since these animals belong in the wilderness, they are known to feed on plants. To steer clear of such problems, the advanced science of the time allowed us humans to understand what plants deer do not prefer or stay away from. Such plants keep places like gardens and fields safe from their intervention and resulting destruction.
Let's take a look at some deer resistant flowers and plants.
3. Deer Resistant Flowers and Plants
3.1. Daffodils (Narcissus)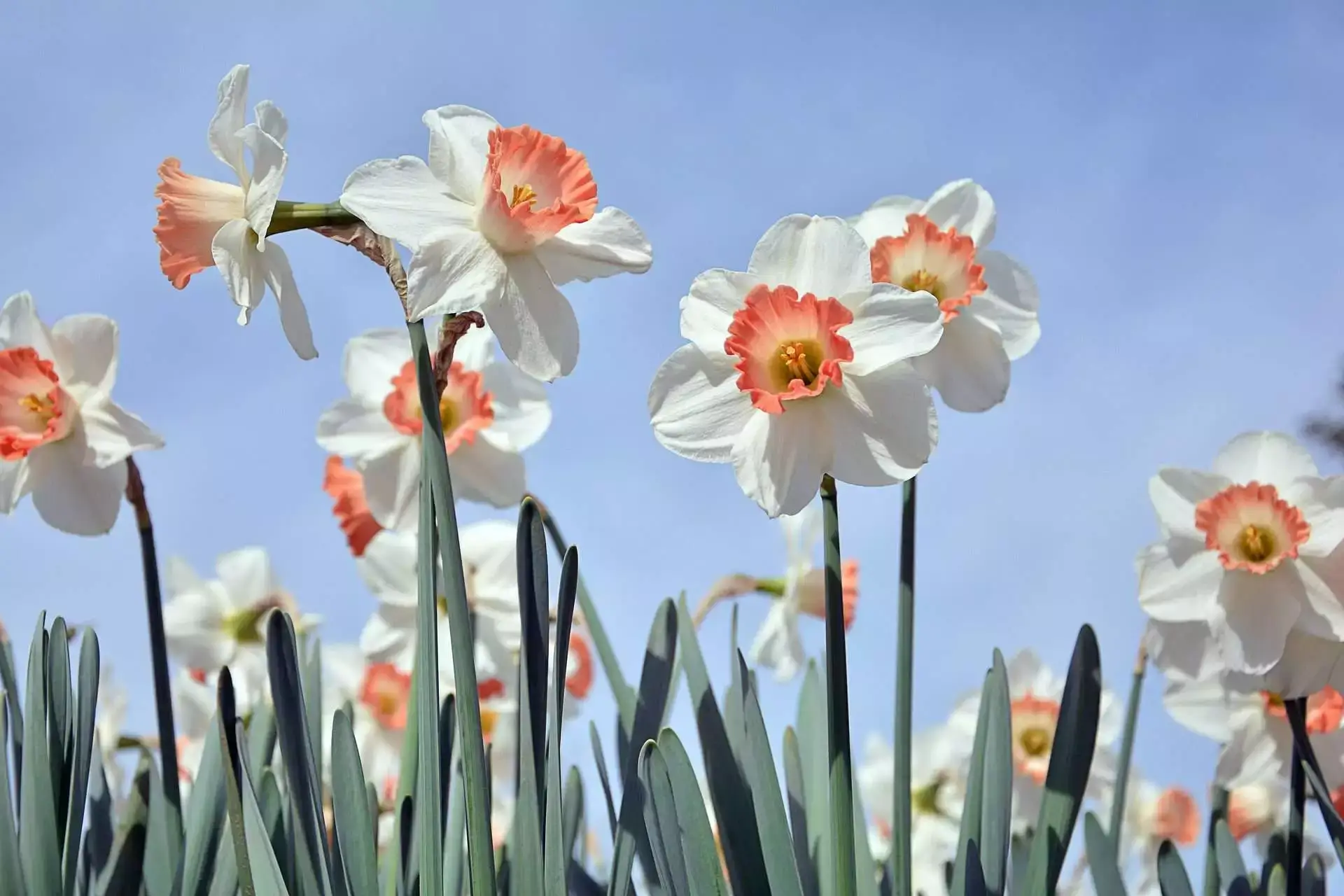 Daffodils are known to be the kings of deer resistant flowers and tubular blooms. These grow in full sun to part shade and need rich and moist soil to bloom in all their glory.
These flowers are toxic for deer and can make your garden deer-proof. Another plus point is their aesthetic value. They are available in many attractive colors like white, yellow, pink, red, lavender and blue, to name a few. Bright yellow flowers of the daffodils are still one of the most popular among the family.
Daffodils contain Lycorine, an alkaloid that is poisonous to deer and many other mammals. Planting these in your garden can help you by keeping the deer away and making it more beautiful since they're the best deer-resistant flowers.
3.2. Hyacinth (Hyacinthus Orientalis)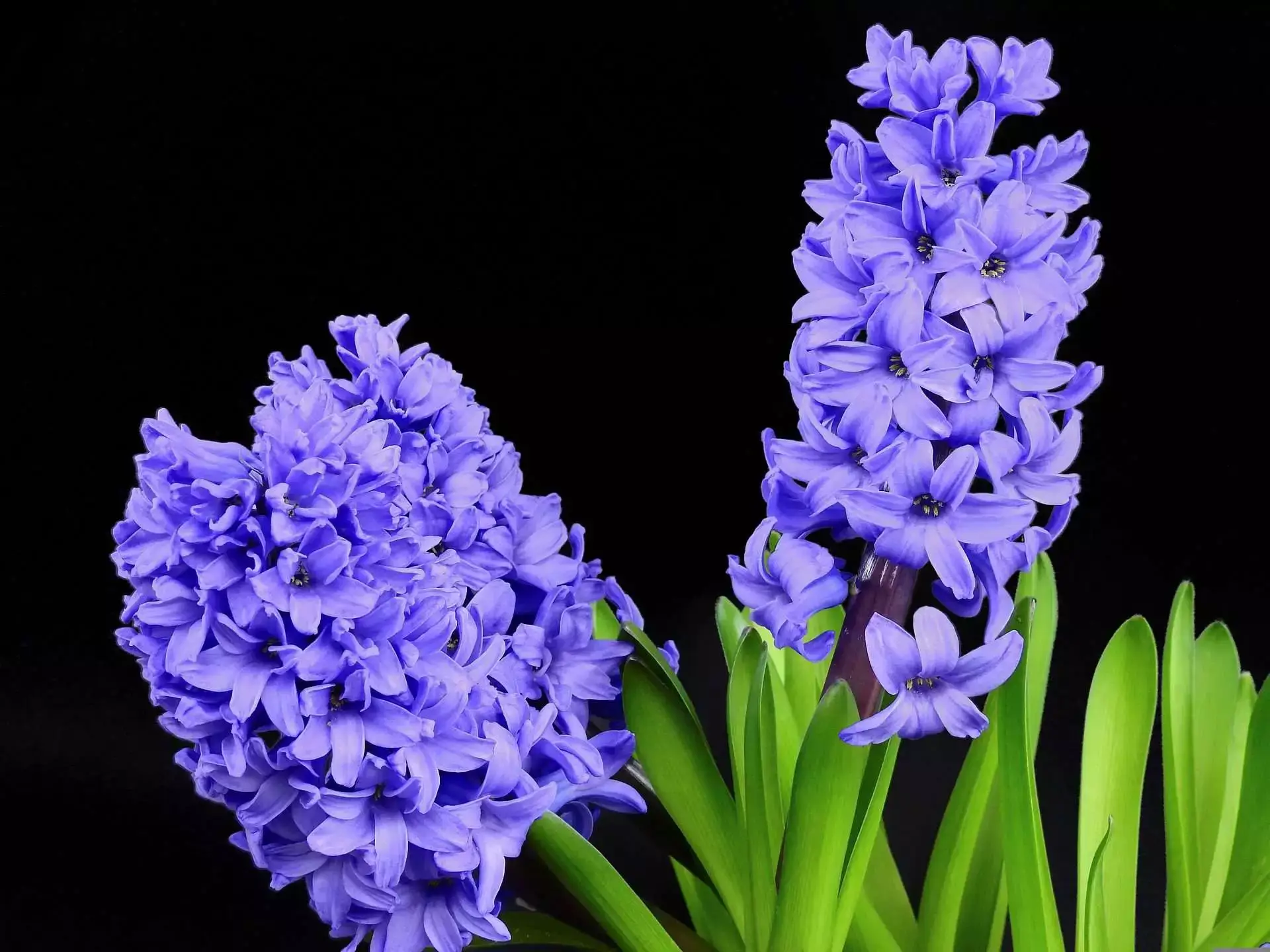 Hyacinths also fall under the category of a poisonous plant for deer. If you want to protect your glossy green foliage by keeping and even increasing the aesthetic value of your summer garden, Hyacinths can be a great choice.
These are also fragrant blooms and highly showy since they grow in clusters in numerous color varieties. The most famous remains the one with purple flowers and a strong scent. Deer don't like this deer resistant plant at all, so if you want to repel deer, these can be your way to go as these are one of the best deer resistant flowers and plants out there!
3.3. Bleeding Hearts (Lyre Flower or Lady's Mantle)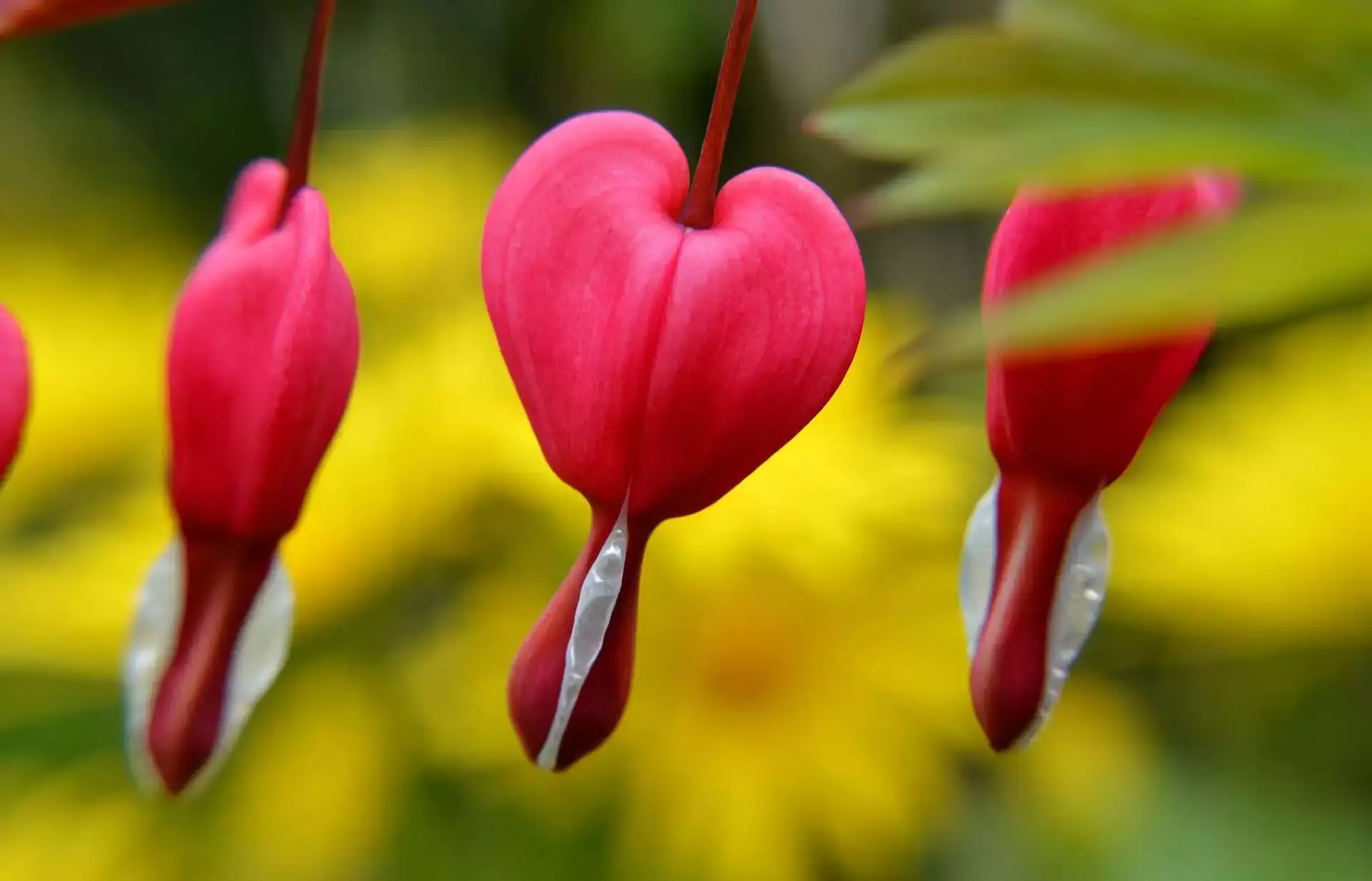 These heart-shaped flowers were considered to be a famous wallpaper choice in the time of Desktop computers. Well, no wonder, because these flowers are definitely unique and just too beautiful.
As the name suggests, these are heart-shaped flowers with a little drop-like structure at the bottom, making them appear as if they are bleeding. These are available in three varieties, red, pink and white flowers.
These can grow well in your shade garden since they prefer part sun exposure to light shade. They can also thrive in full sun if given high levels of moisture. These become dormant with warmth, meaning they do not bloom in late spring to early summer. These deer resistant flowers might have a bleeding heart, but they'll definitely make your heart whole!
3.4. Salvia (Salvia Officinalis)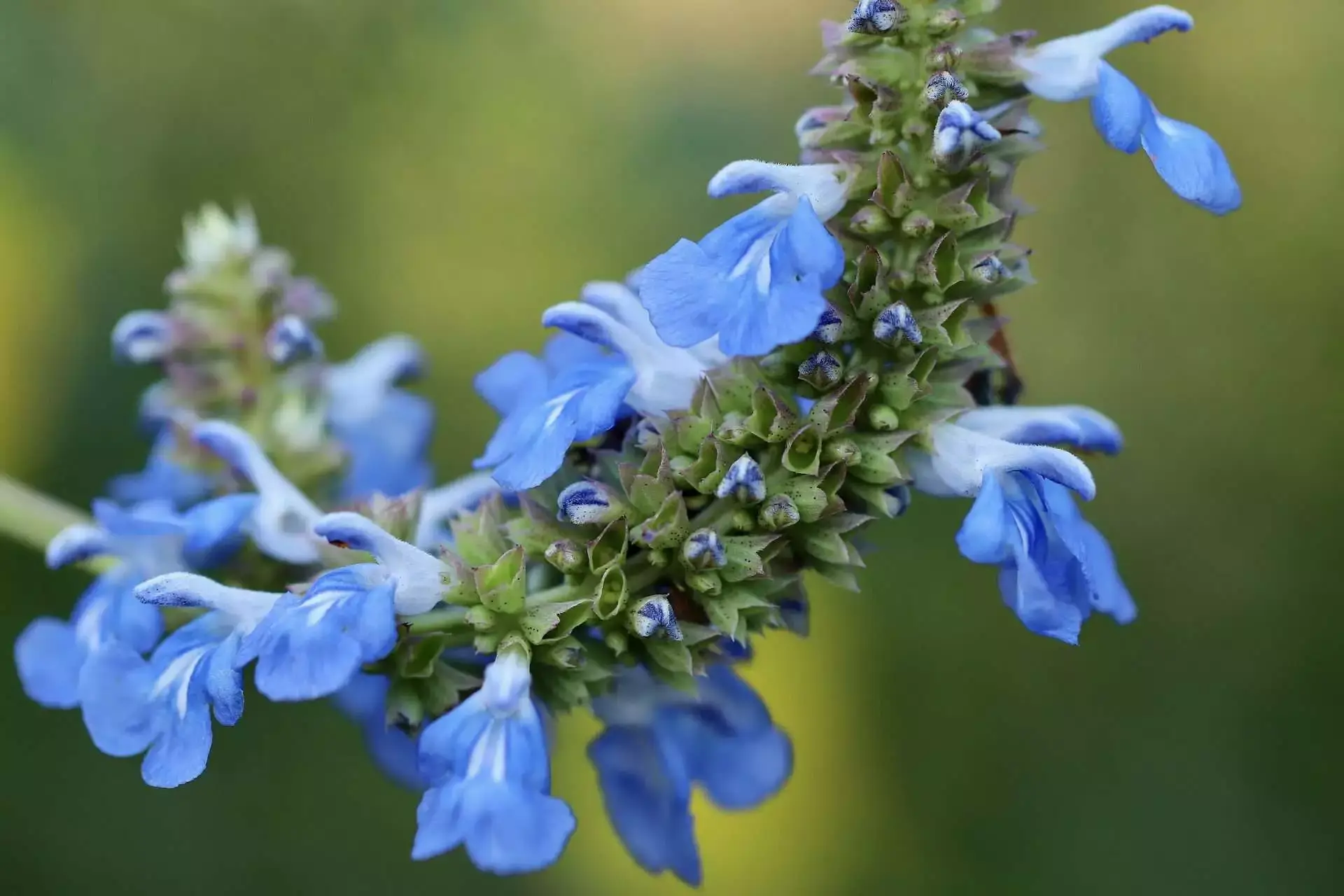 These deer resistant flowers grow in slightly acidic to neutral soil and thrive in full sun exposure. They bloom in summer, spring, and fall, and are like deer resistant perennials. These are also drought-tolerant and comparatively easy to propagate.
Salvia is the member of mint family. Thus, these blooms emit a strong scent, pungent for animals and pests. These also attract pollinators like butterflies and bees, making the place instantly more beautiful.
These are among the best deer resistant flowers that are annuals if you are choosing them as garden plants. If you are looking for more perennial varieties, those can be found as well, but in slightly lesser numbers. Deer hate them, but humans and pollinators don't!
3.5. Butterfly Bush (Buddleia)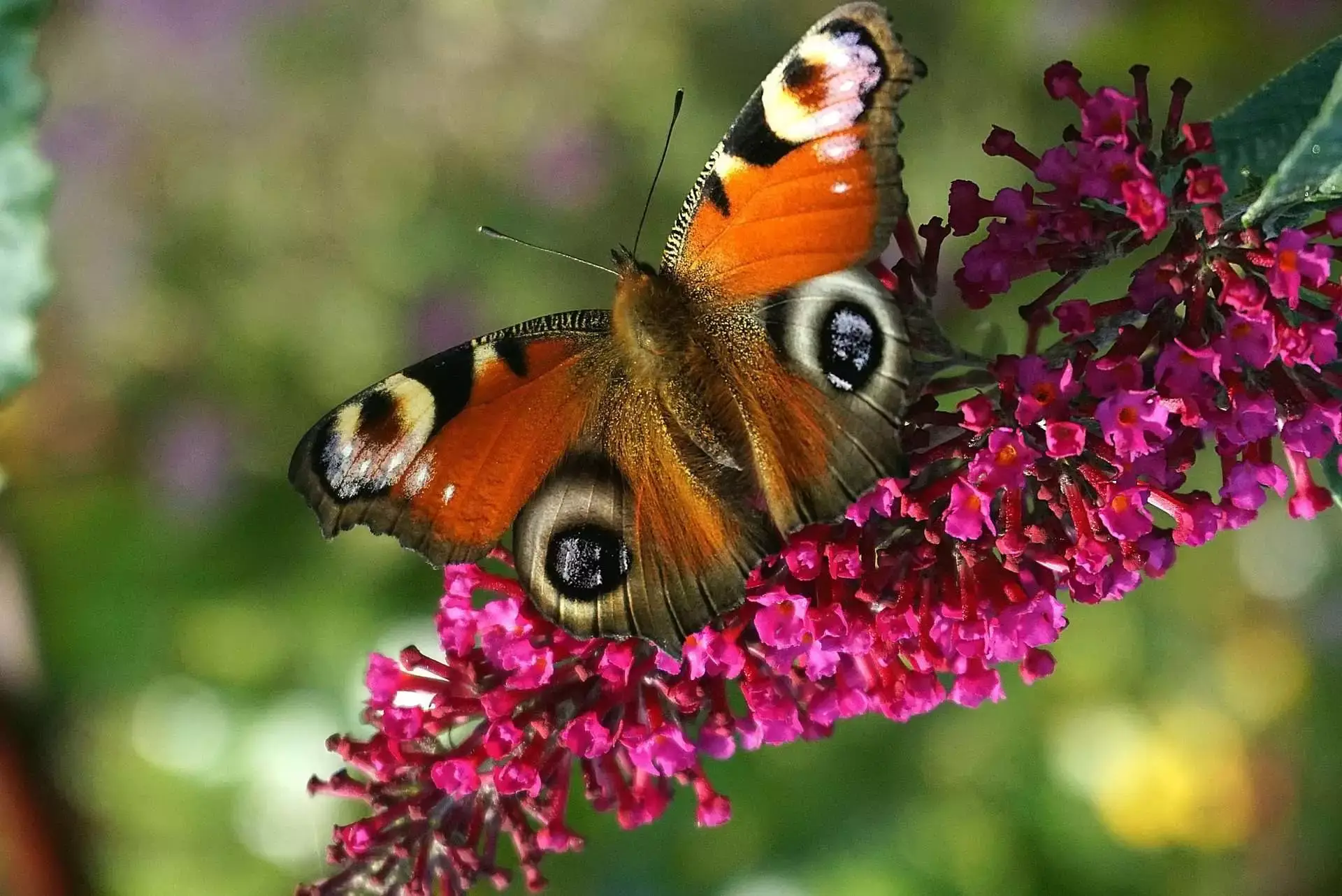 Butterfly bush has a beautiful summer bloom with colorful flowers, in varying and beautiful colors that attract pollinators. These are under the category of deer resistant flowers and plants and can be planted at the edge of bushes to prevent deer interaction.
It is best planted from spring to fall since it does not like cooler weather and prefers a nice full sun. These are honey-fragrant blooms that grow in well-drained soil and can grow to be about 2 feet tall. They thrive in hot climates. These are also available in dwarf varieties.
Butterfly Bush can be a very good choice if you are looking for plants that deer tend to avoid. On the plus side, they increase the beauty of your summer garden since they attract loads of pollinators and have colorful blooms!
3.6. Dusty Miller (Lychnis Coronaria)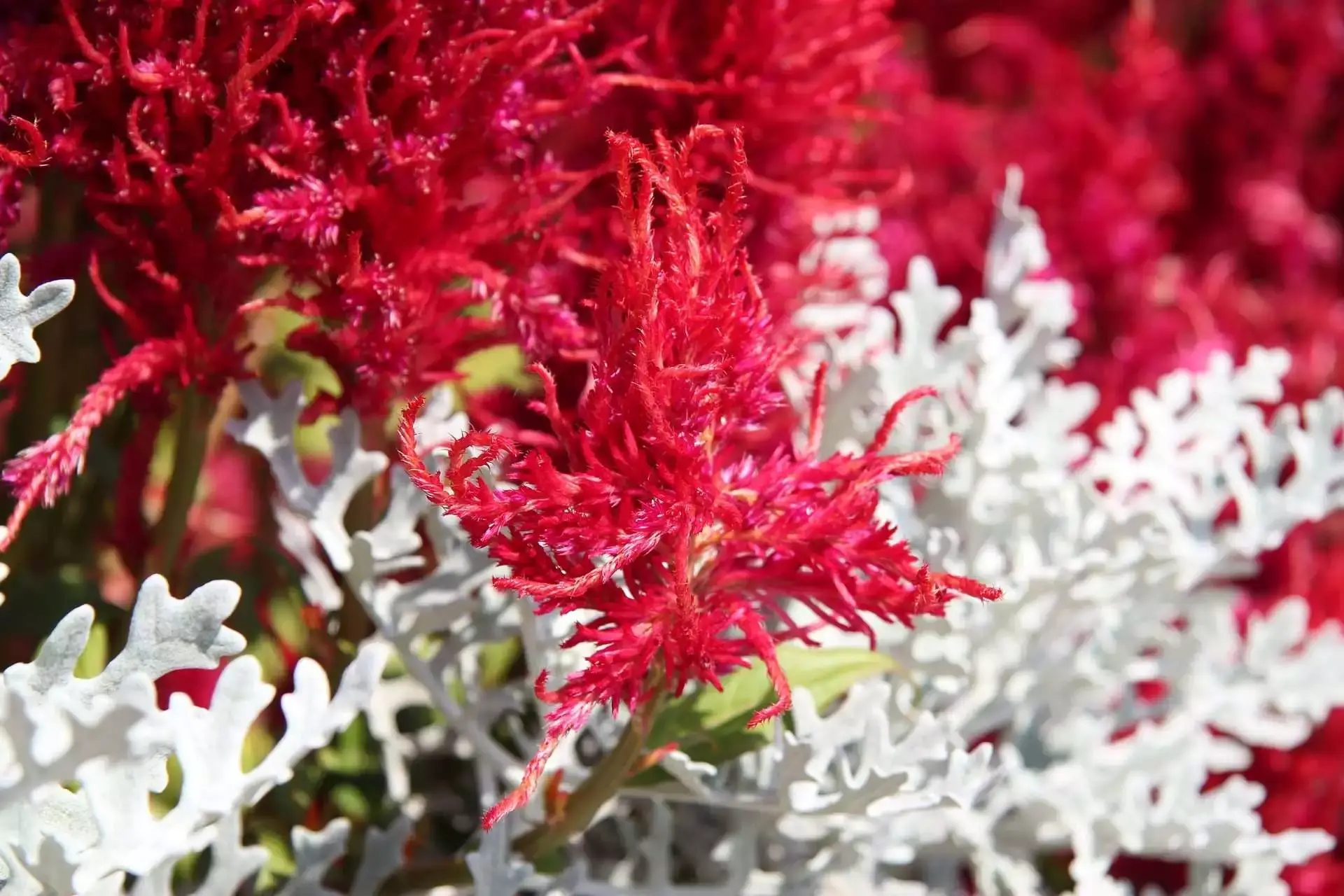 The foliage of Dusty Miller is best observed in mid to late summer, which is their blooming period. It can be planted in the afternoon shade garden and keeps the color in the garden alive with its yellow but not too showy flower blooms.
Their leaves grow in unique silvery foliage, which can be useful in toning down other loud blooms and can sometimes also stay alive in areas that have somewhat winter interest. These thrive in acidic to sandy loam soil, which must be well-draining soil to avoid rotting of the roots.
The texture of Dusty miller is also a unique one: its leaves are described to have a lacy and fuzzy texture, which can directly provide a variation to your garden. Another plus point of this plant is that it is resistant to almost every bug or plant disease.
It is mostly planted as a background or supporting flower with petunias and other ornamental grasses. It is also drought-tolerant and can be a good choice for your garden. Their fuzzy leaves are highly deer resistant, and will protect your hanging baskets and garden from deer eating and make them more beautiful to look at, at the same time! If you're looking for good deer resistant flowers and plants, this one can be an interesting and unique choice.
3.7. Russian Sage (Perovskia Atriplicifolia)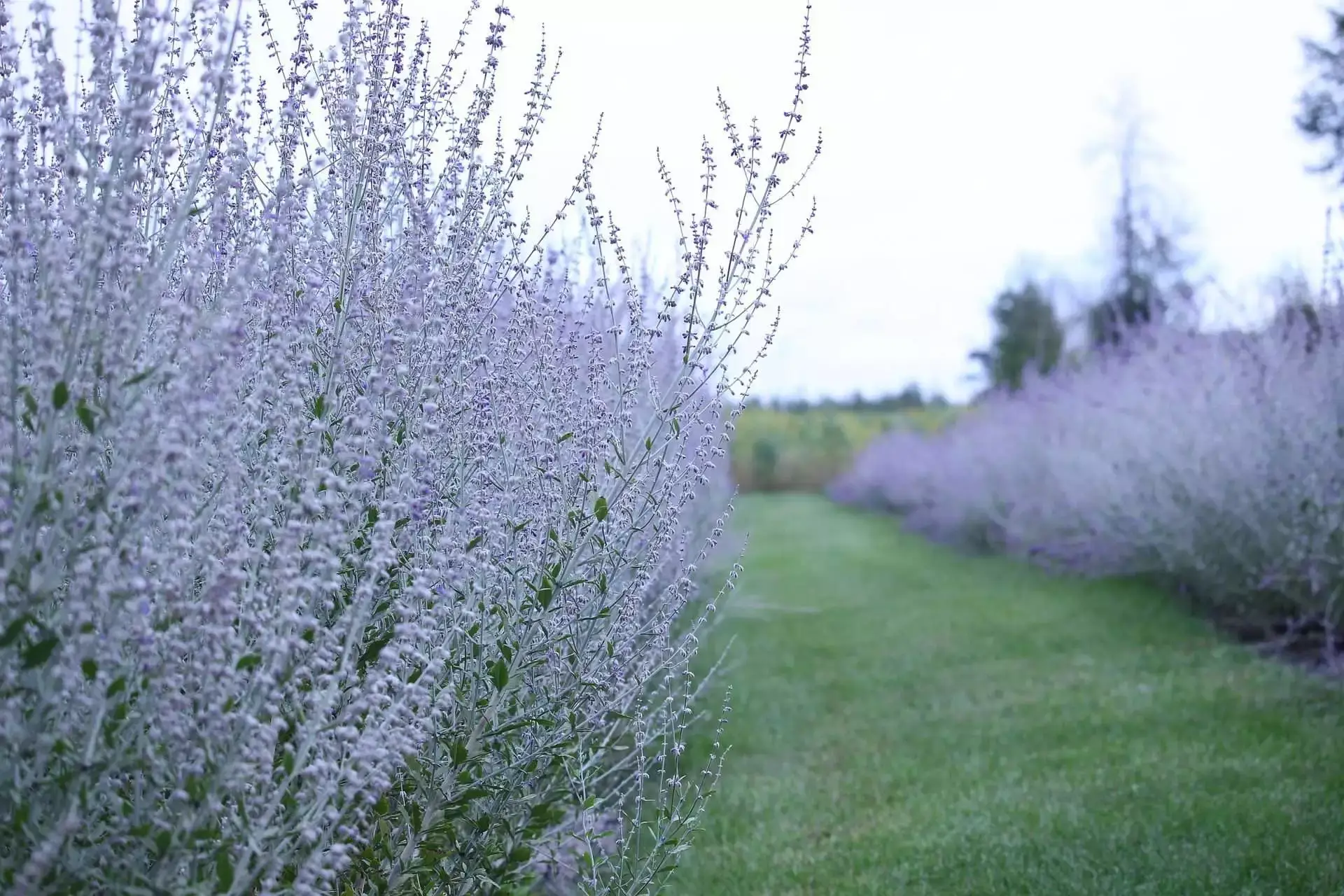 This drought-tolerant perennial plant is famous among gardeners, for its silver stems, grey-green leaves and blue blooms. The appearance of the plant is very gradient-y, with grey at the bottom to blue at the top. Russian Sage is an ornamental plant which thrives in full sun and sometimes in partial shade as well, with well-draining soil. The rigid outlook and the sage fragrance make it a popular choice for structuring bouquets and flower bunches. The sage fragrance is also what makes it different from other herbaceous perennials.
This beautiful plant blooms from late summer to fall and also adds to the beauty of the place by attracting pollinators. It also falls under the category of toxic plants for deer, so just plant these, sit back, and enjoy the beautiful blooms without any care in the world!
3.8. Flowering Tobacco (Nicotiana Alata)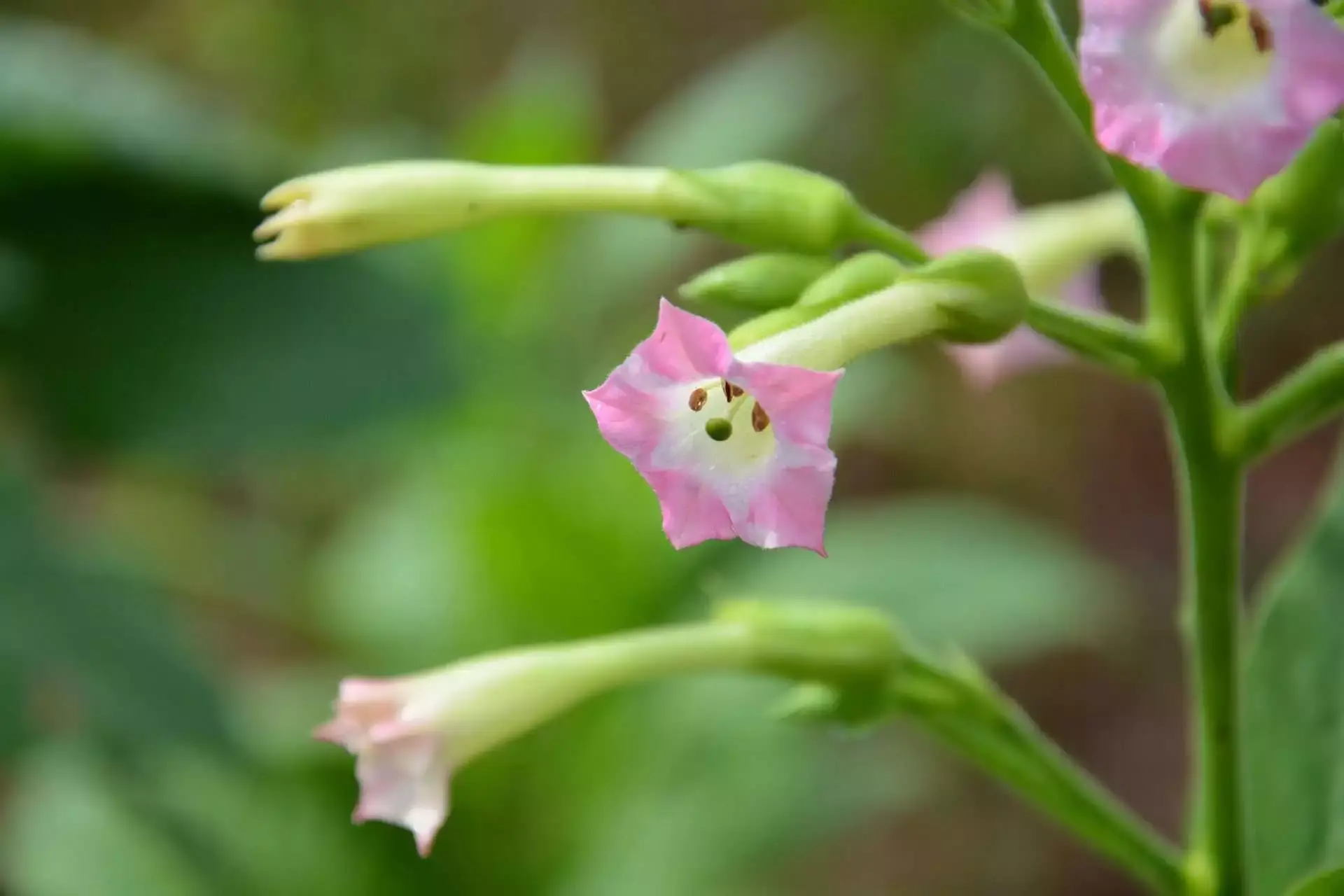 The starry blooms of this distant relative of tobacco will surely win your heart! Flowering tobacco is an annual plant known for its beautiful colored blooms and fragrance. The species of this plant is highly diverse; it is available in a large number of colors, sizes, fragrances and flower shapes, which makes it a popular choice.
Flowering tobacco grows best in well-drained and most soil types and is also drought-tolerant. They prefer full sun exposure, but the taller varieties thrive more actively in partial shade and can last till early fall. These are also pest-free, and generally do not require much care in that context. The reason for this might be that they are not safe for ingestion, which also makes them pest and deer-repellent. The variety of colors available and their deer resistant flowers make it a popular choice for cottage gardens.
3.9. Bee Balm (Monarda)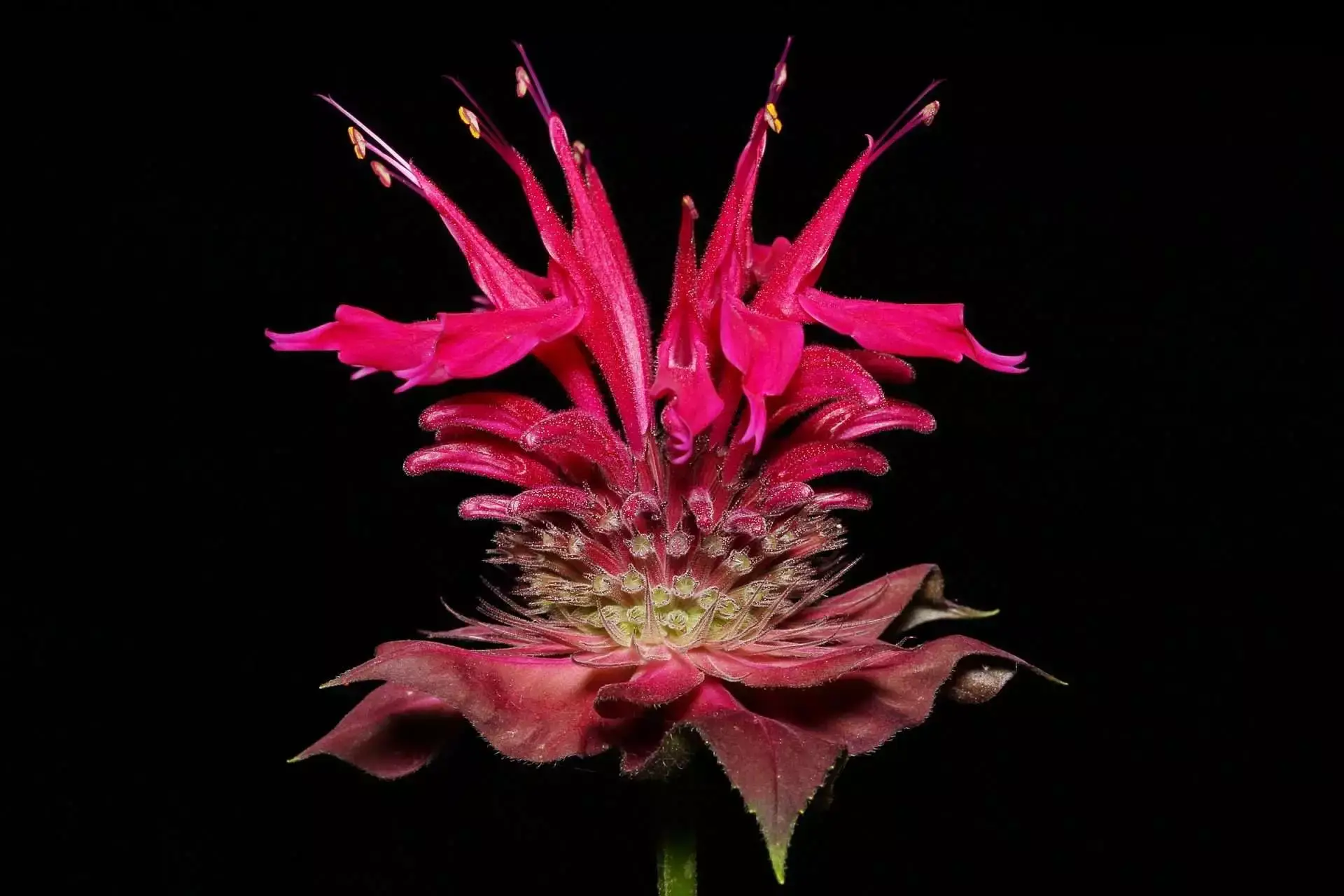 This beautiful plant which is available in a variety of colors has a blooming season of mid to late summer, with a perennial nature. It is highly attractive for pollinators and thrives in full sun. It requires well-drained soil with neutral pH levels. Though it is sensitive to the fungus known as powdery mildew, which can be prevented by planting in airy and open spaces with good sun exposure.
Bee Balm is a member of the mint family, which gives it a strong yet calming fragrance and promotes its usage in herbal teas and garnishes. It is safe for human consumption but prevents deer damage as they are among the deer resistant flowers and plants. It survives well in cold climates as well, with required changes in care.
3.10. Ornamental onion (Allium)
These close cousins of onions will definitely add to the aesthetic value of your garden, apart from making it deer-proof. The star-shaped flowers of Allium grow in small clusters in a dome-like shape. These are also drought-proof and survive well in a cold climate. These are not edible, but provide an onion-like smell if the dried flowers are crushed.
Ornamental onion grows best in well-draining soil with full sun or partial shade, and blooms from early spring to fall. They prefer slightly acidic soil and do not require frequent watering. The foliage of this plant remains beautiful and attractive throughout the year and is observed in diverse varieties. The common varieties have purple-colored flowers and short height. Since rodents and deer hate them, they will keep your garden safe. These might not be a part of vegetable gardens like their cousins, but they're active participants in others because they are aesthetic and among deer resistant flowers!
3.11. Elephant Ears (Colocasia)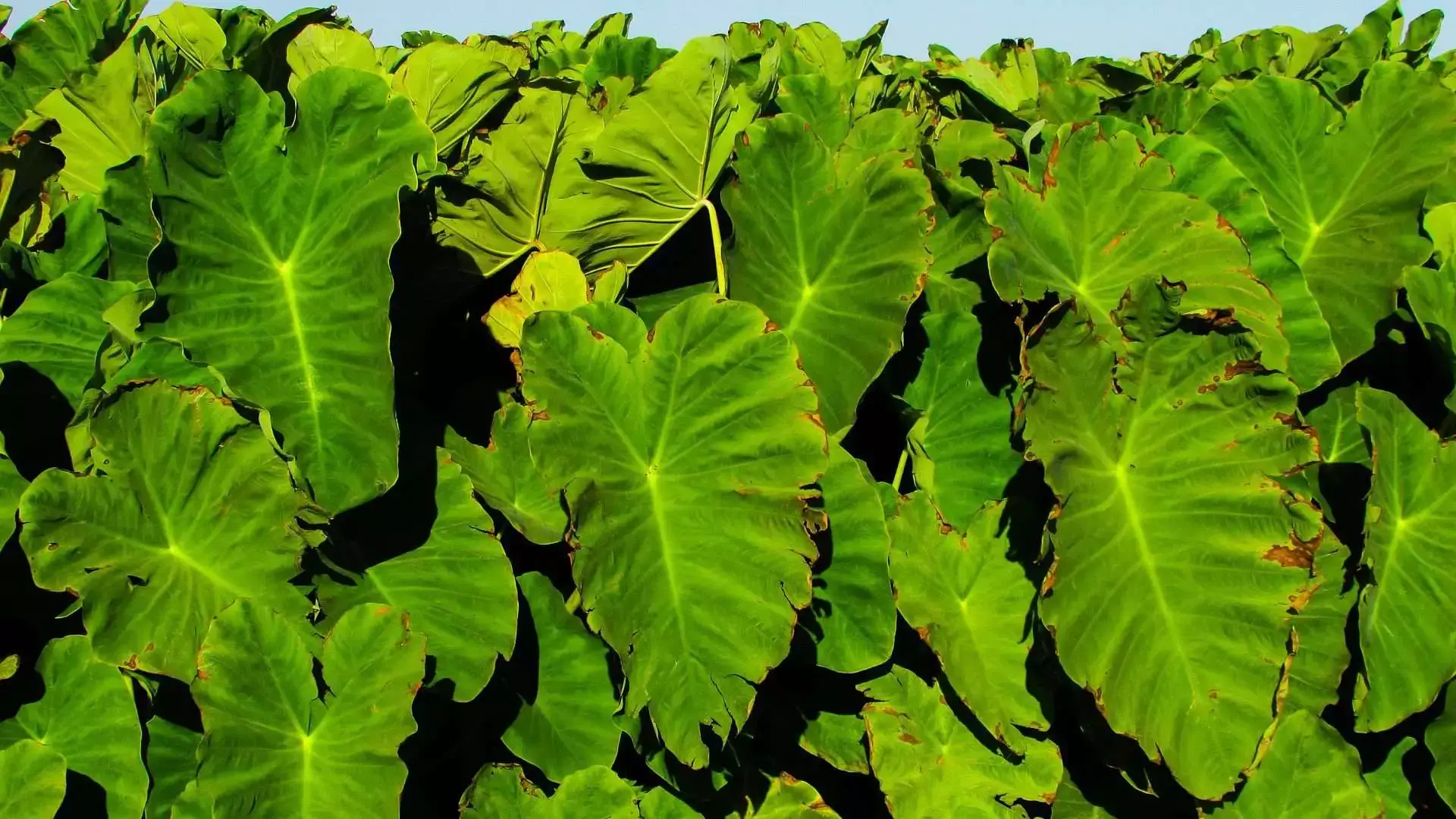 This plant will give a tropical look to your garden. The huge leaves of this plant and the variety of colors it is available in make it very popular among background plants, which are commonly grown around ponds and walkways.
These thrive in moist and acidic soil and prefer partial shade, but can survive in full sun as well. They, however, do not do well in colder regions.
It is native to South America and is available in many attractive colors like pink, red and green. This variation in colors can fit well in your garden and increase the beauty of your garden throughout the year, along with making it safe, since these are deer resistant flowers that are annuals. These are not safe for ingestion by animals, since their leaves and stems contain Oxalic Acid (ethanoic acid), so animals stay away from them.
3.12. Snapdragons (Antirrhinum Majus)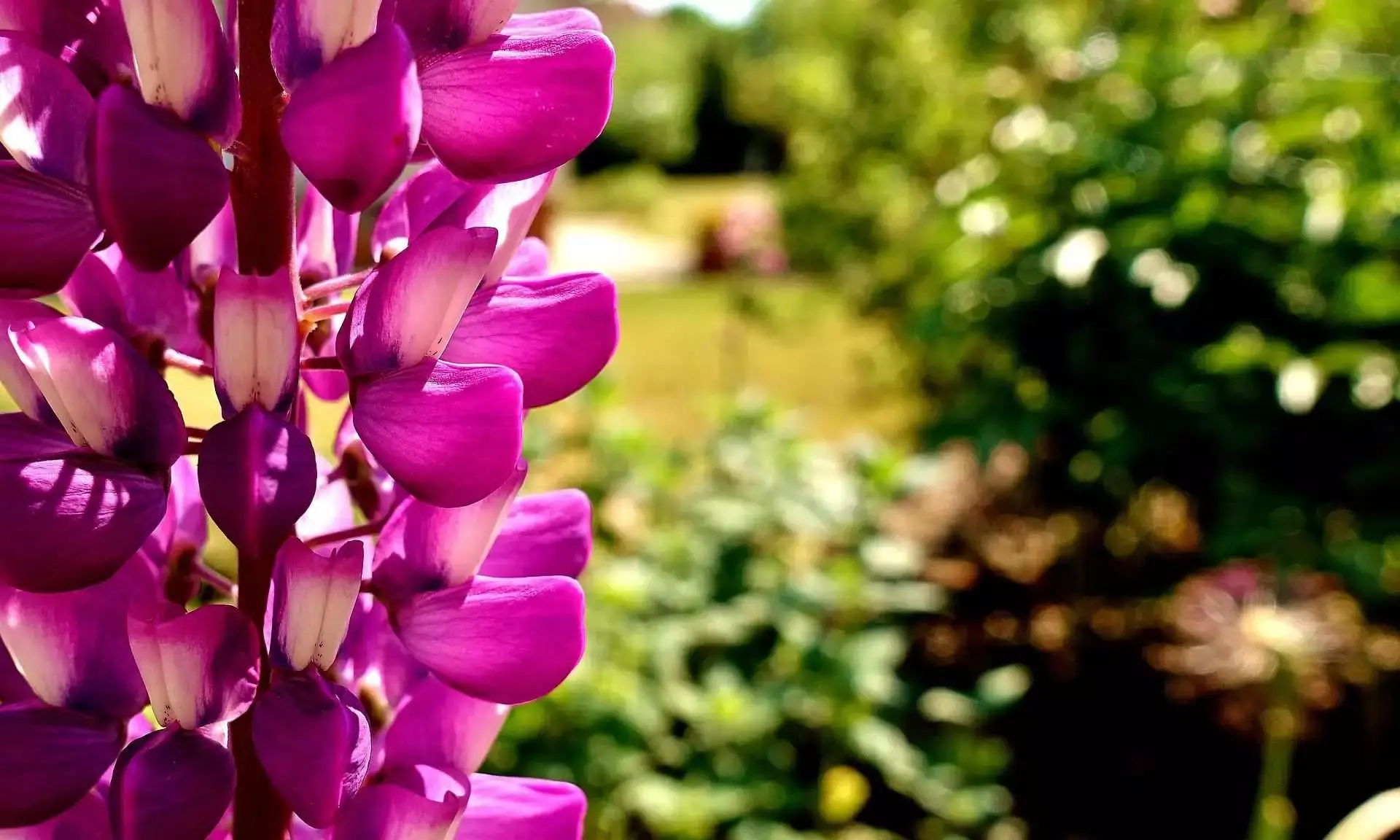 These deer resistant flowers are annuals and gain their name from the shape of the flower, which is said to resemble the nose of a dragon. They attract several pollinators, the majority of which include bumblebees.
Snapdragons have very concentrated colors, which quickly makes them the star of the garden. They grow well from early spring to late fall, and prefer full sun (though, can grow in partial shade as well).
Snapdragons bloom repeatedly from spring to fall and are easy to take care of as they do not require much of your attention, but are slow bloomers. They do best in rich and well-drained soil and repeat bloom throughout the season.
Sometimes, they can go dormant in hotter times of the year, but with proper care, they can bloom then as well. These make it well in the top deer resistant flowers and plants. They keep the deer away as they are counted among deer resistant flowers and plants, but bring color and beauty to you.
3.13. Lily of the Valley (Convallaria Majalis)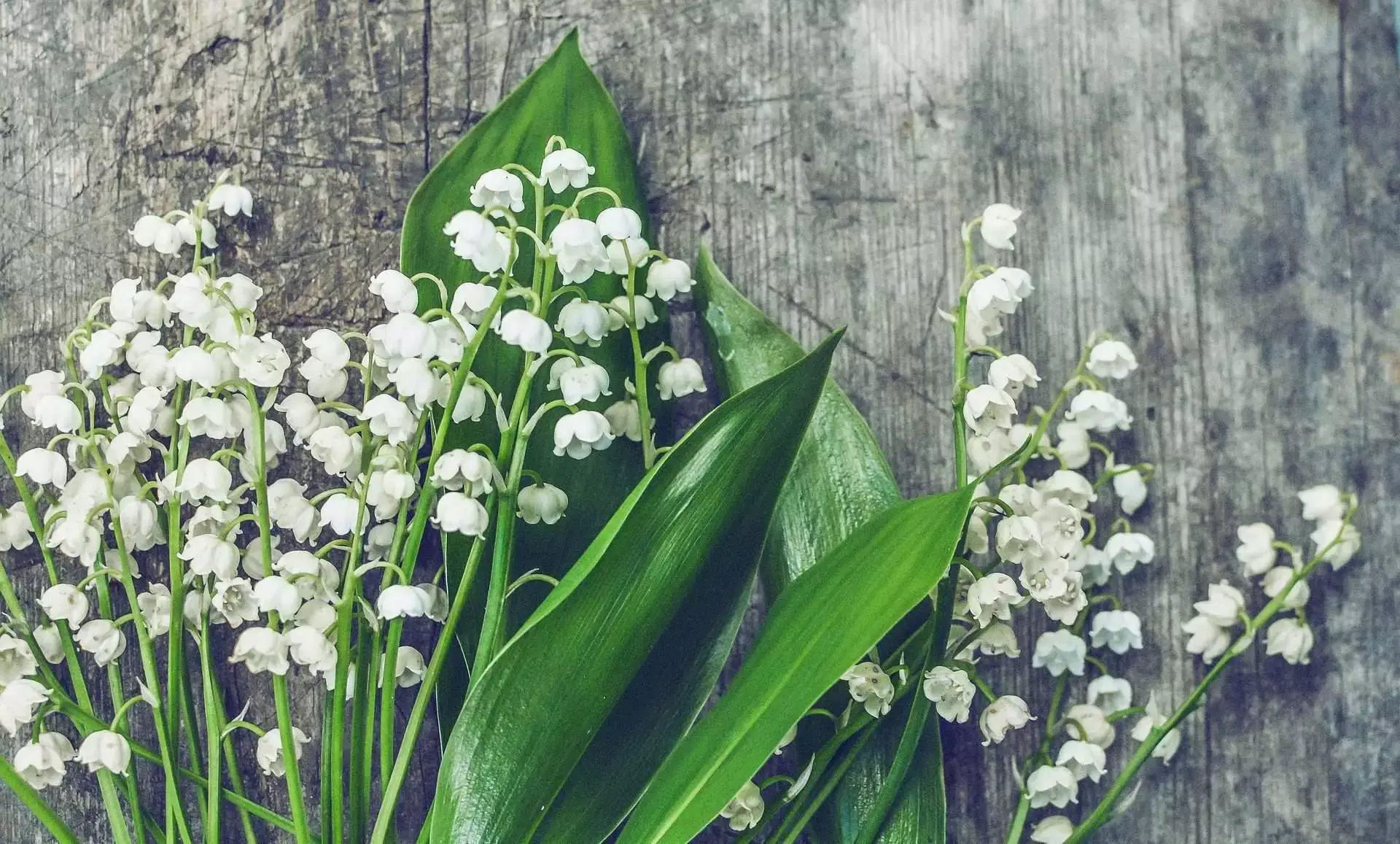 These highly fragrant deer resistant flowers are noticeable from early summer and stay around till fall. These are comparatively very easy to look after as long as they receive a good amount of moisture. Thus, they prefer rich soil in partial shade to bloom in all their glory. These are also available in a variety of colors, from white to pink.
Rodents and animals, especially deer tend to avoid Lily of the Valley as it is poisonous, and not safe for ingestion. The variety of flower colors and sizes make it a popular choice, and it safeguards your garden as are counted among deer resistant flowers and plants.
3.14. Bearded Iris (Iris Germanica)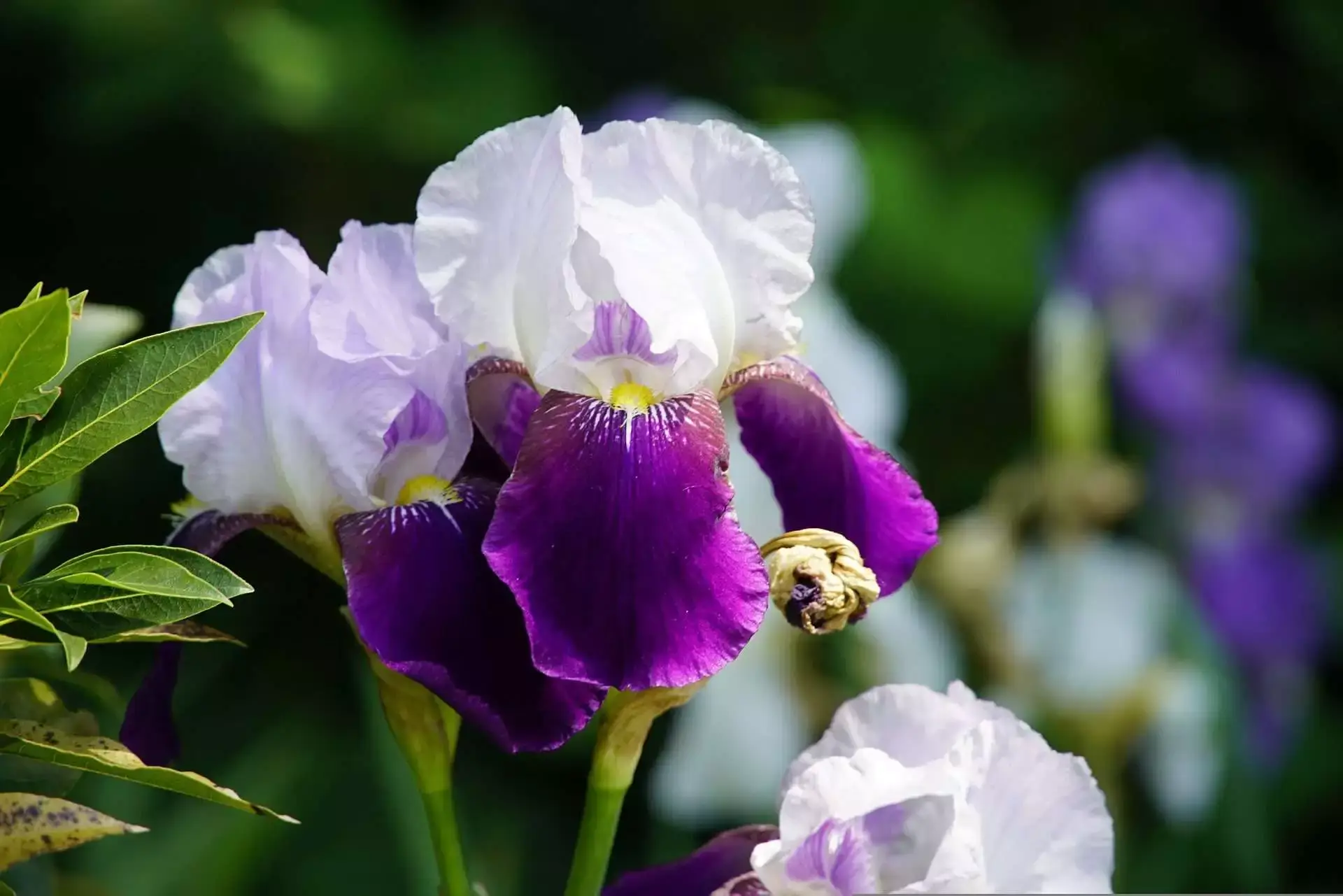 This herbaceous and perennial plant likes full sun and grows well in well-drained soil. It blooms from spring to fall and is available in a huge variety of colors. Some species also show bi-colorism. It is toxic to animals like various other plants in the herbaceous varieties. These are easy to grow, as compared to other iris varieties.
These plants do not like mulches, heavy clay soils and shade; they can develop diseases or rot in such conditions. Thus, they prefer the full sun to melt away dry excess moisture.
These are commonly propagated via the cross-pollination method. Its foliage is said to be sword-like and is called a 'bearded' iris because of the hair or 'beard' that grows at the centre of the plant. This beautiful plant will win your heart, but will be an enemy to deer and other animals since it is counted among deer resistant flowers and plants!
3.15. Floss Flower (Bluemink/ Ageratum)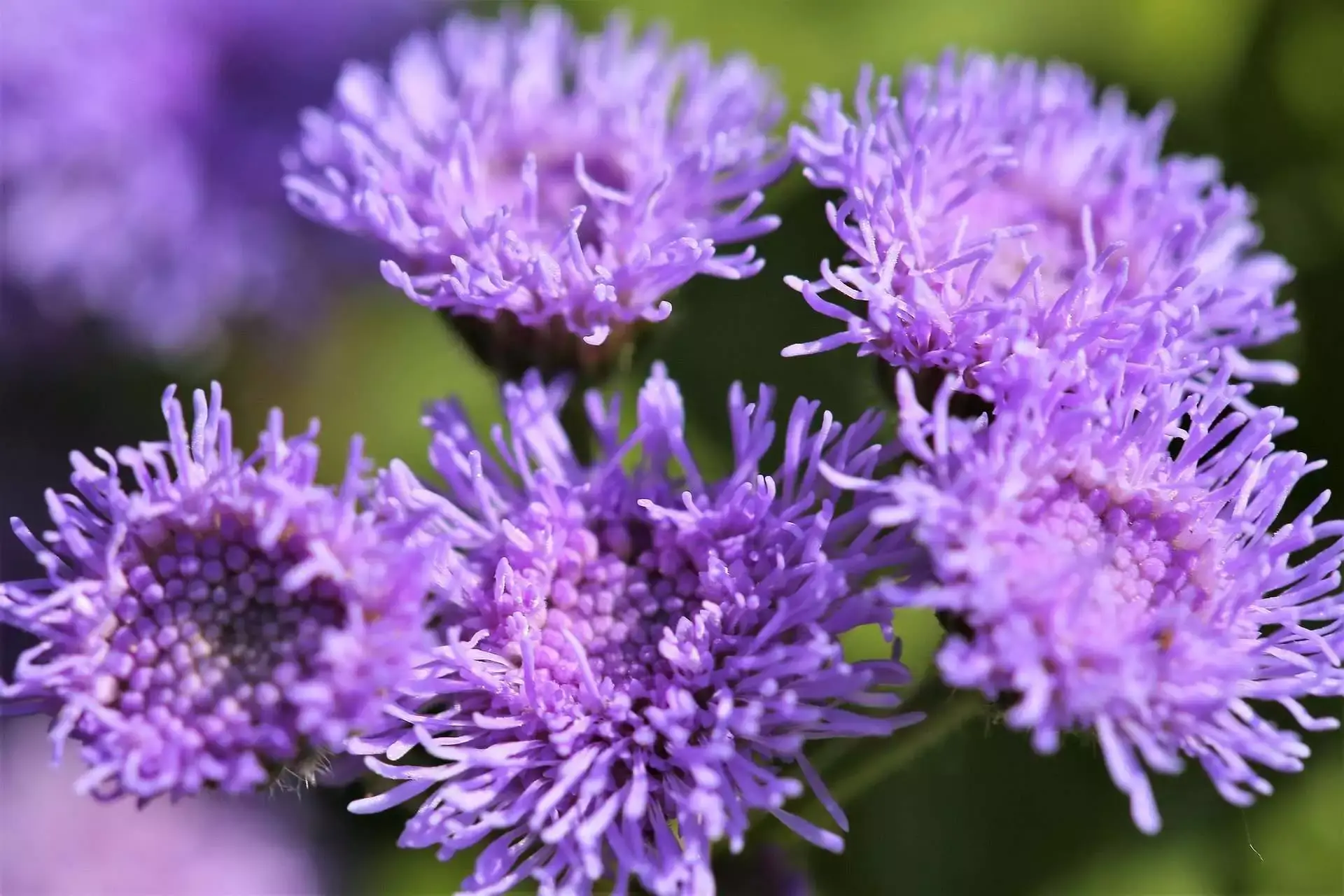 This species of deer resistant flowers is loved by gardeners for its rare color: blue. While this might be a common color otherwise, it is a spectacle hard to find in the plant kingdom. It is among the deer resistant flowers that are annuals which prefer full sun to partial shade and bloom from late spring to frost. They have floss-like petals which glow in clusters of various eye-catching colors.
These have lance-shaped leaves and blue-purple flowers which bloom best during late summer and early fall and grow best in properly drained soil. It can be sensitive to fungal diseases, thus should be planted in full sun in late summer, in airy parts of the garden.
Floss Flower is toxic to ingest, including it in the list of deer resistant flowers and plants. The whole plant can be poisonous; therefore, pets, rodents and other animals like deer stay away from it. Sometimes deer eat poisonous plants as well, in extreme desperate conditions, but otherwise, these can safeguard your garden very well.
Final Note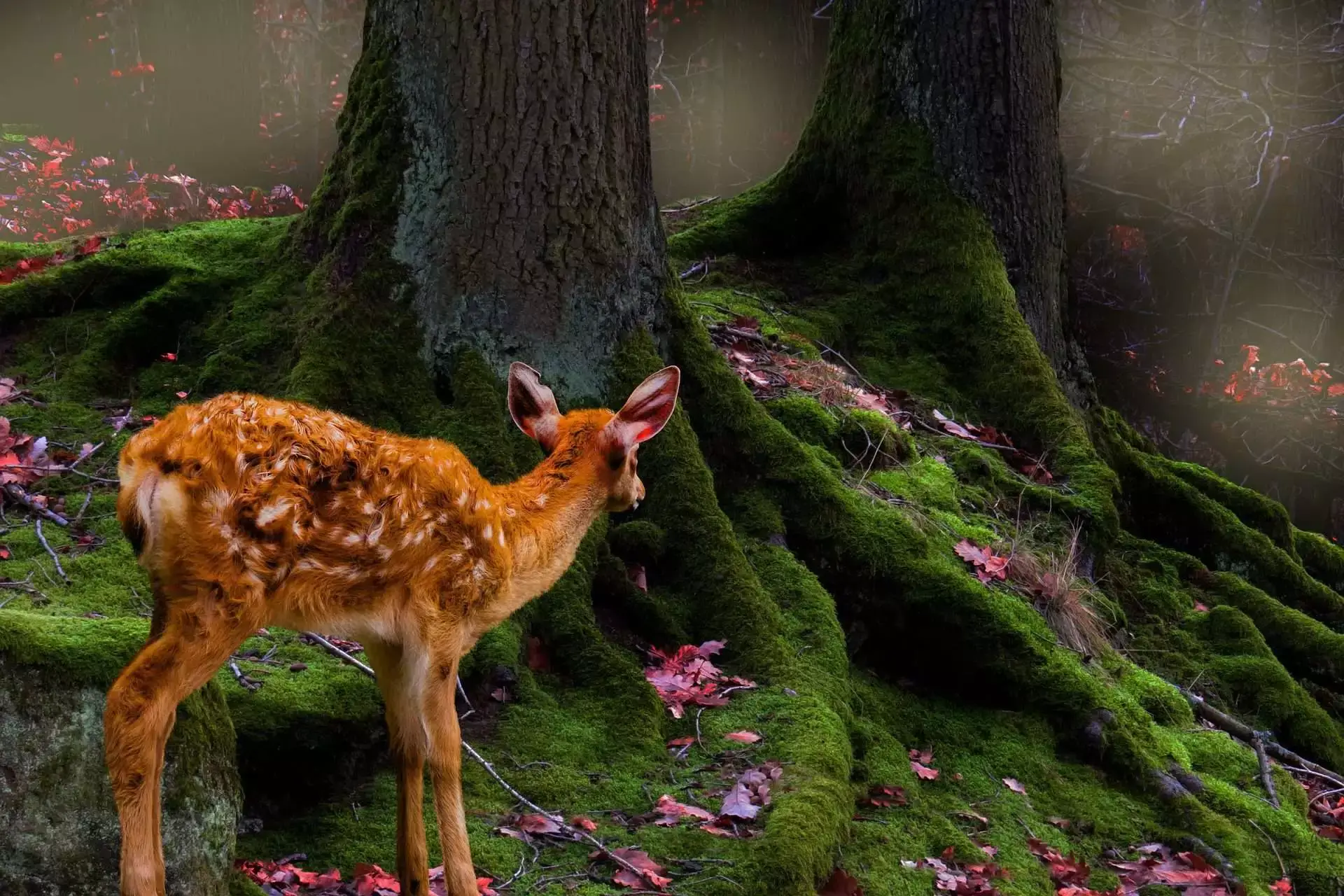 Deer might be meek animals who have been unnoticeably present in the history and the mythology of various cultures, but their lives certainly do not line well with the human world. Upon human encounters, it can be a matter of life and death for them.
But if we flip the condition, deer can be threatening to human life as well. In many areas, if they wander off to human-inhabited regions, they can trigger many accidents and harm live, be it unknowingly.
They can also harm human property for their own survival. Deer are known to feed on plants since they are herbivores, but these plants can sometimes be those which are deliberately grown and loved by humans. In such cases, humans tend to turn towards deer resistant flowers and plants, which can be grown along with other plants to save them from deer-eating.
These deer resistant flowers and plants might be useful as safety measures, but that does not mean they cannot be beautiful and fragrant. From Daffodils to Hyacinths and Russian Sage, these plants have always been garden favorites because of their large number of uses.
As you must have observed, a majority of these plants and flowers grow from early summer or early spring till late fall, enjoy full sun exposure and are available in a variety of colors. From yellow to red to white flowers, and green to blue stems, they will not disappoint you in any form.
Did you have any stories and experiences related to deer resistant flowers and plants? Let us know about your encounters in the comment section!