As an affiliate-driven website, Icy Tales earns from qualifying purchases.
Herbs and Spices are an integral part of cooking in any part of the world. They are added to the food for various purposes like flavoring, aroma, spicing up, and many more. Some top spices have multiple effects on the body. Some of these spices come handy in cooling our bodies in summer.
Related link: https://www.icytales.com/monsoon-admonitions-healthy-foods-you-need-include/
Here are the top spices that cool your body during summer. It is interesting to note that these are some of the commonly used spices and can be found in the kitchens of every household. They help in providing the necessary cooling effect for our bodies while providing a lot more benefits.
1. Mint
Mint, also known as Pudina in India, is one of the widely used spices in every household. It is consumed in various forms lie chutney, raita, refreshing drinks, and even rice. It has a component called methanol, which provides numerous benefits to the human body apart from being a natural cooling agent.
Mint comes across as one of the top spices that cool your body because it helps in reducing the aggravated pitha by opening up the skin pores, according to Ayurveda. This spice, which provides a sweet and pungent after- taste also helps in releasing excess energy during digestion. It ails chest pain and has vitamins like A, C, and B complex. It is also rich in potassium, manganese, and iron.
Mint is used in mouth freshener, toothpaste, chewing gum, etc., for its pungent after taste and flavor. It is used as an essential oil in cosmetics, perfumes, and aromatherapy as well.
2. Fennel Seeds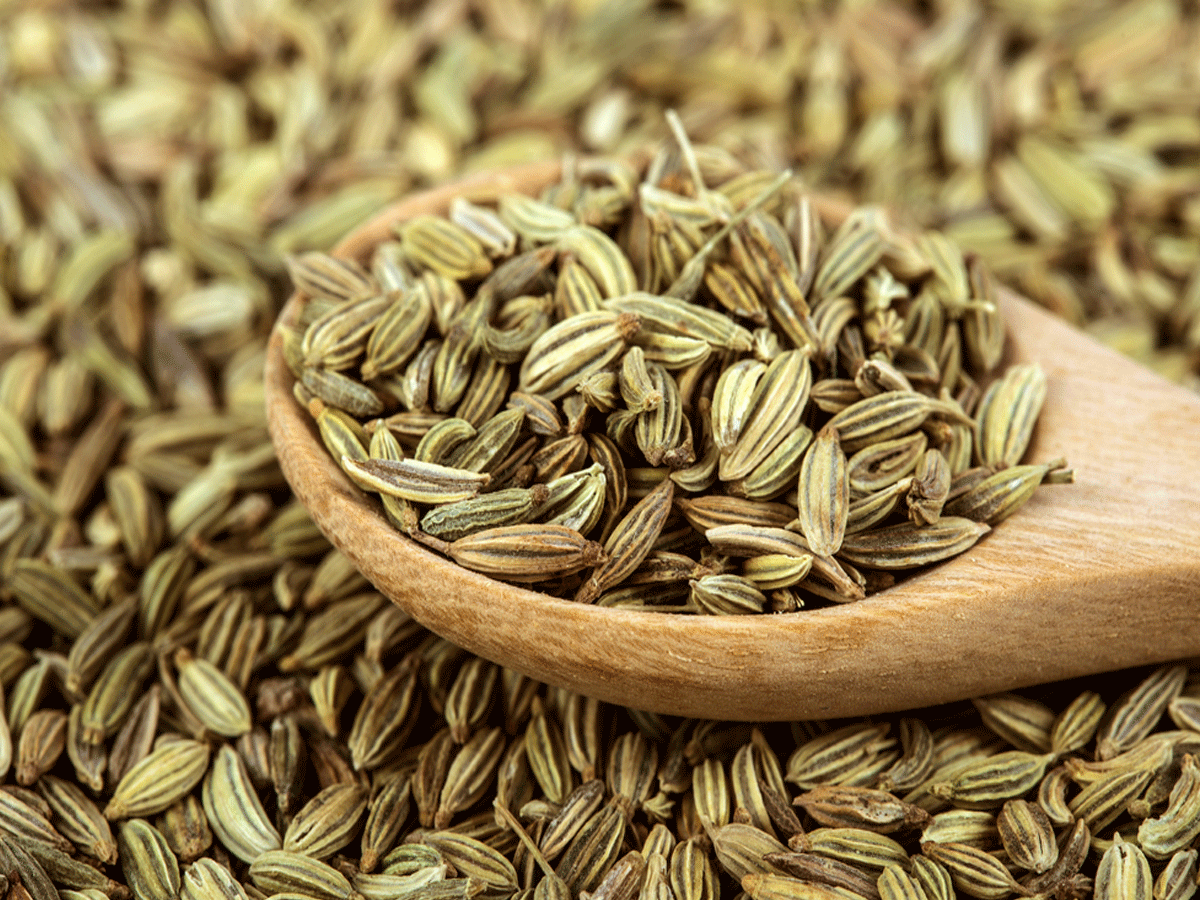 Fennel seeds are known as Saunf in India. It is one of the widely used kitchen ingredients in curries and other dishes. Indians have the practice of intaking a small number of fennel seeds after every meal for digestion and mouth freshness. It is naturally used as a remedy for bad breath. It is rich in copper, potassium, calcium, zinc, and manganese.
Some of the vitamins present in Saunf are C, A, and B complex. It is also rich in iron, selenium, and magnesium that helps fight depression. Fennel seeds are very similar in size and shape to cumin seeds or Jeera. But they are a different spice. It helps in blood pressure regulation as to when it mixes with saliva increases the nitrate content in the saliva. It reduces water retention and the risk of urinary tract problems as well.
Fennel seeds are high for digestion ailments like constipation, indigestion, and bloating. It reduces asthma symptoms and improves eyesight. This is listed amongst top spices that cool your body majorly because of its aid to digestion and blood pressure regulation.
It is consumed as herbal tea or after every meal in raw form.
3. Coriander
Coriander is a herb that is related to parsley, carrots, and celery family. It is popularly known in India as Dhaniya seeds. These seeds can be found as an essential ingredient in Indian curries and other dishes as well. Coriander helps treat digestion problems like upset stomach, loss of appetite, hernia, nausea, diarrhea, bowel spasms, and intestinal gas.
Dhaniya helps as a natural cooling agent in summer by removing the excess energy and heat during digestion. This also helps in regulating blood pressure, thus improving heart health too. Other uses of dhania seeds include treating measles, hemorrhoids, toothaches, and joint pain.
It increases milk flow in breastfeeding mothers. It also helps in preventing cellular damage caused by free radicals. It contains compounds like terpinene, quercetin, tocopherols, which have anti-cancer, immune-boosting, and neuroprotective effects.
It is a great spice to reduce inflammation and prevent them. It is excellent for treating mild skin rashes. It protects skin for aging and skin damage. It is one of the top spices that cool your body that can be used in baked goods, roasted vegetables, and curries, which adds up to the taste and flavor as well.
4. Turmeric
Turmeric is an all-rounder spice. While there is a substantial misconception about turmeric that it warms the body, the fact is that turmeric is an excellent body coolant. It has several bioactive compounds that possess potent medicinal properties.
Curcumin is present in turmeric, which is known for its anti-inflammatory properties. It is a potent anti-oxidant.
Turmeric helps in repairing damaged cells and tissues in the body. It helps in the prevention of heart disease, cancer, metabolic syndrome, and Alzheimer's disease. It is also linked to improving brain function and memory.
Arthritis patients respond very well to curcumin supplements and turmeric-based food. It also provides benefits against depression, anxiety as it contains laxative properties. Consuming turmeric every day in the form of turmeric tea, golden milk, or simply in food can provide countless benefits to our body.
Thus, turmeric is one of the indispensable top spices that cool your body.
Related link: https://www.icytales.com/things-keep-you-fresh-and-healthy-this-summer/
5. Organic Dill
Dill, also known as dill weed (Anethum graveolens), belongs to the celery family. This herb is rich in vitamin A and Vitamin C. It is also a good source of fiber, folate, which helps for cell division and DNA production.
It contains calcium, which is good for bone health and also has manganese and iron. It helps keep the hemoglobin levels of the body in check. Dill has a cooling effect on the body as it helps in lowering blood sugar levels and blood pressure regulation.
It helps significantly in curing gastrointestinal disorders, loss of appetite, kidney disease, fever, cold, cough, and genetic ulcers. This top spice that cools your body is widely consumed in salads in many parts of the world.
6. Cilantro
Cilantro is also a member of the celery, parsley family.  The seeds of this plant are also widely used as a body coolant, known as coriander or dhaniya seeds. This herb is a good source of anti-oxidants.
It is one of the top spices that help in reducing the pittha dosha, according to Ayurveda. It is used to flavor the curries and dishes in India. It is known for anti-cancer properties, especially, that of sin and breast cancer. So it helps in maintaining the good health of women.
Cilantro is used as a prevention for pain and inflammation in the body. It has great effects on preventing chronic inflammations. It also protects the skin against ultraviolet B (UVB) radiation damage. It also contains vitamins lie C, A, and K. It is widely used as a natural preservative.
Cilantro qualifies as one of the top spices that cool your body and also gives various benefits to the human body.
7. Cardamom
Cardamom is a spice that originated in India. It has an intense, slightly sweet flavor, and it provides a significant cooling effect on the body. It is widely used in India to taste sweet and savory recipes.
Cardamom helps in lowering blood sugar levels and blood pressure regulation as it has diuretic properties. It also increases urination due to the same. This spice also helps in the prevention of skin cancer like turmeric and coriander.
This spice has anti-inflammatory effects on the body that prevents some of the chronic diseases. It used to prevent bad breath and also tooth cavities. It increases the use of oxygen in the blood. It has anti-bacterial effects on the body, which prevents a lot of bacterial diseases.
Other benefits of cardamom are it protects the liver and helps to manage anxiety and depression. It helps in weight loss as well.
Thus, cardamom can be counted as one of the top spices that cool your body, along with providing numerous other advantages.
8. Cumin Seeds
Cumin seeds or Jeera are so much similar to Fennel seeds in their size and shape. It helps in blood sugar control. Like most other spices, cumin seeds help in managing cholesterol by reducing the bad cholesterol and increasing the good cholesterol.
It promotes digestion and is a good source of iron. It is added to refreshing summer drinks for its cooling properties. It has beneficial plant compounds like terpenes, phenols, flavonoids, and alkaloids. They help in weight loss and preventing food-borne illnesses.
It is also beneficial to reduce drug dependencies in teenagers and old age people. Cumin seeds are widely used in the preparation of Indian curries, especially as thadkas.
It belongs as one of the top spices that cool your body all time.
9. Saffron
Saffron is known as one of the world's most expensive spices as it is cultivated and harvested manually through hands. It is also a high body coolant because of its natural properties.
Saffron comes as a rescue to asthma, cold and cough. It is an excellent remedy for insomnia or sleeplessness. It combats intestinal gas, fights depression, fright, shock, and also dry skin.
It helps in preventing menstrual cramps, a pre-menstrual syndrome in women. In men, it helps prevent early orgasm and infertility.
Saffron is used as a flavoring agent and fragrant. It is amongst the top spices that cool your body.
10. Fenugreek Seeds
Fenugreek seeds are widely used as a medicine in Indian and Chinese cultures. It is usually used as a medicine to treat skin diseases.
These seeds are body coolants that keep the blood sugar levels in the bay. They regulate blood pressure and controls appetite. It increases breast milk production in females and testosterone levels in males. It is great for reducing inflammation and promoting digestion.
Fenugreek seeds can be soaked overnight and consumed in the morning or can be consumed in herbal tea. Thus, it is considered as one of the top spices that cools your body.
Watch this video on top spices that cool your body:
These are the top 10 spices that cool your body that also gives numerous health benefits. They can be consumed every day for overall health and wellness.
Related link: https://www.icytales.com/microbes-food-and-associated-health-benefits/
Click here to read more.
Originally posted 2020-05-13 20:32:15.