The gorgeous Salt Spring Island, perched between the provinces of British Columbia, Vancouver Island, and Canada, is very famous among visitors. The island, also spelled as Saltspring Island, is the most inhabited, largest, and frequently visited Island among the southern Gulf Islands.
In historical times, many Salish people lived in this area. The African Americans sought refuge at this place from the racism. It is a remarkable fact that Salt Spring Island was among the first gulf islands that were inhabited by non-First Nations People.
Salt Spring Island is a vibrant island of rural communities that would welcome you with open arms. It is a perfect spot for rejuvenating in the laps of nature and breathing in some adventure. It is a year-round destination, and here are the top 10 things and places that you must experience on your getaway at Salt Spring Island.
1) Salt Spring Vineyards
This is the Island winery and tasting point. The vineyard aims to provide a hospitable environment where you can enjoy the swirl, aroma, sip with your friends and family. Thinking to spend a few days in Salt Spring Island? Then bottle up some dry and crisp wine, a specialty of the region, before you get on the road to explore.
You'd find some fine, traditional champenoise-style red, white, pink, sparkling, and dessert wines. The wines are 100% made from the Island grapes, giving it a homey feel and taste. You can tour the tasting room, enjoy an afternoon at their picnic tables with umbrellas, get some picnic supplies from their store, and just relax.
2) Ruckle Provincial Park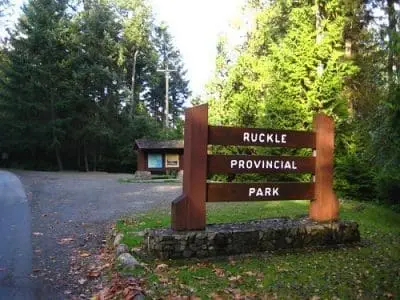 Are you feeling like camping? Then Ruckle Provincial Park is your destination. You can lay your tent in the meadow of the park that overlooks the Swanson Channel and chill.
The park is a mixture of forest area, fields, and 7 km of shoreline. This is also the spot for wildlife viewing. You might spot sea lions, whales, mink, crab, mussel, river otter, oyster, starfish, and many more.
Activities like canoeing, kayaking, cycling, fishing, scuba diving, swimming, and windsurfing are available here. Scuba-diving is the most loved activity here, and under the water, you'd come across castle-like caves, gorgeous ocean floors, plumose, sponges, octopuses, sea stars, and other wildlife and vegetation.
3) Visit the Fulford Harbour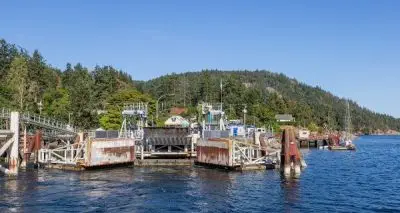 This little village will give you a glimpse of a quiet, tranquil life. This village at the south end of the island and near the Ruckle Provincial Park features the beauty of the Pacific Ocean and Fulford Valley. Lots of dining, shopping, amenities, and unwinding places will make you feel at home here.
The residents here are strongly dedicated to retaining the community's culture, and thus, you can find some exquisite collection of shops. There are historic cottages on the edge of the water where you can buy goods from local artisans that vary from artworks to tie-dyed apparel.
To cherish the fresh west coast cuisine of Salt Spring Island, visit the organic café and bakery that will serve your taste buds well. There are several art galleries and studios which you shouldn't miss. You'll also come across a range of recreational activities. Find your perfect spot and spend a day here.
4) Hike at the Beaver Point
The adventurers love the hike that begins at the Beaver Point Hall in Ruckle Provincial Park and leads to Yeo Point Trail. The sole reason for it is that the trail takes you through lush green forests, giving a feel of freshness, rocky highland giving a sense of adventure and slight difficulty, and a beautiful quartz field.
You are bound to get some magnificent ocean views if you follow along the coast. Before you reach the endpoint of this 5km one-way trail, you'd come across a beautiful pebble beach. The water of this beach is apparent, and you can see the pebbles underneath. The beach is accessible through hike and kayak only.
What are you thinking? Isn't this the best way to enjoy and explore? With the winds rustling through lush trees and rhythmic flowing of water, hiking through this trail will energize you like nothing else.
5) Explore the Largest Town on the Island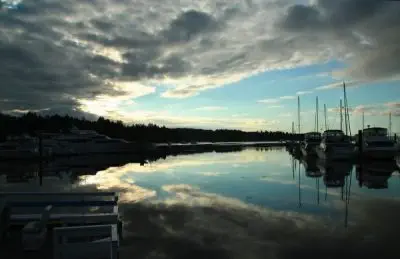 The Ganges is an unincorporated community within Salt Spring Island. The First House that was built on Salt Spring Island was built here in the year 1859. This town is also the main service center of the Island. To reach here, there are ferry services offered by the BC ferries to Swartz Bay, Crofton, Tsawwassen, all of which are near the Ganges.
To add to the fun of your vacation, ride on a seaplane service to Ganges Harbour via Salt Spring Air, Seair Seaplanes, and Harbour Air.
6) Have Fun at the Saturday Market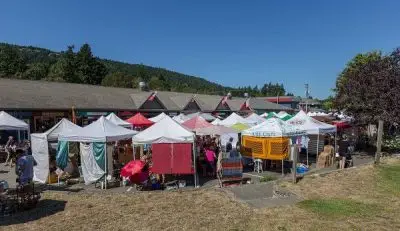 One of the main attractions in the town of Ganges is its market. This market takes place every Saturday during summertime. The market timings are 8:30 AM to 4:00 PM from April to October. You'd find a variety of homemade and crafted goods, confectionaries, art, and clothes.
Hundreds of vendors put out their stall each Saturday and sell their products like soaps, lotions, baked items, jewelry, clay items, and a lot more. They have a rule under which they produce and sell their goods: "Make it, bake it, or Grow it." isn't it fascinating?
So, if you're a shopping enthusiast, this place is a must-visit. Plan your vacation accordingly. If you're worried about your pets or kids, stop worrying. You'd find an SPCA dog care and a playground just nearby.
7) Visit the Salt Spring Island Cheese Company
Who doesn't love cheese? The founder, David Wood, went through six years of trial and error process before launching the cheese company of Salt Spring Island. Since their establishment in 1996, they've been making cheese traditionally and is also handmade.
You'd be surprised to know that they use 100% goat milk only for processing the cheese. Along with it, sea island salt, dairy culture, and rennet are used. They are a family-owned company and a team of dedicated people who aim to make the best quality cheese that is perfect in taste and looks.
Well, each cheese they make receives personal attention and looks tempting and soothing. Some variety of cheese produced by them are Chili Chevre, Basil Chevre, Flower Chevre, Lemon Chevre, Garlic Chevre, Truffle Chevre, White Juliette, Romelia, St. Jo Feta, and the list goes on and on.
Get an insight into this cheese company through this video and know how beautiful their cheese is!
Their farm shop is open year-round, and you must visit it to sample their cheeses with the accompanying foods they sell. You can scoop up some local foodstuffs like chutneys, jams, crackers, smoked salmon, honey, and more. You can wander on their farm and enjoy looking at sceneries and animals. You can enjoy the process of making cheese through a designated window and satiate your curiosity.
Well, you can picnic here at a table in the lush garden, or if it's summertime, their café will be at your service with lip-smacking snacks full of cheese.
8) Mount Maxwell Provincial Park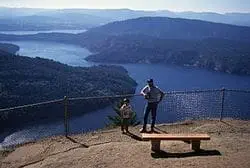 This park has a very distinct landmark viewing point and has become famous for it. The provincial park has one of the highest points of Salt Spring Island that is Baynes Peak. It offers exclusive views of the surrounding gulf islands like Galiano Island and BC. This day-use park is perfect for a hike, viewing, and picnic.
You can cycle in this park on the road area and get an opportunity to view wildlife like black bears, black-tailed deer, feral sheep, Peregrine falcons, goats, turkey vultures, and a few bat species. The designated picnic area has a parking lot, picnic tables, toilet, and viewing area.
The park also provides hiking opportunities. The maintained trails of the park are around 6 km that starts at the parking area. The hike can be a leisurely stroll or a demanding walk, too, as there are a few steep and bumpy areas.
The north and east side trails will take you through old-growth of Douglas Fir, whereas the west side trail follows along Mount Maxwell's ridge. On the way, you'd look at the panoramic and breathtaking views of Vancouver Island.
9) Salt Spring Island Ales
This is an award-winning Ales of the Salt Spring Island. They have a unique method of making their brews. The freshest water of the Island from deep mountain springs comes for the Ales, and this water is then combined with organic Canadian Malt. To form a variety, they use natural ingredients, and their brews are fresh, unpasteurized without chemicals or preservatives.
This brewery is going to give you a perfect example and experience of a cottage brewery. They are 100% organic and use local ingredients.
You'd have a good time in their tasting room and patio area. There are facilities for packaged beers, growler fills, and cans. If you like beer, you'll love this place and its feel.
10) Sacred Mountain Lavender Farm
Who wouldn't like a relaxing day with views of beautiful lavender? At Salt Spring Island, you're welcome to visit the Sacred Mountain Lavender Farm. Perched on the sacred Mount Tuam near the Fulford Harbour, this is a boutique lavender farm. They have a display of around 60 varieties of lavender on their demonstration beds.
Apart from that, they grow lavender in 2 acres of area for buds, bunches, and making of essential oils. In their lavender shop, you'd find lavender-based products for the bed, bath, spa, cooking, and in the form of essential oils. Doesn't this sound very relaxing?
Salt Spring Island
Salt Spring Island will be your perfect spot to recharge and be with nature. If you've been here, tell us your experiences and other things to do, which might help our readers.
Be sure to check out more articles like this.