New Hampshire Breweries are famous for making the best beers of different styles. And they are famous all over New Hampshire and around the world.
It has a history of brewing as early as the 1650s. Even though they are always a bit late for the latest technologies, New Hampshire breweries have been regarded as one of the best and largest beer producers.
They have been creating many ventures to promote the popularity of local beers. And breweries in New Hampshire have been doing it for more than half-past centuries.
Now let us look into some of popular New Hampshire breweries.
10 Best Breweries in New Hampshire
1. Smuttynose Brewing Company
Smuttynose Brewing Company is the most top-rated among the New Hampshire breweries. It is a craft brewery located on Towle Farm, Hampton, New Hampshire.
They supply for 25 states and 11 countries. It was founded in 1994 by Portsmouth Mayor Eileen Foley which was the first sale by the brewery.
It was the first to run in a small warehouse on the south edge of the town. Since then it rose to become the most favorite brewery of New Hampshire.
You can take a free brewery tours of the brewery, get a tasting guide as well as buy beers and many other goodies from their store.
There is also a Smuttynose Restaurant where you could enjoy your meal. It is located in a 17-acre site where they have the brewery, the restaurant as well as a golfing area. 
Their core beers include Finestkind IPA, Vunderbar Pilsner, Old Brown Dog Ale, Shoals Pale Ale, and Robust Porter.
Seasonal beers include Hayseed, Pumpkin Ale, Oktoberfest, Winter Ale, Durty, and Rhye IPA. They also conduct a beer fest series called The Big Beer Series, where they provide the best-brewed beers in a limited amount. 
2. Concord Craft Brewing Company
The Concord Craft Brewing Company aims to create handmade fresh beers locally. They make it in such a facility that you could drink as well as see how it is made.
They aim to make the local people enjoy good and fine handcrafted beer rather than mass-marketed tasteless beer.
They buy most of their ingredient locally. Only if the ingredient is found nowhere in New Hampshire or New England, they opt for going outside. 
They maximize the usage of sustainable packaging and you can also visit them you taste their beer in a recyclable container. You can take the container back home and come back later with the same for a refill.
As Concord has a surplus water supply, the beer here contains 95% water. 
Their head brewer is Doug Bogle and he is committed to brewing the greatest tasting beer in all of the New Hampshire breweries.
Their beers are available at their brewery as well as around 200 restaurants throughout New Hampshire.
Their beer menu includes Heavenly Helles, Kapitöl Kölsch, Town Pound Porter, Apple Crisp Porter, and many more. The food menu includes Meat Stick, Macaroni and cheese, Soft Pretzel with Mustard, Hummus with Pretzel chips, etc. 
3. Stoneface Brewing Co.
Stoneface Brewing Co. has been brewing beer since 2014. They are interested in creating different beers and is a famous one among the New Hampshire breweries.
They feature IPAs and pales, interesting lagers, and delicious large ales. It is located at 436 Shattuck Way, Newington, New Hampshire.
Visitors frequent the brewery once a week and their food is highly appreciated. The sandwiches on the menu are the most preferred ones by the visitors especially the chicken sandwich.
Also, Wednesdays are service industry nights when you get everything for 50% off. 
4. Henniker Brewing Company
Henniker Brewing Company is one of the New Hampshire breweries that the people around are proud of. They began in 2011 and is located in the woods down to Centervale Road outside of downtown Henniker, New Hampshire. It is one of the go-to-place to have a refreshing beer after a whole tiring day of skiing or paddling.
You can bring your friends, kids and even your dogs here. They make the perfect spot for all your happy meetings.
Their famous beers are Hop Slinger IPA, Henniker Kolsch, Working Man's Porter, 48 Flags, Damn Sure, Red Scooter, and many more. 
5. Kelsen Brewing Company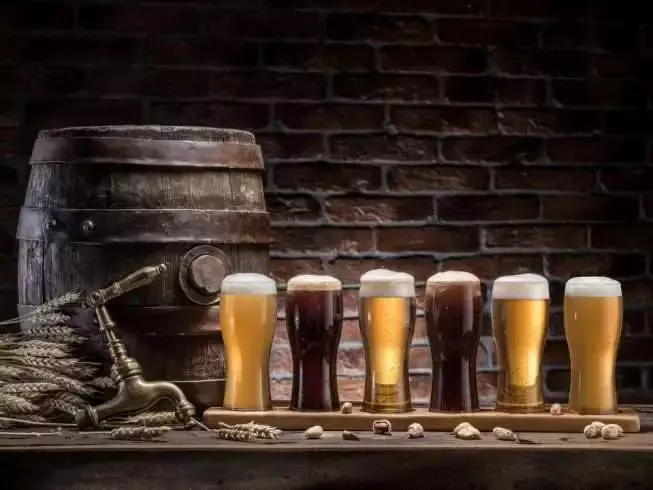 They are the award-winning brewery that pushes the limits of traditional beers among the New Hampshire breweries. Kelsen Brewing Company is open every day from 11 am to 8 pm, and you can get outdoor seating if you take a reservation.
Their hand-tossed pizza attracts lots of fans and well-wishers. Starting in 2014 with 2 beers on tap and a small tasting table, Kelsen has grown to 12 beers on tap and a great restaurant with seating for 60 at a time. 
In March 2018, they started The Cryptic Project which experimented on sour beers, and later was able to serve around 20 sour beer varieties and is still expanding on their barrel program.
In October 2018, they appointed a pizza chef, and since then has been famous all over the world.
They have been expanding their menu and are open all 7 days due to huge public demand. Their award-winning beers are Battle Axe IPA, Paradigm Brown Ale, Draken Robust Porter, Double Battle Axe Dipa, and Caravela Kolsch Style Ale. 
6. Northwoods Brewing Company
Northwoods Brewing Company serves ales, lagers, and tasty pizzas. It is a nano-brewery in Northwood, opened in 2018, and concentrated more on hoppy ales, different fermentations, and many bakery-inspired dark ales.
It is located on Route 4 next to Johnson's Seafood and Steak and the Rise & Shine Bakery Café. Just like many other New Hampshire breweries, they offer pizzas along with beer.
Their beer menu and food menu change frequently. So, you have to visit their site frequently to know what's brewing. Their list includes Cave Light, Coffee Porter, Vanilla Coffee Porter, Landlocks and Brookies, Tippets, and many more. 
7. White Birch Brewing
White Birch Brewing offers creative ales for fun-loving beer lovers who are looking for some creative stuff among the New Hampshire breweries.
From making the half-barrel a day to a full barrel, White Birch Brewing has grown as a famous brewery. Their style ranges from traditional to modern. The beers are carefully handmade and unfiltered so that you can get the flavor in your mouth.
You can sit in their tasting rooms for 3 hours to enjoy a joyous meeting or a birthday. The tasting room is a comfortable modern space that welcomes everybody to a cozy atmosphere.
It has black paneling, shiny granite, a wooden floor, and a beautiful ceiling that welcomes everyone with great warmth.
Their signature beers are Berliner Weisse, Blueberry Berliner Weisse, Raspberry Berliner Weisse, Hop Session, and Double IPA. Seasonal beers include Watermelon Wheat, Tavern, Nyx, Ol'catty Wompus, and Indulgence. 
8. Tuckerman Brewing Co.
Tuckerman Brewing Co is another popular one in the list of top New Hampshire Breweries.  It cares about the quality of the beers they brew and hence they live in the mountains for a good quality of living too.
You could go to the place to enjoy a happy weekend playing and shopping. You can visit the Tuckerman Brewing Co to enjoy some quality beer breathing fresh air.
They also have a 30,000-square feet outdoor beer garden where you can enjoy your beer in a calm and peaceful atmosphere.
The outdoor garden is open every day from 2 to 6 in the evening and 12 to 6 on weekends. They offer plenty of seating, fire pits, heaters, and lights.
Also, throughout November, there will be music from 2 to 5 in the evening lest the weather permits. So, you could come and enjoy a happy weekend in this exotic brewery among New Hampshire breweries. 
Their current beer list includes Altitude Sticke Alt, Kolsch, First Tracks IPA, Double Fall Line Rye IPA, 6288 Stout, Pale Ale, and many more. 
9. Great Rhythm Brewing Company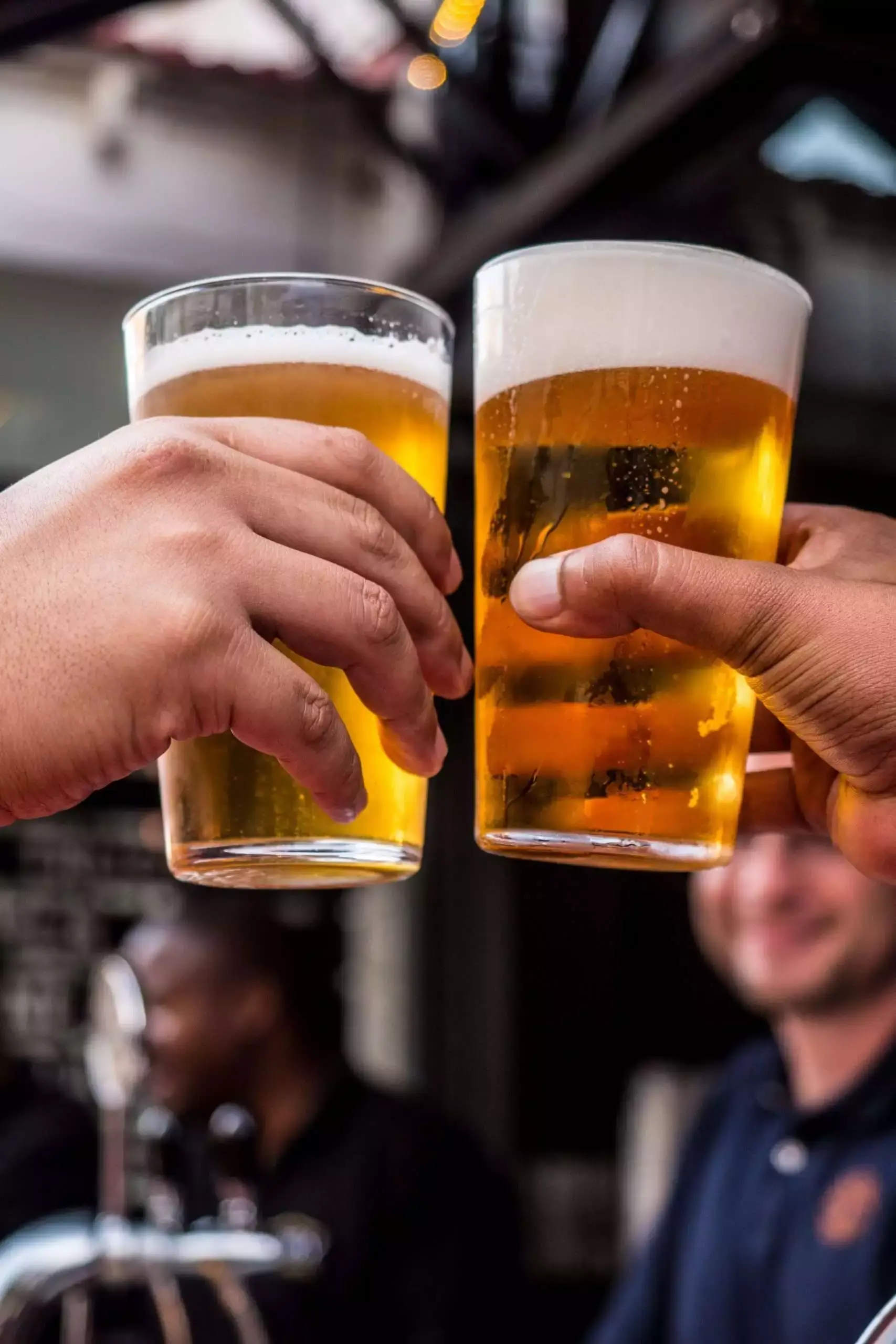 Great Rhythm Brewing Company is a Portsmouth brewery designed to create quality beers among the New Hampshire breweries.
They have been striving to design, develop, and brew their favorite beer flavors. They change their current offerings daily, and you would have to visit their site to know about it. They focus on brewing hopped Ales which features the flavor and aroma of hops. 
Their beer flavors include Cha Cha Slide, Koastal Kolsch, Soundcheck 4.0, Soundcheck 3.0, Mungo Jerry, Lemonberry Squish, Carry On, and many more. 
10. Throwback Brewery
Throwback Brewery has been functioning in New Hampshire for the past many years and has been trying to evolve more and more.
From being a nano-brewery to a great brewery with a restaurant and farm, among the New Hampshire breweries, Throwback Brewery always keeps up its values and mission.
They encourage sustainability and produce and sell locally. Most of their resources are taken from local farmers and farms.
Their brewery has been found with the help and kindness of the local community and hence they concentrate more on their growth locally. 
To support the local community, they have initiated many events. They have co-sponsored events for kids to foster their growth.
They have also been using their acres of farmland for community growth like conducting yoga classes, guitar lessons, monthly book club meetings, and many more. Since they have started their business locally, they have been cooperating with the local farmers and business people to create a communal union. 
Their beer menu includes Gourdgeous Pumpkin Ale, Love Me for A Long Time, True Gits, Cheek Squeezer, Raspberry Lime Party Pants, Der Saddman, and many more.
The food menu ranges from sandwiches, burgers, pizzas, soups, salads, bowls, sides, and many more.
They received many awards like Taste of the Sea Coast in 2019, Good Food Awards 2018, Best of the Sea Coast 2017, Best of NH 2017, and many more awards. The place is a great space for communion and happy meetings. 
These are the most top-rated and widely known New Hampshire breweries. There are still many more on the list. Comment on them below and share your experience.
Also, take a ride to these breweries to experience the exotic and legendary tastes of ales, lagers, steaming and tasty food. 
Originally posted 2020-12-08 08:28:39.