Once in a while, in the middle of a lazy Sunday evening, while enjoying a tea party with your loved ones, doesn't your mind goes back for a ride to those childhood days when your mother used to bake those yummy cookies filled with melted chocolate chips?
The aroma spread all around the household from those perfect chocolate chip cookies is still in your heart, saved with loads of love. The taste of those soft chocolate chip cookies served crisp and buttery, nothing ever could beat the magic of mother's hands. Let us go back to those memorable days by baking delicious chocolate chip cookies at home, with simple, unique Recipes.
Chocolate chip cookies are drop-shaped cookies made from a relatively softer cookie dough that is dropped into the baking sheets, using spatulas or spoons. These drops of dough spread and flatten during baking which brings out the perfect texture.
The dough is usually flavored with chocolate or cocoa powder before the chocolate chips are added. The Recipe calls for variations that are referred to as "double" or "triple" chocolate chip cookies. These are based on the dough and chocolate types.
About Chocolate Chip Cookie
The birth of chocolate chip cookies took place at a popular restaurant called The Troll House Inn in Massachusetts, which was owned by American Chefs Ruth Graves Wakefield and Sue Brides back in 1938. The cookie was named "The Troll House Chocolate Crunch Cookies" and made with chopped bits of Nestle semi-sweet chocolate bars. Wakefield then gave the recipe to Nestle, for which she was paid with a lifetime supply of chocolate from the company.
The chocolate chip cookie recipe got published in the 1938 edition of Wakefield's cookbook "Troll House Tried and True Recipes".The recipe rapidly became a favorite of many American households. During WW II, Soldiers from Massachusetts shared the cookies they received in Care Packages from home with their fellow soldiers from various parts of the United States.
Soon, Wakefield received hundreds of letters from around the world requesting her the recipe. The demand for the cookies spread across The United States, and the recipe for the chocolate chip cookies was brought to the UK in 1956. The recipe was then bought by Maryland Cookies who were one of the UK's best-selling chocolate chip cookie makers.
Freshly baked chewy chocolate chip cookies have a secured place in all American Hotels and Bakers. Massachusetts has even designated chocolate chip cookies as the "Official State Cookie" to honor the cookie's creation as proposed by a third-grade class from Somerset.
The Original Recipe
The original chocolate chip cookie recipe was passed down to the generations of Wakefield and Brides, which was shared with the media in an interview in 2017.
1 1/8 cups of sugar
1 1/2 cups of melted butter or shortening
1 1/8 cups of brown sugar
3 eggs
1 1/2 teaspoons salt
4 cups of flour
1 1/2 teaspoons of hot water
1 1/2 teaspoons of baking soda
1 1/2 teaspoons of vanilla extract
2 Bars( 7 oz.) Nestle's yellow label chocolate (semi-sweet), cut in sizes of a pea.
The basic chocolate chip cookies recipe remains the same in most scenarios, these are commonly made with white sugar, flour, salt, brown sugar, eggs, baking soda, butter or shortening, chocolate chunks, and vanilla extract. Some recipes include the addition of milk, nuts( such as chopped cashew and walnuts) to the cookie dough.
The preparation method remains the same in most chocolate chip cookie recipes regardless of the ingredients used. The sugars and butter are beaten together with a mixer, followed by adding eggs, vanilla extract, flour, and baking soda. Additional flavoring of the mix is done by adding peanut butter or cocoa powder.
A point to be noted is that peanut butter is added only with the wet ingredients and cocoa powder with dry ingredients. The star ingredient, chocolate chips, and chopped nuts are usually mixed in the recipe towards the end part of mixing just before the cookie dough is transferred to the cookie sheet. This is done to ensure less breakage of the chips or nuts.
More About Chocolate Chip Cookie Recipes
The double chocolate cookie, also known as the Chocolate chocolate chip cookie is prepared by adding cocoa powder or melted chocolate to the original recipe. Peanut butter chips or white chocolate chips can be used for replacing chocolate chips in the cookie dough.
Peanut butter can also be added to the cookie dough as an alternative for vanilla extract, for preparing the recipe for chocolate chip peanut butter cookies. Baking the Cookie dough in a baking dish or tray instead of a cookie sheet results in Congo bars, commonly called chocolate chip bar cookie, which mostly resembles flat cookies.
Some Chocolate Chip Cookie Recipe Secrets
The secret of preparing the best chocolate chip cookie lies in the ratio of cooking ingredients, and the time allotted for mixing and baking the cookie dough. Some cookie recipes give form to soft and chewy chocolate chip cookies, while others make crunchy, crispy baked cookies.
The factors like the type of fat used for the cookie dough have a good influence on the texture of the chocolate chip cookie. The Fat composition can also affect the texture at a good level. Substituting the fat can result in much softer cookies that resemble cakes.
The types and flavors of chocolate chips used can lead to differences in the texture and flavor of the cookies. All varieties of chocolate chips, including dark, milk, and white can be used for the cookie recipe.
Some cookie dough can be eaten as dough as it is, by topping it with a vanilla ice cream scoop, we now have the heavenly duo Chocolate Chip cookie dough ice cream!
Now with so much pride, we would like to present you some of our handpicked recipes that can bring out the baker in you to cook some amazingly delicious, chewy chocolate chip cookie recipes. These recipes can be easily prepared in your kitchen with simple ingredients in less time.
4 Easy Chocolate Chip Cookie Recipe
1. Classic Chocolate Chip Cookies
This is the best chocolate chip cookie recipe you could ever find! This classic recipe is so simple and easy to prepare as it takes no extra ingredients or separate chilling time. A straightforward and amazingly delicious chocolate chip cookie recipe that turns out perfect every time you make it!
The chocolate chip cookies turn out so crispy and chewy, doughy yet fully cooked. This recipe is your go-to option for out the world delicious, buttery, and sweet chocolate chip cookies.
Recipe:
Prep time: 10 minutes
Cook time: 8 minutes
Total cook time: 30 minutes
Servings: 36 cookies
Ingredients:
1 cup salted butter ( softened)
1 cup granulated sugar (white)
2 large eggs
1 cup light brown sugar
2 teaspoons of pure vanilla extract
3 cups of all-purpose flour
1 teaspoon baking soda
1/2 teaspoon baking powder
1 teaspoon salt
2 cups of chocolate chips (chopped chocolate)
Recipe Instructions:
In a medium-sized bowl add all-purpose flour, baking powder, baking soda, salt and mix well. Set this aside.
Whisk butter and sugars in a separate bowl until combined.
To the butter mixture add eggs and vanilla extract, and beat well until the mix gets fluffy.
Combine the wet ingredients with dry ingredients.
Add the chocolate chips to the mix and combine well. The cookie dough is ready.
Cooking Instructions :
Preheat oven to 375 degrees F.
line the baking pan with parchment paper and set it aside.
Roll about 2-3 tablespoons of cookie dough into balls one at a time. Place these dough balls on the parchment-lined baking sheet.
Make sure the cookie dough balls are spaced evenly. You can use a small cookie scoop for making the cookies.
Bake the cookie dough balls for approximately 8-10 minutes. Take them out once they barely start turning brown.
Let them sit on the pan for another 5 minutes before moving to a cooling rack to cool completely.
Baking Tips:
The cookie dough should not be dry or crumbly, it should be easy to roll and not be sticky. A cookie scoop can help in creating a uniform shape and size. The cookies can be frozen by storing in an airtight container before baking them.
For freezing, roll the dough into balls and evenly space them out in a parchment-lined baking sheet. The baking sheet is then placed in the freezer for about 30 minutes. Make sure the dough freezes slightly but not too much.
For baking, you can either preheat the oven or cover the baking sheet with a napkin or a towel cloth for letting them thaw. Once the cookie dough reaches room temperature bake as described in the recipe.
The most important thing to consider while baking chocolate chip cookies is not to overbake the cookies. At the end of baking, the cookies would look a little doughy. But once you remove them from the oven, and allow them to cool, the crispy texture becomes dominant.
Make sure to use the right amount of ingredients, measure the flour and other ingredients correctly using measuring cups.
Soften the butter before baking by keeping it at room temperature for at least two hours. You can warm the butter in the microwave for 5 seconds, but be careful not to melt it.
2. Chewy Chocolate Chip Cookies
This chocolate chip cookie recipe is the most popular cookie recipe with a little twist within the original classic chocolate chip cookie recipe. The recipe stands out among the rest due to its extra-thick crunchy base.
The exploding of chocolate chunks is a true bliss for all sweet-tooth people out there. The center portion of the cookie remains soft and chewy with a bit of undercooked texture resembling the bakery style.
Adding melted butter, extra egg yolk, and more brown sugar than the amount of white sugar can pump up your recipe to make the chewiest chocolate chip cookie. Replacing chocolate chips with big chocolate chunks brings up the divine feeling of perfection in every bite.
These little changes can bring out so much flavor and texture in your cookies. Also, you don't need any mixer to make the recipe!
Recipe:
Prep time: 10 minutes
Cook time: 12 minutes
Total cook time : 3 1/2 hours
Servings:16 large cookies
Ingredients:
2 1/2 cups all-purpose flour
1 teaspoon baking soda
1 1/2 teaspoons cornstarch
1/2 teaspoon salt
3/4 cup unsalted butter (melted)
3/4 cup light brown sugar
1/2 cup granulated white sugar
1 egg ( kept at room temperature)
1 egg yolk( kept at room temperature)
1 1/2 cups of chocolate chunks or semi-sweet chocolate chips
2 teaspoons of pure vanilla extract
Recipe Instructions:
In a large bowl, whisk the flour, cornstarch, salt, and baking soda together. Set the bowl aside.
In a medium-sized bowl, whisk brown sugar, melted butter, and granulated sugar together. Make sure no lumps of sugar remains in the mix.
To the butter mix, whisk in egg followed by egg yolk and vanilla extract.
Mix the wet ingredients with the dry ingredients using a rubber spatula or a large spoon.
The dough formed will be soft yet thick.
Now, add the chocolate chunks into the cookie dough and fold consistently.
Cover the dough and refrigerate for 2-3 hours or up to 2-3 days. This step is mandatory.
Take the cookie dough out and allow it to cool down at room temperature for 10-15 minutes.
Baking Instructions:
Preheat oven to 163 degrees Celsius ( 325 degrees F).
Line in two baking trays or baking sheets with parchment paper. Silicone baking mats are a great option for baking cookies.
Roll the cookie dough into balls for appropriate size, about 3 tablespoons of dough for each cookie.
To make sure that the cookies come out thick, roll the dough balls in a tall manner, rather than making perfectly round balls.
Place the cookie dough balls onto the prepared cookie sheets.
Add some chocolate chips or chocolate chunks to the top of the dough balls to make them look more pleasing.
Bake the cookies for 15-20 minutes. By that time, the cookies would appear soft but underbaked. The rest of the baking process will continue within the cookie sheet.
Allow the cookies to cool down on the cookie sheet for 15 minutes.
Transfer the cookies to a wire rack so that they can cool completely.
The secret star of this recipe is cornstarch, which gives the cookies an ultra-soft texture while making them thick and chewy. Unlike many recipes that use softened butter, Melted butter is used here. Salted butter can be used as an alternate option.
It can make the cookies greasy but enough flour can balance this issue. Adding more brown sugar than granulated sugar helps in the easy spreading of the cookies. The extra egg yolk brings richness and tender texture into the dough.
Bonus Tips :
The cookie dough may appear slightly crumbly after chilling but rolling it with hands will make it stay intact.
For a colorful treat, try topping the cookie with half part chocolate chunks and half part M&Ms.
Sprinkle some granulated sugar on the top for extra sweet treats.
The cookie dough can be stored in an airtight container or zip-lock bags for up to 2 months.
3. Vegan Chocolate Chip Cookies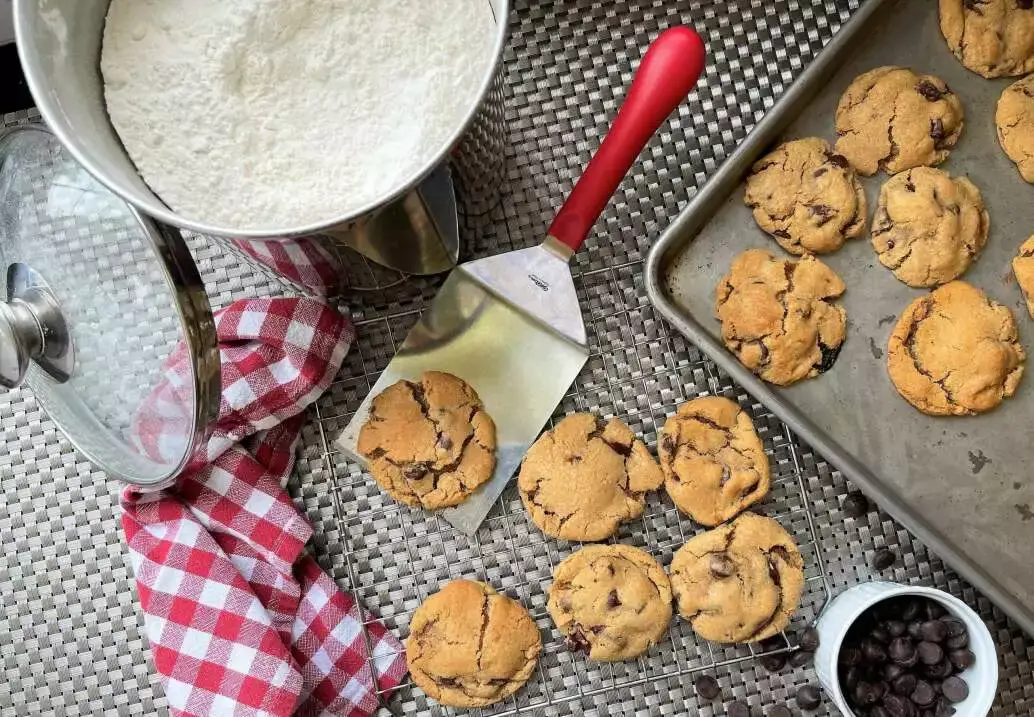 If you are tired of waiting for that perfect vegan chocolate chip cookie recipe, your wait ends here. These vegan cookies bake up chewy and thick in form with crispy edges. You don't have to refrigerate the cookie dough as you can bake it straight away, just roll and bake for delicious cookies.
The warm feeling of having a bite of homemade crunch vegan chocolate chip cookies cannot be replaced by anything else. This recipe is a boon for those who live a vegan lifestyle with cruelty-free ingredients without losing the classic touch.
The recipe uses coconut oil instead of vegan butter as it adds more taste and texture to the chocolate chip cookies. Also, make sure the coconut oil is solidified in a scoopable manner before incorporating it into the recipe.
The consistency of coconut oil is important as the cookie dough is not refrigerated before baking. There are chances for the cookies to spread too much if the consistency of coconut oil is not perfect. For people who don't like the flavor of coconut, refined coconut oil is a great option as it has a neutral flavor and scent.
Recipe:
Prep Time:10 minutes
Cook Time:10 minutes
Total Cook Time: 35 minutes
Servings:16 cookies
Ingredients:
1/2 cup coconut oil(scoopable)
1 1/4 cups coconut milk
1/4 cup applesauce ( unsweetened)
2 1/3 cups all-purpose flour
1 teaspoon baking soda
1/2 teaspoon salt
2 cups of chocolate chips( use vegan chocolate chips if possible)
Salt (optional)
Recipe Instructions:
In a large bowl, whisk coconut oil, vanilla, and brown sugar together. Beat the mix until well combined.
Add in the apple sauce and coconut milk and whisk together. Make sure the mix is well combined. Set aside.
In a separate bowl combine salt, flour, and baking soda. Whisk this mixture well.
Now combine the wet ingredients along with the dry ones using a wooden spatula.
The batter would be in thick consistency. To this mix, fold in 1 3/4 cups of chocolate chips.
Cooking Instructions:
Preheat oven to 375 degrees F.
Line in a baking sheet using parchment paper.
Scoop about 3 tablespoons of cookie dough and roll the dough onto the baking sheet. Make sure to leave some spacing between each cookie dough on the parchment paper for spreading.
Bake for approximately 9-10 minutes or until the centers are baked until they turn golden brown at the edges.
Press the remaining chocolate chips on the top of baked cookies once they are still warm.
Sprinkle some sea salt on top of the cookies if needed.
Allow the cookies to cool down within the baking sheet for 20 minutes before transferring them to a cooling rack.
Tips for Cookie Dough
If you find the cookie dough more sticky, add some more flour.
The cookies must be soft but not very mushy, firm but not hard. If the chocolate chip cookies appear too firm, try adding some more non-dairy milk. We suggest you go for full-fat coconut milk, but almond milk and soy milk are also great options as milk substitutes.
Tips for Baking Dough
The chocolate chip cookie recipe instructs you to preheat the oven to a slightly higher temperature of 375 degrees F. This temperature makes cookies crispier on the outside but chewy on the inside.
The cookies taste better when they are larger, so make sure you use a large cookie scoop for cookie dough. Be careful not to overbake the cookies as overbaking will bake them dry and crumbly.
We suggest cooling the cookies for at least 15-20 minutes before moving them from the baking sheet. Before eating the cookies, place them on a cooling rack for firming them.
Bonus Tips:
If you love the coconut flavor, try adding 1/2 cup of coconut flakes( toasted) to the cookie dough before baking.
You can use chopped chocolate instead of chocolate chips as they give an extra burst of sweet treats.
A good amount of mashed ripe bananas can work as a replacement for apple sauce if you couldn't find one.
For over-the-top feels, try to homemade vegan chocolate chip cookie sandwich with some vegan ice cream. You would never regret it!
4. Gluten-Free Chocolate Chip Cookies
These gluten-free soft chocolate chip cookies are rich in flavor with only 152 calories. This is the best chocolate chip cookie recipe that can be prepared within less time using simple ingredients. Adding peanut butter brings an amazing flavor to the recipe without losing its chewiness.
Recipe:
Prep Time:10 min
Cook Time: 8 min
Total Cook Time:
Servings: 20 Cookies
Ingredients:
100g softened butter
60g crunchy peanut butter
100g light brown sugar
1 egg
1/2 teaspoon vanilla essence
200g medium Oatmeal
50g gluten-free plain white flour
1/4 teaspoon gluten-free baking powder
100g dark or milk chocolate ( small chunks or chopped chocolate)
Recipe Instructions:
In a large bowl, mix butter, peanut butter, and sugars. Mix until it turns light and fluffy.
Mix in egg and vanilla essence along with oatmeal, baking powder, and chocolate chips.
Chilling the cookie dough for 20 minutes can help the cookies retain a shape.
Divide the chocolate chip cookie dough into two parts on a baking sheet. Chill the dough again for 20 minutes.
Cooking Instructions:
Heat the oven to 200 degrees C.
Cut each part of cookie dough into 1.5 cm thick disks.
Make sure each cookie disk is spaced evenly on the baking tray.
Bake for 10-15 minutes until the cookies turn golden brown.
Cool on the tray for at least 5 minutes before transferring it to a cooling rack to cool completely.
Bonus Tips:
If you can't find oatmeal, porridge oats/blended oats are a good alternative for preparing the chocolate chip cookie recipe.
Using brown butter instead of Softened butter can take your recipe to higher levels.
Adding a teaspoon of milk can enhance the soft texture of chocolate chip cookies.
A fine Sunday morning can never go wrong with some soft chocolate chip cookies. This experience becomes more wonderful with recipes that you can choose considering your priorities and taste preferences. Although the classic chocolate chip cookie recipe can never go wrong, the recipes mentioned above are a must-try. Try these 4 unique recipes for a unique twist on chocolate chip cookies.
Read more articles on our website.