As an affiliate-driven website, Icy Tales earns from qualifying purchases.
Ever thought of what was it about that signboard of the coffee shop that you saw on your way home that instantly grabbed your attention towards it?
Have there been times, when you looked at a particular photograph or artwork for the first time, and still been instantaneously overcome by a certain wave of emotions, such as elation, longing, nostalgia, or even a complicated mix of all of those?
What sort of emotions does this monochromatic image below evoke in you?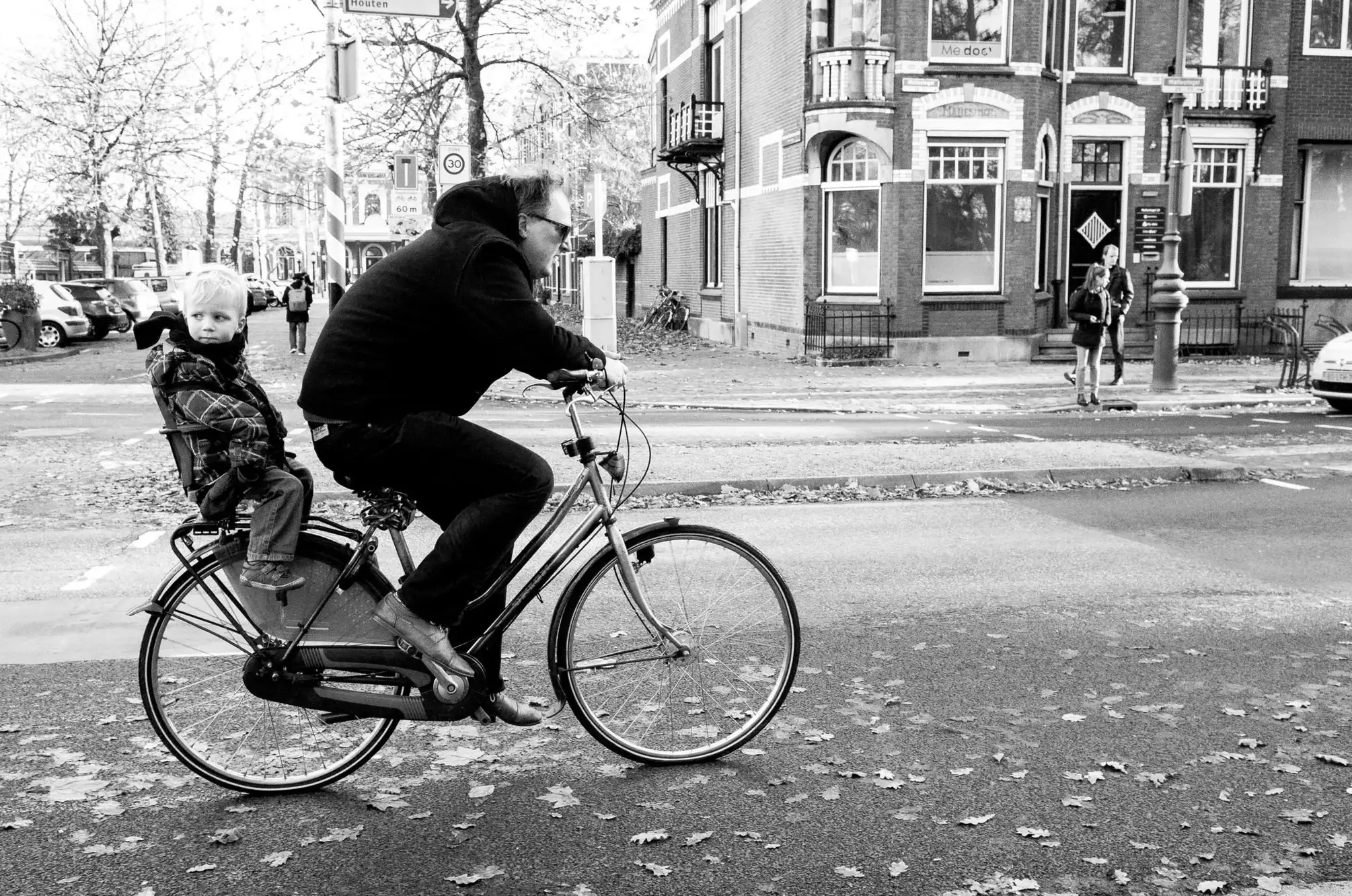 Regardless of what emotion the image or signboards invoke, the reason these works can invoke these emotions is primarily due to the different types of color schemes used in them.
Color schemes are a powerful tool used by artists and designers of all sorts to enhance the impact of their final products and to express stories and emotions using the subtle channel of colors in their work of art to best express their thoughts and visualize their ideas.
Undeniably, colors are a reigning medium of communication. When there are no dialogues in a movie, the colors speak.
A color palette used by any artist or designer always has some intent behind it. Through the various types of color schemes they use, they try to convey a wordless story or even heighten the influence of the piece of art. When used in the right combinations, colors are spell-bounding.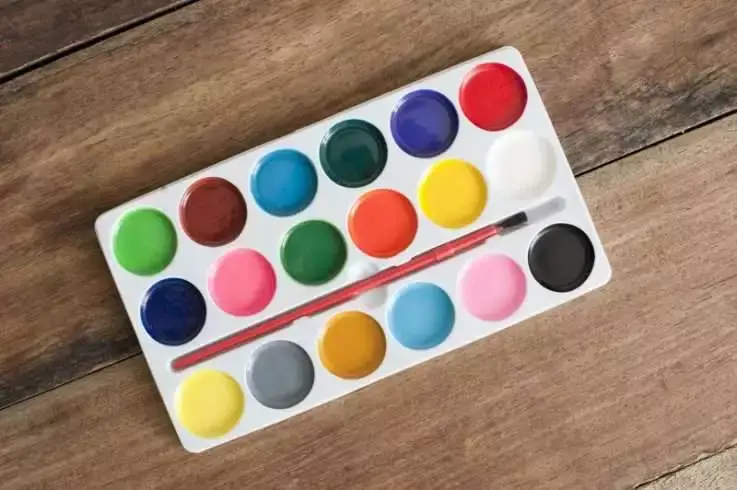 Choosing a color palette, the right color scheme from the various types of color schemes, and color correction are all crucial parts of movie production too. The tones used in films, the character outfits, the types of color schemes used by interior designers are all almost always intentionally chosen to reflect a certain vibe or a mood.
How often do we see character outfits using contrasting colors to draw viewers' attention? Take a look at Harley Quin's character as an example – what about her character's outer appearance draws the most attention to her? And what sort of first impression does the same leave on you?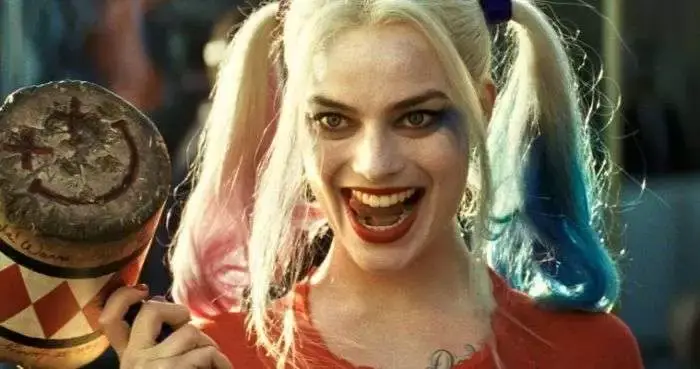 One look and the viewer has subconsciously developed a basic understanding of the character. This entire process, of looking at something or someone, and inadvertently associating them to certain characteristics can be, for a great part be credited to the fact how different colors have been linked up to various emotions or assigned certain meanings in different cultures.
Filmmakers and artists have always used different types of color schemes to their advantage. Let's take a simple example here – Mei and Satsuki from the Studio Ghibli film – My Neighbor Totoro.
The two sisters, Mei and Satsuki's outfits set them apart from the surroundings with the contrast they use. While the backdrop uses calm green colors, portraying a beautiful, serene village in Japan, both Mei and Satsuki's dresses use bright colors such as pink, yellow, and orange, setting them apart from the background and very easily drawing the attention of the viewers.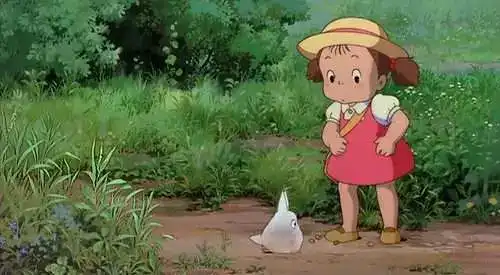 These colors are associated with naivety, innocence, and purity, which the two sisters are an embodiment of.
Colors induce magic. While adding colors bring life to untold stories, the lack of colors is also used to channel stories as well. A particular color scheme may also be used to give off an uncomfortable or disturbing vibe intentionally, and the viewer wouldn't even realize it.
Now, to understand how colors can be combined and different types of color schemes created to help one bring the sort of impact they seek to on the viewer, the first and foremost thing to do is to familiarise yourself with colors and their very essence.
Since this article is about color schemes, this is what we'll be focusing on. However, understanding colors involves starting from the basics.
We'll start with a briefing on primary, secondary, and tertiary colors on the color wheel, then move on to HSV (hue, saturation, and value) before discussing the different types of color schemes.
Primary, Secondary, and Tertiary colors
Primary colors
Primary colors are the most familiar to all of us, they stand on their own and are fundamental in the color theory or color wheel. While these colors can be mixed to get other colors, it is not possible to get these colors by mixing other colors.
Usually, monitors, mobile phones, and televisions use red, green, and blue (RGB) as the three additive primary colors. In this case, you create the color yellow by combining red and green, and the color black is created as a result of the absence of color while white is created from the combination of the three primary colors. 
When it comes to education and art in general, one would be more familiar with the subtractive primary colors. These are- red, yellow, and blue(RYB), and the color green is created by combining blue and yellow.
When these three primary colors are combined(RYB), the color one would get will be closer to black.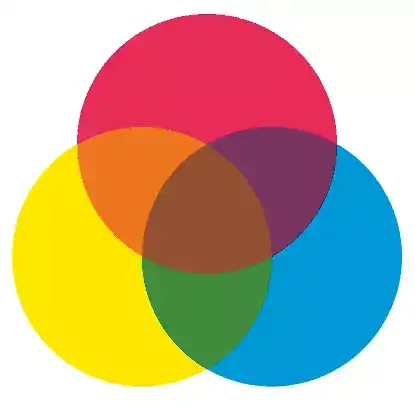 In the further discussion, we'll be using primary colors to refer to the subtractive primary colors(RYB).
Secondary Colors
Just like primary colors, there are three secondary colors as well- Orange, green, and Purple.
These secondary colors are attained by mixing two primary colors, in equal proportions. It should be noted that to get a true secondary color, both the primary colors being used should be equal.
The secondary colors mentioned above are attained by mixing the primary colors in the following manner:
Blue + Yellow = Green
Yellow + Red = Orange
Blue + Red = Purple
Tertiary Colors
Following the primary and secondary colors, this set of colors is attained by mixing one particular primary color with a secondary color. Following this pattern, one should get a set of six tertiary colors.
The color combinations, in this case, would be:
Blue and Green = Turquoise/ Cyan
Red and Orange = Vermillion
Yellow and Orange = Amber
Red and Purple = Magenta
Blue and Purple = Violet
Yellow and Green = Chartreuse/ Lime Green
Color Wheel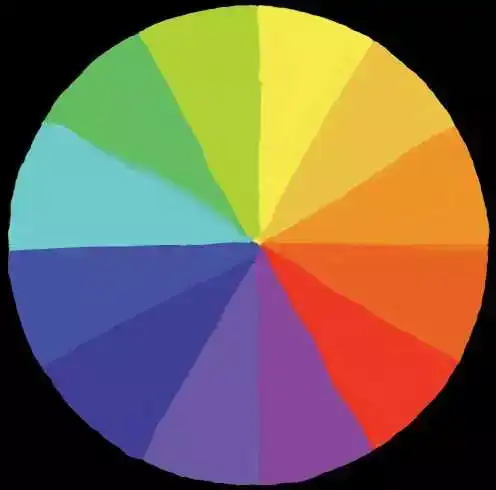 A color wheel is a diagrammatic representation that combines all the three levels of colors discussed just before and portrays the relationship between colors.
It displays the colors as per the pigment values. On the color wheel, the 3 primary colors lie equidistant to each other, forming a triangle.
Apart from all the colors discussed above under primary, secondary, and tertiary colors, more colors can be added to a color wheel.
A color wheel is one of the basics of art and its usefulness does not decrease as you progress on the ladder of art.
HSV (Hue, Saturation, and Value)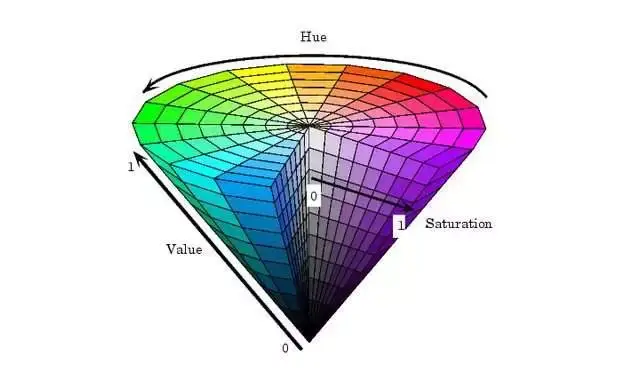 a) Hue
Hue is color the color we see. However, since everyone perceives colors differently, the hue your friend sees may not be the same hue that you're seeing.
When it comes to painting, a pure pigment is considered to be a hue.
b) Saturation
Saturation refers to the intensity of the color or hue. When you decrease the saturation, the color appears closer to medium gray.
This implies that when desaturated, the color does not hold as much intensity or it does not retain the purity of the hue. When saturation is 100%, the color is pure, and as the saturation gets closer to 0%, it looks more washed out.
c) Value
Value refers to the degree to which black or white is mixed with the color or hue.  The increased value difference between objects implies a higher contrast.
When white is added to the hue, it makes the hue lighter, creating tints. On the other hand, adding black to the hue makes it darker, hence creating shades.
Here is an excellent short comprehensive video that explains all that was discussed so far in a very easy-to-understand manner.
Here is a simple and interesting video to help you understand what we've discussed so far:
Color Schemes
A color scheme is a particular set or combination of colors put together to get an aesthetic appeal.
Having a well-put-together color scheme that intentionally uses colors to get a specific style or outcome is crucial especially when it comes to design.
The different types of color schemes are usually put together to get a pleasing outcome – color harmonies.
Types of Color Schemes
1) Monochromatic Color Scheme
Monochromatic color schemes are very easy to create as they're made from the same hue and very pleasing to look at and are one of the simplest color schemes that use different tints, shades, or tones of the same hue.
In general, a monochromatic color scheme is easy to manage and resolves the problem of choosing more colors from the color palette.
Whites are added to get tints, and grey or black added to get the darker, tones or shades respectively.
All the black and white movies, fall under the category of monochromatic color scheme. It is not uncommon to see the usage of this color scheme in various films.
A good example where the monochromatic color scheme was used in a movie would be The Matrix, where almost all the frames of the movie use green. Do you see it?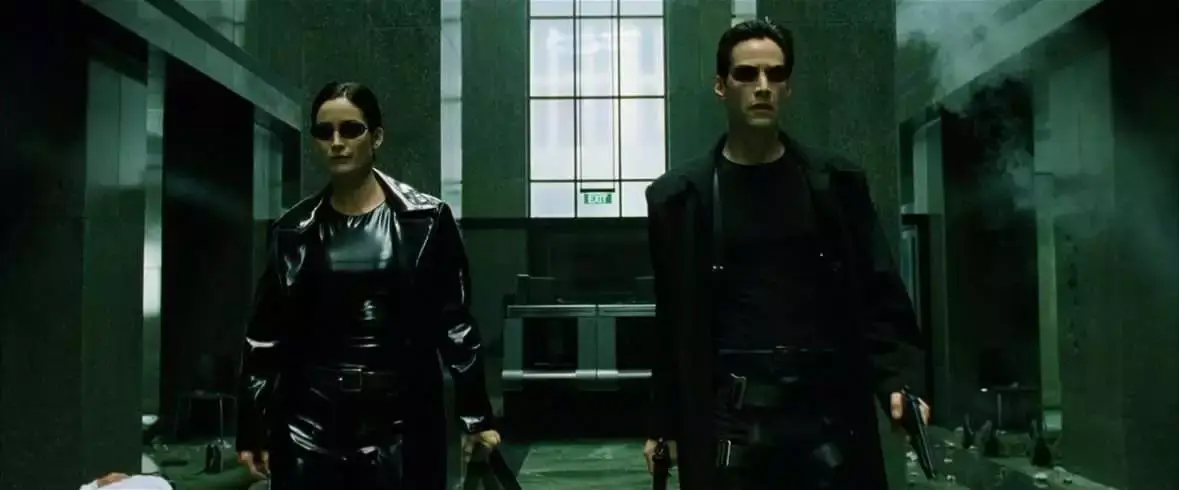 Let's look at another example – this particular image from the movie Blade Runner 2049: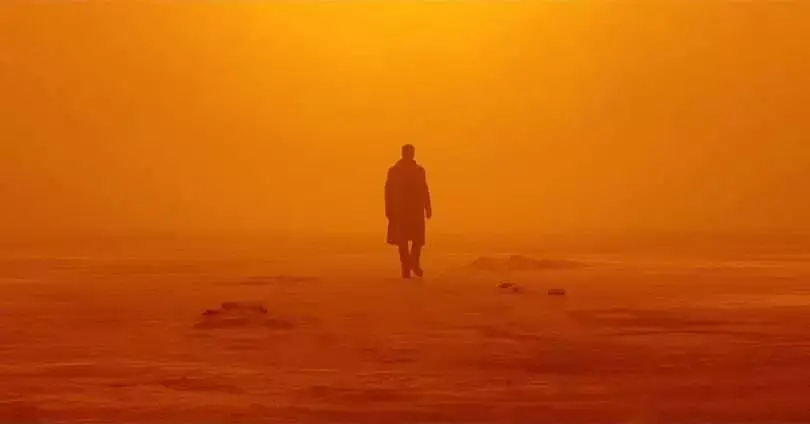 2) Complementary Color Scheme
When it comes to the complementary color scheme, as the name suggests, it makes use of one main color and the complement of the chosen color.
To put it simply, a complementary color scheme uses two colors that lie opposite to each other on the color wheel. In this manner, complementary colors consist of one warm color and one cool color, creating bright contrasts.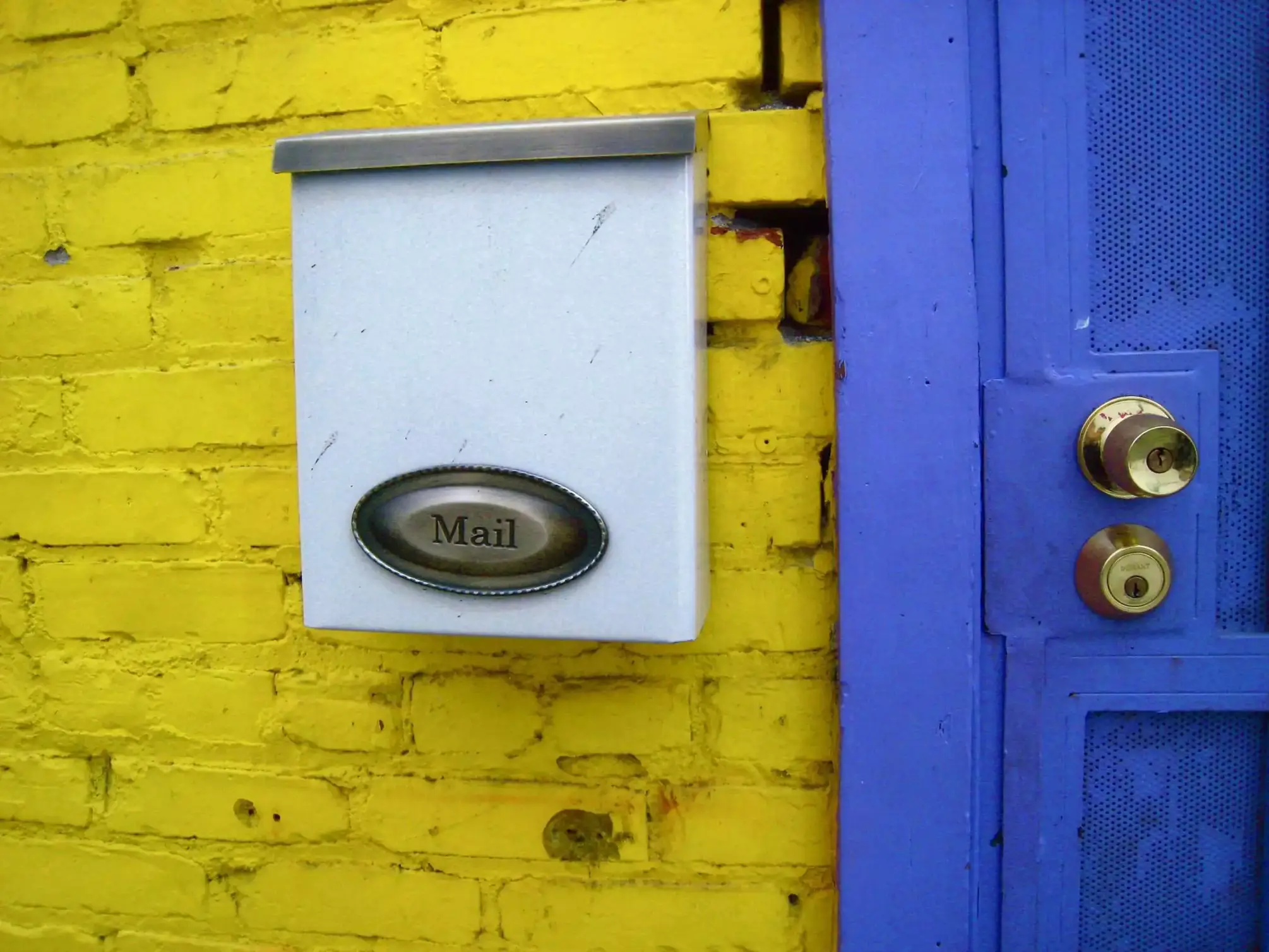 A well-chosen complementary color scheme holds the capacity to create a huge impact on the viewers as the powerful contrast created comes off as bold and draws immediate attention while still looking pleasing to the eye.
These complementary colors may be used to represent conflict too. You might have noticed how a lot of movies and their posters use the complementary color scheme of blue and orange, showing high contrasts and may represent clashing conflicts as well.
Some examples of movies where the complementary color palette is used would be Alfred Hitchcock's Vertigo which uses the complementary color scheme of green and red, and the movie Amelie's.
Both movies use the red and green complementary color scheme but you get different vibes because they use different levels of saturation, tints, shades, and tones.
Here are some more examples of complementary color schemes in photography: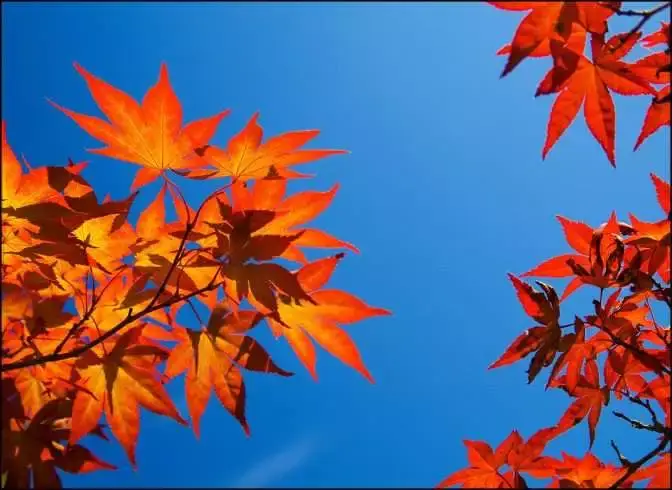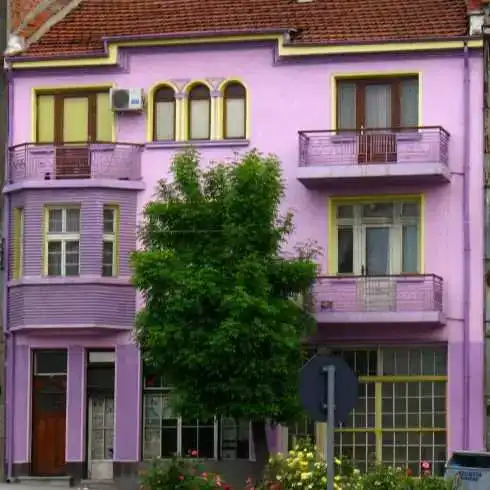 3) Analogous Color Scheme
An analogous color scheme is easy to create and understand. The reason is that it comprises the colors that are next to each other on the color wheel.
Due to this factor, analogous color schemes are especially pleasing to the eye and appear harmonized because of which they are very often used in product designs as well.
Harmonizing colors from either a warm or cool radius on the color wheel are generally used in this case.
The colors are closely related to each other and one would also notice that one color in an analogous color palette would appear brighter and hence more dominant than the other colors.
This particular color scheme is very often seen in natural settings. This implies that naturally, a human brain is more likely to prefer an analogous color scheme over another.
Some examples of an analogous color scheme are:
Blue, blue-green, and green 
Orange, yellow-orange, and yellow
Orange, yellow-orange, and yellow
A french artist, Claude Monet is well known for his use of the analogous color scheme in his artworks. In his artwork called Water Lily Pond, he uses the combination of blue-green, green, and yellow-green which beautifully portrays the landscape, giving off an exuberant vibe.
4) Triadic Color Scheme
The triadic color schemes comprise three colors that are evenly spaced on a traditional color wheel. One can get a triadic color scheme by simply placing an equilateral triangle on the color wheel.
By using this particular scheme, it is pretty simple to achieve a very vibrant and eye-catching output, especially if the hues used are unsaturated.
However, using the triadic color scheme without the proper balance of the colors is risky as the outcome may turn out to be something more akin to a mess. In simple words, not pleasing to the eye.
To attain a balanced triadic color palette, it should usually contain one dominant color and the other two colors shall be used as accent colors.
A triadic color scheme is capable of providing a strong contrast, much like the complementary color scheme, without disturbing the color harmonies.
It is a relatively safe option to choose from the types of color schemes when one wants to play around with different hues without compromising on harmony and is often used by interior designers and for decoration purposes as well to provide a vibrant to the output.
Some good examples that would make a triadic scheme are:
Red-Violet, Yellow-Orange, and Blue-Green
Purple, Green, and Orange
Red, Blue, and Yellow
Blue-Violet, Red-Orange, and Yellow-Green
A good example of a triadic color scheme familiar to most of us is its usage in Superman's outfit that uses the colors red, blue, and yellow. The outfit is very striking and appealing to look at even with the usage of high contrast as the colors are well balanced.
In short, the triadic color schemes are versatile and bold and hence, used by many artists for the same reason.
5) Split Complementary Color Scheme
A split complementary color scheme is a simple variation of the complementary color scheme where instead of two colors, a combination of three colors is used. This particular scheme is also referred to as the compound scheme.
To get the three colors in a split complementary color scheme, two colors, exactly opposite to one another on the color wheel are chosen.
From the two colors chosen, one would be the base or dominant color. The color opposite to the base color is not used like in a complementary scheme, instead, the colors on either side of this color are used.
This adds a lot more liveliness to the color palette without losing the focus points.
Using the split complementary color scheme in artworks is a great choice, especially when it comes to landscapes. Using the right amount of contrast brings more life to the final output.
When not used in the right proportions according to the purpose, the output may appear too loud as well. Hence, it is important to choose the color pairs wisely while forming a split complementary color palette.
There are 12 primary split complementary types of color schemes:
Red, Blue-Green, and Yellow-Green
Orange, Blue-Purple, and Blue-Green
Red-Orange, Blue, and Green
Red-Purple, Yellow, and Green
Yellow-Orange, Purple, and Blue
Yellow-Green, Red, and Purple
Yellow, Blue-Purple, and Red-Purple
Green, Red-Orange, and Red-Purple
Blue, Red-Orange, and Yellow-Orange
Blue-Green, Orange, and Red
Blue-Purple, Yellow, and Orange
Purple, Yellow-Orange, and Yellow-Green
6) Tetradic Color Scheme
Another variation of the complementary color scheme but a little more complicated than the split complementary scheme.  However, this does not mean tetradic is very difficult to understand either.
There are two types of color schemes under the tetradic scheme- rectangular and square.
This particular scheme is also referred to as the double-complementary scheme, the reason being, it comprises two complementary pairs of colors.
Rectangular tetradic color schemes are made up of two complementary pairs of colors.
Choosing the right colors is a crucial and tricky task when it comes to this scheme as it involves four colors. Hence, the safe choice is usually to choose one dominant color and let each of the other three colors be used as an accent color.
Usage of this color scheme allows for the creation of a bold and dynamic color palette when used with the right balance between the colors to create good color harmony.
When not used correctly, this scheme may come off as aggressive. Sometimes, it can be easier to mute the colors a little to give them a more pastel look while keeping the contrast.
A square tetradic color scheme is formed through the combination of four colors on the color wheel that lie equally distant from each other.
This color scheme gives artists a plenty number of options to choose from. There is a choice to create more contrast between the hues and hence grab the attention of the viewers instantly.
It may take some work to choose the right color combinations but when pulled off correctly, usage of the square color scheme is very gratifying and refreshing as well.
However, this set of color schemes is not as often used as the other color schemes discussed so far and falls on the lesser-known side of the spectrum.
The difference between the rectangular and square tetradic types of color schemes is simply that the color combinations used in the square tetradic scheme are equidistant to each other on the wheel.
Hence, even when the colors are muted to get a more pastel look, the output is still very vibrant and gives off a cheerful and playful vibe.
Colors and the different types of color schemes that can be created out of them are a powerful medium of communication, and inevitably have a very subtle effect on us without us even realizing it.
Next time you go out and look at any sort of art or design-related work that grabbed your attention, think about what was it about that design that grabbed your attention.
Regardless of how intricately and beautifully designed a brand logo is if the colors used are not right, then it fails to grab the attention of the viewer.
Exploring colors and the types of color schemes in depth and trying to understand their psychological effect takes one a long way in the journey of art, be it the traditional mediums or any other medium.
Hence, familiarizing yourself with the basics of color theory is pivotal on the journey of learning about the various types of color schemes and mastering them to bring the sort of effect you want on your viewers.